Most SUV lovers know for a fact that the Toyota 4Runner is one of the most attractive SUVs out there in the market. It's excellent for rugged terrains and it's capable of conquering the great outdoors.
It can even hike up a mountain if you want it to. The Toyota 4Runner is meant to take loads of punishment that the off-road can give.
One of the best things you can do to fully utilize your Toyota 4Runner is to outfit it with a much larger tire. Why? Larger tires are made to enhance your SUV's handling and cornering capabilities.
This is an ideal choice, especially if you want to bring your 4Runner off-roads.
The only way you can install larger tires for your SUV is by increasing its ground clearance. But you may be asking: "how can I increase my vehicle's ground clearance?" By installing a lift kit!
A lift kit is an ideal modification that lifts your ride by a few significant inches. High enough to allow larger tires to fit in.
If you're looking to fit in larger tires for your Toyota 4Runner and is looking for an ideal lift kit, then you're in the perfect place. Below is a list of the best Toyota 4Runner lift kits that will do the job for you.
Check them out!
#1 Pro Comp Suspension – 3"X 2" Lift Kit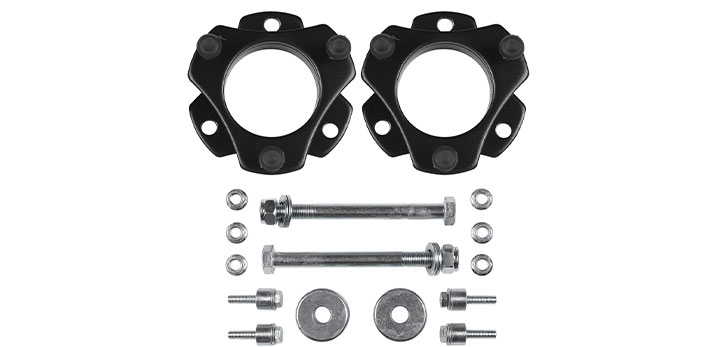 The first one to offer their lift kit is Pro Comp Suspension. Their 4Runner lift kit is capable of lifting your SUV's front and rear by up to 3" and 2", respectively.
Both the strut and coil spacers work hand in hand to boost your 4Runner by a couple of inches necessary to make your ride go through rough terrain effectively.
This lift kit has a lot of benefits up its sleeves. You get a DIY kit for installation, a warranty, the option to add a few additional inches for extra lift, and a flexible system that allows you to use larger tires. Larger tires mean better traction.B
etter traction means better off-road handling. Simple, right?
Satisfaction is guaranteed when you purchase this for your Toyota 4Runner. You get to maintain that OEM driving feels when you have this lift kit on. This is crucial for people who want to make their driving experience to be as smooth as they possibly can.
Overall, you get a coil shock system, a warranty, and the ability to fit in bigger tires.
Just keep in mind that this lift kit does not fit all models of the Toyota 4Runner, and this product is subject to California's Proposition 65.

#2 Supreme Suspensions – 2.5″ Lift Kit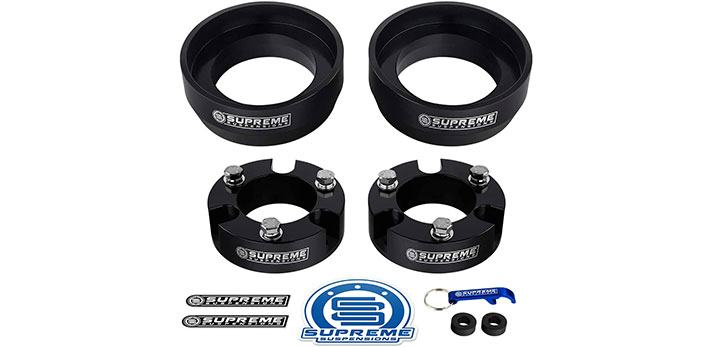 The Supreme Suspensions have been making quality lift kits and leveling kits for many years, and they will surely give your Toyota 4Runner one hell of a good time. This lift kit will hoist your SUV's front by up to 2.5", and is compatible with 4Runners made from the years 2003 to 2019.
This lift kit comes with two spacers necessary to elevate your ride up. It also comes with some cool decals and an awesome bottle opener. Nice! The spacers are touched with a special coating to make sure that corrosion won't stand any chance.
This ensures the longevity of your kit compared to the other kits available.
Supreme Suspension's 2.5" lift kit is also fairly easy to install. If you have one to two hours of free time, then you could use that to install the easy bolt system. A smoother ride is assured with this one and fits most 4Runner models out there.
The only downside with this kit is that it doesn't fit with limited-edition models of 4Runners like the ones fitted with X-REAS hydraulic struts.

#3 Dobinsons – 2.0″ Lift Kit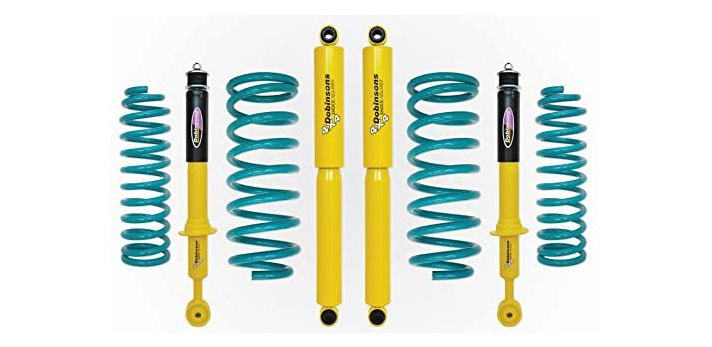 You may be a simple person who just wants a little additional oomph on the height of their SUV. There's nothing wrong with that. If you categorize these types of people, then you should try out Dobinsons and their 2" lift kit.
This kit is compatible with 2009 to 2018 models of Toyota 4Runner.
Dobinson specifically designed this lift kit to balance out performance with fluid driving. The coils included in the kit are made to reduce excess pressure made by the extra weight that the SUV carries.
This allows your 4Runner to run around with feeling a bit clunky.
The awesome thing about this is the components included in the package. Nitrogen shock absorbers are included to make sure that your riding quality will not par with the typical shock absorbers in the market – because it is better.
By purchasing this, you get two shock absorbers, two struts, and four coil springs. Neat!

#4 Dynofit – 2″ Lift Kits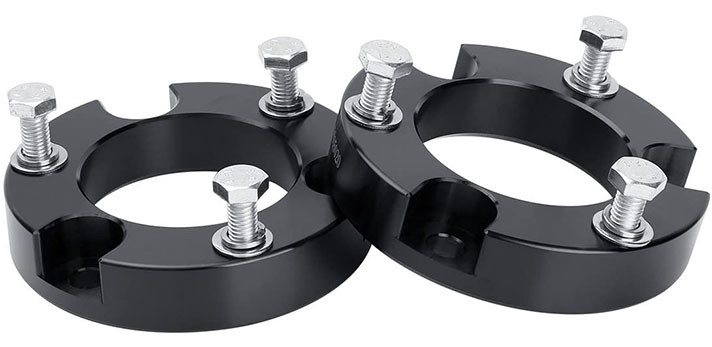 One of the famous brands has entered the roster. This time, it's Dynofit and their 2" lift kit, effective in raising your SUV by up to 2". You can use this for your Toyota 4Runner if you have the 2003 to 2018 model.
This lift kit includes all the important hardware for the installation.
Due to the suspension geometry, the spacer's thickness is not congruent with the height that it will provide. So if you're looking for lift kits from Dynofit that is slightly thicker, they offer that too.
This lift kit will make sure that your 4Runner will traverse difficult terrain with ease.
The pros with this one include the reality that it's durable enough to withstand corrosion, it's tough enough to outlast wear-and-tear, and the fact that it is sold and manufactured by a highly reputable manufacturer.
Just be informed that the installation instructions are not as straightforward as it needs to be, and you may cut off 1/8" off the shock towers to fit the spacers in.

The Toyota 4Runner is a sturdy beast. It gives you the off-road power you need to seize the outdoors for yourself, whatever the terrain may be. These lift kits will help you out in choosing the best one for your Toyota 4Runner.
Just remember that your satisfaction with the product is what matters the most.