All vehicles sold in the US and Canada, beginning with the 2018 model year, were required to have a backup camera, ending years of delay and hundreds of avoidable fatalities. The majority of vehicles on the road today do not have a reverse camera, despite the fact that this crucial safety device is now a standard. An aftermarket backup camera can help in this situation. We searched through the top-rated models across all price points and styles to present you with what we believe to be the greatest options for various purposes.
Even if you place a wireless backup camera, you'll still need to connect it to a power source. Wires will need to be run inside your car for wired models, which you should generally conceal behind the interior trim. You won't need any special abilities for that, but you will require a lot of patience as well as at least a basic selection of trim tools. If you don't think that sounds appealing, you can let car electronic shops or body shops do it for you.
If you are in need of a backup camera for your vehicle, we made a reliable list of the top 5 best backup cameras available today. Check it out below.
#1 Furrion Vision S 4.3 Inch Wireless Backup System
Brand: Furrion
The Furrion Vision S is the most capable option and has the most incredible features. It is also the most expensive. This backup camera system would be ideal for a truck with a cap or any big SUV with a major blind spot, even though it is designed for RVs and trailers. It has a large remote unit that's made to be screwed into the back of your car. It has a 4.3-inch touchscreen with a 2.4GHz WiFi connection, a quick-release suction cup windshield mount, plus a dash stand.
Infrared night vision, touchscreen, virtual parking lines, and auto-wake motion detection are just a few of the features that you may expect at this price point. It also boasts the only microphone and speaker on the list. Its 120° angle is narrower compared to other cameras because it is meant to be positioned high, and the 720p camera resolution is underwhelming.
Even more disappointing is the low-resolution 480P SD display, but a smaller screen will make it less obvious. A multiple view option is also only available with the more expensive 5.0 or 7.0-inch monitor, although you may upgrade to those models separately and maintain the reverse unit. Because the entire setup is modular, you can even add more wireless side cameras.
On their website, furrion.com, Furrion offers decent copies of its product manuals alongside product pages, as well as an unorganized collection of FAQs. The Vision S system has a 12-month warranty. On the website, there are web forms for customer support and toll-free lines for the US and the UK.
#2 Pioneer ND-BC8 Universal Backup Camera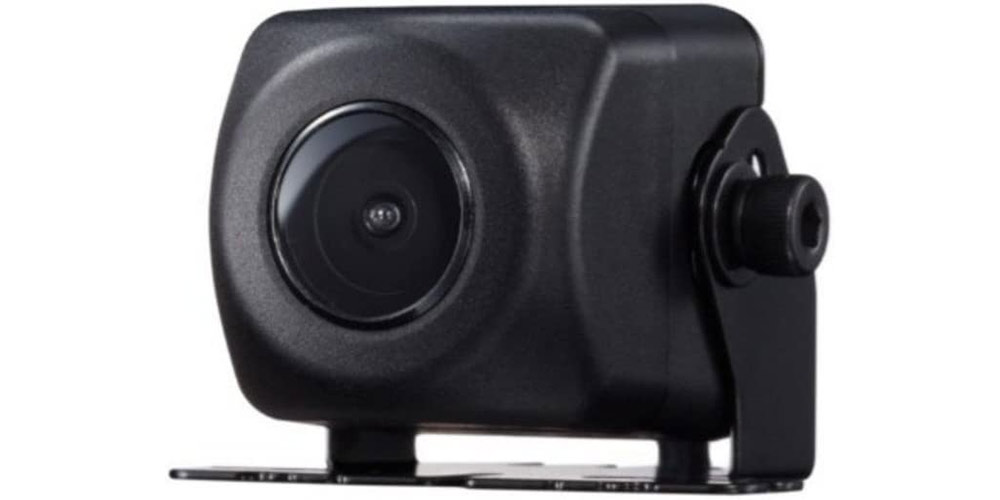 Brand: Pioneer
There's a strong possibility you can add a backup camera with a simple module if you have a screen, whether it was included with the vehicle from the manufacturer or was added as part of an aftermarket stereo. The 310,000-pixel, reasonably priced ND-BC8 from Pioneer, has a viewing area that is 129° wide by 100° high.
Your reverse lamps should offer more than enough light since the sensor can provide a useful image at 0.9 lux, or roughly the brightness of a full moon. A 23-foot cable is optionally offered for large vehicles in addition to the nine-foot power/display cable that is standard.
Although there are a few better-rated standalone universal backup cameras on the market, we'd much rather engage with an 84-year-old business with established North American offices if we need technical support or warranty service.
We particularly appreciate the single data and power cord, which makes installation really simple, and the adjustable universal mount that lets you position it inside or outside the car. It's simple to find a place for the camera because it isn't larger than an inch in any dimension. You will still need to drill a hole into your tailgate in order to attach the cord to the head unit.
The backup camera from Pioneer comes with one-year limited parts and labor warranty. It's excellent that they cover shipping and returns for faulty products. The user manual is readily available as a pdf on the pioneerelectronics.com website, although it is only two pages long.
#3 Yakry Y28 HighWay Observation System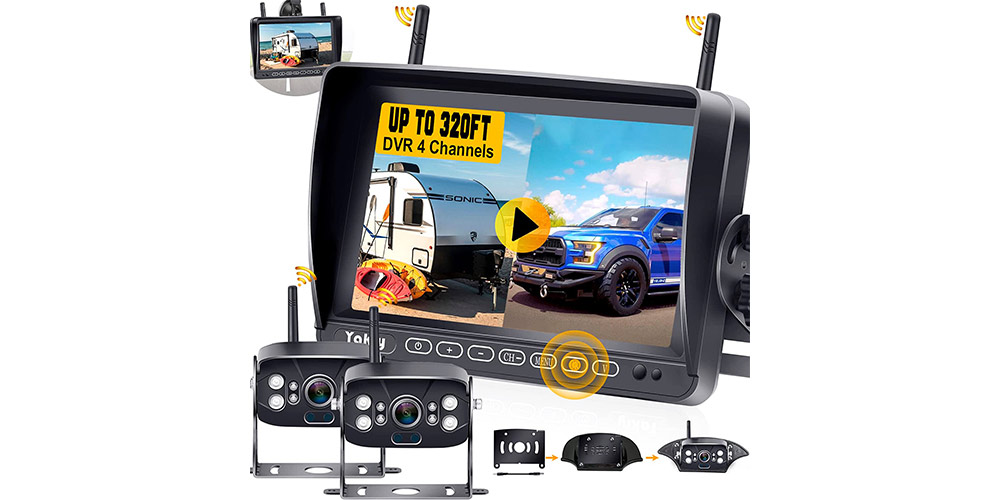 Brand: Yakry
Although Yakry appears to be rebranding a range of generic backup cameras, the company has the best rating-to-value ratio of any brand we discovered in the category. One of their more expensive devices, the Y28, can work with Furrion pre-wired trailers, extending its usefulness.
It has two identical cameras that have night vision and have an extremely broad field of view of 150 degrees. There is no reason why you couldn't put both cameras behind the rear windscreen of a car, truck, or SUV and have an overlapping pair of rear views that cover almost 180° if you had the need and space for the monitor.
A seven-inch, 1080p non-touch display with capacitive buttons serves as the primary display. It contains built-in looping recording for up to 70 hours and backup guidelines. The camera's Bluetooth connection is said to have a range of 220 feet. If there is metal between the screen and cameras, there may be interference, so realistically expect much less.
The cameras may be installed without drilling because they can be hardwired or powered by a 9V battery. With almost 1,000 reviews, the Y28 has a very respectable 89% positive rating, even though some of the reviews are for earlier (iStrong brand) iterations of the device. The most recent reviews seem to support this overall rating.
Technical support and a two-year warranty are provided by Yakry, and some accessories (such as suction cup mounts and auxiliary cameras) are free upon request.
#4 AUTO-VOX T2 Backup Camera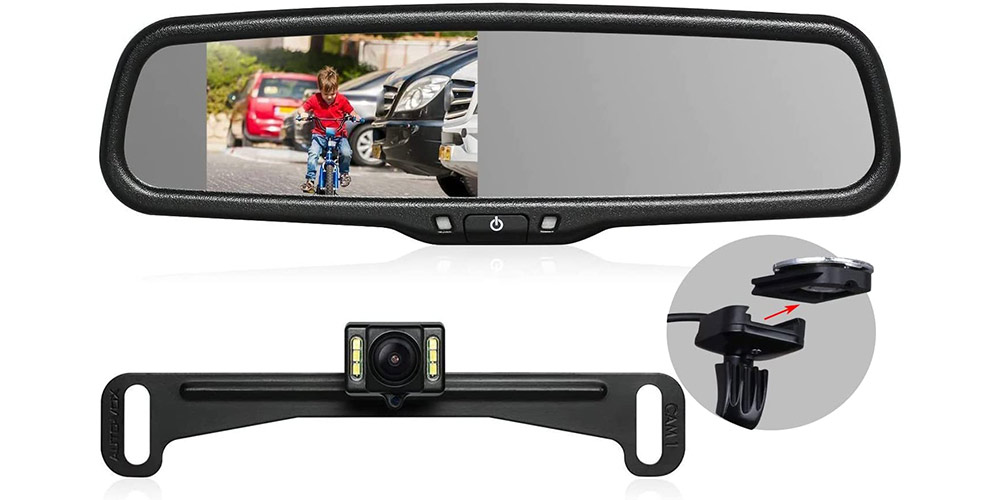 Brand: AUTO-VOX
You can replace your mirror with one that is either a full-time display or, like the AUTO-VOX T2, one that has a normal mirror with a 170° rearview display integrated into it if your car doesn't have an existing screen and you don't want to give up any dash or windshield real estate to a monitor.
The device comprises a small waterproof license plate backup camera affixed to a frame with one cable that needs to pass through the tailgate. It also has backup LEDs. The reverse lamps can be connected to it so that the LEDs turn on at the appropriate moment automatically. Another wire is divided and sent through the cabin in front of the other to connect to the mirror display.
In addition to three brackets for various models and an extension wire for large vehicles, the display fastens to the permanently mounted rearview mirror clip. The regular reflective mirror makes up the other half of the mirror, and the left side has a 4.3-inch screen with 480p resolution. By default, parking and guiding lines are turned on.
Backup camera mirrors are not the most well-reviewed category, and throughout the years, AUTO-VOX has produced a variety of similar models. Because of AUTO-track VOX's record with comparable products and its industry-leading 87% positive score from roughly 1,100 reviews, we decided to go with the T2 as our top selection.
Users claim that AUTO-VOX offers helpful customer care via email, but there is no specific North American contact; instead, you must call a local Shenzhen number. The auto-vox.com website is a little challenging to browse, and downloading a manual needs you to submit your email address. However, there is no need for verification, and the manual is helpful. The T2 backup camera comes with a 12-month warranty from AUTO-VOX, which you may extend by six months if you register it.
#5 WolfBox G840H WOLFBOX 12″ 2.5K Mirror Dash Cam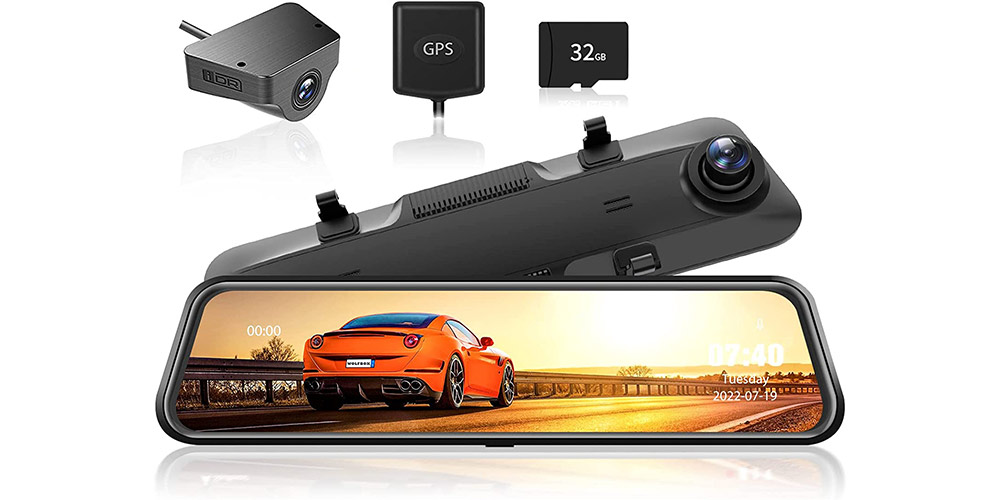 Brand: WOLFBOX
Swap out the hybrid model of the AUTO-VOX T1 with an all-digital display. The largest mirror-style monitor that we believe is safe to install in your vehicle is WolfBox's top-tier G840H model. This 11.8-inch wide, 1440p screen has a 33 sq.in. viewing area, or roughly two Galaxy S22s or iPhone 13s lined up end to end. It combines GPS with a front dashcam with 144 OPS and a rear camera with 1080 P. The features include a pairing monitor, low-light function, reversing lines, and a dashcam with a looping recording and collision sensor.
The WolfBox attaches to your existing mirror, so at least you can remove it if it breaks. The firmware, interface, and the new Sony front sensor, according to WolfBox, have all been improved to handle overheating, a problem with high-resolution in-car screens.
WolfBox advises upgrading to a 64GB MicroSD card instead of the included 32GB model, which must first be formatted to FAT32. For the rear unit to be connected and to be wired into the reverse lamps for an auto-on feature, you will need to run wiring through the tailgate.