Since your home probably already has one installed, garage door openers are sometimes disregarded. Although it may seem simple, buying a new garage door opener is more difficult than you imagine. Modern systems come with many functions and add-ons, and a large variety of garage door openers are now offered at different price points.
Generally speaking, garage door openers aren't very expensive, but you'll want to pick one that will last for a long time. Although there are different types of garage door openers, they all serve the same basic purpose. A motor is built inside each unit, which moves a trolley attached to the door.
The fundamental distinction between the varieties is the driving utility, which drives the garage door up or down when the trolley is activated.
If you plan on buying a garage door opener and are overwhelmed by the options, check out our top 5 best garage door openers list below!
#1 Chamberlain Smartphone-Controlled Garage Door Opener (B970)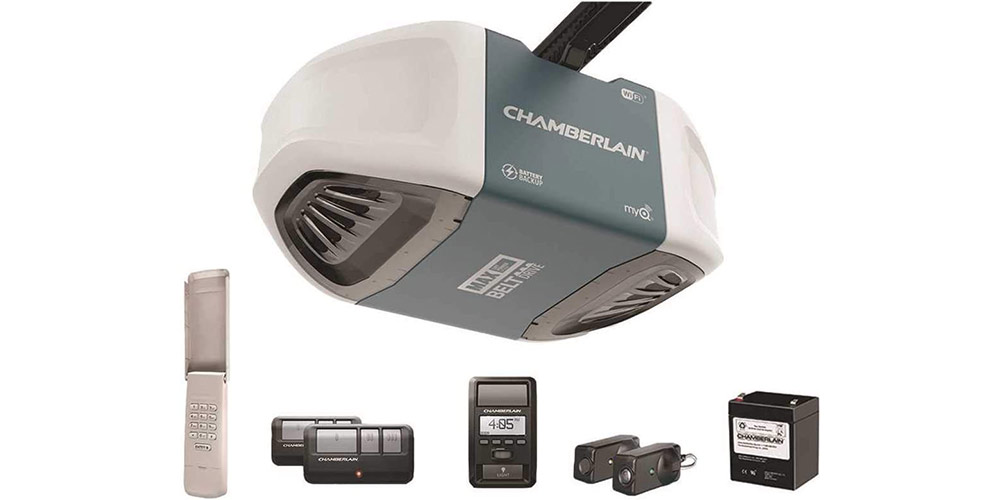 Brand: Chamberlain
This garage door opener is different from the one your parents' house used to have. In today's connected world, you can now purchase a garage door opener that you can operate from your smartphone. With the help of the myQ app on your device, you can open, close, or check the status of your smart garage door opener thanks to built-in myQ technology. There is now an app for that, so you won't have to wonder if you shut your garage door or not.
It uses a steel-reinforced belt drive and is made of high-quality components to last for years. It is also an incredibly quiet opener. The Max Lift Power Device from Chamberlain, which provides lifting force equal to 1-1/4 hp, powers this system. Additionally, you'll receive two 3-button remote controls with a 1,500-foot range thanks to exclusive TriBand technology.
This product has two safety sensors and a motion-detecting control panel, as you would anticipate from such a high-tech garage door opener. The panel makes it simple to program keypads, remote controls, and myQ lighting accessories. As suggested by the name, it will automatically switch on your garage lights when it detects motion. Additionally incorporated with Posilock anti-theft security is a wireless keypad. No need to worry about installing any electrical connections to your garage entrance because it is wireless.
In addition to all of these features, the garage door opener may be connected to widely used programs like Wink, IFTTT, Google Assistant, Key by Amazon, and Google Assistant. All are intended to work together to create a smart home, such as utilizing Wink to set your house lights to switch on when the garage door opens. Customers who choose Key by Amazon have the option of in-garage delivery.
There's no need to look further if you want to update your garage door opener. Just bear in mind that there's still a lot of preparation to do, but it will be worthwhile.

#2 Sommer Direct Drive Garage Door Opener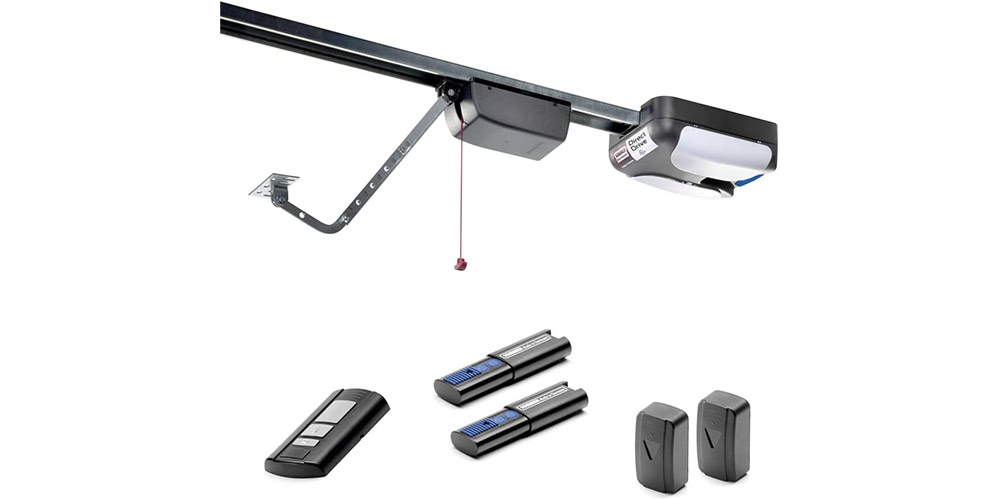 Brand: Direct Drive
The Sommer Direct Drive garage door opener's an exceptionally quiet device that supposedly vibrates hardly at all. Unlike traditional door openers, which use a noisy chain, belt, or screw, it is a 3/4-hp opener utilizing strong traveling motor technology and only a single moving part. Instead, a solid steel rail-embedded chain that the motor is gently gliding along provides for a smooth operation and soft start/stop technology.
This German-made opener is claimed as the only one of its kind in the world to offer the most cutting-edge technology. The kit comes with a rail for doors that are between seven and eight feet in height and is covered by a lifetime warranty. It has reportedly undergone up to 100,000 cycles of testing, according to Sommer. Two two-button transmitters plus one interior wall station are included in each kit. At 310 MHz, the transmitters employ secure rolling code technology. You may use your car's built-in garage remote because it is HomeLink compatible.
Like the majority of garage door openers today, the Direct Drive is equipped with a safety beam sensor that projects an invisible beam across the opening of the garage door, automatically reversing the door if something blocks the beam as it closes.

#3 Genie SilentMax 1200 Garage Door Opener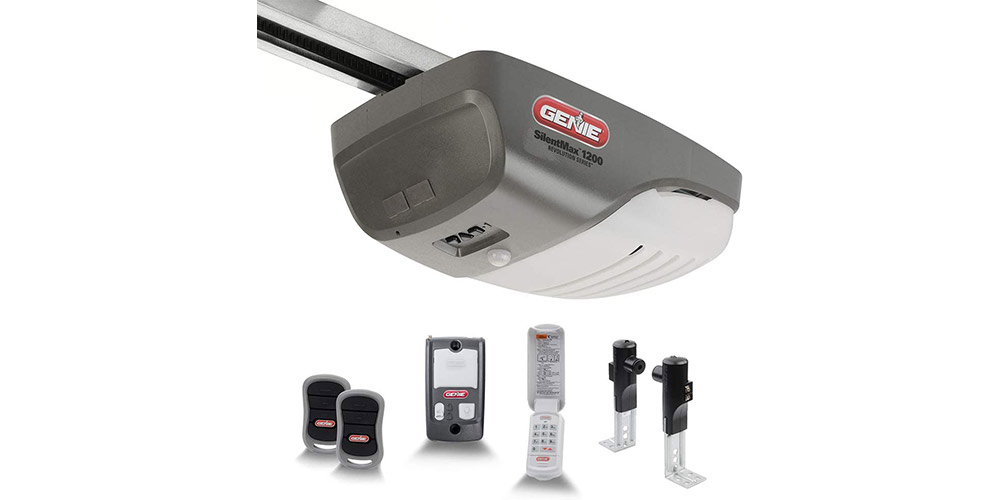 Brand: Genie
The SilentMax 1200 is among the most well-known garage door openers from Genie, another company with a broad selection. A 140-volt DC motor that is less in weight and offers ultra-quiet and smooth performance because of a soft start and stop feature is an excellent choice if the garage is connected to your home.
The opener has enough force to open nearly any residential garage door that is up to seven feet tall or eight feet, with an extension kit that is available separately.
A hidden infrared beam is spread across the door opening by this opener's Safe-T-Beam feature, which helps to prevent accidents. While the door is closing, if something crosses the light's path, it will automatically reverse. According to Genie, the beams have been upgraded with diagnostic technology so that it can notify you if a problem arises.
The system also features a two-bulb lighting setup with room for two 100-watt bulbs that may be purchased separately. Utilizing the lighting, there is a motion detector built-in that will switch on the overhead lights automatically for enhanced convenience and security.
Utilizing Intellicode Security technology, the SilentMax 1200 helps guard against unwanted access to your garage. With rolling code technology known as Intellicode, every time a door is opened, the access code is automatically changed. Each kit for this opener comes with a multi-function wall console with a vacation lock and a light control button, two pre-programmed three-button remote controls, a wireless keypass keypad, and a lifetime warranty on the motor and gearbox.

#4 Decko Garage Door Opener (24300/24503)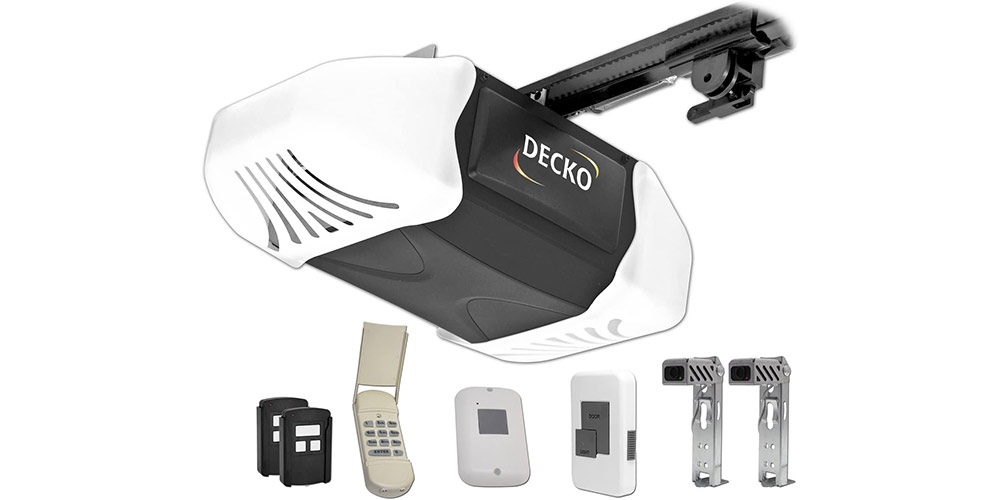 Brand: Decko
Decko provides two cost-effective choices, including a 3/4-hp heavy-duty opener that may be driven by a chain or a belt. With a simple click of a button, you may change the travel limits and force of the motor, which is built for silent and dependable operation.
The kit's installation is made simpler by non-polarized wiring connections and the opener's auto-reverse safety system with optical sensors. The auto-reverse feature will prevent the door from shutting if an object gets in the way of an invisible beam, just like the majority of contemporary garage openers.
A lifetime limited motor warranty plus a one-year parts warranty are included with the Decko garage door opener, which is made to withstand extreme cold and heat. It is constructed using a 20-point inspection quality control process.
An additional component of the kit is a lighting setup that can use two bulbs with a combined maximum power of 100 watts. With an eight-foot extension, this opener can accommodate sectional garage doors that are up to seven feet tall and 18 feet wide. An optical safety sensor, a three-function wall panel, plus a pair of remote controls with three buttons are included in each kit. It works with HomeLink as well.

#5 Liftmaster 8500 Wall Mount Garage Door Opener
Brand: LiftMaster
The Liftmaster 8500 is a wall-mount device that uses a 24-volt DC motor to minimize space, so you have room above it in your garage. Because it doesn't need rails to hang, this opener is a great choice if your garage has a car lift or if you need extra space for a lifted truck or motor home. It offers variable speed, smooth start, and smooth stop, as well as quiet, dependable operation.
Additionally, this system has an auto-force feature that continuously monitors the garage door system and modifies forces to account for changes in temperature, floor height, as well as door track movement. To ensure constant lubrication and protection for extended life and smooth operation, there's also an enclosed gear case.
The Protector System utilizes an invisible light beam to cover the garage door opening, and if something blocks the beam as the door is descending, the door will instantly reverse. In addition, if the Protector System's infrared beam is obstructed, the opener light will immediately turn on.
With this Smart Garage Door Opener, you may electronically program security codes using the powerhead or the MyQ Control Panel that is provided. It includes a power deadbolt lock and an attached six-foot power line for further security. The remote light kit that comes with the garage may be put anywhere and provides up to 200 watts of light with an adjustable light delay.
Roll-up doors and low headroom tracks are not compatible with the Liftmaster 8500. You need a sectional garage door that has a front mount torsion spring with a one-inch shaft in order to use this system. It can support a door up to 650 pounds in weight, 14 feet tall, and 180 square feet in size.