Due to polycarbonate plastic headlights used on vehicles, they turn yellowed, foggy, or dull when frequently exposed to different elements. Vehicle owners should be glad that headlight restoration kits are available to restore old headlights and turn them bright again for safer and better driving conditions.
According to a AAA study, your car can lose up to 80% of headlight performance due to old age. According to research, deteriorated headlights used on low beam only provided 22% of the total light a new headlight produces at full capacity. Replacing these headlights with original parts is the proven most effective method to get 100% output back. The problem with this is the cost of new headlight clusters. You will have to spend hundreds of dollars on replacements.
If you want a cheaper option and are keen on DIY, you can opt for headlight restoration kits. If you do not know which one to buy, we narrowed down the choices and came up with the top 5 best headlight restoration kits. Check it out below.
#1  Mothers NuLens Headlight Renewal Kit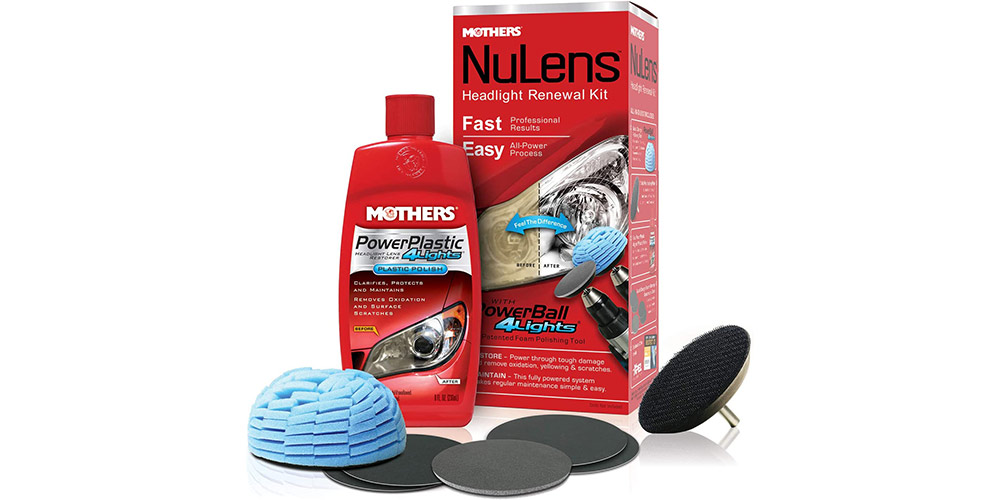 Mothers has been a well-known brand in car care, and it's just fitting that they also have a product that can handle headlights. The Mothers NuLens Headlight Renewal Kit is easy to use, reusable, high quality, and well-designed. Like other headlight restoration kits, this product requires multiple sanding steps via a velcro hex shank attachment that can be used with a driver or a drill. It begins with wet sanding from 800-1,500 grit, then dry sanding at 3,000 grit. To finish it off, you need to polish it via a foam polishing ball plus a few drops from the PowerPlastic 4Lights polish bottle.
We recommend wet sanding for it helps control dust, plus the sandpaper won't clog fast. If ever that happens, you can rinse it out. You need to be careful not to make a mess. If you're careless, the polishing ball can spray compound around. The polish leaves a protective polymer film. However, this product does not offer the same UV-resistant clearcoat that most kits provide.
The Mothers NuLens Headlight Renewal Kit does not require curing time to take effect. 

#2 3M Ultra Headlight Restoration Kit
When it comes to results, the best choice is the 3M Ultra Headlight Restoration Kit. According to 3M, this coating works for up to two years, and curing time only requires an hour. This kit has a drill attachment with a thick, soft pad that conforms well to the headlight's curves.
This makes a lot of dust; despite polycarbonate being nontoxic, you still have to worry about the old coating when turning it into fine powder. Dry sanding causes pads to clog up faster; this kit has lots of them. You can only use this kit once. You can only get one UV clearcoat wipe for each of your headlights. For some car owners, that would be a letdown.

#3 Sylvania Headlight Restoration Kit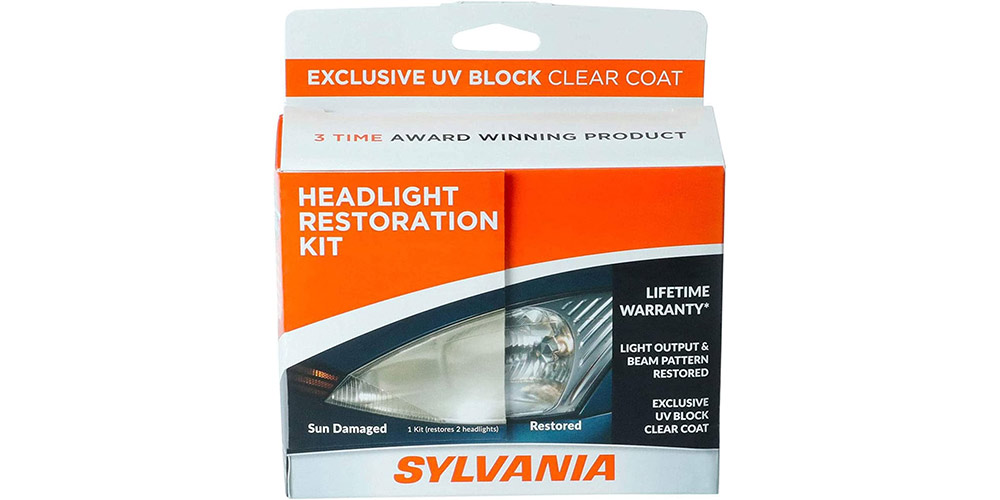 If you need a headlight restoration kit that works as a great hand sanding kit, you might want to check out the Sylvania Headlight Restoration Kit. This is perfect for complicated headlights your drill attachment will have difficulty reaching. We highly suggest using a drill attachment kit, but if headlights feature complicated shapes and curves, we highly recommend that you hand sand.
According to the company, it would take 30 minutes for each headlight to get done. You will have to initially utilize the Surface Activator to help soften the plastic. This will make the sanding smoother and easier. You will follow it up with the actual sanding plus polishing before you seal the headlight lenses using a UV Block Clear Coat applicator.
You have to be extra careful when you apply the UV clearcoat because it can be messy. The curing time is quite long as well: 4-6 hours. Sylvania offers a lifetime warranty for this product. 

#4 Meguiar's G2970 Two Step Headlight Restoration Kit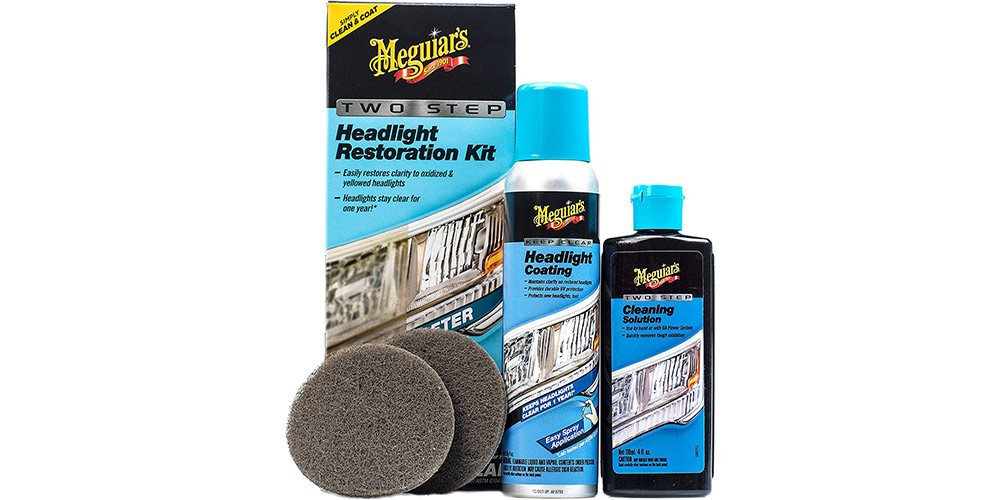 Meguiar's is one of the most popular brands when it comes to car care. Meguiar's Two Step Headlight Restoration Kit is special compared to other kits. As soon you have applied the cleaning solution, you will have to use the mildly abrasive cleaning pad to evenly haze the headlight. You will then have to clean it then apply two coats of the aerosol protectant.
According to Meguiar's, you must apply, scrub, and wipe the solution off multiple times to get an evenly hazed headlight. Due to the gentle process that it entails, you will have a hard time using this on damaged or very cloudy headlights. 

#5 Cerakote Ceramic Headlight Restoration Kit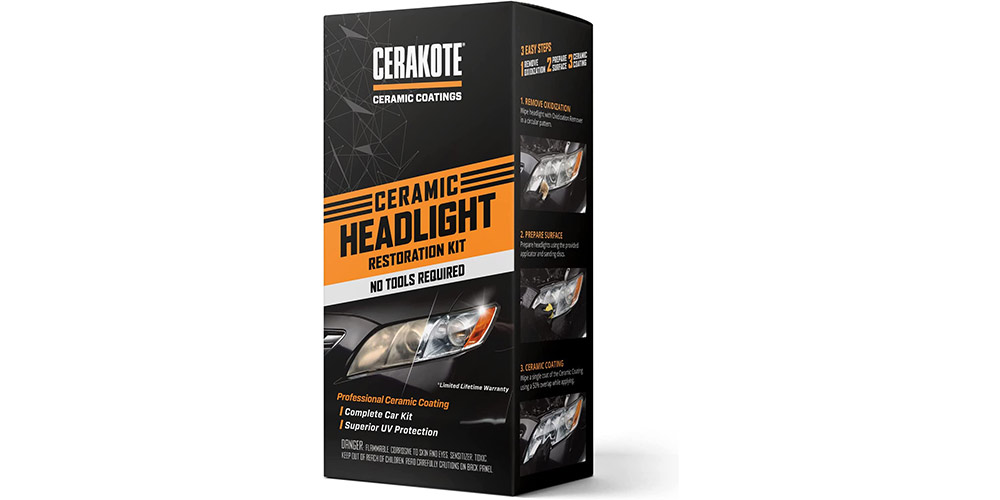 If you are updated with car detailing products, chances are you've heard about ceramic coating. The Cerakote Ceramic Headlight Restoration Kit is designed to chemically bond to your vehicle's headlights. It offers UV protection as well. This product comes with a limited lifetime warranty, as the company claims this coating will last as long as you own your vehicle. If this fails, they will gladly cover the next kit without any cost.
The Cerakote Ceramic Headlight Restoration Kit also features a prep spray, just like Sylvania. This is effective and essential to achieving the most desired headlight restoration results. According to Cerakote, a UV protectant is included in the prep spray and produces a ceramic wipe-on coating that offers more durability compared to traditional UV protectant clearcoats. Cerakote also claims that the coating can help fill chips and scratches that can't be fixed with sanding.

Picking the Best Headlight Restoration Kits
You can check different factors when choosing the best headlight restoration kit for your vehicle. Important considerations include curing time, efficiency, and cost. Some kits take longer to cure compared to others but can protect your headlight for a longer period. You can choose from reputable car care brands such as Meguair's, Mothers, 3M, and Cerakote.
A headlight restoration kit will only serve its true purpose if you achieve improved headlight visibility or if it transforms closer to its brand-new look.