Compared to other cleaning methods, steam cleaners offer superior results. They are frequently the only tool that can remove stains and filth that no other equipment can. A steam cleaner uses regular tap water heated to a temperature over its boiling point of 212°F/100°C and then forced out via a nozzle under pressure.
The best way to get the most out of your steam cleaner is to vacuum first to get rid of any loose dirt and then vacuum again later to get rid of any particles the steam cleaner may have loosened from the upholstery of your car.
We came up with a list of the top 7 best steam cleaners for your car, including instructions on how to use them.
#1 McCulloch Heavy-Duty Steam Cleaner (MC1275)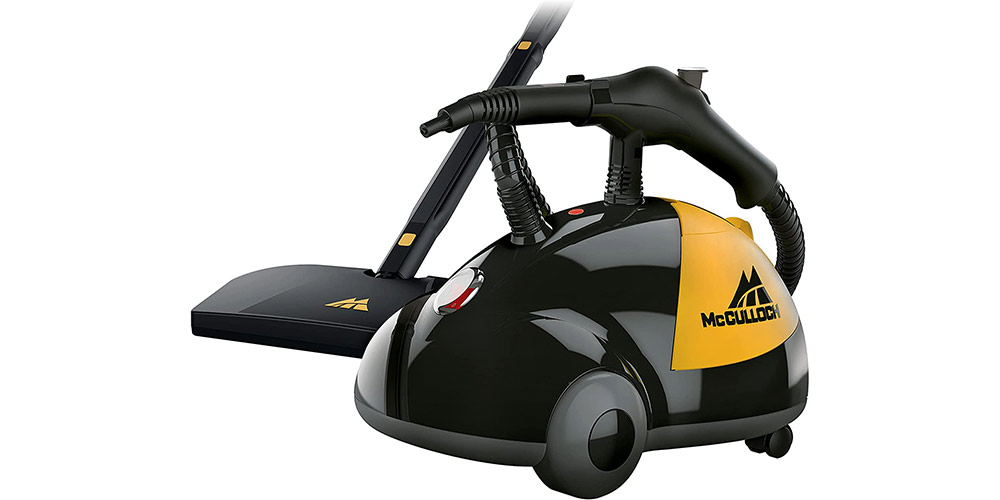 Brand: McCULLOCH
Amazon selects the McCulloch MC1275 steamer as one of its top picks. It contains a 1,500-watt heat source and steam pressure to 43 PSI, so it blasts away stuck-on grit deep inside cup holders. The McCulloch Heavy-Duty Steam Cleaner should produce enough steam with a 48-ounce water tank to clean continuously for 45 minutes, and it has a trigger lock so you can keep mopping without holding the trigger down. Filling the tank to a lower level will enable it to heal more quickly if you don't require as much steam.
The McCulloch Heavy-Duty Steam Cleaner is easy to move about because it has wheels on both ends, a 15.7-foot power cord, and a 10-foot steam hose. There are 18 included accessories, most of which are more helpful around the house than in a vehicle. We preferred the low steam pressure of 212°F/100°C because there is a smaller chance of hurting anything, although higher steam is more beneficial for cleaning.

#2 Bissell SteamShot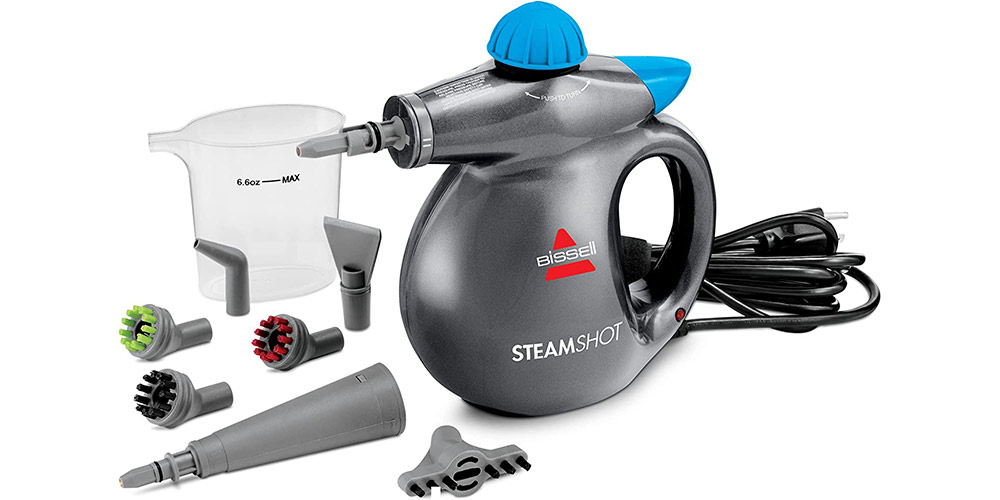 Brand: Bissell
A tiny 1,000-watt Model 39N7A SteamShot produces steam at 66 PSI up to 120°F/49°C, which isn't hot enough to sterilize, from a 200ml/7.4oz tank. But it's also not hot enough to harm any interior materials, which we consider a benefit. Compared to high-temperature, high-pressure steamers, it is also significantly safer to operate around.
Eight tools are included with the SteamShot steam cleaner, including an angle concentrator ideal for small seams inside a car. There are also three upholstery cleaners. The cord's reasonable length is 20 feet. 

#3 Wagner AutoRight SteamMachine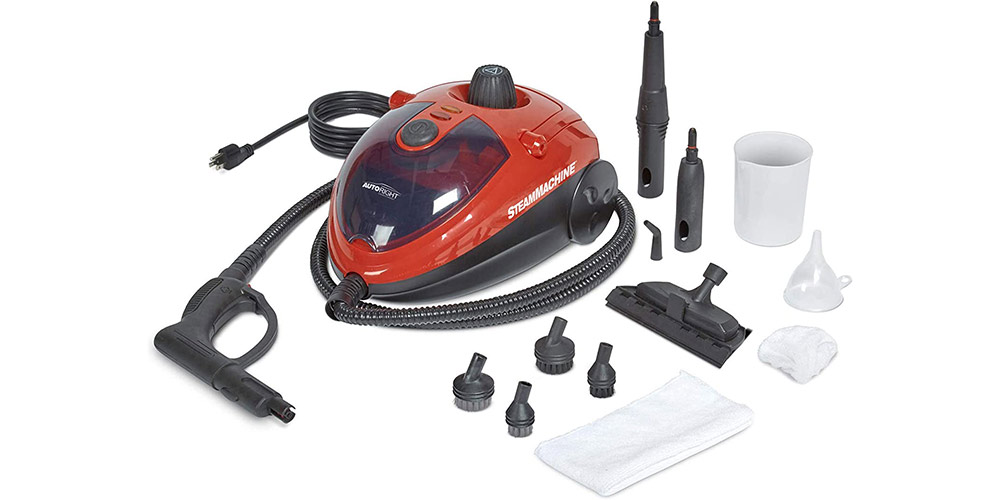 Brand: Wagner Spraytech

The AutoRight SteamMachine is a compact steam cleaner designed exclusively for cars. It also comes with seven tools, most of which are scaled to fit the numerous hard-to-reach areas inside a vehicle.
There are accessories for hard surfaces, carpets, and leather and fabric seats. Although it has a sizeable 40-ounce tank that provides a lengthy 35-minute steam time, it only has an eight-foot cable and hose, so you'll need to carry it around using either the wheels or a built-in folding handle. It performs well at a steam pressure of 55 PSI and steam temperature of 290 F.
It is more expensive than most handhelds, but this tank-style carpet steam cleaner is reasonably priced. The same tools that work well on your automobile seats will work well on the chairs in your home.

#4 Light 'N' Easy 7688ANB-2 steam mop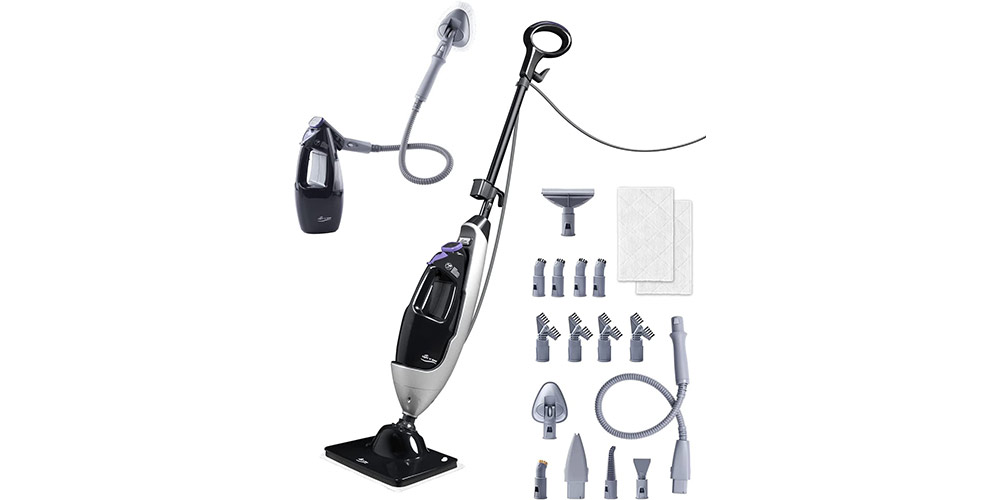 Brand: LIGHT 'N' EASY
With a detachable corded handheld device that serves as both a home and a vehicle unit, Light' N' Easy creates a two-in-one steam mop. The portable component has low, medium, and high controls and is compatible with several available accessories.
The 7688ANB-2 steam mop has a 20-foot cable and can contain 11.5 ounces of water. Among the extras are washable microfiber mop pads, grout cleaning brushes, a jet nozzle, window squeegees, cylinder wands, and extension hoses.
With a heat output of 230°F, the 7688ANB falls into high-temperature steamers. We advise starting with the low heat and moving to medium if that doesn't work because that might be too hot to harm plastics and synthetic textiles. While water can refill the tank at any moment while in use, it will probably start to get too hot after 15 to 20 minutes and shut off.

#5 Steamfast Multi-Purpose Steam Cleaner (SF-370WH)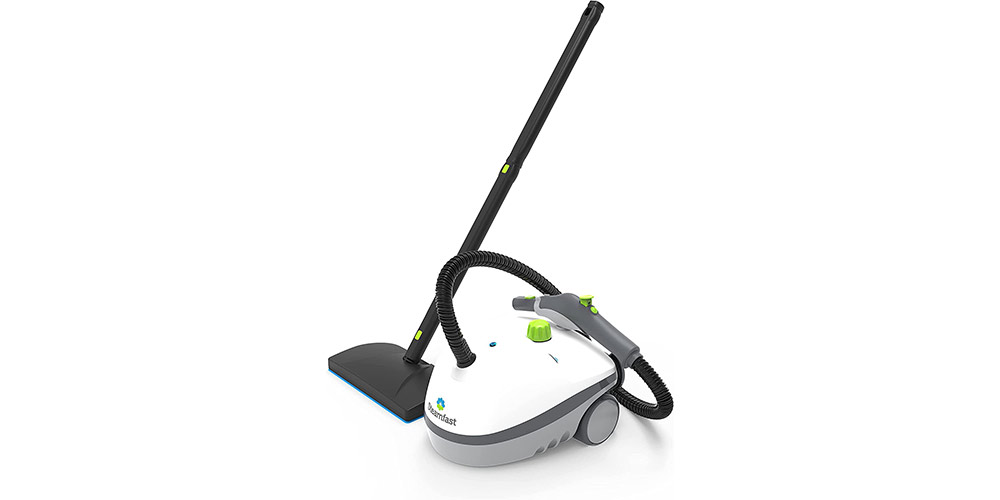 Brand: Steamfast
Steamfast, another steam cleaner, receives an Amazon's Choice label. The SF-370WH is a cost-effective steam cleaner and sanitizer that produces a pressured steam flow from a 1,500-watt boiler. The Steamfast's 15 attachments, 15-foot cord with integrated cord wrap, and 6.5-foot hose make it ideal for steam cleaning your engine compartment and all the hard surfaces inside your car, including the windows and tires.
It takes eight minutes to warm up, and the large 48-ounce water tank should last up to 45 minutes of cleaning. There is a steam-on-demand switch and a lock for continual steam.

#6 MLMLANT Power Steam Cleaner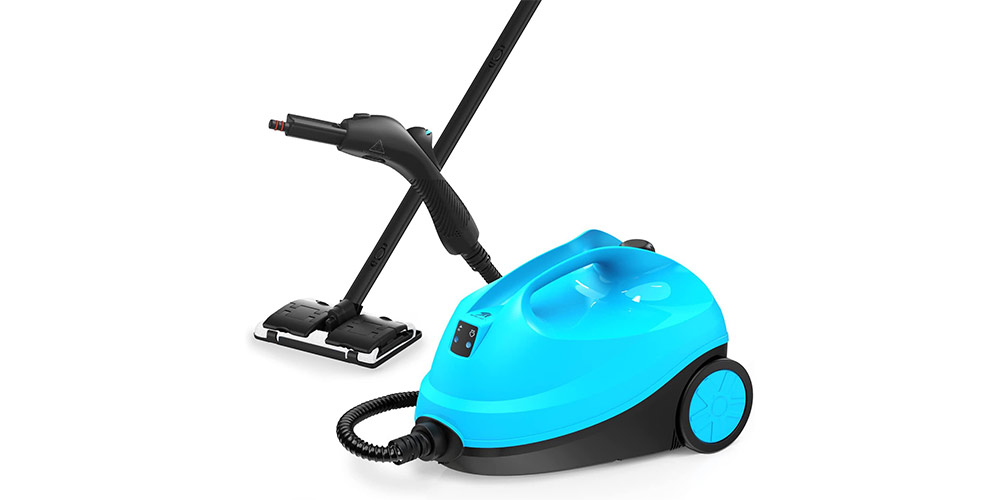 Brand: MLMLANT
The SC541 Power Steam Cleaner is a canister-style pull-behind steam cleaner on sliders loaded with features and designed for home use, but its 11.8-pound weight, a wide range of functions, and attachments make it a viable option for both home and auto use.
It is quickly warmer, taking three to five minutes to heat up, even with a sizable 1.5-liter water capacity for steaming periods in the 35-minute range. It also has a five-foot hose with a trigger lock and a lengthy 16-foot cord that easily coils on board. The accessory set is also quite thorough. It also  35-minute can reach temperatures of 275°F/135°C.

#7 Vapamore MR-100 Primo Steam Cleaner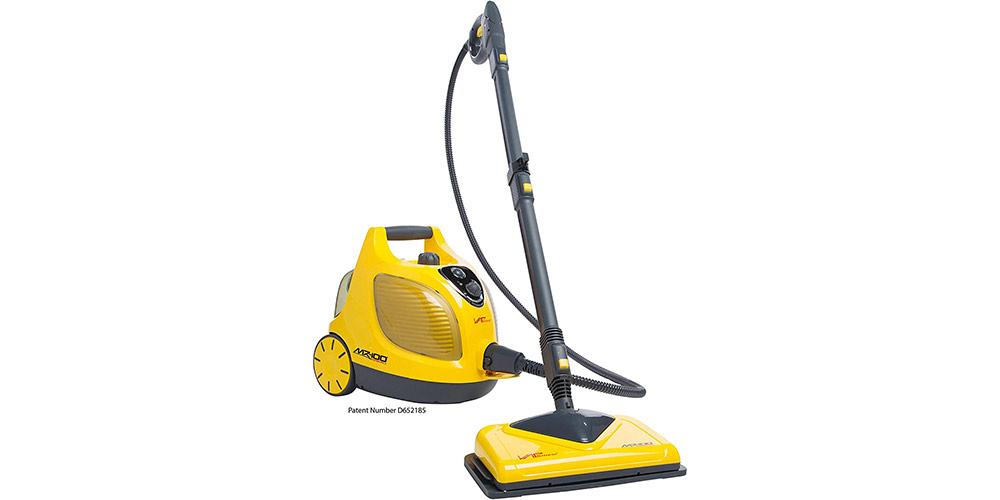 Brand: Vapamore
With a maximum pressure of 50 PSI, this lower temperature machine produces steam at 210–220°F. A set of new O-rings is also supplied, along with more than a dozen cleaning equipment like wands, wipes, and nozzles. It is pretty silent at 30 Db.
Its rope is 18 feet long, but the hose is just six feet long. It has a 1.6-liter capacity and takes 10–11 minutes to warm up. It can steam for up to 60 minutes.