Car remote starters function by allowing car users to start the vehicle without getting near it. These also come in handy when you plan on warming up your car before entering it. If you're searching for a reliable car remote start system, check out our list below. Expect our picks to offer the best value for your money.
#1 Viper 5706V 2-Way Car Security with Remote Start System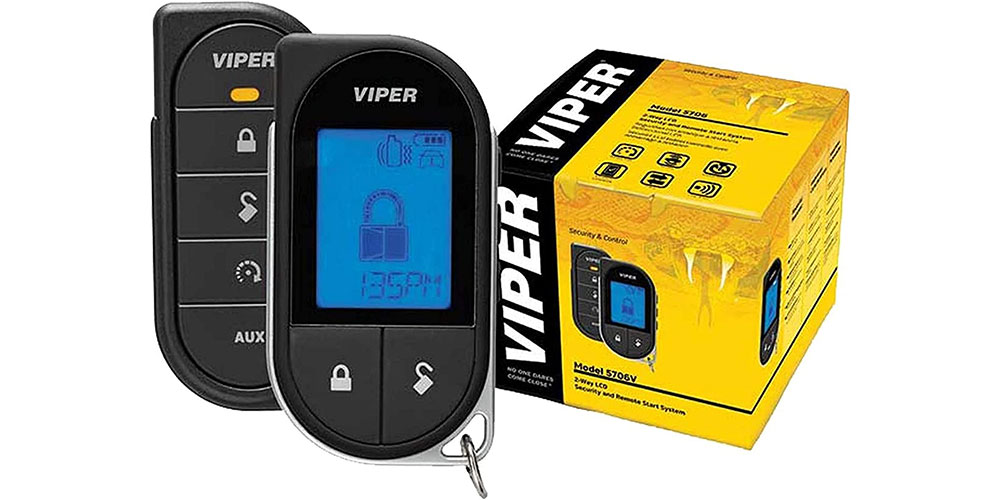 Brand: Viper
One of the best car remote start systems is the Viper 2-Way Car Security with Remote Start System. This device is loaded with features which includes a large LCD that comes with a lithium-ion battery plus micro USB recharging. The remote plays a huge role as it assists in monitoring and commanding your car, unlike any other in the market today. It comes with a Priority User Interface that utilizes five buttons to operate 24 functions.
One incredible thing about this device is when you remote start, the Responder LC3 will show the actual temperature of the interior of your car if you select Active Temp Check. From this data, you can assess whether it is ideal for getting inside your car or not. There are times when cars are left at a very hot location, and going inside a hot car is one of the most annoying things to do. With the Viper 2-Way Car Security with Remote Start System, you have actual temperature data before you decide to get inside your car. The notable Priority User Interface and Features in this system include Runtime Reset, SmartStart, Silent Mode2 siren-less alarming modes, Timer Start, and TempCheck.
The steep price is the only reason we see why some car owners might pick other car remote start systems over this product. However, the pros outweigh the cons. For those who can afford to purchase this, we recommend getting it.

#2 Compustar CS7900-AS All-in-One 2-Way Remote Start and Alarm Bundle w/ 3000 feet Range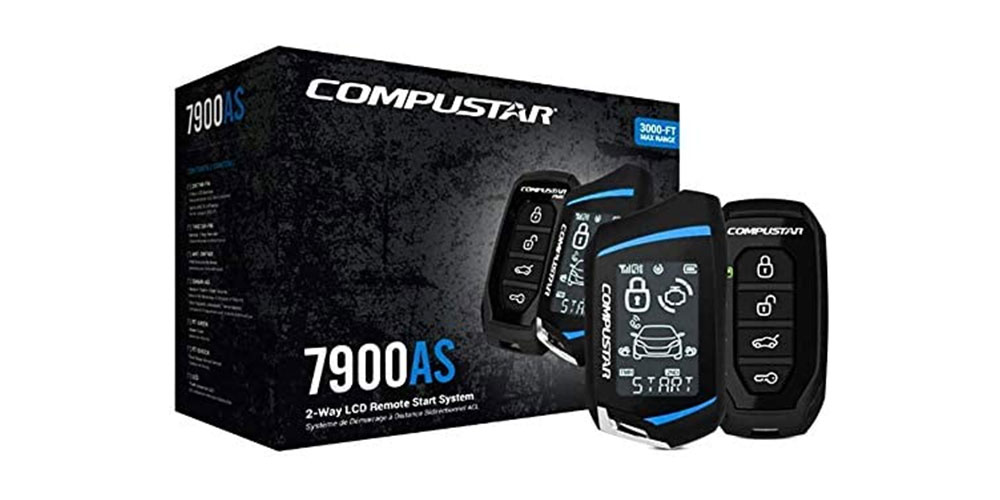 Brand: Compustar
Compustar offers one of the most impressive two-way remote start and alarm bundles on the market today. The Compustar CS7900-AS comes with a max range of 3,000 feet, and that is as impressive as it gets. It offers an interactive LCD remote, LED, siren, shock sensor, and the CM600 control module. This device will let you start or lock your car even at a sizable distance. The remote will provide audible and visual cues to let you know whether your commands were successfully sent.
This system will help you add hood, trunk, door, and impact sensors all over your car for improved security. As soon as a breach occurs, the LCD remote can inform you immediately of what's happening around your car. Another aspect that is impressive about this system is that you can expect over 105dB when your alarm siren turns on.
We highly recommend that you let professionals install this into your car so that you won't have any issues, especially with wiring. Be careful with the screen on the remote as it scratches easily.

#3 Prestige APS997Z Two-Way LCD Command Confirming Remote Start/Keyless Entry and Security System with up to 1 Mile Operating Range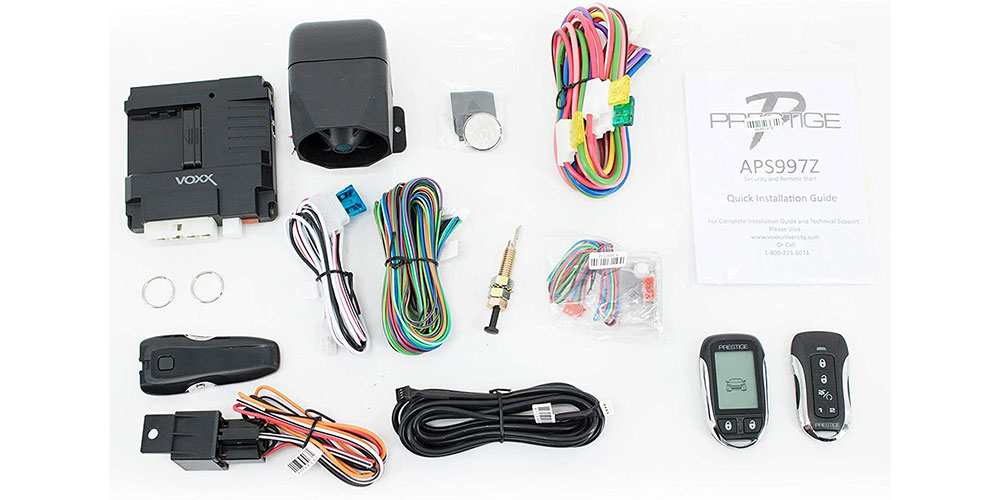 Brand: Prestige
Among the car remote start systems on this list, the Prestige APS997Z offers the best bang for your buck. You'll get the best value out of this affordable remote start system. It's always a win for us when you get high-end features at a lower price point. It has an impressive one-mile range. The LCD on the key fob will help you get updates on what's happening with your car. You can use it with CarLink for GPS tracking and smartphone control. This two-way system features two five-button key fobs. You can select start modes and run times. A parking meter countdown also comes with this system.
The cons that you should take note of include installation issues, and the price point is higher when compared to one-way systems. Some users of this car remote start system suggest leaving the installation to professionals.

#4 EASYGUARD EC002 Smart Key RFID PKE Car Alarm System Passive Keyless Entry Remote Starter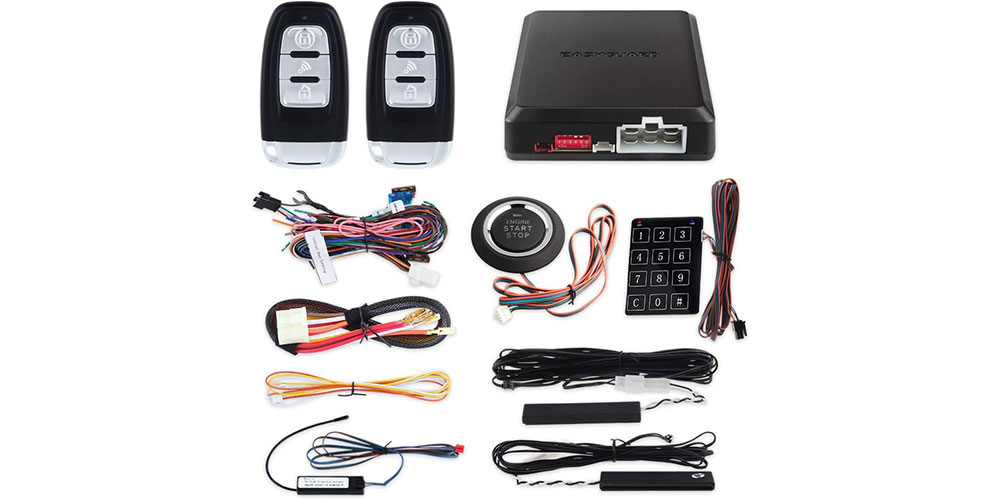 Brand: EASYGUARD
The EASYGUARD car alarm system offers features such as PKE or passive keyless entry, remote engine start, touch password entry backup, and a push start button. This car system offers quite an impressive package and would be ideal for most vehicles. Even older cars will showcase a more modern vibe if this system is installed. Just take note that installation in some cars will need a bypass module. If you have a vehicle running on diesel, you may have to get an extra timer delay switch.
One cool feature of this system is that when you find your key fob within 3-6 feet of your vehicle, the passive keyless entry system will function and unlock your car door. On the other hand, when your key fob is around 6-9 feet away from your car, the doors will get locked automatically.
When it comes to the cons, here are some pointers that you need to jot down: poor instructions, difficult to install, and customer support operates in China. In spite of these reasons, we still see the value in this product. If you plan on purchasing a car remote start system that offers a wide range of features, this system from EASYGUARD is a smart choice.

#5 Crimestopper RS7-G5 Cool Start 2-Way Remote Start System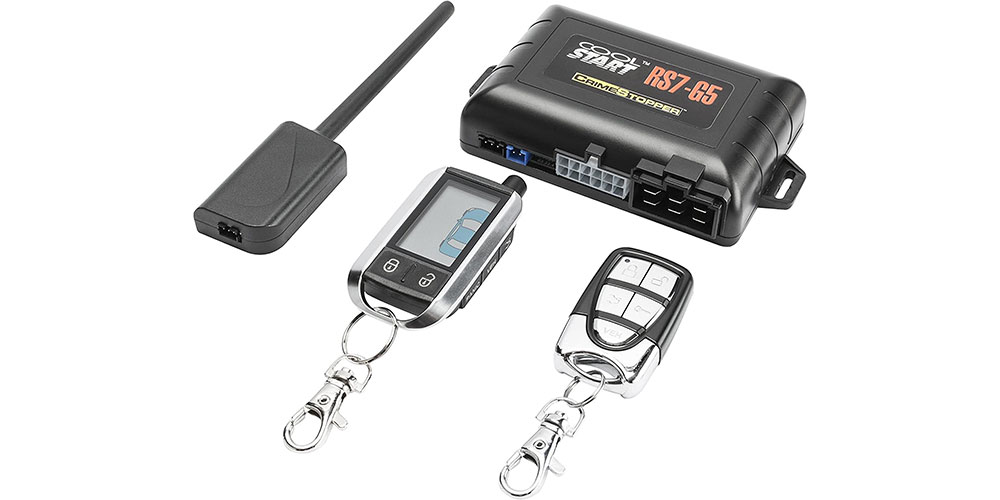 Brand: Crime Stopper
If you are planning to buy a two-way system with a more affordable price point, the CrimeStopper RS7-G5 is one of the best options. It offers a 3,000-foot range. The system also features a pair of five-button transmitters that help start the vehicle and provide keyless entry. CrimeStopper even offers a lifetime limited warranty for this product.
The cons that we noticed from this two-way system are that it has no option to get controlled via smartphones, and it lacks an integrated security system. In addition, the second key fob is just one-way and only has a range of 2,000 feet.

Choosing the Best Remote Start System
In order to get the best car remote starter system suited for your needs, you will need to decide whether you plan on purchasing a security system together with your remote starter kit. There are lots of remote starter kits that are standalone. However, they only feature basic functionality, such as starting your car remotely. If ever you have finally decided to get the most out of your car remote starter system, the options mentioned above would suit your cause.
Always make sure that when you purchase a remote starter kit, your vehicle is compatible with it. There are some that won't work with diesel vehicles or cars with manual transmissions. Compatibility is essential so you won't waste your time and money.
We highly suggest that once you have decided on a car remote starter system, get a professional to perform the installation. Please leave it to the experts. This is highly essential when you pick one that comes with an alarm system package. Get an expert to handle it for you, as it may come with wiring requirements that won't be easy to understand for untrained individuals.