If you like off-roading with friends, chances are that at least one of the adventurers will be driving a specially equipped vehicle with a winch attached to it. Even the most adept off-road vehicles occasionally find themselves in predicaments from which they are unable to escape, necessitating a tow.
While another vehicle may occasionally be able to attach a tow strap and pull the trapped vehicle free, there are times when an off-roader may not have enough room to do so. When such occurs, the only choice is to use a winch to extract the stranded truck.
Winches come in a wide variety of brands, and many of them have the same fundamental features and capabilities. It could be challenging to determine which winch is best for you if you have never used one before.
Winches come in a wide variety of capacities, mounting configurations, cable kinds, and control configurations. What winch will best suit your needs, given their wide price range? We'll discuss the features and characteristics of our top recommendations for the best winches in this article so you can decide which one is best for you.
#1 WARN VR EVO 12-S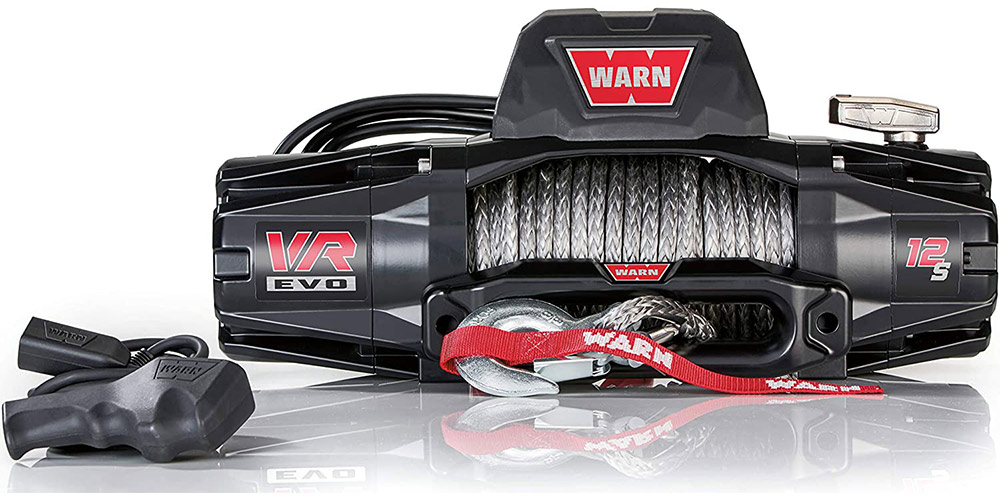 Brand: WARN VR
We begin with WARN's VR EVO 12-S Standard Duty unit because it is undoubtedly the most well-known brand in the winch industry. It pulls 12,000 pounds, as indicated by the number 12, and does it using a 3/8-inch, 90-foot synthetic cable that won't rust or corrode when it gets dirty and wet.
This device operates quickly, smoothly, and with a low amperage consumption thanks to a series-wound electric motor and planetary gear train.
It has an aluminum mounting plate, an IP68-rated enclosure that keeps dust and water out, and movable control packs for various installation patterns. A special two-in-one remote that may be operated wirelessly or with a cable connection is included with the WARN VR EVO 12-S.
The winch can be operated by a driver from behind the wheel or by a person standing next to the vehicle pulling, thanks to the wired connection. You can be sure that a WARN product is Grade A, but that quality doesn't come cheap.
Although it is one of the priciest winches on our list, it has excellent features and is a well-known brand.
#2 Champion Power Equipment Winch Kit with Speed Mount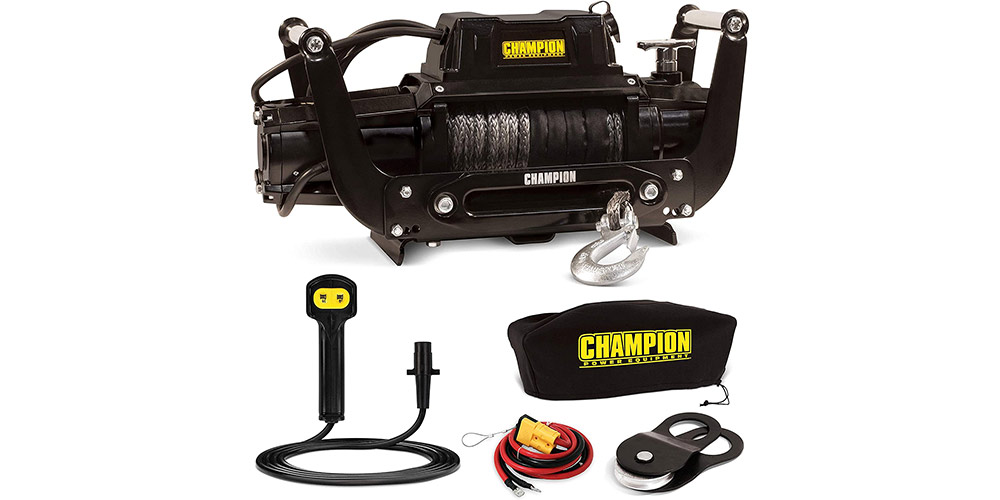 Brand:  Champion Power Equipment
The Champion Power Equipment Synthetic Rope Winch Kit with Speed Mount is your best option if you want a winch that you can quickly transport from vehicle to vehicle or that you can comfortably store when it's not in use. This handy carrier holds the 12,000-pound winch in place, and it connects to your automobile using a standard two-inch hitch receiver.
It may be readily removed and used on another vehicle, or it can be stored in the cab for safety because it is not bolted to the car. Additionally, if an off-roader has a hitch receiver in the front of their vehicle, they may easily shift it to the back. 
Should you lose hold of it in deep water, it comes with an 11/32-inch, 85-foot polyethylene cable that floats. A 6-horsepower series-wound electric motor, a three-stage planetary gear, a braking system, and a free-spooling clutch work together to retract that cable at a speed of 2.3 feet per minute while it is loaded or 15.7 feet per minute when it is unloaded.
Off-roaders may control the winch from the driver's seat or while standing next to the vehicle, thanks to the unit's wired remote control and 12-foot cord.
#3 VEVOR Electric Winch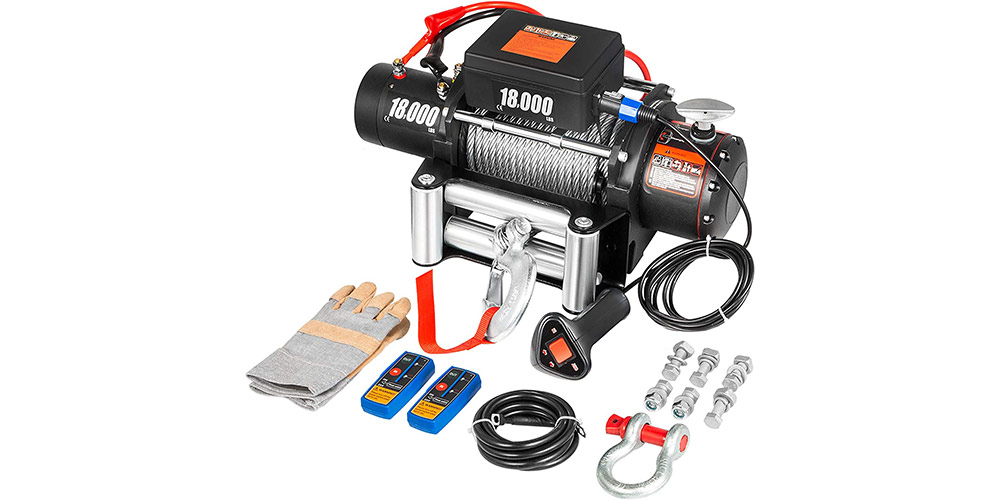 Brand: VEVOR
The VEVOR Electric Truck Winch is an option to think about if you want to outfit your truck or SUV with a winch that will help any of your off-roading friends when they get stuck but have a very tight budget. There is a catch to this winch's lower price; with an 8,000-pound rating, it isn't as powerful as the other winches on our list.
However, the majority of vehicles and SUVs that become stuck on the trails weigh less than 8,000 pounds. Therefore this VEVOR winch will typically function in those circumstances. A series-wound electric motor, a three-stage planetary gear, a free-spooling clutch, and a sliding ring gear are used in this suggestion.
#4 FieryRed Electric Winch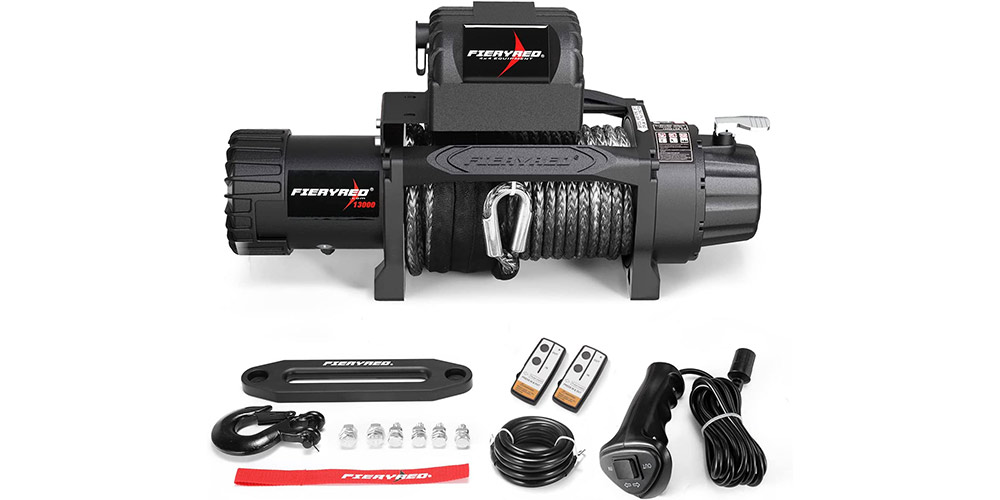 Brand: FieryRed
The FieryRed Electric Winch is a fantastic choice if you're searching for a winch that can draw a lot of weight at a reasonable price. This winch has a 13,000-pound pulling capacity, yet it costs less than half as much as the other options on our list. The FieryRed Electric Winch has an IP67-rated heavy-duty steel housing that shields the motor from water and debris, and the exterior is powder coated to prevent rust.
The three-stage planetary gear arrangement and 6-horsepower series-wound motor enable the motor to retract an empty line at 21.3 feet per minute while pulling a full load at 4.1 feet per minute. Additionally, it has an 85-foot synthetic cable that can securely pull over 23,000 pounds. 
With a wireless range of 30 meters, the remote control for the FieryRed Electric Winch is compatible with both wired and wireless connections. Both wired and wireless connections are supported in this configuration, and the wireless capability enables you to control the winch from anywhere along the length of the line.
#5 RUGCEL Synthetic Rope Winch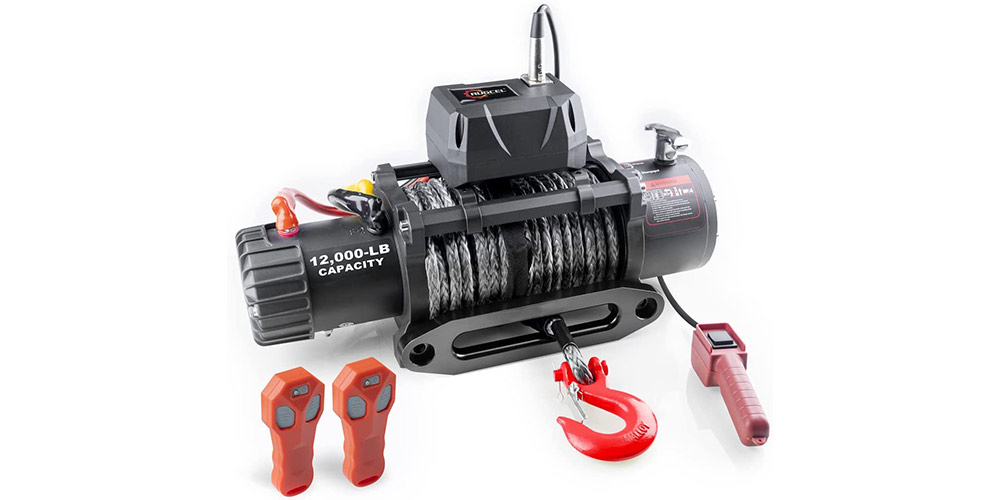 Brand:  RUGCEL
The 6.6 horsepower series-wound motor for the RUGCEL Synthetic Rope Winch is housed inside the waterproof, dustproof casing along with a three-stage planetary gear system and free spooling clutch. It has a control pack with many mounting options, enabling various locations on the vehicle. When loaded, this winch can draw up to 12,000 pounds at a speed of 4.6 to 5 feet per minute using a 3/8-inch, 86-foot nylon cable.
Place your car in park, extend the cable to the other car, connect it, and then start pulling the car free using your key fob. The integrated key fob system enables wireless operation while towing 12,000 pounds, even though there is a cable controller available as well.