Nobody wants clutter to engulf their vehicle. It's not just annoying, but it also serves as a safety concern. Personal things that we carry in our vehicles can be very unsightly if we fail to get them organized. It's also embarrassing if we let other people inside our car and showcase how disorganized we are with our things. Thankfully, there are car seat organizers that can provide you with the help that you need.
These car seat organizers come in different designs or styles but share the same role. They all help to declutter your vehicle and provide a reliable solution to help keep your car neat inside. If you don't have any idea of which car seat organizer to buy, we came up with a list of the top 6 best car seat organizers available today.
#1 Helteko Backseat Car Organizer
First on our list is the Helteka Backseat Car Organizer. We recommend getting this because of its versatility, price, and features. When you check it online, you will also find a lot of positive reviews for this product.
The Helteka Backseat Car Organizer comes in pairs. This product is made from a strong 600 denier nylon material that provides nine storage pockets, mostly made of mesh. It also has two bottle holder pockets plus a 10.5-inch pocket for tablets, and a transparent plastic cover. The are also holes that are made for charging cables to accommodate portable devices. Helteko designed this backseat car organizer with attachments at the bottom and at the headrest portion of the car seat to secure a better fit.
The product comes in two colors: grey and black. According to the manufacturer, this organizer is waterproof. Overall, we recommend this product for its durable construction and affordable price. The only drawback is its utilitarian appearance which may not be okay for everyone.

#2 Carhartt Nylon Duck Cargo Organizer
Another car seat organizer we highly recommend is the Carhartt Nylon Duck Cargo Organizer. It looks just like workwear. This product is water-resistant that comes in brown and black Cordura fabric. It's just like cargo paint for your vehicle. This car seat organizer comes with eight different pockets having different sizes. One of these pockets has a snap closure. What's different about this product is its Modular Lightweight Load-Carrying Equipment or MOLLE system, where you can place your tire pressure gauge or ballpoint pen.
The Carhartt Nylon Duck Cargo Organizer has a measurement of 15 x 24 inches. It may seem smaller than the other options, but it is durable. This organizer has a strap that encircles the post of the headrest plus elasticated connectors with hooks for grabbing onto the frame of the seat.
Overall, we recommend this product for being water-resistant, not too bulky, and rugged look. However, it's not the cheapest option for its smaller capacity.

#3 Lusso Gear Car Organizer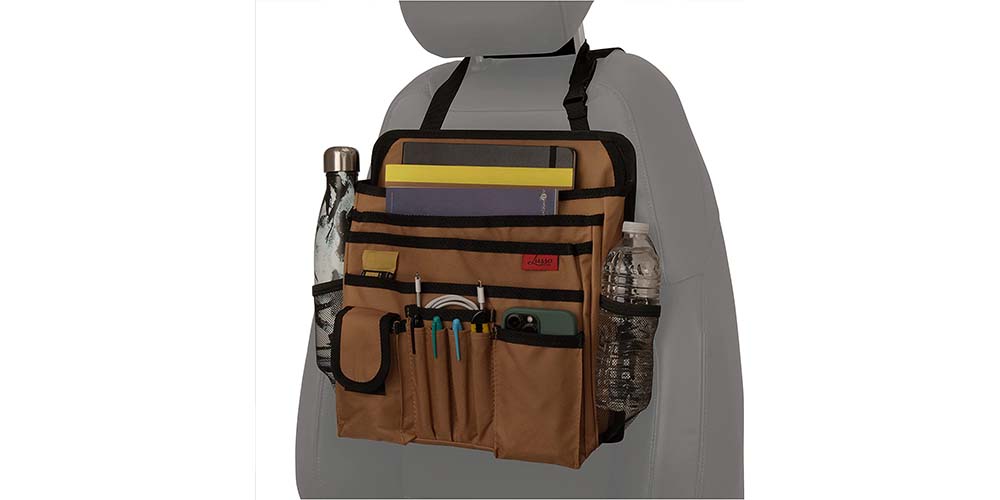 If you need a car seat organizer composed of heavy Oxford cloth, it would be smart to get the Lusso Gear Car Organizer. This car seat organizer is available in black, brown, tan, grey, and black with red stitching. This product has measurements of 13.5 x 13 x 13.5 inches. It comes with a trim size but can handle different items such as small laptop computers, files, iPads, etc.
There is a variety in the storage compartments with this car seat organizer, with the smallest ones located in the front portion, and the storage keeps getting bigger towards the back. Most of these storage parts can't be closed individually and have one big flap to cover all of them instead. Only one pocket in the front has a velcro-sealed cover. It comes with a shoulder strap. You can remove it from the car seat and use it as a briefcase. A belt is included for attaching to the headrest.
Overall, we like the style and color options from the Lusso Gear Car Organizer. The only drawback is the lack of individual closures.

#4 High Road StashAway Leakproof Seatback Trash Station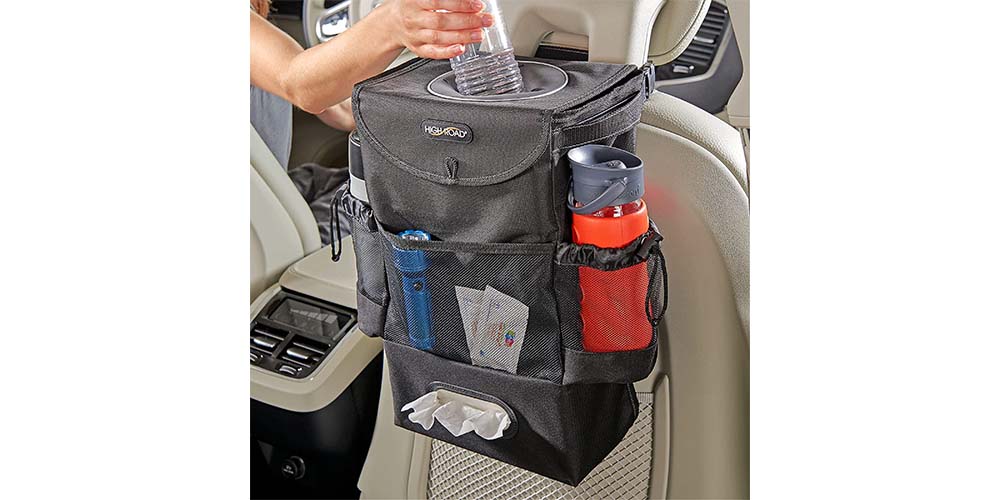 If you want a car seat organizer plus a garbage can in one, the High Road StashAway Leakproof Seatback Trash Station. This product comes with a waterproof 2.5-gallon garbage can. Aside from the trash can, this car seat organizer has a tissue dispenser plus mesh pockets for added storage.
This product is composed of 500 denier nylon fabric that can withstand years of usage. The lid of the trash can is designed with a rubber top that helps for easy disposal of trash and keeping it in place. This car seat organizer has side braces and is mounted on the headrest to keep it stable. You can also place drink bottles or cylindrical objects on the side pockets. If you compare it to the other products on this list, this product is deeper and may interfere with legroom in more compact vehicles.
Overall, we recommend this car seat organizer for being a built-in trash bag, its durability, stability, and stretchable side pockets. The only drawback is that it misses a transparent pocket suitable for tablets.

#5 Mom's Besty Car Back Seat Organizer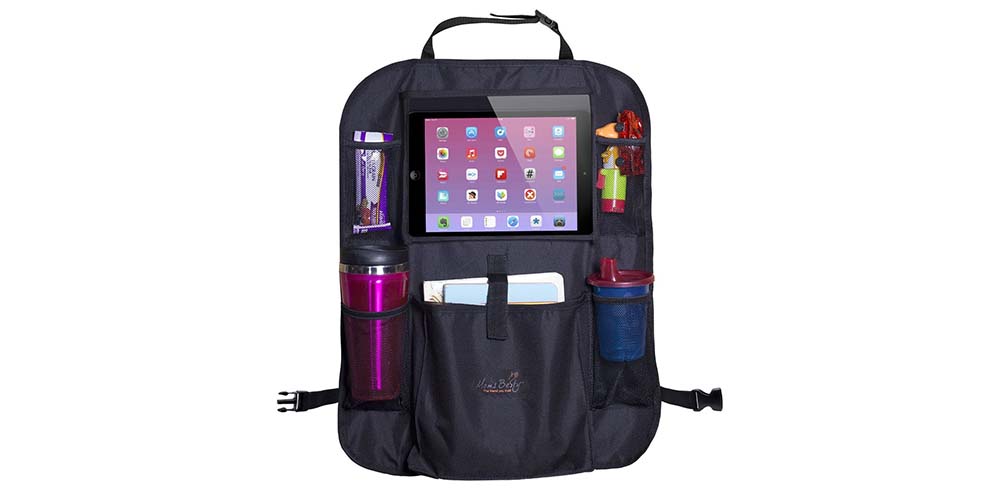 Another impressive option that we highly recommend is Mom's Besty Car Back Seat Organizer. This product comes with a 10.1-inch tablet pocket with a clear plastic cover plus openings for buttons and charging ports. It also features a large pouch at the center with a velcro strap and four mesh pockets at the sides.
The size of this car seat organizer is 20.8 x 16.9 inches and can be attached to the back of the car seat via adjustable clip-buckled straps. This product is composed of substantial 600 denier polyester. According to the manufacturer, this car seat organizer comes with a waterproof backing that can protect your car from spills.
Overall, we find Mom's Besty Car Back Seat Organizer as a good affordable option that is durable and sturdy. The drawbacks of this product are its number of pockets and the straps being visible on the front seats.

#6 High Road SnackStash Insulated Seat Back Organizer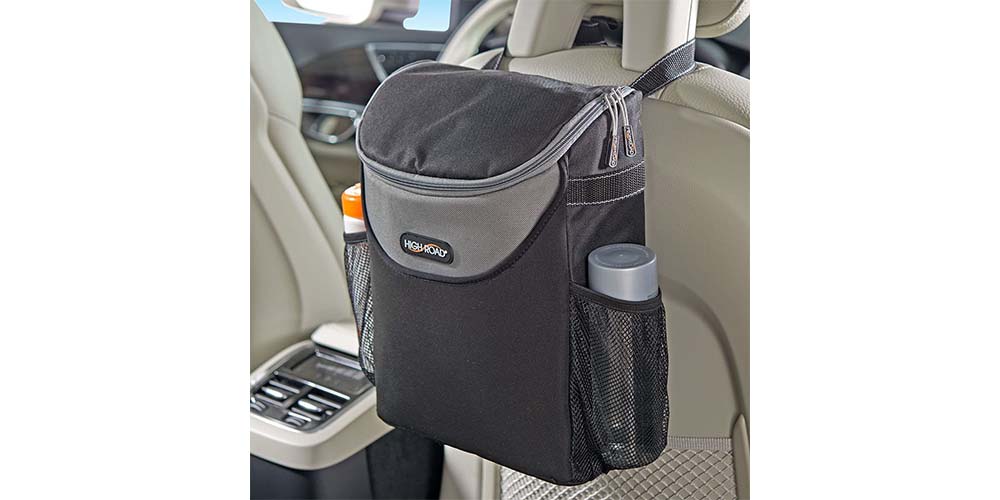 The last item on the list is another one from High Road. The High Road SnackStash Insulated Seat Back Organizer features insulated coolers and can accommodate up to 15 12-oz cans or eight 16-oz bottles. These can be kept cool for up to 36 hours. Aside from the insulated compartment, this product also features front and side pockets ideal for holding additional things.
According to the manufacturer, the insulated compartment has a leakproof PEVA lining. Its outer shell is made from 500 denier polyester. The size of the cooler is 9.5 x 12 x 4 inches. There is a strap to hang it on the headrest.
The drawback of this product is its 4-inch deep measurement which may be too big for smaller vehicles. It may intrude on legroom.

Essential Information on Car Seat Organizers
When you search thoroughly, you'll find a wide array of aftermarket manufacturers offering plenty of accessories for the interior of your vehicle. Some of these accessories help augment the storage spaces provided by the factory. The car seat organizer is typically mounted on the back of a car seat and offers additional storage for different types of items. Many of these car seat organizers consist of multiple pockets that can handle different-sized items. They are usually attached via adjustable straps encircling the headrest. Some also have secondary straps that are attached to the bottom of the car seat to provide better stability while driving.
Picking the Best Car Seat Organizer for Your Needs
We came up with our list of the top 6 best car seat organizers by looking into different factors. We checked the reviews of each product and the customer ratings given. We also looked into the ease of installation, ease of use, material construction, style, and aesthetics. We wanted to provide a narrowed-down list that can help car owners choose from the best possible options. However, our recommendation is just the first step. Choosing the best one still relies on your own needs.
The best car seat organizer will depend on what you specifically. You should take a look into different considerations to make a final decision. Do you want one that has extra cup holders? Do you want one that keeps your children entertained while on a long road trip? Do you want something basic or something that has many features and pockets? It would be smart to come up with a checklist so you can cross out your specific requirements and compare what different car seat organizers can offer.
When it comes to installing these car seat organizers, usually, they don't take much time and effort. They have adjustable straps that you can secure around your car's headrest. Installation won't require a lot of minutes and special tools as well. Cleaning these car seat organizers are easy too. Most of these are made of synthetic materials that you can clean using mild soap and water.