Maintaining your car properly is not an easy undertaking, especially if you intend to keep it for a long time. Your vehicle will gradually lose its appearance due to the damage it receives on a regular basis, which will wear down the finish and paint. Yes, regular washings keep that layer of paint looking lovely and shining, but to really keep it looking great for years, you should also routinely apply a coat of wax. However, everyone is aware that this requires far more work than simply washing your car.
It takes a lot of effort to buff your car or truck, at least if you do it by hand. Your hands, shoulders, elbows, back, and patience can suffer from hours of waxing on and off. Electric car buffers are designed to help you get that shine with less time, less sweat, and less effort. But what precisely must you search for? This article will examine the top 9 best car buffers on the market so you can choose the one that will work best for you and cause the least hassle.
#1 PORTER-CABLE Variable Speed Polisher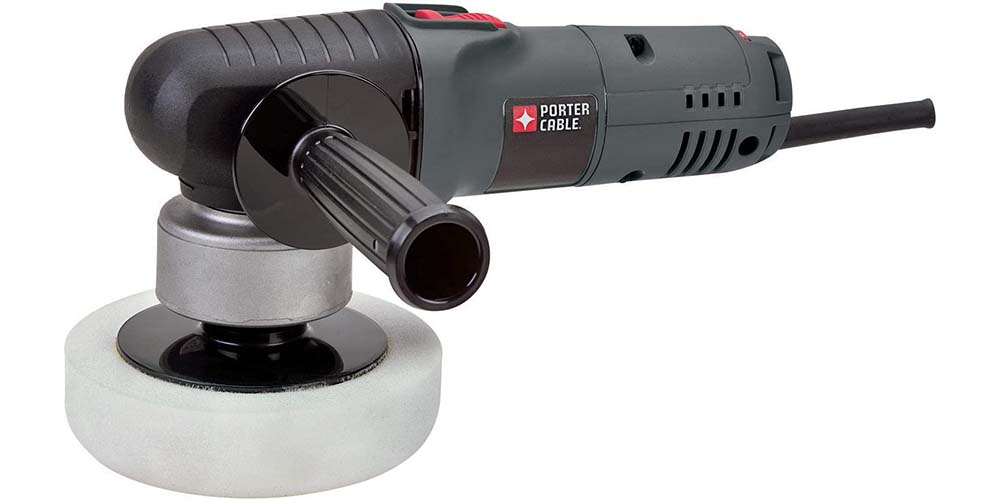 Brand: PORTER-CABLE
This is the standard, the Kleenex of car polishing. The PORTER-CABLE Variable Speed Polisher was the only alternative worth considering for a very long time, and it is still one of the best choices available. This random orbit polisher features a six-inch pad and a 4.5-amp motor to sand, buff, and polish any car, truck, or even boat. It's not the lightest at 5.5 pounds, but it can still be considered compact.
This buffer's variable speed allows you to choose between 2,500 and 6,800 orbits per minute, allowing you to take the surface, temperature, and buffing material into consideration. Including everything light wax to considerable scratches can be removed in this technique. For left- or right-handed use or to fit into small spaces, the compact body incorporates an integrated handle and a side-swappable or detachable secondary handle. Given the full roller bearing construction and a three-year warranty, this should last you for a very long time.

#2 DEWALT Variable Speed Buffer/Polisher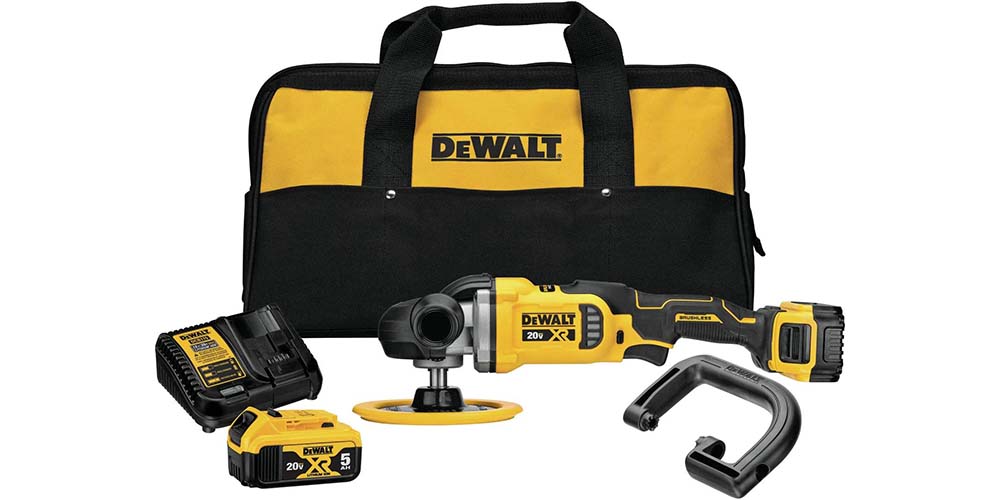 Brand: DEWALT
With this DEWALT Max XR, another excellent option for a basic buffer and polisher, you get the advantage of a 20V lithium-ion battery. Going cordless can increase your flexibility when it comes to buffing, allowing you to polish the paint or remove scratches at practically any job site. If you wanted to, you could even wash your vehicle in the middle of the trail. Being cordless gives you flexibility, but it also raises the possibility that it isn't the best option for all-day use.
With a no-load speed range of 800 to 2,200 rpm, the DEWALT buffer can be used in a variety of applications. You may share chargers and batteries with your other DEWALT tools for increased convenience because the battery is shared with DEWALT's line of Max XR cordless power tools. It can be much simpler to use, especially for extended periods of time, because the removable handle is shaped like a huge U rather than the more typical short handle. There are options for corded versions and bare tools that can be used with your existing battery and charger to help keep costs down.

#3 WEN 6″ Waxer/Polisher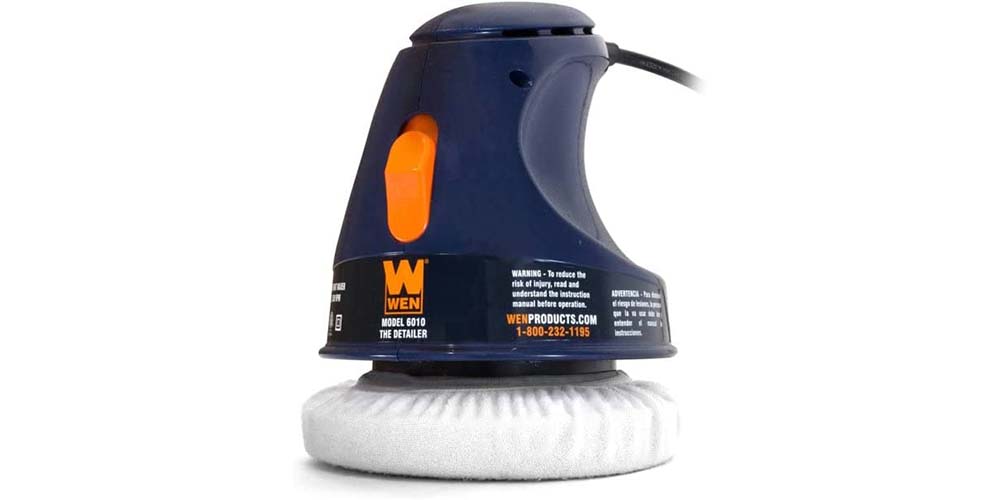 Brand: WEN
The WEN 6010 six-inch buffer is a portable, lightweight, and simple-to-use detailing classic that is great for getting started with buffing and polishing your car. The machine's entire body is made to be used with one hand, despite having a little handle. However, it can still be operated with two hands without difficulty.
According to the manufacturer, this random orbit waxer is efficient enough to remove any blemish while also being gentle enough for any finish. Random orbit technology, in which the pad's arc of rotation is constantly changing, was developed by WEN. This makes the buffer ideal for beginners and professionals because it doesn't stay in the same location on each spin, thereby eliminating any chance of blistering or rubbing through your vehicle's paint caused by keeping the buffer in a single place.
This entry-level buffer is affordable, has readily swappable bonnets, and comes with a year of warranty, so owners should be satisfied for many wax jobs to come.

#4 WEN 10″ Polisher/Waxer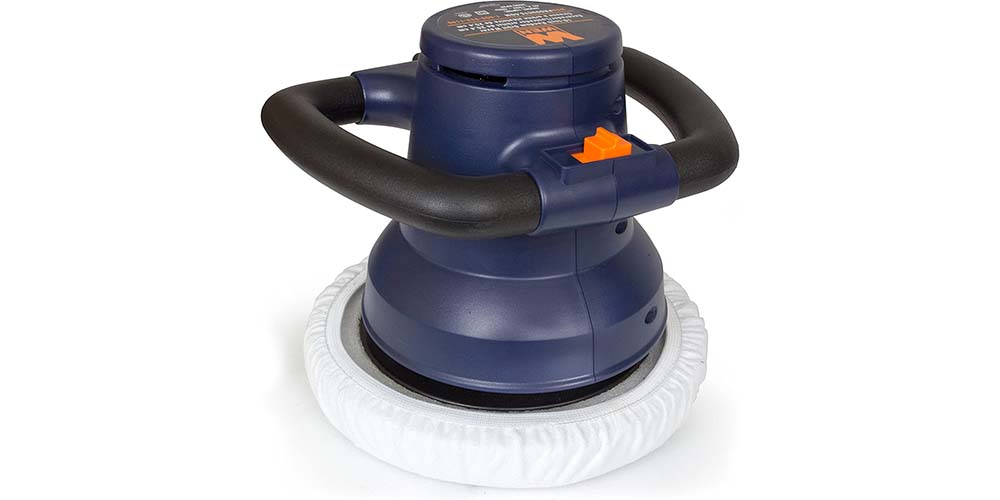 Brand: WEN
With a larger surface, you have a better chance to finish your vehicle faster because it would take less time. With 3,200 orbits per minute, this 10-inch model from WEN enables you to easily complete the task. You can manage the buffer using the two large handles. According to the manufacturer, it also works on floors or places where you wouldn't want to use a smaller six-inch buffer.
The buffer pad won't remain in one spot during a random orbit operation, preventing paint from burning. In spite of that, it could not be aggressive enough to remove swirl marks and deeper scratches because of the slower spin speed. It's still difficult to top this for speed and usability when it comes to giving your car a new coat of polish and wax. The polisher comes with a storage box that keeps it tidy, safe, and out of the way until you're ready to use it, clearing up room in your garage.

#5 POLIWELL Car Polishing & Buffing Sponge Pads Kit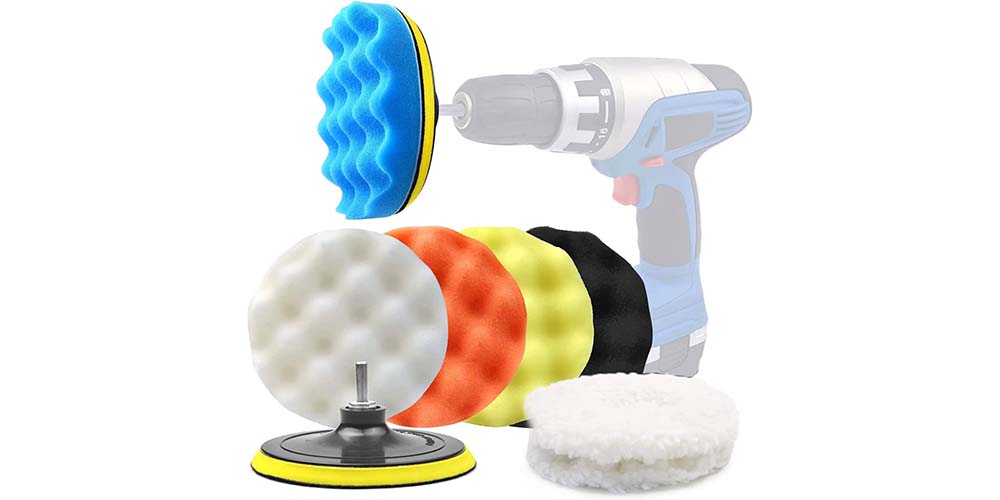 Brand: POLIWELL
It's not necessary to buy a brand-new tool just because you want to buff your car. This POLIWELL kit, which you can attach to an existing drill (corded or cordless), is a wonderful choice if you're short on storage space or money. You won't require any further items to finish the job if you have several wool plus foam bonnet pads available.
Simply insert the backing pad into the chuck of the drill, attach the desired pad, and you are good to go and buff. This is not recommended for frequent or professional use because a common cordless drill can't spin quickly enough for tougher tasks, and the motor might not stand up to hours of continuous use. However, this is fantastic for the seasonal waxing and polishing you intend to do twice a year. You have options ranging from a mild buff to more aggressive scratch and scuff removal thanks to the multiple grades of pad.

#6 Chemical Guys TORQX Random Polisher Kit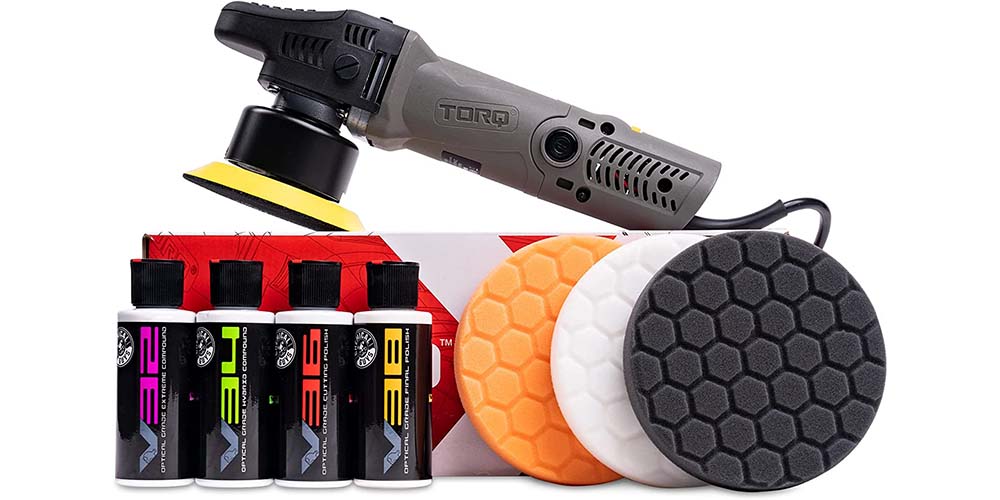 Brand: Chemical Guys
The perfect gift for any vehicle lover or simply a terrific way to get started is a polishing and buffing kit that includes everything you need, both on the hardware and chemical sides. You may choose from a variety of speed options for the polisher, which spins at speeds ranging from 2,800 rpm for buffing and polishing to 7,800 rpm for erasing scratches and flaws.
The kit includes four levels of compound, which includes a cutting polish plus a final polish, as well as three different pads for various levels of polishing, allowing you to restore the paint on your car or truck step by step. The buffer won't bog down or stall thanks to a 700-watt motor, so you can keep shining until the work is completed. According to the manufacturer, it may be gentle enough for beginners while still being powerful enough for pros. That means even if you go on to more challenging detailed work, you can still use this kit.

#7 CUBEWAY Dual-Action Buffer/Polisher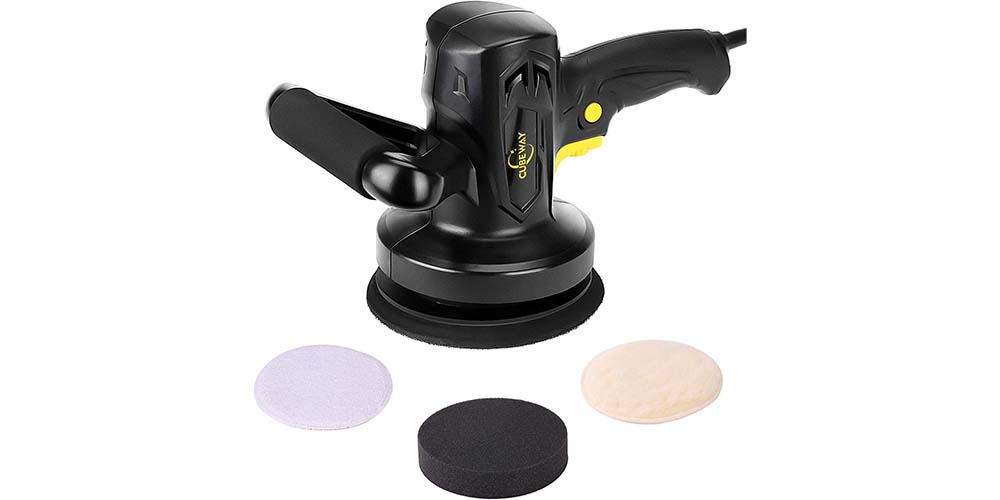 Brand: CUBEWAY
The main draws of this buffer are a large D-shaped handle and its pistol grip with trigger; as a result, it appears to be simple to use all day. Additionally, the dual-action polisher does a swirl-free job of polishing your car's paint while assisting in reducing the likelihood of burning the surface. Additionally, a lock-on switch and twelve various variable speed settings ranging from 1,800 to 5,000 rpm will aid you in tackling the buffing duties. This is a great option because it can be used at lower speeds for waxing and standard buffing. You can also use it at higher speeds to eliminate paint flaws.
One of the frequently used sizes is the six-inch backing plate, which has a hook and loop fastener system for simple pad installation. The kit comes with waxing, polishing, and buffing pads so you can begin buffing your car or truck right away. However, professionals may prefer a motor with a little more power than this one's 0.45 amps.

#8 Ryobi One+ Cordless Orbital Buffer/Polisher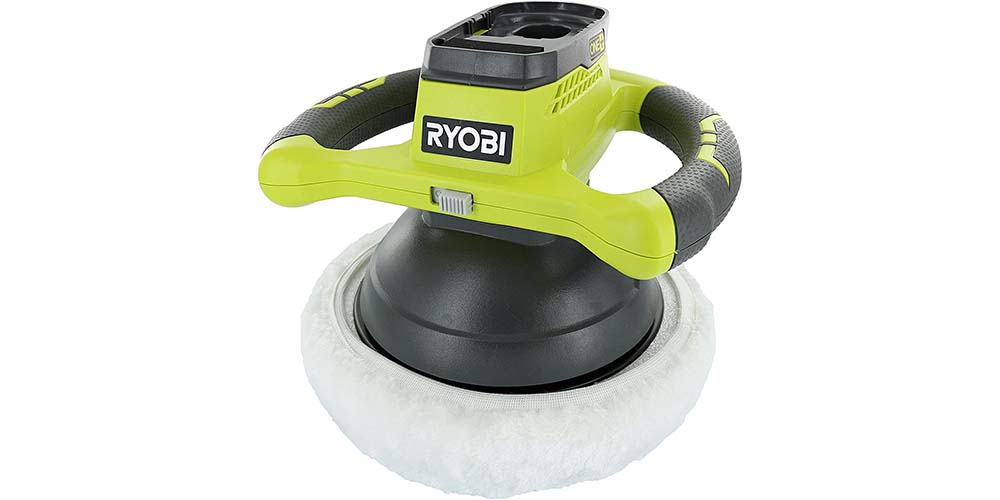 Brand: RYOBI
Another cordless alternative, but this time an orbital buffer and polisher that is more traditional. This single-speed random orbit machine is equipped with two large handles and a 10-inch backing plate to assist you in covering the surface of your car. It makes use of the Ryobi One+ 18V lithium-ion battery system, which 50 different Ryobi tools that can use the same battery pack can share. This is an easy decision if you currently utilize the One+ battery system.
Without tying you to a wall, this buffer spins at up to 2,500 rpm for quick action and swirl-free polishing. You can avoid damaging or overpolishing your car finish thanks to the random orbit design. The manufacturer claims that it should provide 1.5 hours of buffing time on a single battery, which is plenty to finish any vehicle, but swappable batteries and quick charge durations can help you resume work quickly.