The most practical tool you were never taught much about. After ripping a dime-sized section of skin off your knuckle and dropping a bolt into the depths of your engine compartment, it is so upsetting (again). You question, "How do I hold onto anything in a confined spot securely enough to get something else in place" after using duct tape to stop the bleeding? Two hands are all I got!
We have locking pliers because of this. They are pliers with adjustable widths that can be "over-centered" and locked into position. Because steel is a springy material, as the pliers' jaws tighten to their maximum tension, they clamp down on an object with greater force.
This means that if the jaws are properly spaced apart and are under strain, the tool won't let go of whatever it is holding. Vise-Grips is the brand name by which they are most frequently associated, but several rivals have distinctive brands and advantages.
So which locking pliers are the best? There isn't just one best pair of pliers; they are all useful for different tasks, just like people. Because of this, we don't just give one top recommendation but instead break it down based on the various kinds of locking pliers.
#1 IRWIN Vise-Grip Locking Plier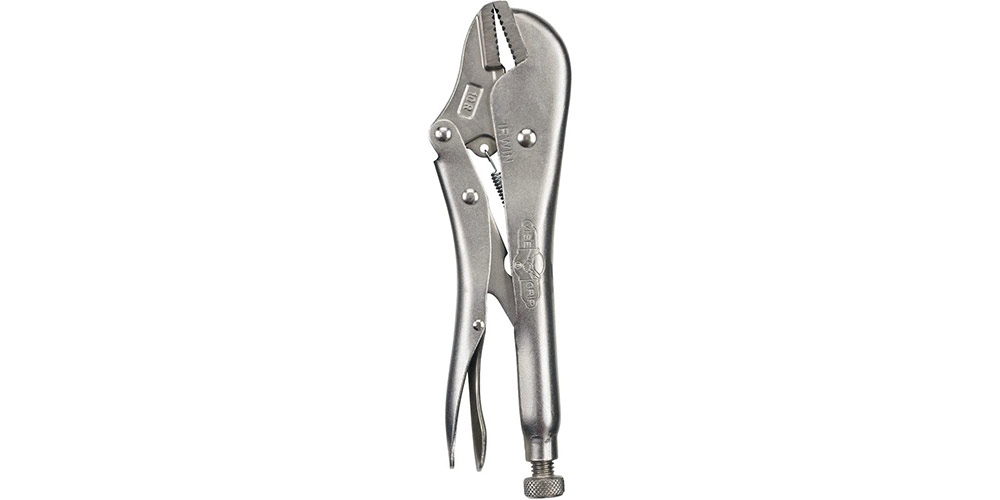 Brand: Irwin
A blacksmith in Nebraska named William Petersen, a Danish immigrant patented what he dubbed "Vise Grip Locking Pliers" almost a century ago, and the company he formed is still producing much improved models to this day. They regrettably aren't made in Nebraska anymore, but they still have a reputation for being a reliable, well-crafted product.
You can benefit from Bill Petersen's improvements to the original Vise-Grip, which he continued to make up to his passing in 1962. In the late 1940s, an adjusting screw was added, and the quick-release lever followed around 20 years later.
Straight-jaw locking pliers are the most common type and should be present in every toolbox. With all the grip you need, the straight, toothed jaws can hold onto rounded, flat, square, and hexagonal surfaces. The 10-inch is the most practical size for automobile applications, and the entire item is composed of rust-resistant, heat-treated alloy steel.

#2 Auto-Grip Locking Pliers
Brand: Auto-Grip
You certainly don't need to know all of this about locking pliers, but Bill Petersen wanted to create a pair that a mechanic could operate with just one hand. Although he passed away before that occurred, engineers discovered some conceptual blueprints Petersen had hidden in an old shoebox and completed the design 39 years after his passing.
Look at these curved locking pliers from Auto-Grip. The smart dual rivet design cleverly clamps down on thick or thin things with the same amount of force after the desired level of tension is adjusted with a hidden adjustment screw, and a release mechanism allows you to take it off with one hand.
Although some are put together in Auto-Virginia Grip's plant, it is not built in the United States and is tested to 2,500 pounds of jaw pressure, and has a lifetime warranty. You may purchase curved jaw-long nose tools in six-inch, eight-inch, or seven-inch combo sizes. They are perfect for pipes and other rounded things.

#3 IRWIN Vise-Grip 9″ Fast Release Pliers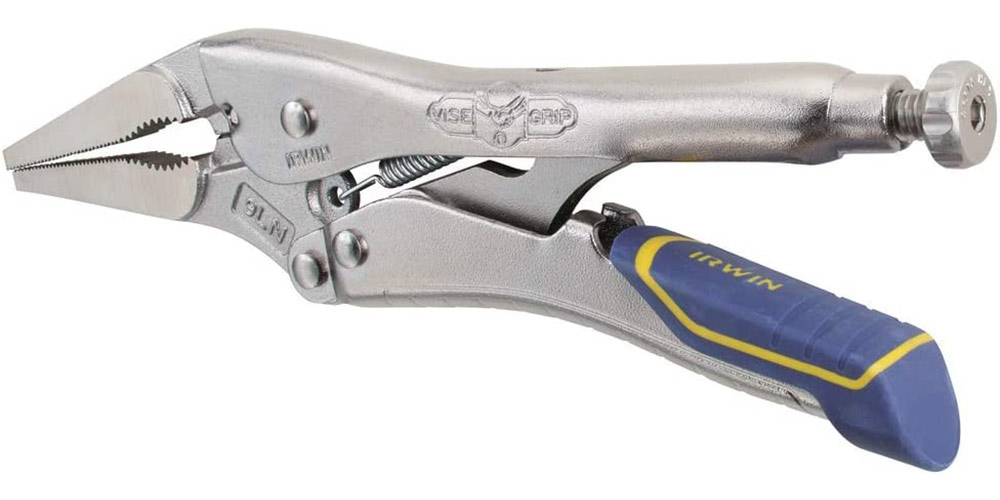 Brand: Irwin
We've probably established the benefits of IRWIN Vise-Grip pliers by this time, so we'll give you another set. You need a set of flat long-nose pliers like these when you need to reach into an extremely small spot and grab anything.
They have a one-handed triggerless release, a soft rubber-like grip, a rounded portion, and wire cutters. The hex-key recess in the adjuster knob for precise tension control is another extra feature.
Reviewers on Amazon praised these pliers highly. Others praised the quality and durability, but a few others noted corrosion and that the "teeth slip way too easily." Still, 4.4 out of 5 stars is nothing to sneeze at, and the IRWIN brand, guarantee, and name are worth mentioning.

#4 IRWIN Vise-Grip 12″ Jaw Plier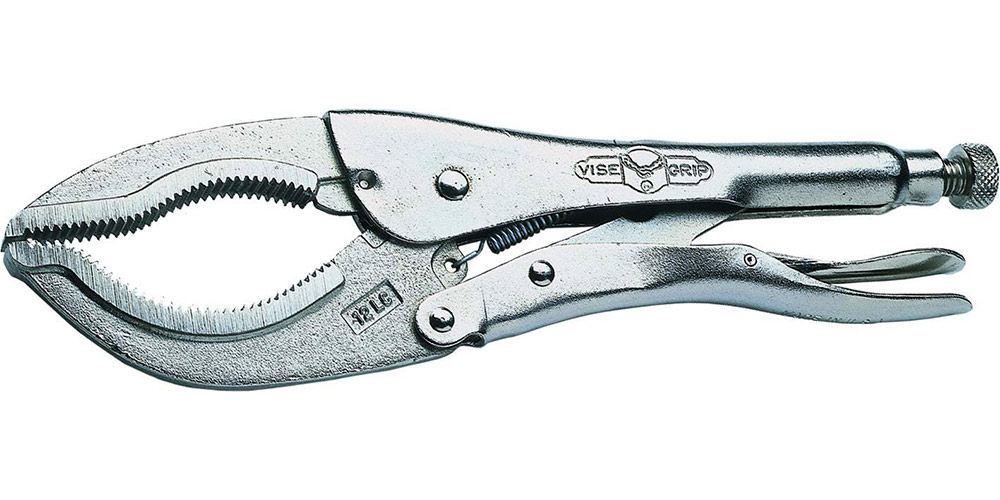 Brand: Irwin
Have you ever taken a particularly huge initial bite off of a sandwich and damaged your jaw in the process? We wonder if that emotion served as inspiration for the large-jaw locking plier's creator. It was more likely a plumber or pipe fitter who had a job that was just a little bit too difficult for even the largest pair of curved-jaw pliers to handle, and C-clamps were simply insufficient.
Clearly, IRWIN Tools has already done both of those things. The handle release, massive knurled locking screw, and of course, the IRWIN lifetime warranty are all there on these 12-inch large-grip pliers. These might come in handy not just when welding or doing plumbing work but also if you need a third hand to hold two heavy objects together. These are produced in China, just like other IRWIN goods.

#5 DCT C-Clamps for Woodworking and Welding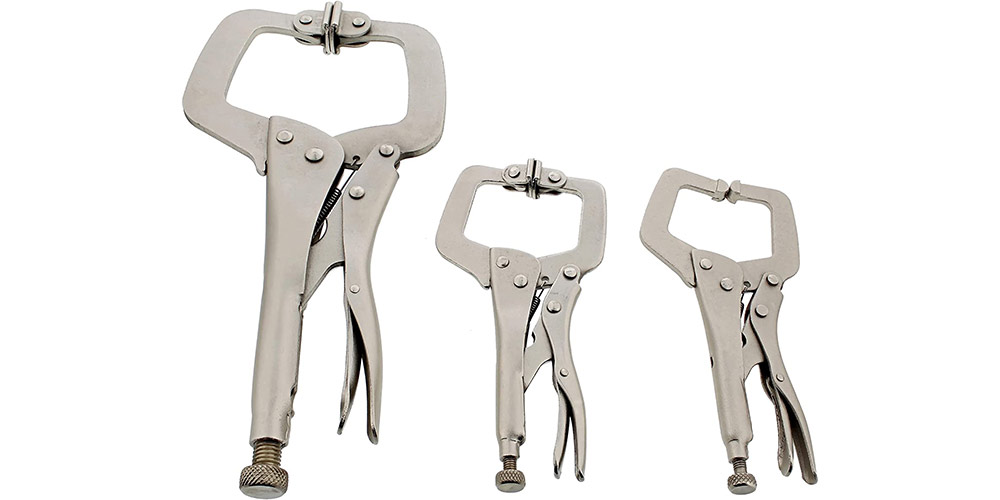 Brand: Deadwood Crafted Tools
Sometimes large-jaw locking pliers are simply insufficient, or you need to clamp two flat objects with greater force than a standard C-clamp can offer. A set of C-Clamp locking pliers will be useful at that point. We believe you could save money by purchasing a lesser-known brand, as you probably won't use these that regularly unless you're a welder. This item is also known as "welder's pliers."
Why not choose a set of three for the price of one of the well-known brands if you have room in your toolbox? This set of C-Clamp locking pliers is available at Deadwood Crafted Tools for a reasonable cost. With rounded, non-swiveling tips to grasp larger objects, you receive an 11-inch, a six-inch, and a second six-inch.
They are made of nickel-plated carbon steel. However, to avoid rust, the screws and pins will require routine oiling. The 11-inch was mentioned as being too tiny for some operations, but Amazon reviewers really loved these, giving them excellent ratings on par with better-known brands.
We believe they'll be perfect for most automobile tasks, including attaching body panels. This comes with a 12-month warranty.

Bonus Recommendation Set: Craftsman 3-piece Locking Pliers Set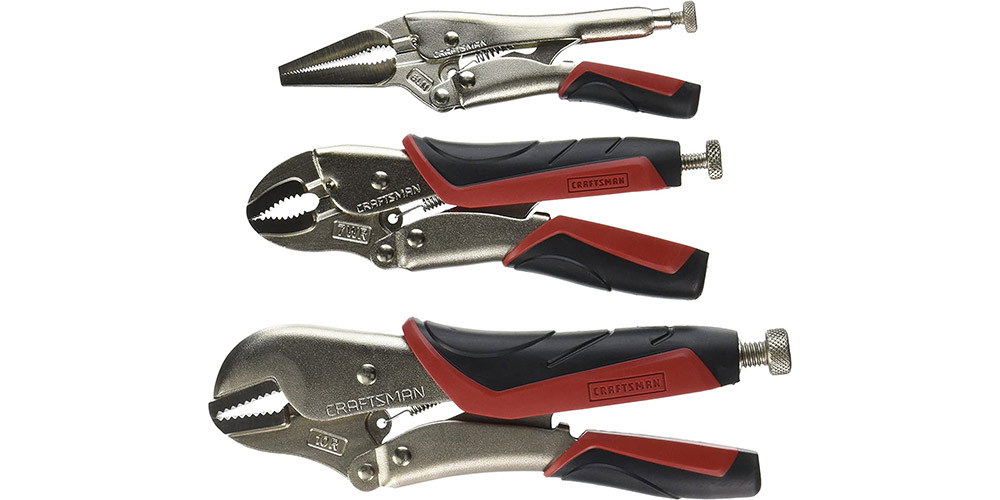 Brand: Craftsman
It might just be more economical to actually purchase a whole set of locking pliers if your toolbox is absolutely lacking a nice pair, and this story has motivated you to acquire a set. To get the best of everything, you'll need to mix and match several brands of locking pliers because different brands generally produce superior locking pliers of any given type.
Long-jaw, flat-jaw, and curved-jaw locking pliers with lifetime warranties might cost you $70 or more if purchased separately.
Or you could just buy this three-piece set of Craftsman locking pliers at a reasonable price like grandpa did. A 10-inch straight jaw, a 7-inch curved jaw, and a 6-inch long jaw are included. The three include adjustable screws and a one-handed release, with the two smaller ones also having wire cutters. Granddad became a lifelong Craftsman client thanks to the famed lifetime warranty on these nickel-plated steel tools.

Essential Information About Locking Pliers
Locking pliers are helpful in two different types of circumstances. The first is used to clamp one or two objects into place for assembly or adjustment or to hold one or two objects while carrying out a task with the other hand.
The other is acting as a guardian angel for "oops" situations; they can free stuck or stripped screws or bolts, wrangle heavy objects that are wedged in awkward places, and perform a myriad of other chores that call for a solid grip on something.
Reasons to Use Locking Pliers
The main benefit of using locking pliers is that they may often replace expensive, specialized, or missing instruments, especially when dealing with one-time tasks. They've been utilized as steering wheels, motorcycle shifters, and door knobs. However, if you're going to use it more than once or twice, please buy the right tool or part instead of continuing to use locking pliers.
How to Buy Locking Pliers: What to Look for
Just like with any other tool, invest in the real thing. There are locking pliers available for $3.99 or less, but these offer a tremendous amount of force—sometimes even more than a ton! —and broken instruments can result in hurtful injuries and damaged components.
Determine what you need and shop with that in mind. We've covered many excellent features above. A larger pair could work OK if you want to conduct more household repairs, but for automobile use, you need something made for tiny bolts.
We particularly appreciate the one-handed release and soft-touch handle covers, and the Auto-automatic Grip's adjustment feature, which adapts to the size of an item while maintaining your selected (and programmable) clamping-force setting, is brilliant.
Every product is created in China these days, but if you pay more and purchase from a reputable brand that definitely stands behind its products, you can get high-quality items from Chinese factories if you look for lifetime warranties.