It can be horrific getting into your car that was exposed to direct sunlight, even for only an hour, without any sort of car window shading. Car owners with vehicles that have vinyl or leather seats are also in for a very unpleasant surprise. Metal trim pieces can also get hot enough to burn your skin. This occurs because your car's windows transform it into a greenhouse, holding hot air and raising its temperature well above that of the outside environment. In really hot places, the best car sunshades will help keep your car cool in the shade. Take note that infrared light exists even if there are clouds or even if your car is under a cover.
Yes, the majority of vehicles have air conditioning. However, this takes some time to get cool enough, and while you wait, you're wasting gas. Furthermore, asking your engine to carry the load of an air conditioner before it reaches operating temperature is not a good idea. Carbon and greenhouse gas emissions are also maximized when you start up under load.
The interior components of your car will be damaged by heat and ultraviolet rays, particularly those on the dashboard, which receives the most direct exposure. Eventually, the materials in your seats and interior furnishings will suffer from fading and cracking. Touchscreen devices, for example, are susceptible to malfunctions and shorter lifespans.
A car sunshade is the simplest way to maintain your car cool throughout the summer. Although they are widely available and reasonably priced, not all car shades are good. Parking behind a tree can seem preferable, but it is not. Your car's paint will be harmed by bird droppings and sap if you park under a tree. Simply put, getting a sunshade is better.
For car window shading, there are lots of choices. The most typical are reflective windshield sun shades that are installed on the dashboard and rear windscreen and must be taken off before starting the vehicle. You can also utilize backseat car sunshades when driving. These car shades can keep your passengers in the back seats covered from the scorching sun and heat for their safety and added protection.
If you are quite overwhelmed by the numerous options available today, we came up with a surefire list to ensure you discover exactly what you need. Check out our list of the best sunshades for cars below.
#1 Kinder Fluff Single Panel Windshield Sunshade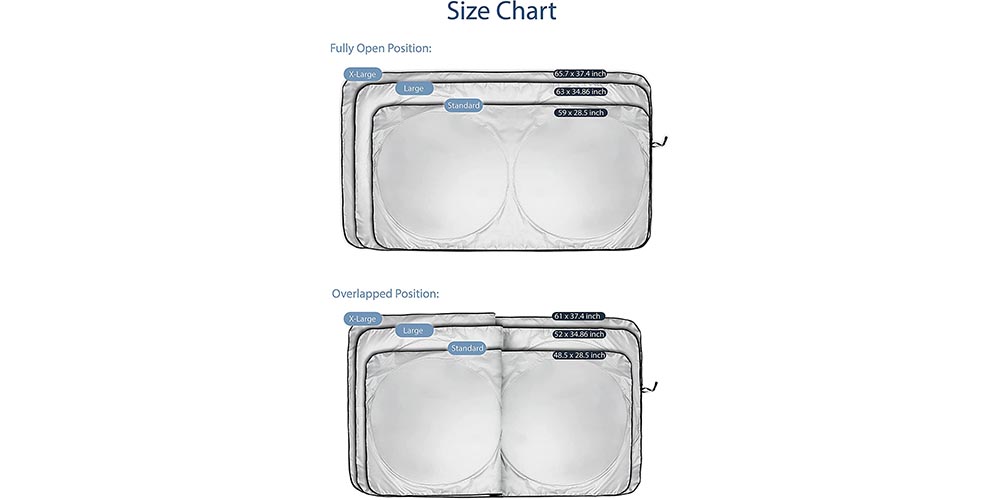 Kinder Fluff has been producing high-quality car window shades since 2014. This is their single-layer design; an affordable steel ring sun shade created from 210 thread count (210T) reflecting aluminized silver polyester to deflect as much UV and infrared light as possible. Because 210T is denser compared to other car sun shades, it will keep the interior of the vehicle cooler for longer, even under direct sunlight.
Additionally, using the single panel is really simple. It includes a little travel pouch. It is incredibly simple to install and fold; all you need to do is lower the sun visors for better support, and you're ready to go. This car sunshade is available from Kinder Fluff in three different sizes. Most cars will be fine with it, but if your car's windshield is unusually large or small, you can run into issues. Kindly check your windshield size before purchasing.

#2 EzyShade Windshield Sun Shade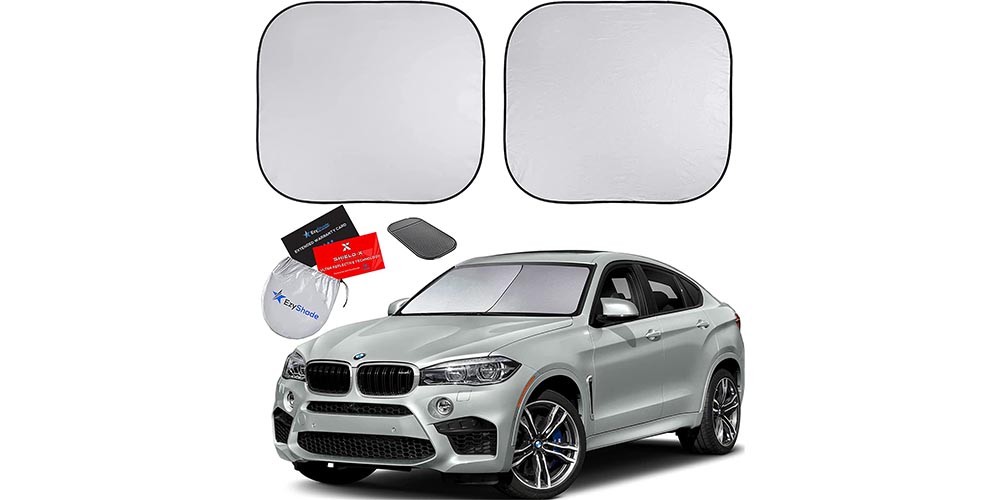 The simple two-piece design of the EzyShade sun shade is interesting. There are only two pop-out panels, each in one of three sizes, which push into position and overlap. Installing it couldn't be any less complicated or more affordable. You should purchase a set of car window shades that fits your windshield opening or is just a bit bigger. A smaller size will cause it to fall out. The large panels are 32.5 x 36 inches. The small panels are 23.5 x 29 inches each. The medium panels are 28 x 31 inches each.
This product comes with a metalized coating that keeps the interior cooler and guards against long-term effects on the interior fabrics, leather, and plastic by reflecting IR and blocking UV rays. A dash pad with adhesive is included by EzyShade to help keep the windshield sun cover in place if your windshield is almost the next size up. However, given the cost and practicality of this two-piece car sunshade, we'd rather just find an alternative size or brand instead of doing that.

#3 SACSTAR Sunshade Car Umbrella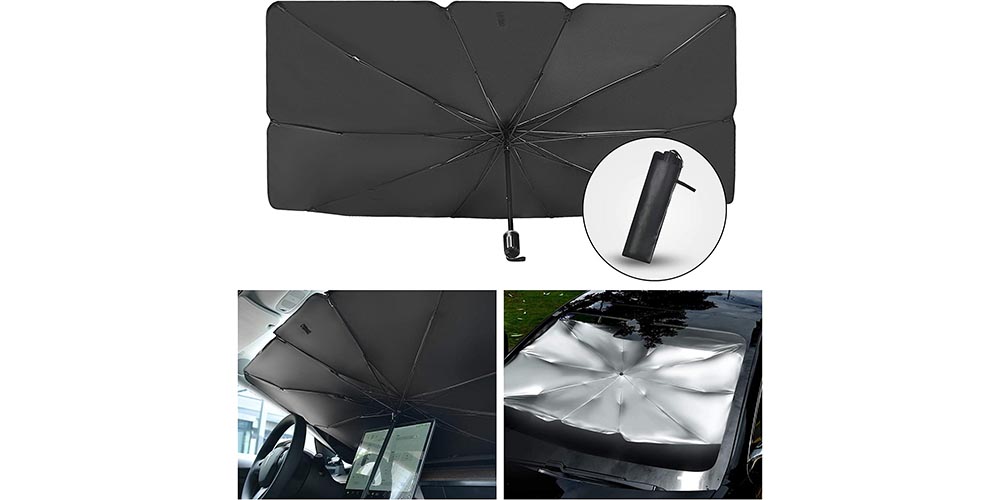 Car window shades in the shape of an umbrella look like a good idea. The sun cover may be folded up and stored almost anywhere. Just pop it open, and you're done. Regular folding sun shades can't keep it in place, but the handle can function as a prop rod. It appears to be more opaque than other budget brands and has the typical silvery reflective coating, which suggests that the cloth will effectively block the sun.
Results in real life are inconsistent. This might be the ideal answer for occasional use; it is compact enough to fit practically anywhere in your car and reasonably priced, so you can buy it and put it away unless you need a sunshade. In an emergency, you can even utilize it as a large umbrella. Consider how long an affordable umbrella will last if you don't need to use a car sunshade daily. You can even explore more traditional solutions to your window shading needs. Just choose the best deal you find on Amazon because it sells what looks to be the same item under multiple labels.

#4 Newport West Class A RV Motorhome Sunshade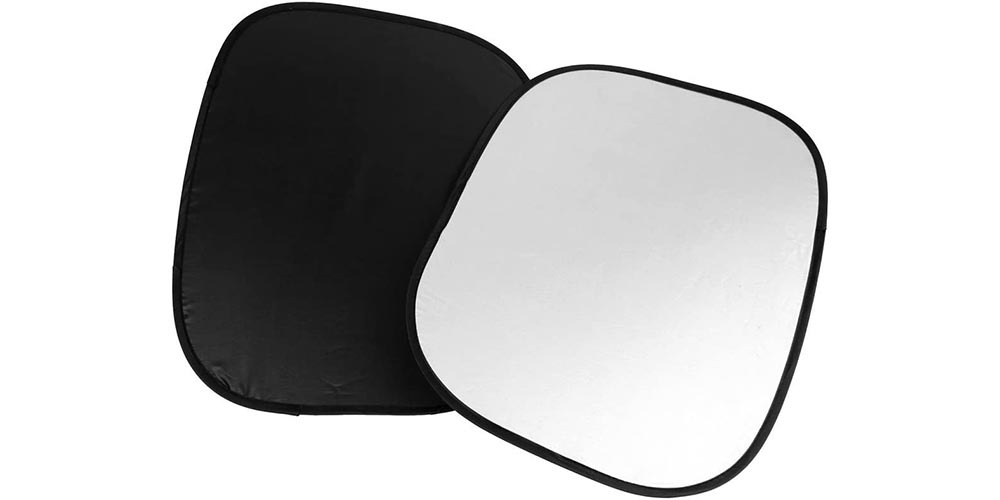 Since window coverings for motorhomes are intended to hide occupants from both the sun and prying eyes of onlookers, we have included an RV windshield sun shade in this list. If your RV doesn't already have any sort of window shading, you undoubtedly already know you need it.
Similar to other items higher on the list, this collapsible sun shade is incredibly simple to use. The only difference is that it's much larger, with two 42 x 50-inch portions that may be used in either direction. For this reason, especially if you won't be using the RV for an extended amount of time, we advise using the suction cups that come with it. Although space is not an issue in an RV, the main drawback of this product is that it is not as simple to fold as other alternatives.

#5 Enovoe Car Window Shade Baby Bundle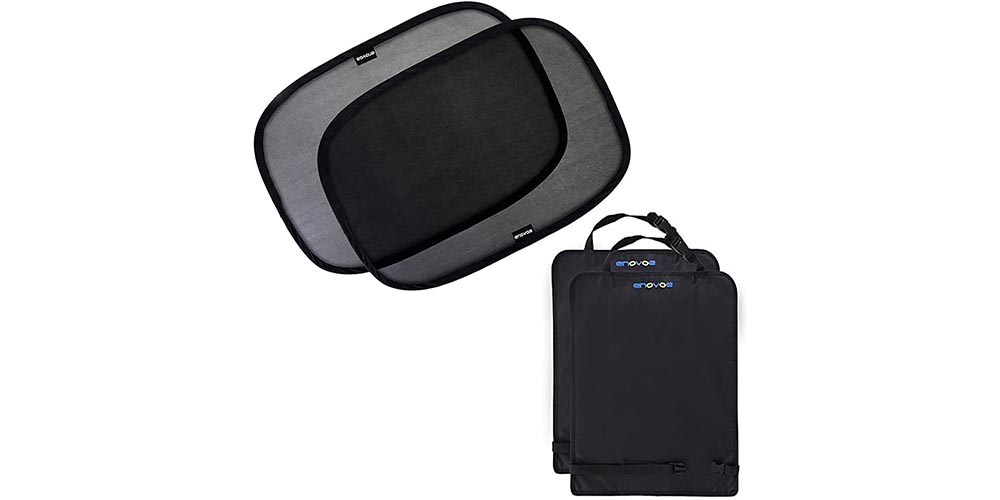 Enovoe's well-rated car sunshades are a terrific addition to your travel accessories if you're searching for options for side window shading. Four of Envoe's thin and light side window shades are included in this six-piece car window shading set. These side window shades attach using static instead of suction cups. Both static and suction cup mounting methods have benefits and drawbacks, according to our experience with mounting objects to car windows. It would be best to read the instructions to keep these properly attached.
A pair of seatback kick mats are also included in this set. Mesh screens can assist with light blocking and privacy, but solid car window shades still function better.

#6 ShadeSox Universal Fit Car Side Window Baby Sun Shade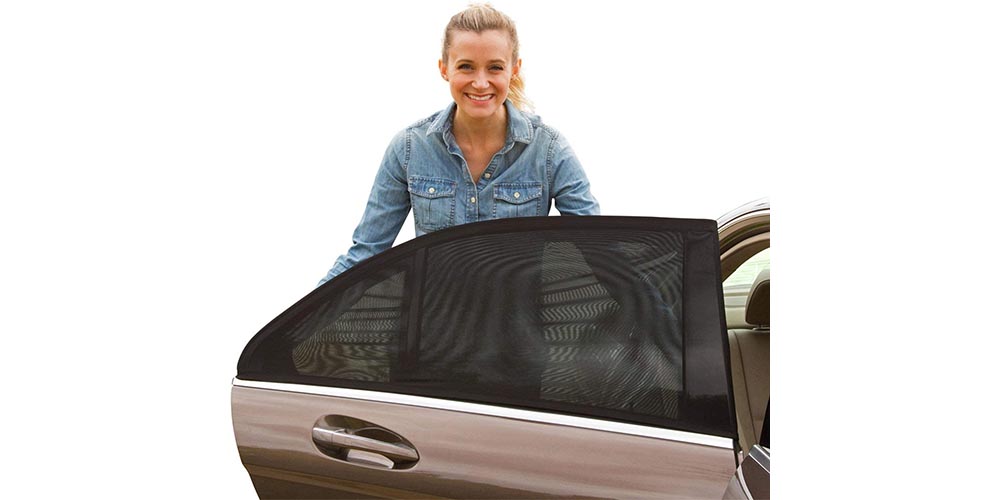 These "socks for your back windows" provide unparalleled protection. You'll have the impression that you're riding in a luxury car like a Mercedes-Benz S-Class. On hot days, they actually make a difference by blocking the majority of light and heat. Regardless of the type of vehicle, the ShadeSox will cover every inch of your window as opposed to a little window sun shade such as Enovoe's. Additionally, they are quite simple to install—just open the door of your car and just pull the sunshade down over it. This implies that in order to remove it, you have to be stationary. On the other hand, this car sunshade makes it simple to roll down the window while in use, which is not possible with other options.
The drawback of the ShadeSox design is it is not as durable as window-mounted sun shades. Particularly if you frequently travel on the highway, the mesh on the outside can get easily damaged. As opposed to other products, get ready to acquire another pair sooner. The ShadeSox has a tendency to degrade visibility which is another minor issue.

#7 Magnelex Windshield Sun Shade and Steering Wheel Cover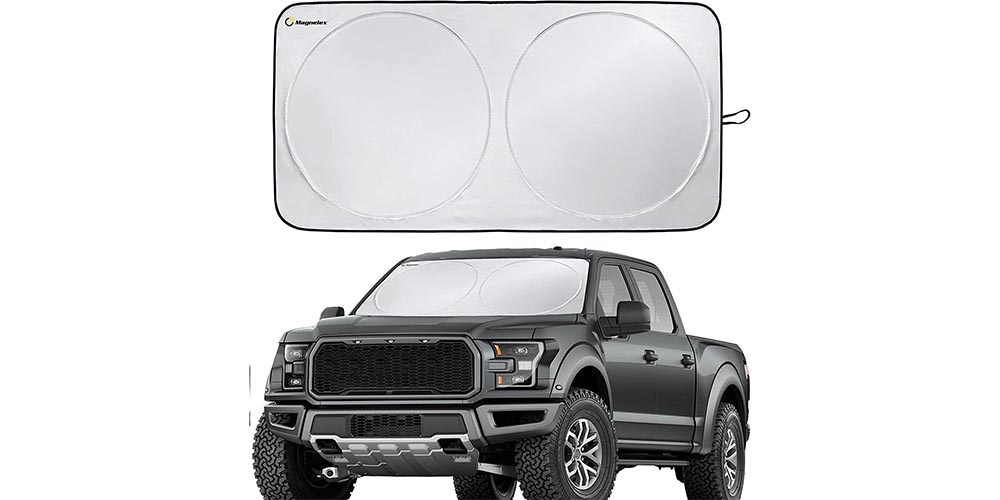 There are no frills, just performance with these sunshades, which are reflective silver on the surface and plain black on the interior. They have two flexible, semi-rigid rings that assist them in remaining fixed in the windshield, and they are constructed of heavy polyester material. When finished using it, simply fold it into a figure-8 and place it inside the storage bag that is provided.
Magnelex offers generous sizes, with the largest spanning 65.7 by 36.4 inches, to appeal to truck, van, and SUV owners. In addition, they come with a steering wheel cover. However, some users complained that it was simply too small for their vehicle. Additionally, there were concerns that the sunshades would not remain upright.