If there is one thing that you will find in ANY garage whether it being a mechanic shop or a home garage, it's a socket set. This handy tool set gives you many options to work with.
When working on your car, one of the most annoying things is missing a piece from your toolkit. A socket set offers the standard ratchet wrench while keeping its attachments sorted for quick access, saving you time, and nerves.
A socket set gives do-it-yourselfers access to a variety of different-sized sockets for fastening the nuts and bolts required for their home improvement projects and working on cars. When working on your vehicle, a socket set provides you with a range of tools to pick from and lessens any problems.
In this article we will go over some of the best socket sets out there, which are also available on Amazon.
The TIGHTSPOT Drive 84pc Impact Socket MASTER SET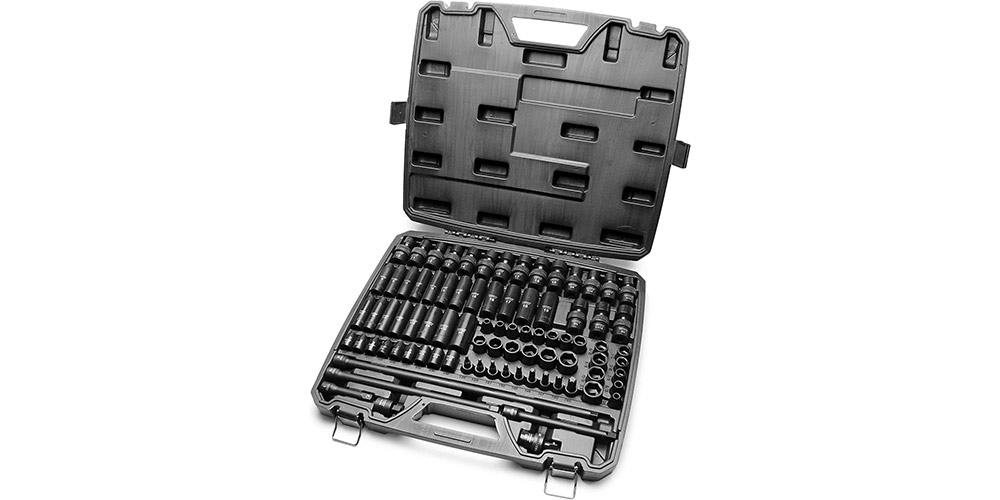 Our first socket set comes with 84 different-sized attachments! This is one of the best socket sets out there that provides full coverage.
The TIGHTSPOT Drive 84pc Impact Socket Master Set is designed with CR-MO steel of the aerospace grade for strength and adaptability in high torque impact tools, and it offers durability to its owner.
These sockets strike the ideal balance between thickness and CR-MO steel with excellent tensile strength. With unique U-Joint and extensions added on top of this, you can travel almost anywhere, and rest assured you will have everything you need with this socket set. By gripping fasteners by their sides rather than their points, these sockets with radius corners are intended to exert more force and prevent rounding of bolts.
The TIGHTSPOT Drive 84pc Impact Socket Master Set includes standard sockets 1/4", 5/16", 3/8", 7/16", 1/2", 9/16", 5/8", 11/16", 3/4"; deep sockets 5/16", 3/8", 7/16", 1/2", 9/16", 5/8", 11/16", 3/4"; universal sockets 3/8", 7/16", 1/2", 9/16", 5/8", 11/16", 3/4"; inverted Torx/star sockets E5, E6, E7, E8, E10, E11, E12, E14, E16; Torx/star sockets T20, T25, T27, T30, T40, T45, T47, T50, T55; 3", 6", 10", 15" extensions, and adapters, 3/8" universal joint & 1/2" female to 3/8" male.
Sunex 3580 Drive 80pc Impact Socket Master Set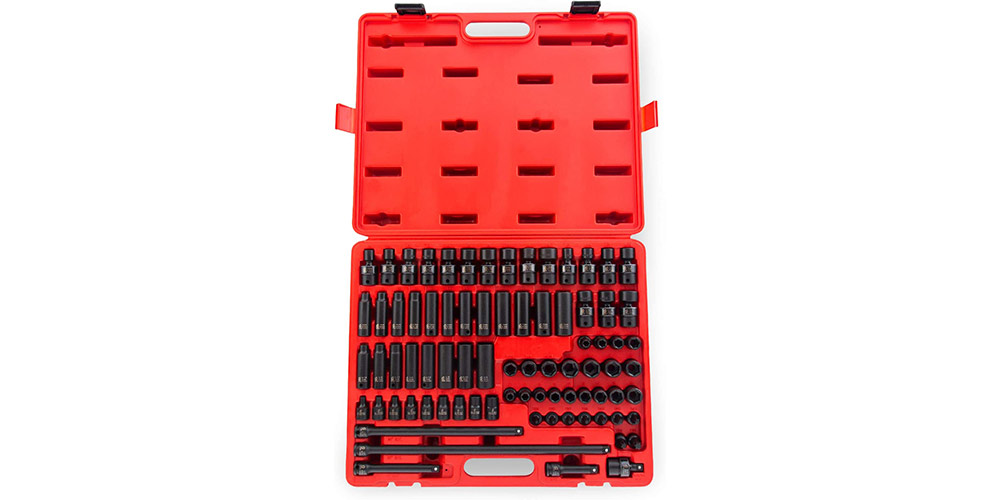 Just like the previous set the Sunex 3580 Socket Master Set is made from CR-MO steel, and to provide lasting socket identification, marks are laser engraved and roll stamped.
This set has 80 pieces, 4 less than the previous one, but still provides a full range of items. This socket set includes standard SAE sockets 5/16", 3/8", 7/16", 1/2", 9/16", 5/8", 11/16", 3/4"; deep SAE sockets: 5/16", 3/8", 7/16", 1/2", 9/16", 5/8"; universal SAE sockets: 11/16", 3/4", 3/8", 7/16", 1/2", 9/16", 5/8", 11/16", 3/4"; inverted star sockets E5, E6, E7, E8, E10, E11, E12, E14, E16; as well as star sockets T20, T25, T27, T30, T40, T45, T47, T50, and T55.
DEWALT Mechanics Socket Set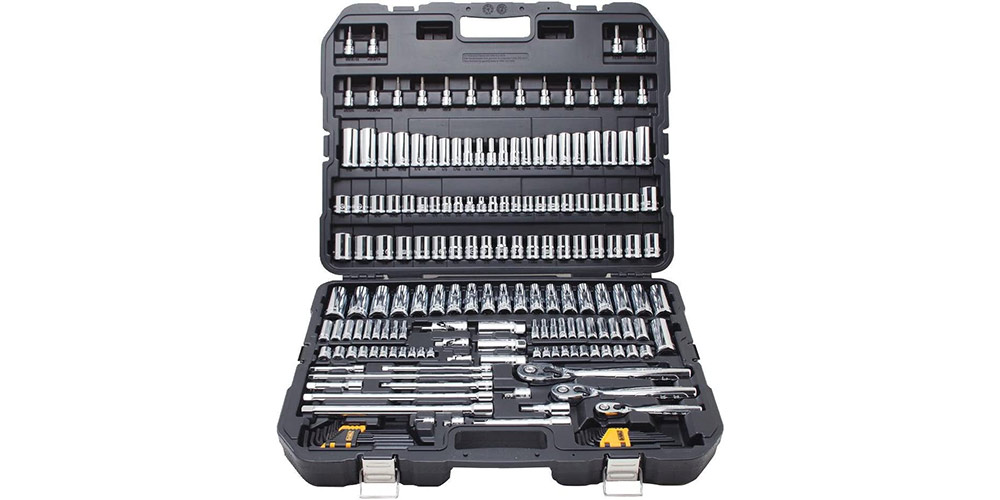 This is one of the biggest socket sets on the market with nearly 200 pieces! The Dewalt mechanic tool set is made of sturdy material able to withstand high pressure.
An amazing thing is that you have the appropriate toolset with the 192-piece mechanics tool set. Three Pear Head ratchets, as well as a selection of sockets, extensions, universal joints, and adapters, are included in the toolset. To avoid screws from rounding off and to give tools a better grip, the sockets are made with DirectTorque technology.
In short, it includes Drive Pear Head Ratchets; 6pt Drive sockets, 6pt deep sockets, Drive extensions, Increasing Adapters,and Drive Universal Joints.
The Cartman 148-Piece Tool Kit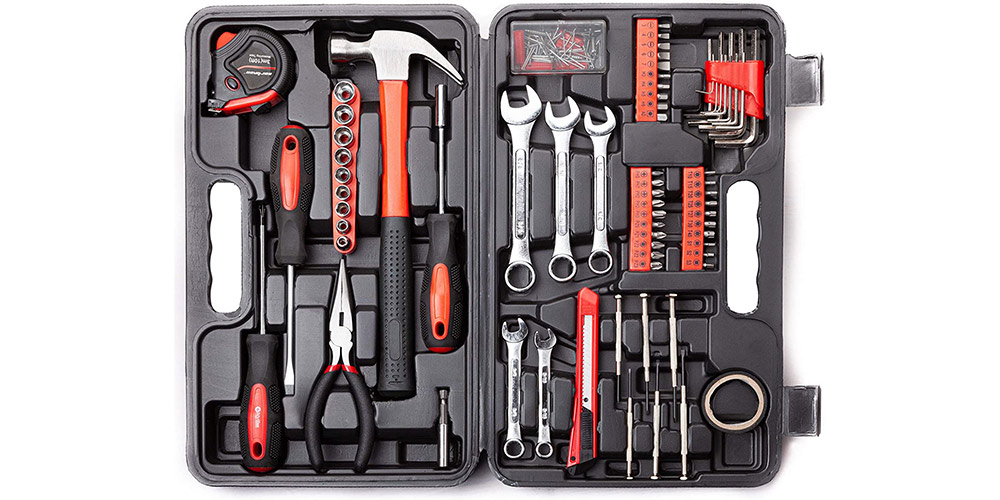 This complete tool kit covers all of your maintenance and repair needs, from cutting to fastening, measuring to hammering. A thin, hard-shell box with 148 parts holds everything, all of the included tools are made from premium materials that have been carefully selected, tested, and authorized by professionals, assuring excellent quality for the price.
The Cartman tool kit includes Hex keys, sockets, magnetic holders, cutters, 3M tape, long-nose pliers, insulation tape, 5 different wrenches, 2 screwdrivers, precision screwdrivers, bits, fastener kits, and a claw hammer.
CRAFTSMAN Mechanics Socket Set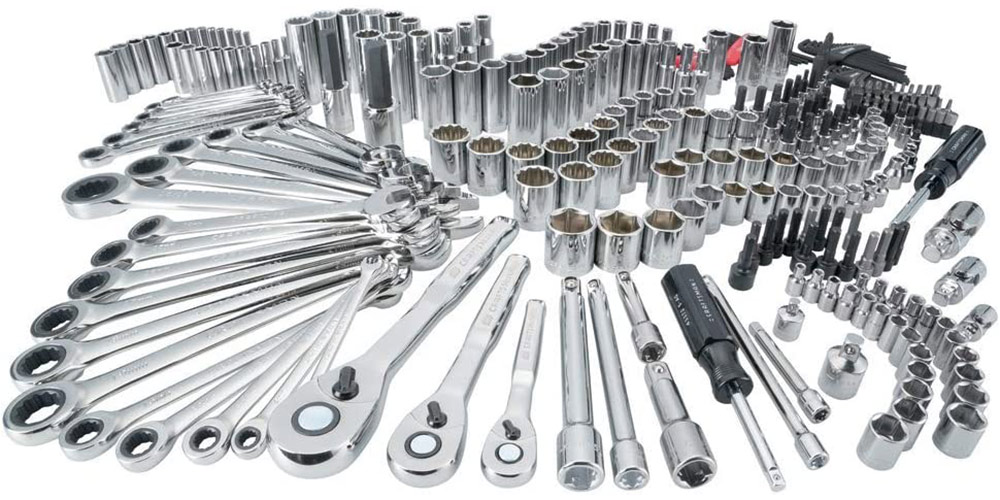 Remember the set with 194 pieces we mentioned earlier? Well, there's an even bigger one! With 300 pieces on its name, the CRAFTSMAN socket set gives the best quality a set can offer.
A wide range of driving tools, foam inserts, and 72-Tooth ratchets are included in the mechanic socket kit. For DIY repairs, general maintenance, and car repairs, this kit is an ideal pick!
This kit includes shallow sockets, universal joints, deep sockets, and much more. To see the rest of the items included in this kit, visit the link.
Cartman Socket Set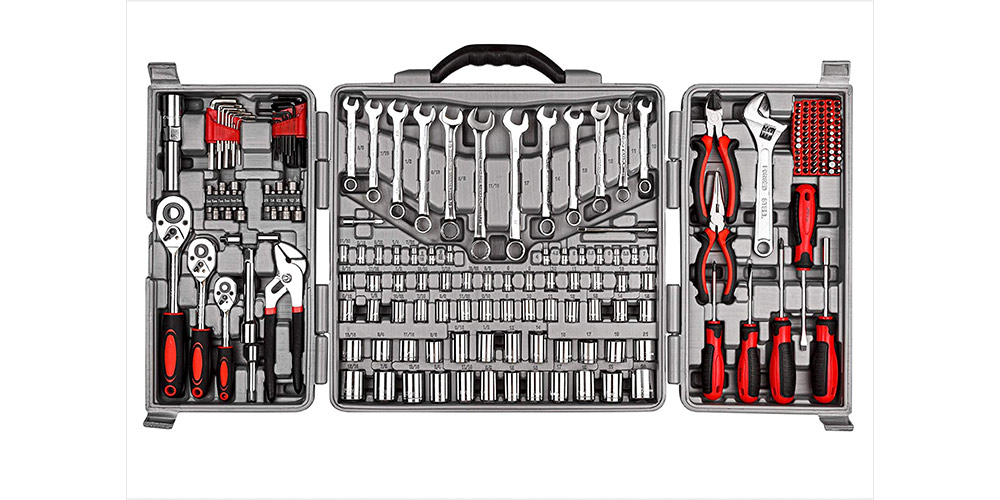 Nearly all tools for DIYers, repairmen, construction professionals, mechanics, and other users who repair homes and cars are included in this Cartman tool set.
Made from premium steel with a high-polish chrome finish for endurance and corrosion resistance this comprehensive set includes high-quality wrenches, ratchets, 1/4″ and 3/8″ metric-sized sockets, precision screwdrivers, pliers, hammers, and other tools.
Other Socket Sets
Some other sets that are worth mentioning include the DEKOPRO set, which possesses multiple practical and necessary tools for basic car repairs, and the TEKTON set which covers every socket from 10 to 32 mm and 3/8 to 1-5/16 inch.
With the Craftsman 450-Piece Mechanic's Tool Set you'll always have what you need on board with this set's variety of sizes and measures when it comes to sockets. And there is the STANLEY tool set which features 1/4, 3/8, and 1/2″ drives as well as a ratcheting hand driver. A sturdy black chrome plating on the socket set improves corrosion resistance. Markings that are laser-etched, highly contrasted, and easy to see, meet or surpass ANSI hardness and torque standards.