You've probably seen it before: a car with its wheels and tires stolen, resting on bricks or concrete blocks. Whether you want to keep your factory wheels from being stolen or you have a great set of aftermarket wheels, investing in a pair of wheel locks is a cheap way to ensure that they stay on your car.
If you do not have a garage or guarded parking area to store your vehicle, you'll want to invest in a nice pair of wheel locks. We discovered some of the best wheel locks on the market, along with a summary of wheel locks, why you need them, and what to look for when buying them.
#1 Gorilla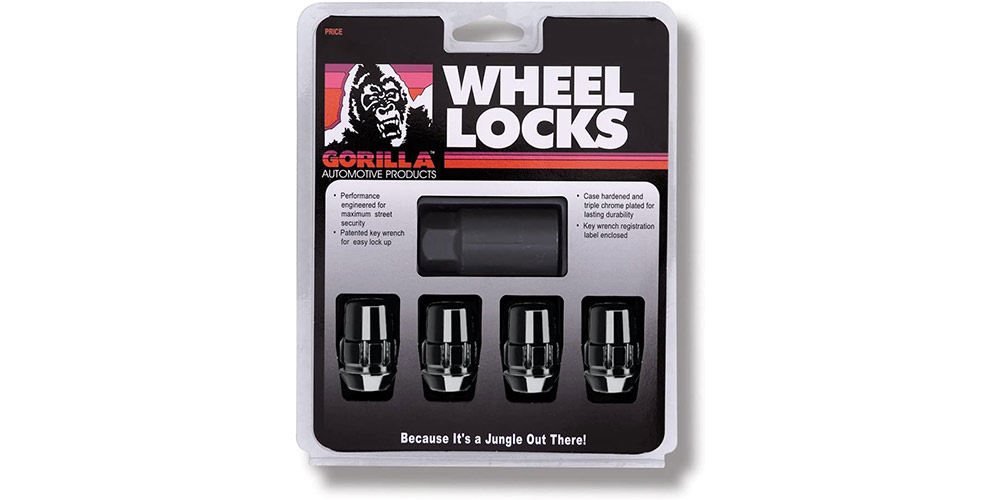 Brand: Gorilla Automotive
There is a common flaw in locking lug nuts. A determined burglar can squeeze a socket over the lock and jam it in place before unscrewing it. A rotating outer sleeve used by Gorilla Automotive stops this.
Gorilla Automotive is one of the most reputable and trusted manufacturers when it comes to wheel locks. The Original System consists of a complete set of 20-wheel locks, making each lug nut on your wheels a lock. These locks have a single key and are made of steel that has been case-hardened and chrome coated for durability.
Gorilla's X2 is a great alternative if you don't require a full set of wheel locks, and it has patented dual-stage technology. These wheel locks have an upper lock that spins freely, making it more challenging for thieves to try to pry them off the wheel while protecting the lower piece from removal tools.

#2 McGard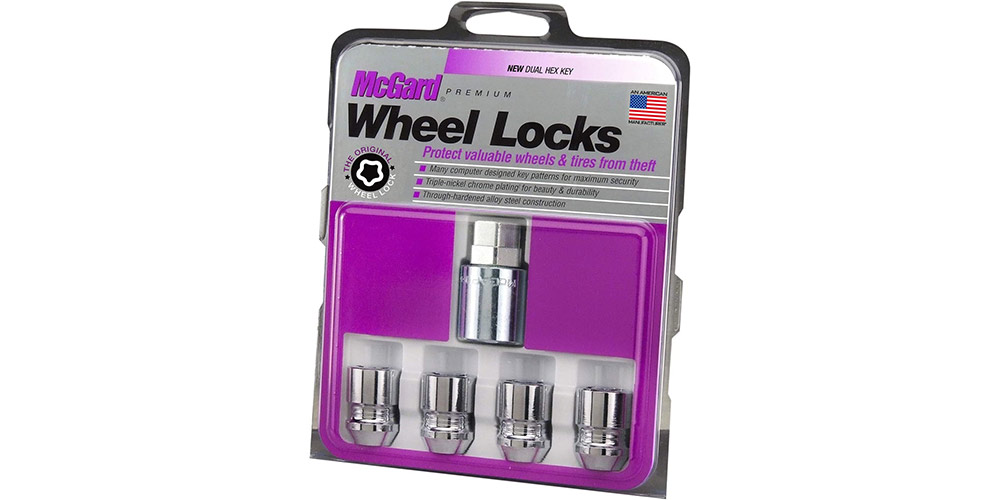 Brand: McGard
McGard is another well-known manufacturer of wheel locks. McGard's locks come in a range of finishes, seat styles, and thread patterns and are triple-nickel chrome plated for beauty and durability. Each wheel lock produced by McGard is entirely machined from steel with restricted chemistry that was specially made for the brand and was through-hardened for security.
McGard's wheel locks are single-piece devices with computer-generated key patterns that include extra-narrow pattern grooves to resist the entry of removal tools. A steel collar is attached to the key to helping it fit into the lock pattern.
The cone seat on this specific model makes it simpler to install your locks, which is the difference. The cone seats slip in that much more easily, even if the locks are already simple to install.

#3 Utopicar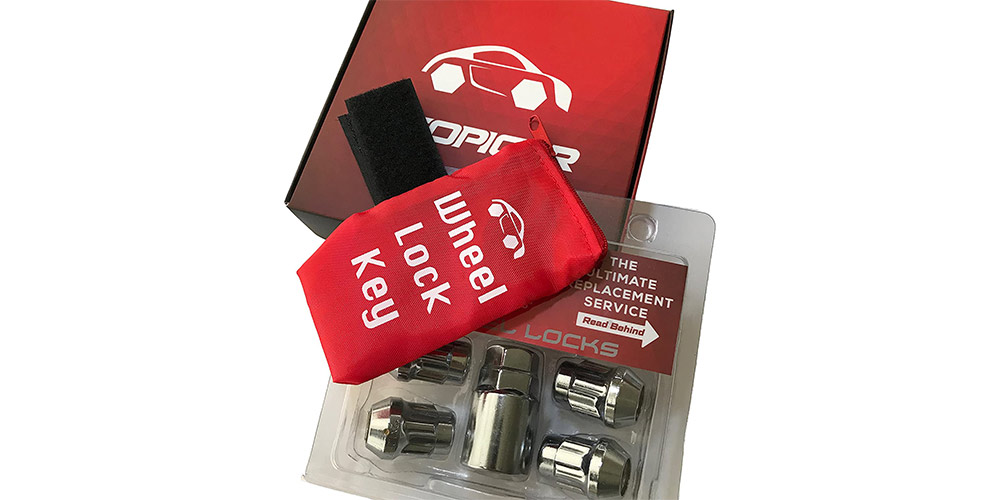 Brand: Utopicar
When it comes to locking lug nuts, Utopicar provides a very cost-effective choice. While their selection of locks isn't as extensive as some of their competitors, at 1/2-inch, 12×1.25, 12×1.5, and 14×1.5, they will still fit the majority of modern cars. They are constructed of corrosion-resistant chrome-plated steel.
Utopicar offers a free overnight key replacement program if you unintentionally lose or forget your key. It also has a key pouch that has a vivid red finish. As the key is the same for all applications, these wheel locks won't offer the same level of security as Gorilla or McGard.

#4 Genuine Toyota Accessories Wheel Lock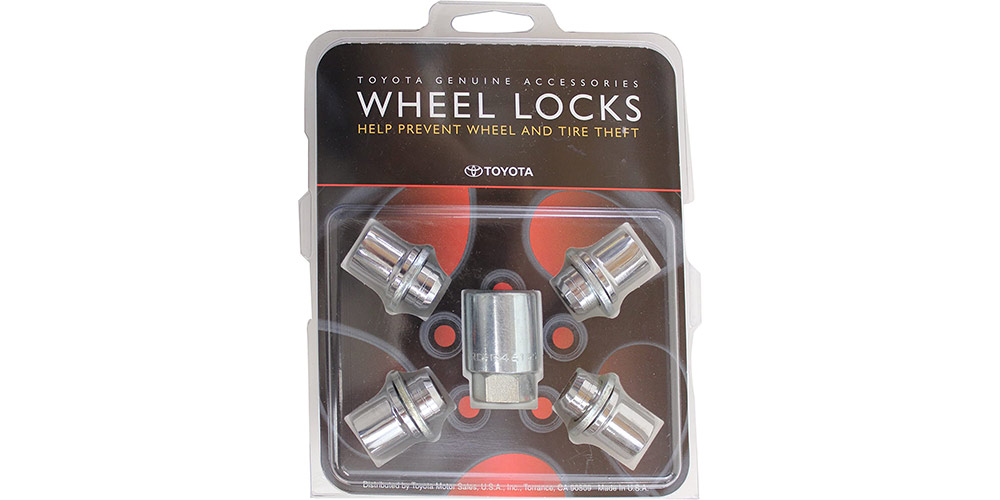 Brand: Toyota
Another excellent set of Genuine Wheel Lock lug nuts is from Toyota. These are of a high caliber and dependability. With triple nickel plating and a chrome overlay, it possesses incredible corrosion resistance. It assists in dependable security against tire and wheel theft.
They are produced with the use of very precise machinery, ensuring that each one satisfies all requirements for quality while remaining unbreakable and impossible to remove without a specific key. It also implies that these locks are more expensive than average.

#5 DPAccessories Black Closed Acorn Locking Lug Nuts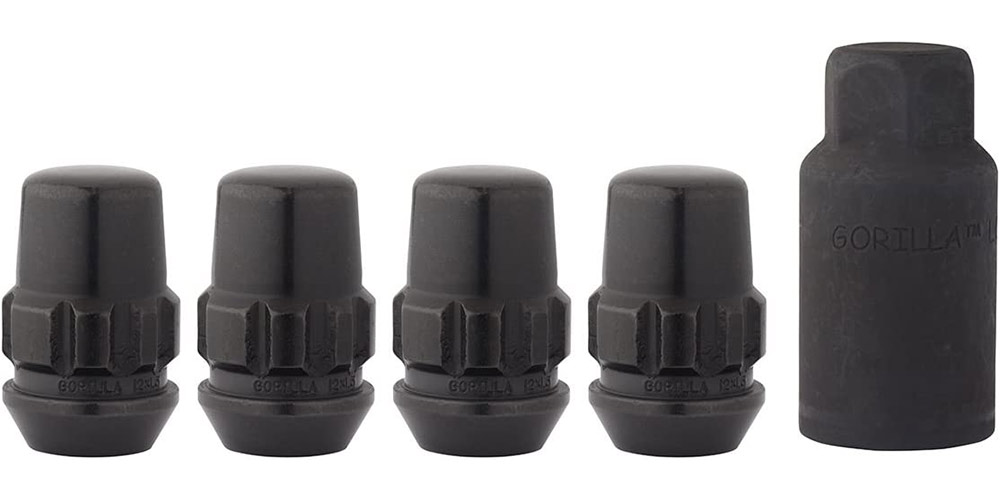 Brand: DPAccessories
Locks from DPAccessories are yet another excellent low-cost choice. There's a good chance that you will discover one of these locks that suits your car as they come in a wide variety of fits, styles, and finishes. Cold-forged, heat-treated steel with a multi-alloy coating is used to create the locks in order to increase their longevity and combat corrosion. The lock kits also come with four or five locks per package, allowing you always to have a backup lock on hand. This is also effective if your spare tire is kept outside.
The black lug nut locks from DPAccessories have a special black coating that has the same anti-corrosive qualities as chrome but has the appearance of black satin paint if you have black wheels. Also, they provide complete lug sets that match your locks.
It also has a special key to go with each set. This makes it impossible for individuals with the same lock style to use your wheels.

#6 White Knight Chrome Mag Wheel Lock Set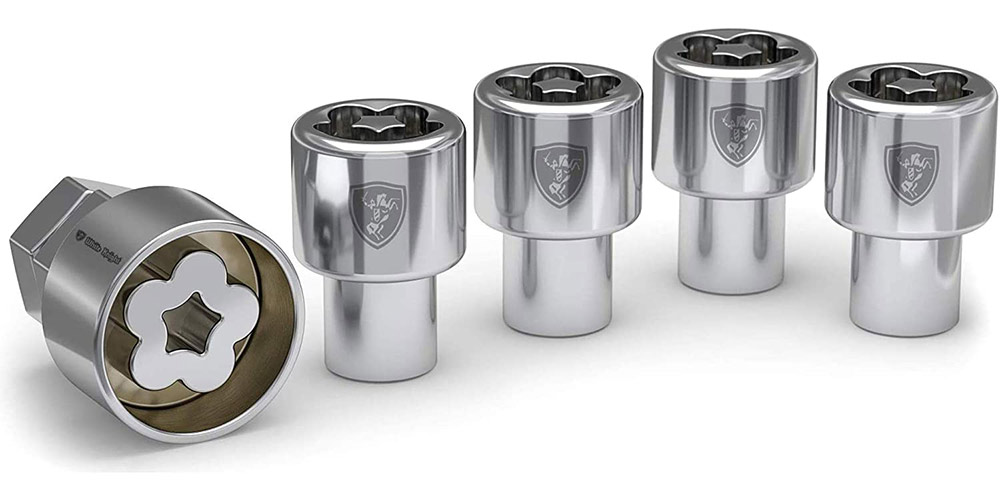 Brand: White Knight
The locksets from White Knight are your lucky charm if you're looking for another pair of wheel locks that won't set you back more than $15. These steel locks are incredibly inexpensive and have anti-corrosion treatments that meet exceeding salt spraying standards. They can suit a variety of wheels because they come in 7/16″, 12 x 1.25, and 12 x 1.5 sizes.
While quite affordable, these locks lack an attached washer. The washer will typically be linked to the nut on most locks, which is a design choice that greatly facilitates installation.
You will need to purchase the washers individually if you decide to purchase these locks. To avoid any installation issues, ensure the washer is firmly inserted before installing them.