Among all the accessories for trailers, one of the most important ones is the trailer brake controller. This plays a huge role when towing at faster speeds and heavy loads. It also functions as a great accessory when towing on difficult road conditions. A trailer brake controller provides better safety because they help in improved control instead of just the on-off options with basic trailer wiring.
Trailer Brake controllers can be categorized into two: time delayed and proportional.
The time-delayed controller is simpler compared to the proportional type. These trailer brake controllers can detect whenever you apply the brakes. This typically uses the similar signal that your brake lights acquire, then send it over to the trailer and applies the brakes. Usually, you will need to set a time delay value and a braking force value based on factors such as road conditions, trailer weight, and other considerations.
The proportional trailer brake controller utilizes a sensor for determining how hard the tow vehicle is braking. It instantly calculates the needed amount of force to apply to the brakes. This will allow the tow vehicle and trailer to decelerate at a similar rate. The proportional trailer brake controller offers more gradual and progressive braking. It performs even better when under heavy braking.
If you're searching for a trailer brake controller, we've got you covered as we narrowed down the top 7 best trailer brake controllers available today. Check out our list below.
#1 REDARC Tow-Pro Elite Electric Brake Controller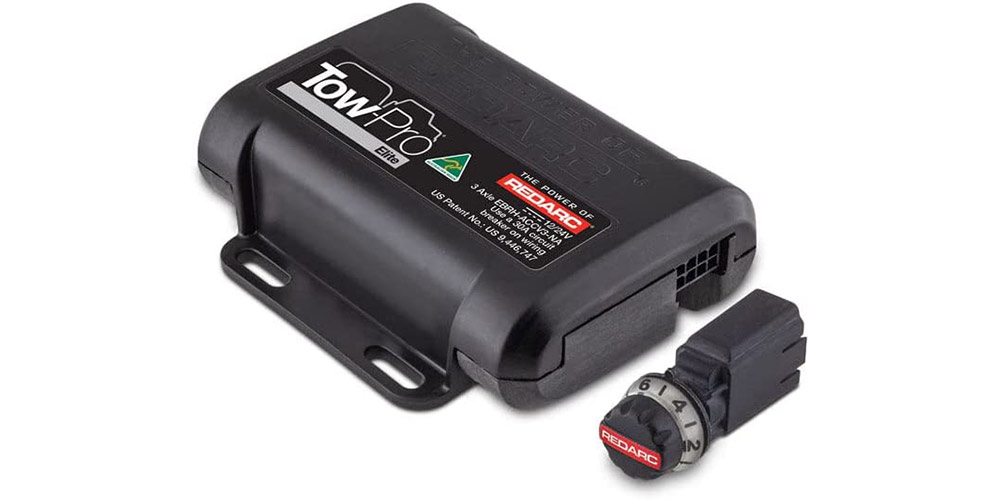 The REDARC Tow-Pro Elite Electric Brake Controller is one of the best trailer brake controllers in the world. Some people might not be familiar with the REDARC brand because it's not from North America. However, REDARC has been producing high-quality products from Australia since 1979.
The REDARC Tow-Pro Elite Electric Brake Controller features two modes: proportional mode and user-controlled mode. The proportional mode is perfect for highway use, while the user-controlled mode is very helpful for off-pavement towing. This product works with electric and hydraulic brakes. It's compatible with 24-volt and 12-volt systems. It needs a 30-amp circuit for its first install. It can control up to a triple axle/six brake trailer.
This device offers a universal switch plus a bare pigtail harness. Take note, though, that some vehicles may require additional wiring. This self-leveling controller features a three-way accelerometer that lets you mount it in any direction. It also comes with an illuminated dial switch.
The company only offers a two-year warranty on these trailer brake controllers. This product is an investment and not highly recommended for budget-conscious consumers.  

#2 Tekonsha P3 Electronic Brake Control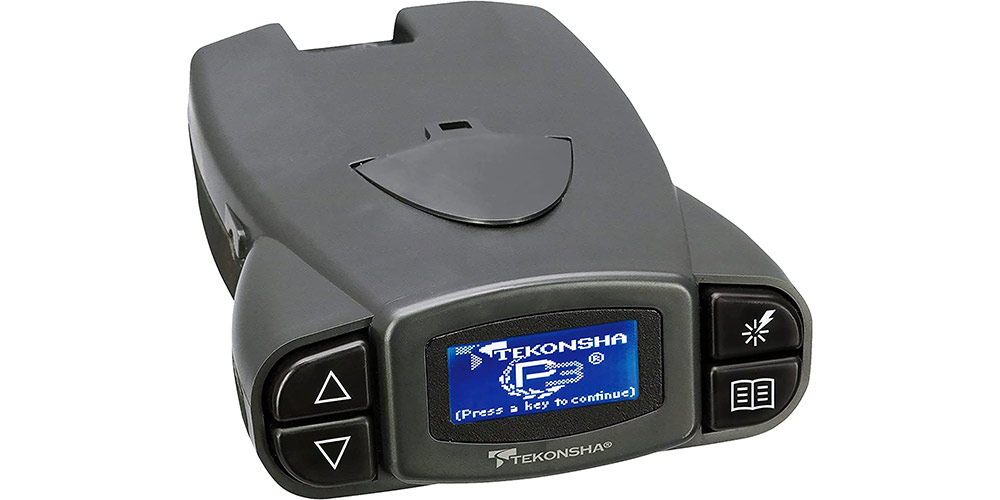 When it comes to reliability, Tekonsha is one brand that you count on. The Tekonsha P3 Electronic Brake Control is one of the best trailer brake controllers today. It features a big LED readout screen that comes with configurable colors. It showcases the current system plus the brake, battery, and output voltages. It is a proportional brake controller that can be easily plugged into your car via an adapter (sold separately). It can be mounted to the bottom of your dash via a snap-in clip that can be removed easily. This product does not require any calibrating; you plug it in, hook your trailer immediately, and you're good to go.
The Tekonsha P3 Electronic Brake Control offers braking power up to 4 axles. It also features a boost function that can send full power to the trailer's brakes in emergency situations. The multiple options and functions might seem overkill if you don't tow much. You can opt for other options on this list if you don't require much of this product's functionality.
Tekonsha offers this product with a limited lifetime warranty. 

#3 CURT Venturer Electric Trailer Brake Controller (51110)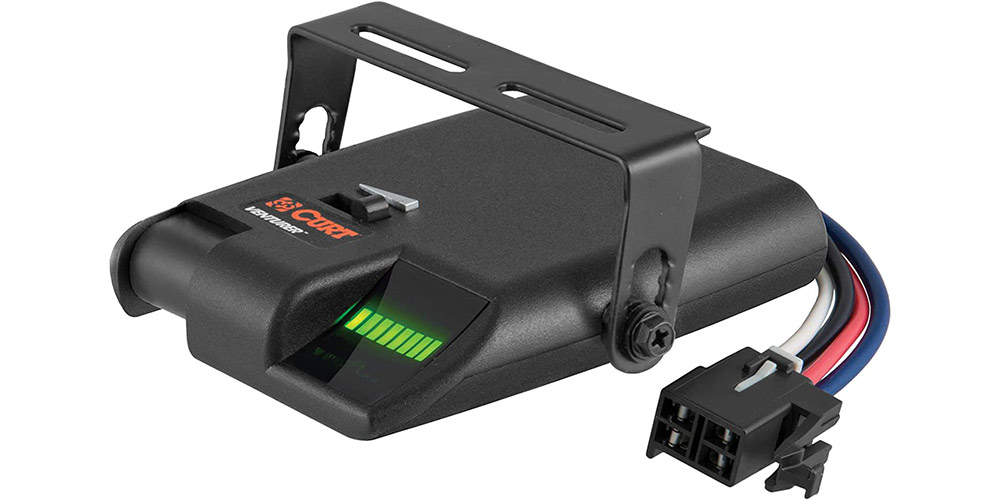 The CURT Venturer Electric Brake Controller is one of the best choices if you need an affordable and simple-to-operate trailer brake controller. This product is designed to provide dependable and safe operation. It features a visible LED display to help you monitor the brake operation. Leveling is not required with this product because it doesn't have internal moving parts.
The CURT Venturer Electric Trailer Brake Controller features an adjustable power toggle, an adjustable ramp time, and a manual brake slider button. As per the company, this product can be used on virtually any trailer having one to three axles. It is also compatible with anti-lock brakes, low voltage systems, cruise control, and PWM systems.
This trailer brake controller can be installed faster with a CURT vehicle-specific quick plug harness, though this is sold separately. With its adjustable mounting bracket, you can set this product for maximum visibility. 

#4 Tekonsha Primus IQ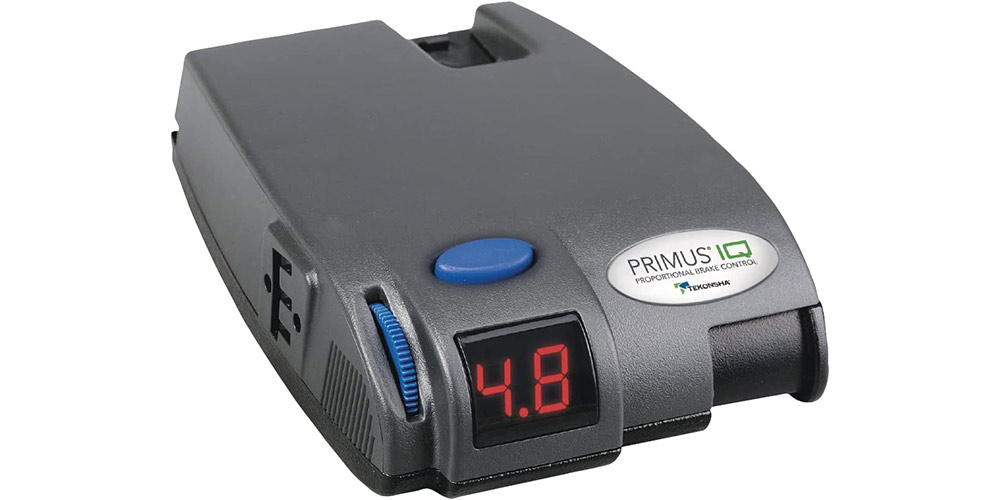 If you want an affordable Tekonsha trailer brake controller, this next one is the best entry-level option. The Tekonsha Primus features many similar features that other Tekonsha brake controllers offer. This product has an LED readout, an automatically leveling accelerometer, and a boost function. However, the products with higher price points can support eight brakes across four axles, while this one can only support six brakes across three axles.
We highly recommend the Tekonsha Primus for light-duty towers, but we wouldn't suggest it for very heavy trailers or for those who often tow. Similar to many electric brake controllers, you will need to purchase a T-connector separately.
Tekonsha offers this product with a limited lifetime warranty. 

#5 Reese TowPower Brakeman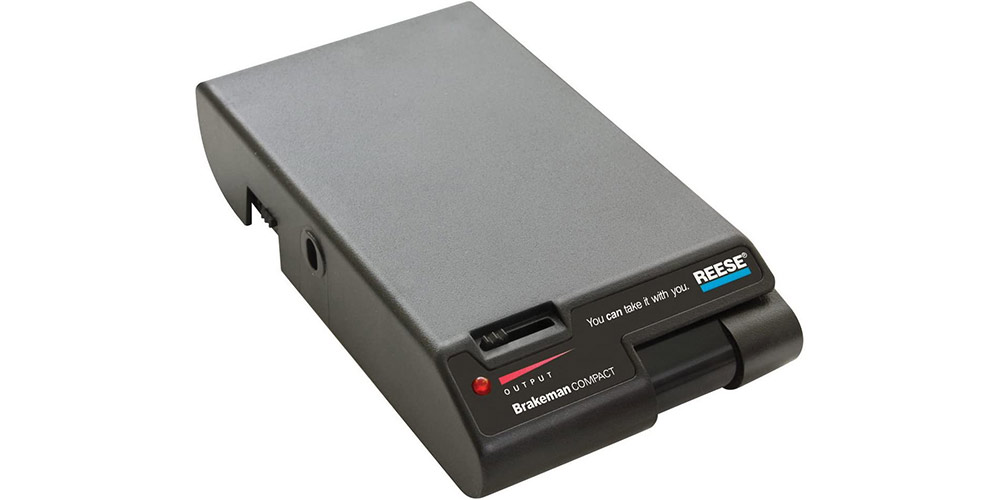 The Reese TowPower Brakeman is one of the best options if you want a time-based brake controller. This is an affordable and simple product that can be perfect for light-duty towing. Among the options on this list, this product is among the least expensive in the market today. Installation of this product is easy as this does not need any leveling.
The Reese TowPower Brakeman is perfect to use on one or two axles and features all the required mounting brackets and hardware. You can have multiple options when deciding where to install this product because it has no moving parts.
Do not expect this product to perform the same with a proportional controller in terms of outright and linear braking. The company offers a three-year limited warranty for this brake controller. Not being a plug-and-play type of trailer brake controller may turn off some consumers, but its price and other features still make it a good choice.

#6 Hopkins InSIGHT Plug-In Simple! Brake Control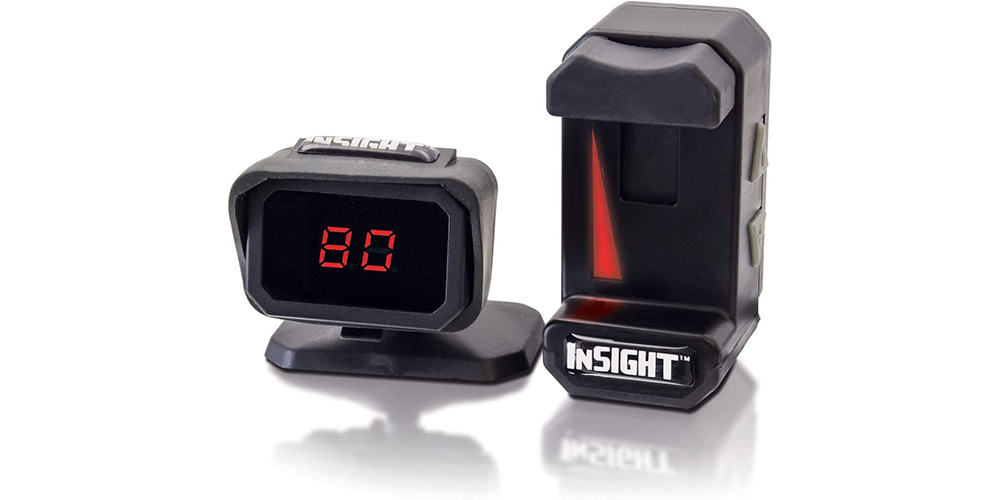 The Hopkins InSIGHT Plug-In Simple trailer brake controller is packed with features. This three-piece product comprises a controller, a seven-position slider, and an LED screen. The LED screen displays current voltage and warns drivers of potential system problems. The slider is for adjusting the brake application's intensity. This product is the only one on this list that can operate four axles or eight brakes.
Mounting the parts of this product is easy because of its comprehensive installation kit. You have to wire the three components together, though, and that requires more work compared to other trailer brake controllers. Flexibility is quite limited because the controller module of this product is sensitive to the mounting position. It features short-circuit protection and can work with electric or hydraulic brakes. If you don't like cutting and splicing wires, you may need to look for a separate plug-in harness. 

#7 Reese Towpower Pod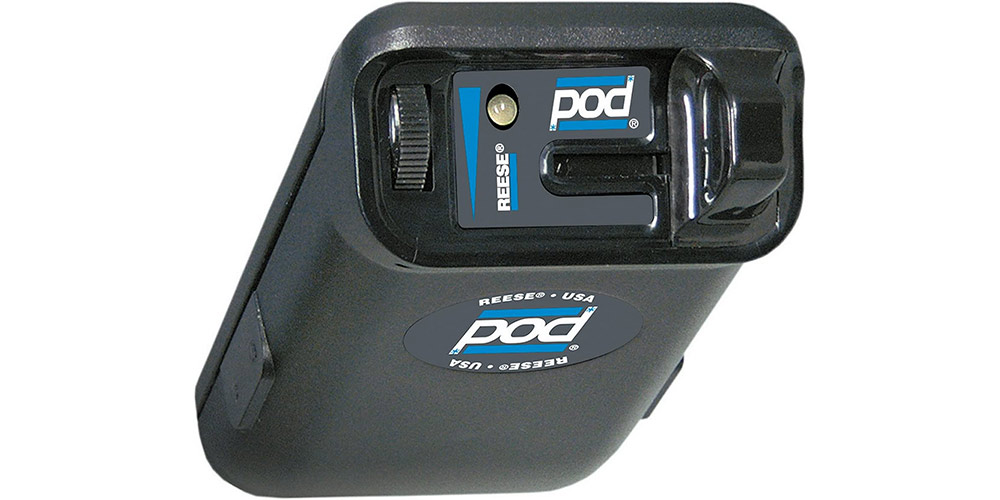 Are you looking for a compact trailer brake controller? The Reese Towpower pod is as compact as it gets. If you own a smaller vehicle or don't want a brake controller to cramp up much of your cabin room, you'll have to consider this one. It's only 6.4 x 3.7 x 2.1 inches, and you can tuck it almost anywhere.
The Reese Towpower pod is a timed brake controller with disadvantages compared to a proportional controller. It can only provide braking power for two axles. You need to purchase an adapter separately. You can check for problems such as short circuits, brake failure, or tailer continuity via the warning light.
This product comes with a five-year limited warranty.