Don't wait until you can't start your car before looking for a possible replacement. Your car's battery will eventually run out of charge. Replacing your car's battery is part of maintenance. Most likely, you will have to go through one or two car battery replacements during your car's life.
There are two types of car batteries: Absorbed Glass Mat (AGM) and Lead-aced (regular). Lead-acid batteries are cheaper than AGM batteries. AGM batteries hold a charge longer than Lead-acid batteries. AGM batteries are built to withstand recharging cycles and routine draining. The majority of modern vehicles that come with high-tech features usually come with AGM batteries. These batteries have a higher price point, but they provide long-term performance. They can even withstand deep discharges and can possibly recover if drained accidentally. You must understand that batteries are available in different terminal types and sizes. Make sure that you actually get one that fits your car.
If you can't decide on purchasing, we came up with our list of the top 8 best replacement car batteries. Check it out.
#1 Optima Batteries RedTop 35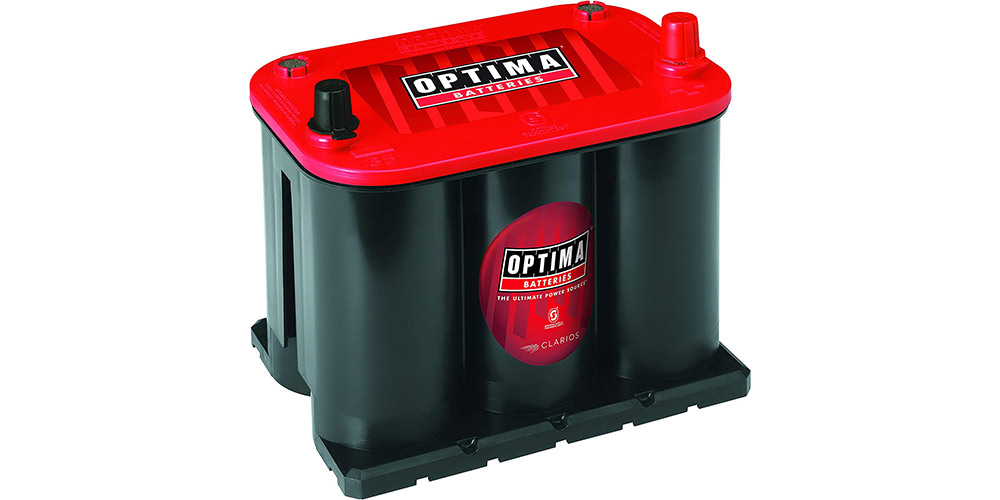 The Optima RedTop 35 made our list because it offers a good balance of performance and price. This car battery features 720 cold cranking amps (CCA) plus a C20 capacity of 44 Ah and a reserve capacity of 90 minutes. This battery weighs 31.7 pounds and measures 9.38″ by 7.69″ by 6.75″. This battery has a polypropylene case and features SAE posts.
The company claims the RedTop 35 has 15 times more vibration resistance than a standard battery. This battery offers 3 times longer life and is maintenance-free, according to Optima. It's mountable in any position and is spill-proof. 
#2 Optima Batteries YellowTop D34/78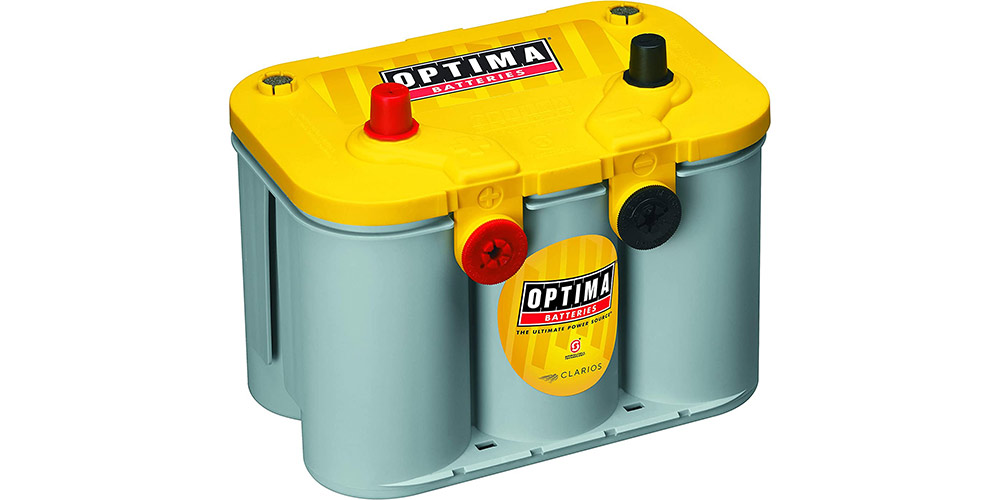 Is your vehicle stacked with accessories like an aftermarket audio system? It would be nice to invest in a battery that features high performance. Our most recommended high-performance battery on this list is the Optima YellowTop D34/78. It features 750 CCA and a C20 capacity of 55 Ah. This battery weighs 43.5 lbs. It measures 10″ by 6-7/8″ by 7-13/16″. It also features dual SAE and GM posts. If you require different types of terminals, you can look at the YellowTop lineup of Optima.
Similar to the Optima RedTop 35, this battery features a polypropylene case and claims to have 15 times more resistance to vibration. It has 120 minutes reserve capacity compared to the RedTop 35's 90 minutes.
This product offers deep-cycle plus cranking power. It also showcases faster-charging features and more than 300 discharge/recharge cycles before being replaced. It also offers a spill-proof design so that you can mount it virtually in any position.
#3 Optima Batteries RedTop 75/25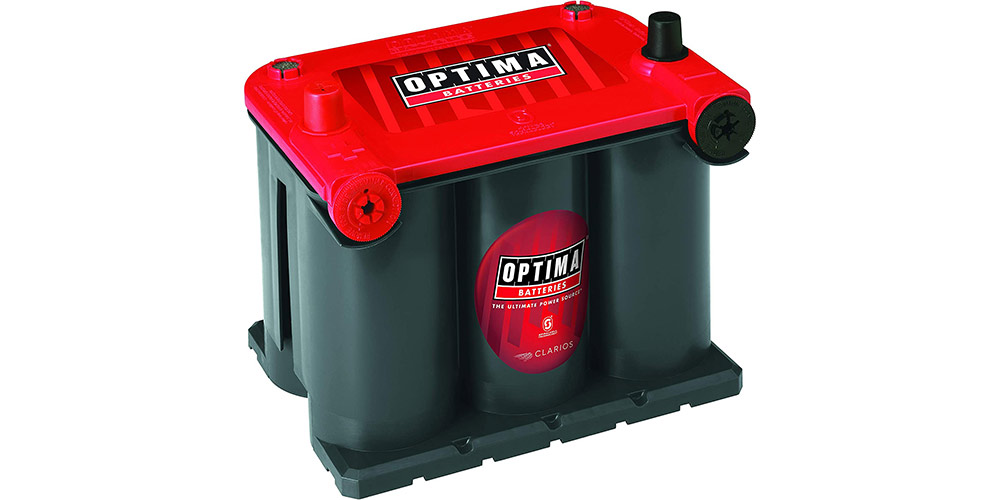 The Redtop 75/25 is the third battery on our list that comes from Optima. It has similarities with the RedTop 35, having a 720 CCA and C20 capacity of 44 Ah. However, the Redtop 75/25 has dual SAE/GM posts. It weighs 33.1 lbs. and measures 9.38″ by 7.75″ by 6.81″.
It offers a strong starting burst plus up to 3 times battery life. Its reserve capacity is 90 minutes for constant performance. It also features a spill-proof and maintenance-free design. You can mount it virtually in any position. If you require GM posts on your battery, this is the best replacement car battery of your choice.
#4 ACDelco 94RAGM Professional Automotive Battery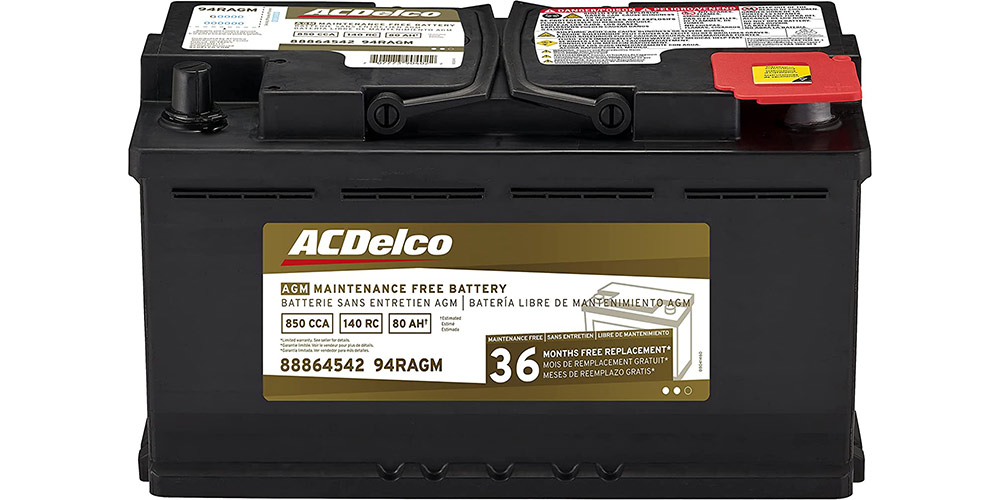 The ACDelco 94R Professional AGM battery offers a pressurized valve system that is leak-proof. It is engineered for long life and safety. It helps prevent acid damage and dry-out to the terminals. This battery features high cycling capabilities and is charge-receptive. This means that this battery is a nice choice for cars that have start/stop systems. This battery also has an incredible feature as it uses high-density negative paste that helps improve performance and also increases battery life.
The ACDelco 94R Professional AGM battery has an enhanced life alloy/Silver Calcium stamped alloy that helps increase the life cycle and enhances battery performance. This battery comes with a 36-month free replacement period. 
#5 Kinetik 2400-Watt Battery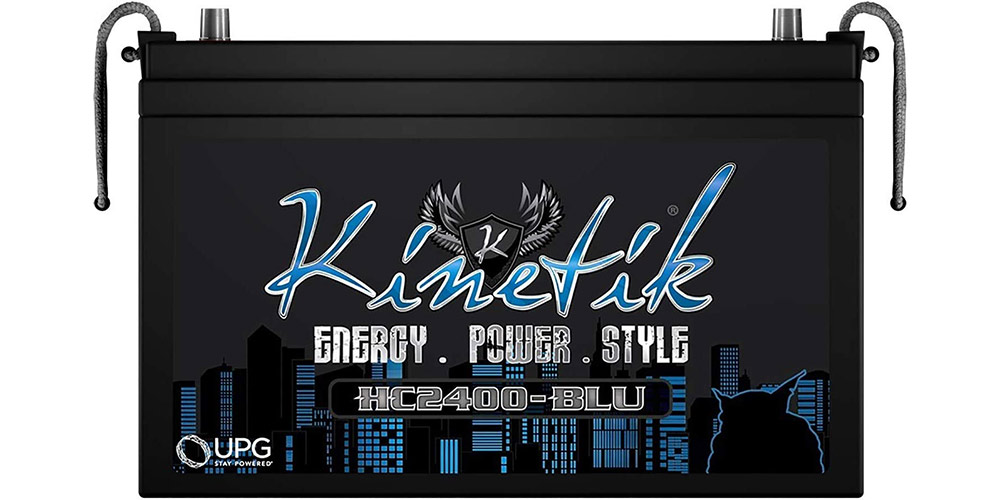 If you have a vehicle packed with serious audio equipment and have experienced dimming headlight issues, try investing in a Kinetik battery. This brand offers high-performance batteries and focuses on car audio enthusiasts. Their products offer more than enough for a simple or conventional car.
The Kinetic Battery features 2400 watts and has a spill-proof and sealed design. You can mount it in any position. This battery offers superior vibration and heat resistance. 
#6 XS Power D3400 High Output Battery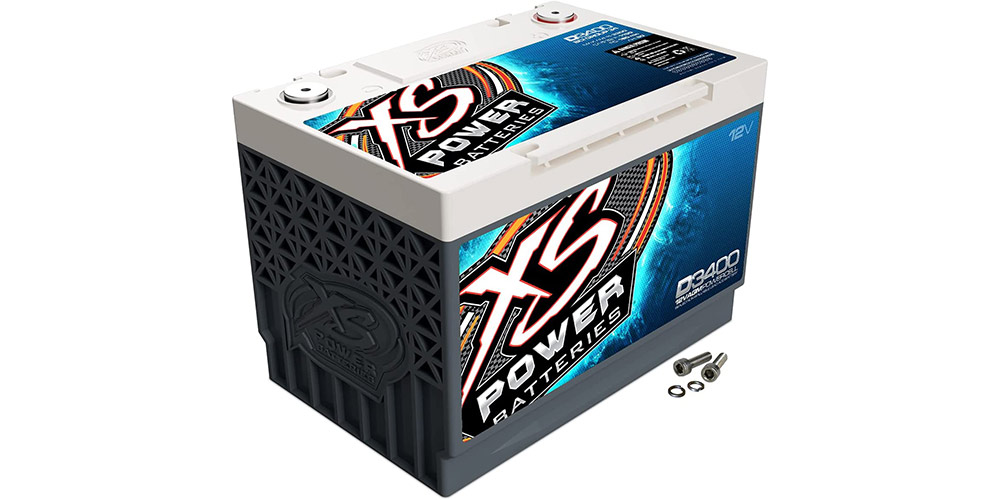 The XS Power D3400 High Out Battery is another great option if you need a high-performance replacement battery. It features a capacity of 65 Ah, 1,000 cranking amps, and 3,300 max amps. This battery is sealed, spill-proof, vibration resistant, and valve-regulated. If you need heavy-duty applications, you can rely on this battery. It features ultra-low internal resistance that makes it ideal for cars that require a lot of power. If you have stereo systems, this battery is a good option.
According to XS Power, this battery uses the highest energy density chemistry in AGM batteries. If you need a battery that has power and will last longer, the XS Power D3400 High Out Battery is an ideal choice.
#7 Delphi MaxStart AGM Premium Automotive Battery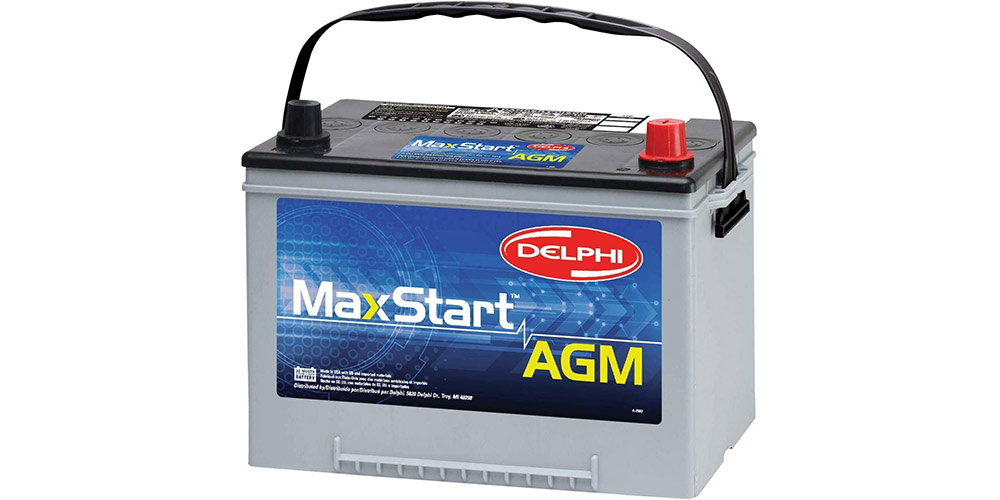 Delphi is among a few batteries made in North America. The company is an OEM manufacturer that provides parts for new vehicles. The company is but does not have a popular aftermarket presence. They create their entire line of AGM batteries in their North America factories.
You can get many benefits from an AGM battery compared to a lead-acid battery, which includes faster charging, vibration resistance, longevity, and up to twice the battery life. This creates the reasoning behind an AGM battery's cost.
What's impressive about this car battery is that it features OEM quality. This product has a three-year guarantee. If you're in need of a more affordable option, you can check out other replacement car battery options.
#8  Odyssey Extreme Series Battery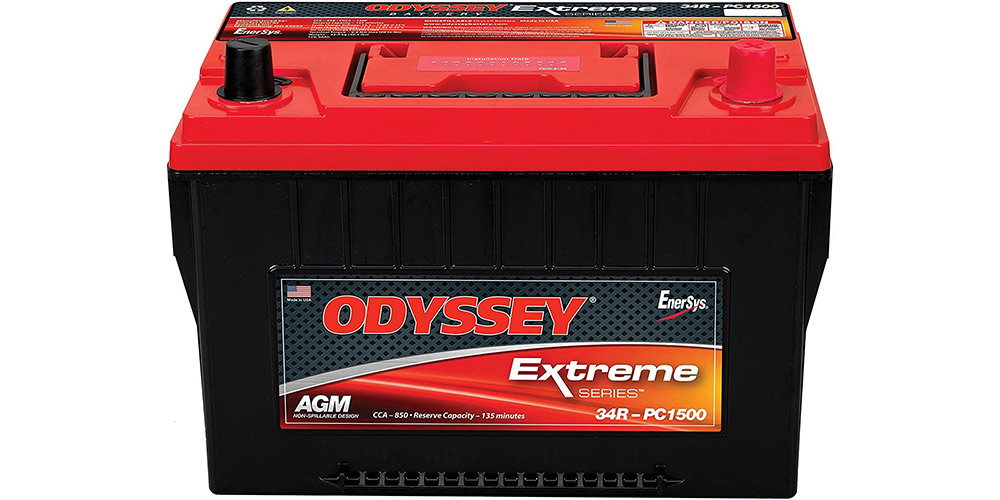 Odyssey is another brand that you can never go wrong with. They produce batteries that are made in the U.S. The Odyssey Extreme Series Battery is designed for light trucks and general automotive use. This battery has become a well-known option for owners of SUVs. It features 68 Ah, 850 CCA, and a reserve capacity of 135 minutes.
This batter's plates are made of pure virgin lead. This results in more plates and more power. According to Odyssey, this battery has twice the power and thrice the life of a conventional battery. It offers up to 400 cycles with an 80% depth of discharge. The Odyssey Extreme Series Battery uses SAE terminals and offers vibration resistance. You have flexible mounting options as well.
Odyssey provides a limited 3 and 4-year replacement warranty for this battery.