You need a high-quality buffing pad if you want to restore the brand-new look of your car. When using an orbital polisher/buffer or working by hand, a high-quality buffing pad makes the task go more quickly and effectively. Today's market offers a wide variety of buffing pads made of various materials, including terry cloth, microfiber, and wool. You'll find quite a few products on this list that are sponge pads because they are also widely used.
Consequently, if you're looking for the best buffing pad for the task, you've landed on the right page. We'll examine the top buffing pads available right now in this article, outlining the functions and advantages of each type of pad.
Check out our reliable list of the top 8 best buffing pads below.
#1 Viking Car Care Microfiber Applicator Pads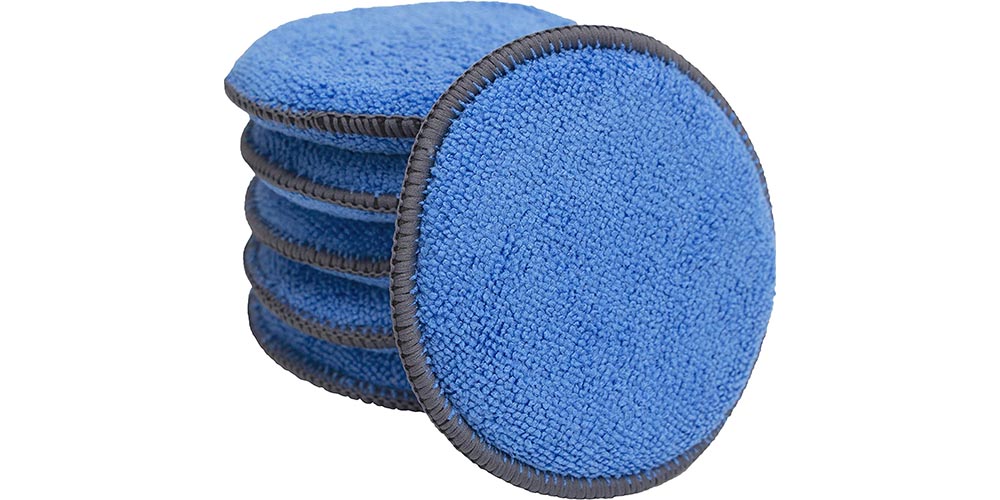 Brand: Viking Car Care
The microfiber applicator pads from Viking Car Care are not only popular and highly rated on Amazon, but they are also reasonably priced and come in a wide selection. The four different types of applicator pads are regular, rectangular, cotton terry, and pads with a finger pocket. You can opt to buy 2, 6, or 8 applicator pads at a time.
These pads, which come in soft microfiber or cotton terry and are safe for clear coats, are made for administering waxes, polishes, and protectants. The best part is that even if it's inexpensive, you'll use them all because they're all machine washable and reusable. The rectangular pads measure 5′′ by 3′′ by 1.5′′, while the round pads have a 5′′ diameter.
#2 Chemical Guys Hex-Logic Buffing Pad Kit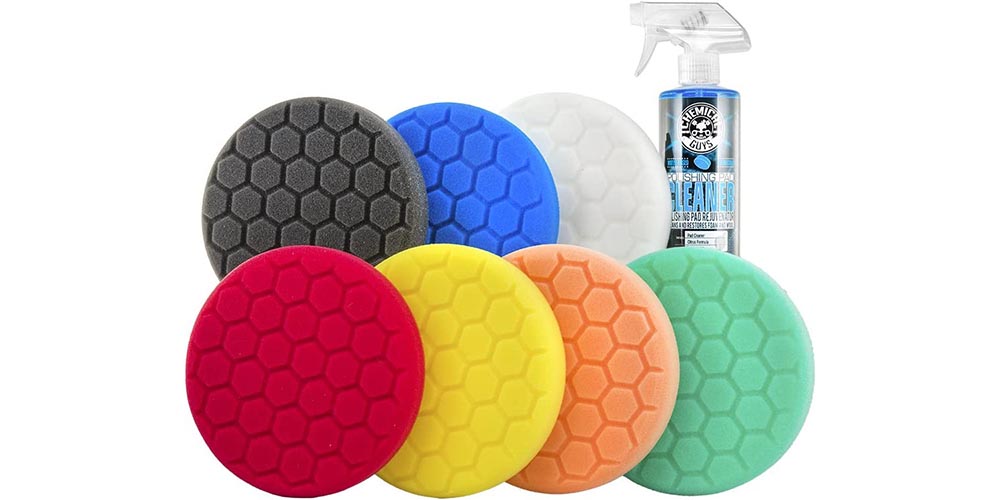 Brand: Chemical Guys
In addition to 7 buffing pads, this kit from Chemical Guys also comes with a polishing pad cleanser bottle. Although slightly more expensive than other items on our list, this polishing, cutting, and finishing set is comprehensive. To distribute the substance uniformly, these Hex-Logic foam pads utilize premium high-density foam plus cutting-edge pad designs with grooves in the face. The pads come in two sizes, 5.5′′, and 6.5′′, and all of them are compatible with polishers and buffers thanks to a hook and loop system that makes installation a breeze.
Here is a brief explanation of each pad and what they are intended to do:
Orange: Removes minor to moderate oxidation, scratches, swirls, and paint flaws.
Yellow: Serious scratch, swirl, oxidation, and paint defect removal with a heavy cutting pad.
White: After removing swirls and scratches, restores sheen and reflection.
Green: Removes minor to moderate oxidation, paint flaws, mild scratches, and swirls before finishing like a lighter polishing pad
Black: To spread glaze, sealant, or wax.
Blue: Perfect for glazing—adds gloss and sheen without requiring further cutting for polishing or paint correction
Red: Extra-soft spreading pad for wax, glaze, or sealer
A 16-ounce container of foam & wool citrus-based polishing pad cleaning, which is intended to break down and release product and remove paint, dirt, and pollutants from the polishing pads, is also included in the set.
#3 Petutu Car Foam Drill Polishing Pad Kit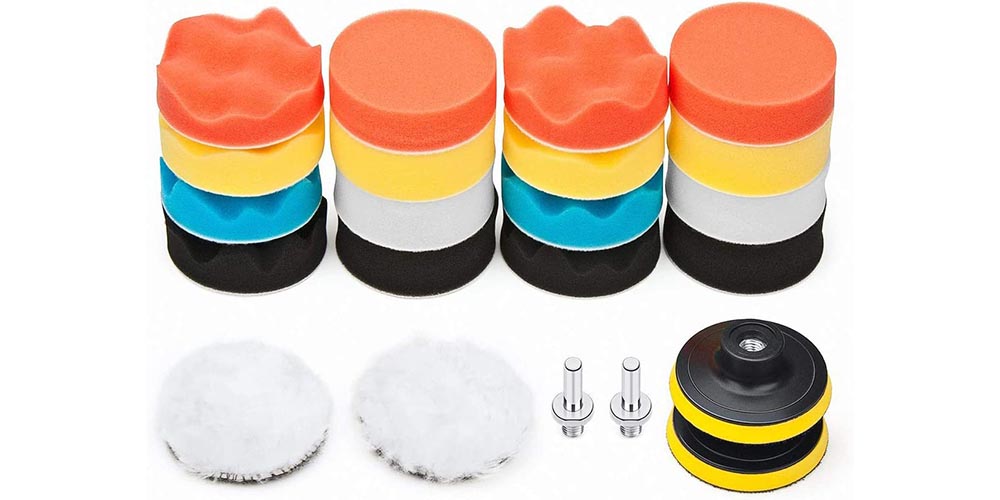 Brand: Petutu
Petutu offers a full kit that is also reasonably priced. Twenty-two pieces make up the entirety of this set, including 16 3′′ sponge polishing pads,2 drill adapters, 2 wool buffing pads, and 2 suction cups. These polishing and buffing pads, which are intended to seal glaze, polish, or wax, include adhesive backings so you can rapidly switch out your pads. Because every pad in this package is machine washable and reusable, your small investment might last you a very long time if you take good care of it.
For your specific task, whether it be buffing, polishing, or finishing, you can choose the sponge polishing pad color that corresponds to the softness you require. The blue and yellow pads are perfect for medium polishing, while the orange pads are made for coarse polishing. Use black and white pads for fine polishing. This kit is excellent for making car detailing substantially easier while producing superior results, assuming that you already have a hand drill.
#4 Meguiar's Supreme Shine Foam Applicator Pads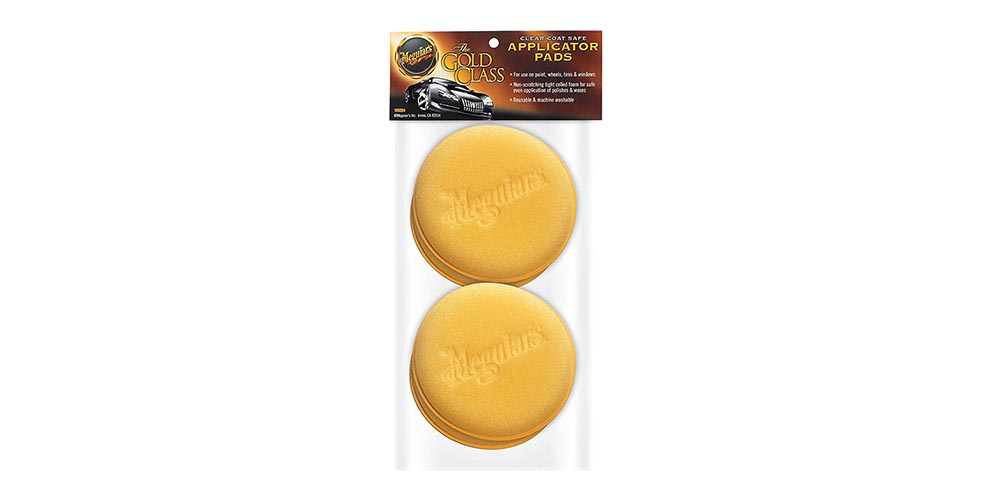 Brand: Meguiar's
There's a good chance you've heard of Meguiar's if you're looking for buffing pads. The company, a pioneer in the car maintenance sector, sells its 4′′ foam applicator pads separately. These pads may look familiar to you if you've ever used Meguiar's polish or wax because they are frequently included with those products. They come in a 4- pack for a really good price and are made to apply vehicle wax, polish, and a variety of other car maintenance items.
These pads give a smooth, even application across all surfaces because they are constructed from incredibly soft, tight-cell foam. Even tires, leather, vinyl, and rubber can be cleaned using them. Given their great level of durability and ability to be machine washed, expect to use them frequently.
#5 Griot's Garage Orange Polishing Pad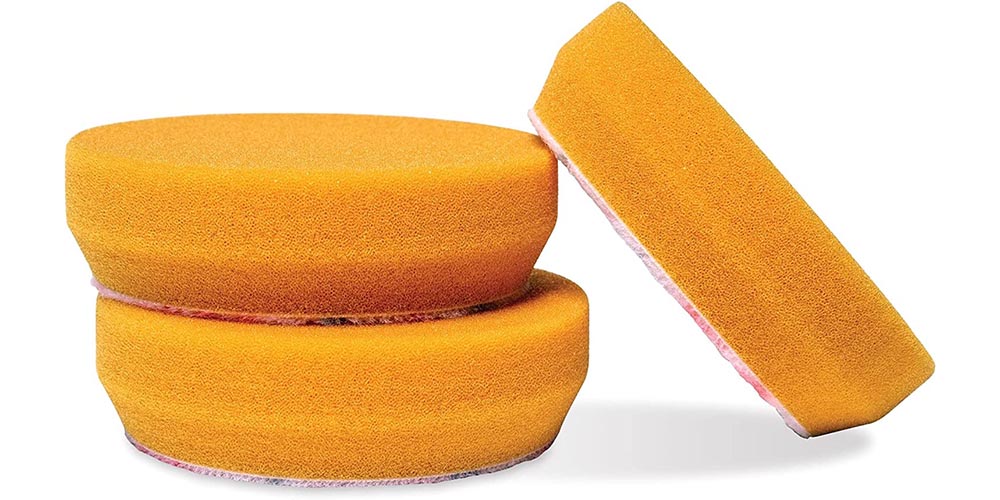 Brand: Griot's Garage
Although Griot's Garage offers a variety of buffing pads, their orange pad is the most well-liked option. The orange pad is intended to fix light to moderate paint defects. Additionally, Griot's Garage sells red foam wax pads, microfiber rapid finishing pads for mild flaws, and black foam finishing pads for protection and fine-tuning.
To maximize the overall footprint while enhancing productivity and safety, these pads have chamfered edges. These pads, which come in 3′′, 5.5′′, and 6.5′′ sizes, can be used either by hand or attached to a buffer because of their hook and loop backing. Particularly the orange pads are great at polishing without being overly forceful. To ensure that these pads are strong enough to withstand machine washing, Griot's Garage uses a thermoset bonding on reticulated, premium, and open-cell foam.
#6 Fontic Compound Drill Buffing Sponge Pads Kit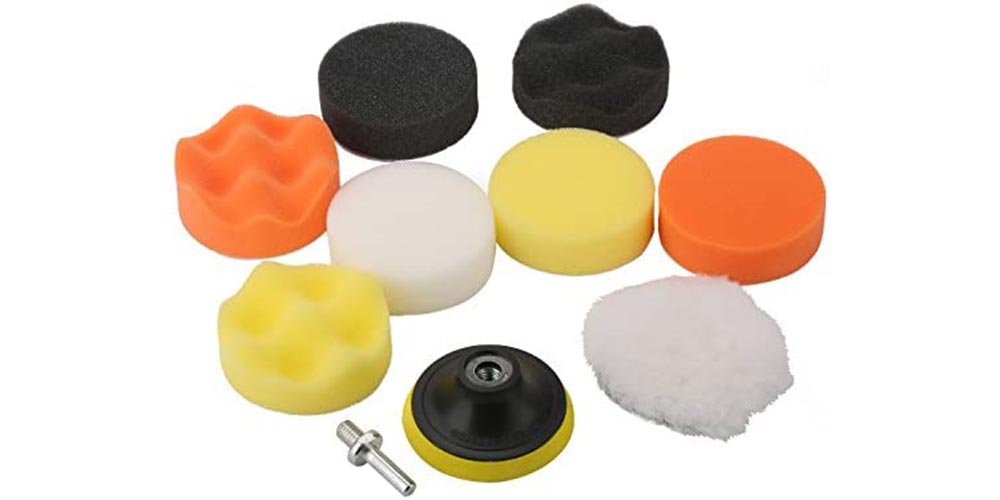 Brand: Fontic
While identical to Petutu's package, this kit from Fontic is only about half as comprehensive. Nine sponge pads, a wool buffer, and a drill adaptor with a shank are all included in this item. With various colored sponges to signify various softness levels, the wool and sponge pads are both flexible, washable, and reusable.
The ultra-fine black sponges can be utilized as a finishing and polishing pad. The extra-fine white sponge pads can be employed for polishing and finishing. The medium blue and yellow sponges are made for final cutting, glazing clear coat surfaces, and light cutting and polishing. Last but not least, the orange pad is a coarse sponge that works as a cutting pad of standard grade. These sponges are made to be used with a drill and are on the smaller side.
#7 SPTA Car Polisher Bonnet Pads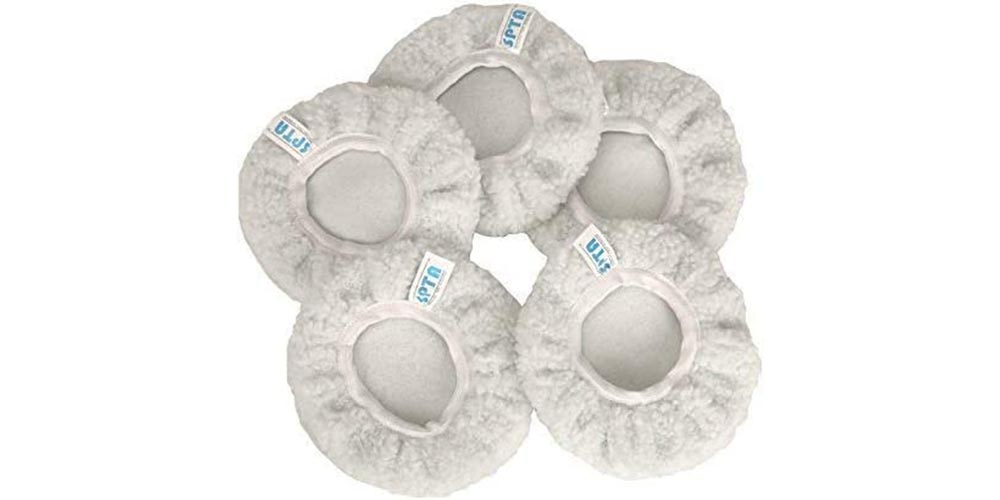 Brand: SPTA
Consider utilizing these bonnet pads by SPTA if you're polishing or buffing. These pads, which can be found in terry cloth, wool, or a mixed set depending on your needs, are made to accommodate 5′′ or 6′′ buffers. Four wax applicator polishing bonnets, one microfiber bonnet, two terry cloth pad polishing bonnets, and one woolen fleece polishing bonnet are included in the mixed set.
These bonnets are made of non-woven material, terry cloth, or synthetic fleece and are intended to apply wax securely and uniformly. They have an elastic construction for simple installation on your buffer and are washable and reusable. These bonnets should last up to four times as long as a typical towel with good care.
#8 TCP Global Ultimate 6 Pad Buffing and Polishing Kit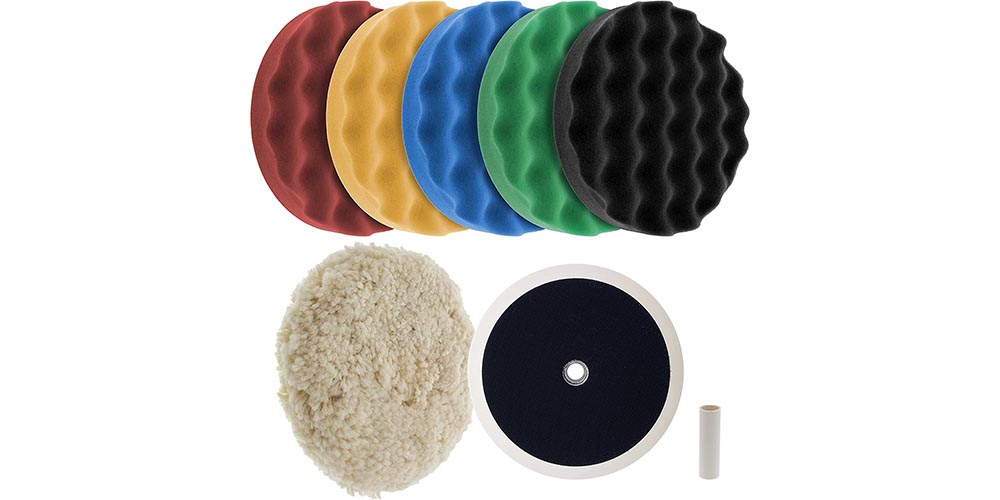 Brand: TCP Global
This six-pad buffing and polishing kit is available from TCP Global and comes with a 7-inch polisher grip backing plate, five 8′′ waffle foam grip pads, one 8′′ wool grip pad, and five 8′′ wool grip pads. Standard 5/8′′ polisher threads are found on the grip mount backing plate, which offers a non-slip grip and easy pad changes.
Check out the description of each of the pads that are part of the kit:
Blue: Medium pad for light oxidation and scratch removal, final cutting, and polishing, or glazing clear coat.
Green: A fine pad that offers a gentle cut on clear coats for the last cut, polishing, and finishing.
Red: Extra coarse pad for severe cutting and buffing of deep scratches, orange peel, rusted paint, and color sanding scratches.
Orange: Coarse pad for standard grade cutting; used to remove orange peel from cutting surfaces
Black: For final finishing, polishing, glazing, or waxing.
The strong open-cell foam used to make these pads enhances airflow between the surface and the pad. The waffle pattern better secures the product and lessens potential slinging from the pad. By enabling better pad contact with the surface and minimizing heat accumulation while in operation, the design also increases effectiveness.