Nowadays, everyone tries to be safer, but it doesn't mean you can't choose to travel outside of your home for a change of scenery. More than 680 million drivers are expected to go on road trips this summer, according to predictions from the American Automobile Association (AAA). Even though that is a 3.3% decrease from the number of road trips Americans took last year, it is still much greater than what AAA anticipates passengers will go by way of more shared modes of transportation like airlines and trains.
Road trips entail more butts in seats for longer periods of time, and while you're trying to calm a rowdy bunch of kids, you'll long for some of the conveniences of home. Don't discount the little overhead DVD player despite the near ubiquity of smartphones, tablets, and handheld video games. The advantages of having a disc in your hand become immediately evident when you reach a cell-free area, even though it may seem like a relic of a bygone era. There are also fewer devices and batteries to manage with a screen that is mounted to the ceiling.
The feature set should be considered when choosing an overhead DVD player. Beyond the apparent optical disc playback, many can natively display digital media or serve as a monitor for connected streaming and video gaming consoles. Along with what you see, how you hear it is also crucial. Most players let you choose between your sound system and wireless headphones, which are the more pleasurable alternative. The top overhead DVD players are highlighted in the following list after a thorough evaluation of all the models on the market.
#1 Alpine 10.1″ Overhead DVD Player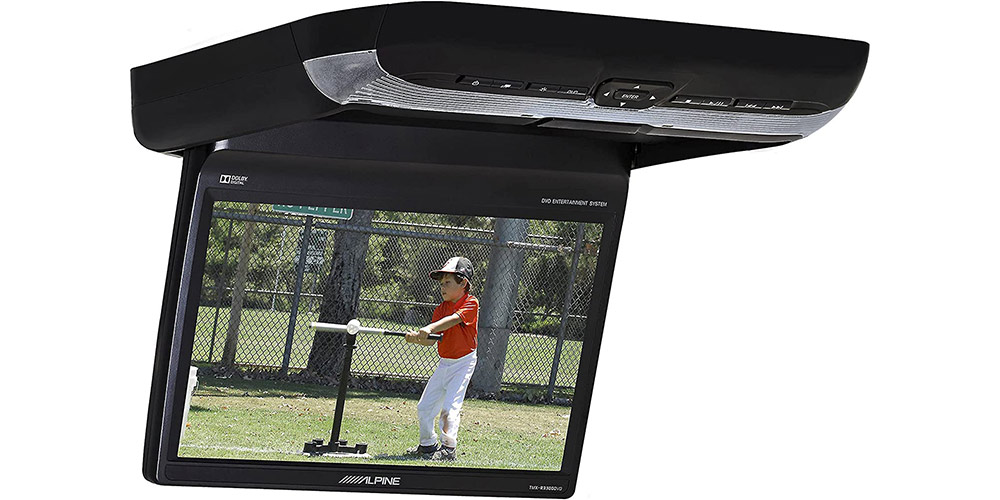 Brand: Alpine
The 10.1-inch screen on this flip-down Alpine DVD and media player has a suitably sharp WSVGA display resolution. It is one of the few players on the market to have what Alpine calls an "automotive-grade DVD mechanism" to endure the rigors of bumpy roads, extreme heat, and vibrational damage on the laser apparatus while neither being the cheapest nor having the biggest display on our list.
Alpine has offered a variety of choices for playing external media, including dual HDMI ports, two USB inputs (one for charging, the other for media playback), and RCA jacks for analog video in standard definition. Standard features for the category are included with the player, including an FM transmitter to deliver wireless audio to the car's sound system, a remote control, and three adjustable housing colors to match the inside of your car better. Choose from high-gloss finishes in gray, black, or gold.
Additionally, Alpine includes an infrared (IR) transmitter with this device, allowing the use of compatible headphones. Any IR receiver will function, but the PKG-RSE3HDMI comes with two excellent headsets as standard equipment. As a result, front-seat passengers can enjoy their preferred form of driving entertainment in what one user called "date night silence before kids."
The noticeable absence of an SD card slot and the lack of built-in speakers are notable omissions. Both of these are features that can be found on many less expensive machines, though Alpine may think they are redundant. Despite the company's claims that it supports MP4, FLV, AVI, and other file types, many users complain about difficulties attempting to transcode appropriate media file formats for playback via the USB connection.
This product sadly has one of the highest prices for aftermarket DVD players. In a product category where inexpensively made alternatives frequently fail after only a year or so of usage, we think—and users tend to agree—that the well-established track record of the Alpine brand makes the premium price tag worthwhile.
#2 XTRONS 15.6″ Overhead DVD Player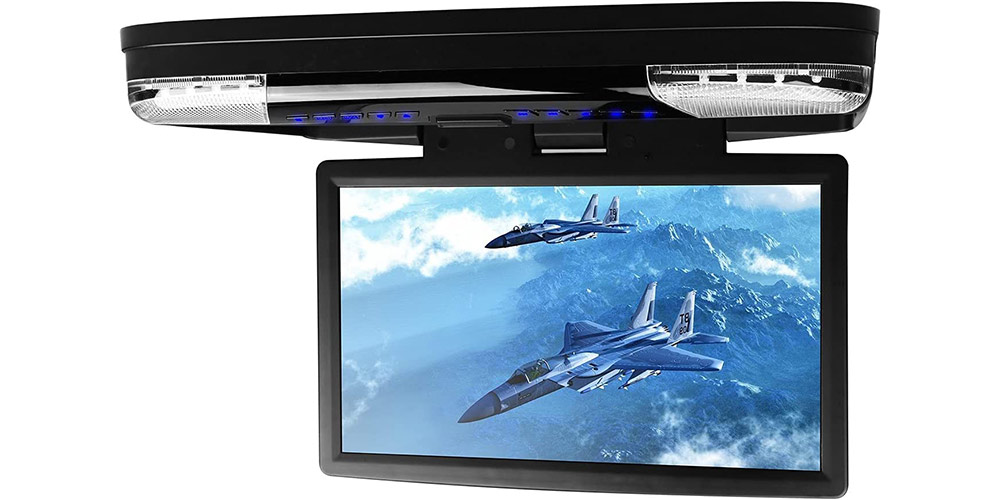 Brand: XTRONS
If you believe that bigger is better, look no further than this 15.6-inch model from XTRONS, which has by far the largest display on our list. The CR1506, which doesn't swivel, boasts a 1080p, high-definition screen that can be tilted a maximum of 180 degrees. In fact, it is so large that you will undoubtedly want to store it for reversing maneuvers. When deployed, it completely blocks out the rearview mirror, according to drivers.
Unlike the other options in this overview, this flip-down display is covered in a glossy black finish that is undoubtedly a fingerprint magnet. Additionally, there are no interchangeable housings available. There are also HDMI, USB, SD, and analog RCA ports available if your interest goes beyond DVD playback. Choose among the FM transmitter, built-in speakers, or the IR emitter for use with headphones for audio out—all of which must be purchased separately.
With so much screen space, there's a strong possibility that every seat will be comfortable. So what have you got to lose? Compared to other overhead DVD players, user reviews for this particular model are, unfortunately, a little limited. A couple of the few people who have submitted reviews complain about inconsistent dependability and unresponsive customer service. Huge display, really. Is it worthwhile to gamble? You're the only one who can make a choice.
#3 BOSS Audio Systems 10.1″ Overhead DVD Player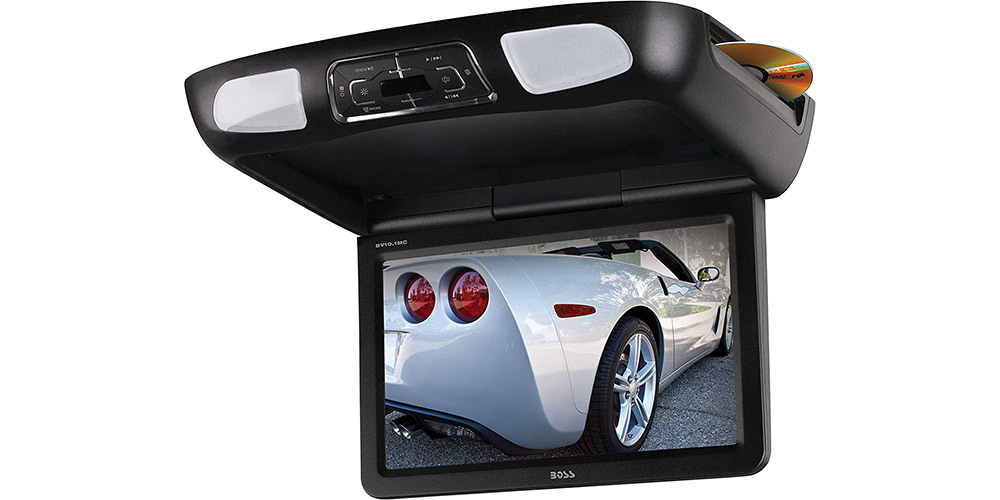 Brand: BOSS
The BOSS BV10.1 MC, which is significantly less expensive than our top pick and has a 10.1-inch screen, is a good option for budget-conscious buyers looking for an overhead DVD player with a competitive lineup of features. Once folded down, its display may be turned up to 270 degrees on its vertical axis to favor a single passenger in the back seat, minimize glare, or let mom examine the kids' entertainment options.
The majority of the standard creature comforts found in this series are also included with the BOSS, including USB and SD slots, a remote control, replaceable faceplates, an FM transmitter, an IR emitter, and two sets of wireless headphones. Even though the BV10.1 MC has a built-in speaker, owners claim its utility is restricted because it isn't particularly loud.
The biggest absence is an HDMI connector, which will exclude the majority of contemporary gaming systems and streaming devices. Customers have also voiced complaints about the mounting hardware being inadequate, the instructions being inadequate, and the unhelpful customer service. There are some reports of good early performance followed by faults a few months later, which may indicate that this economical choice is durable over the long term.
#4 Soundstream 10.3″ Overhead DVD Player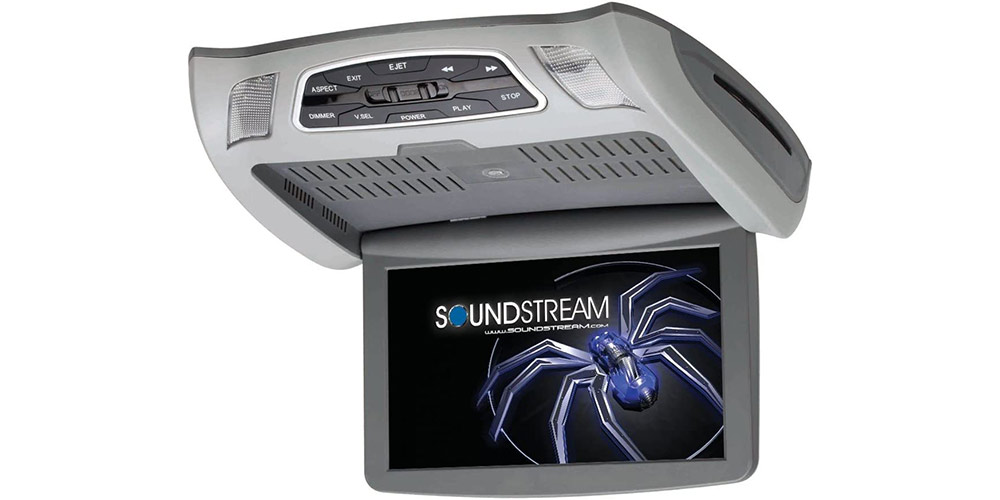 Brand: Soundstream
As disc mechanism failure is a regular complaint within the product category, the Soundstream VCM-103DMH has a 10.3-inch screen with 1024 x 600 resolution and claims of more robust "DVD Transport for Extreme Conditions."
Similar to other overhead DVD players, you may play media files directly from a USB drive or an SD card, as well as display external inputs through HDMI or RCA. This Soundstream player does not have a built-in speaker, but it is ready for your IR headphones or FM radio. Gray, black, or beige shells are available.
This feature package is expensive—in fact, it's one of the priciest on our list. A good pair of earphones would have been a pleasant addition, but it might be worthwhile if the durability promises are true. Additionally, users lament the loud DVD mechanism whine and the weak FM signal, which are acceptable in an emergency. Buyers appear to feel generally that the reliability of the product justifies the additional cost.
#5 Audiovox 13″ Overhead DVD Player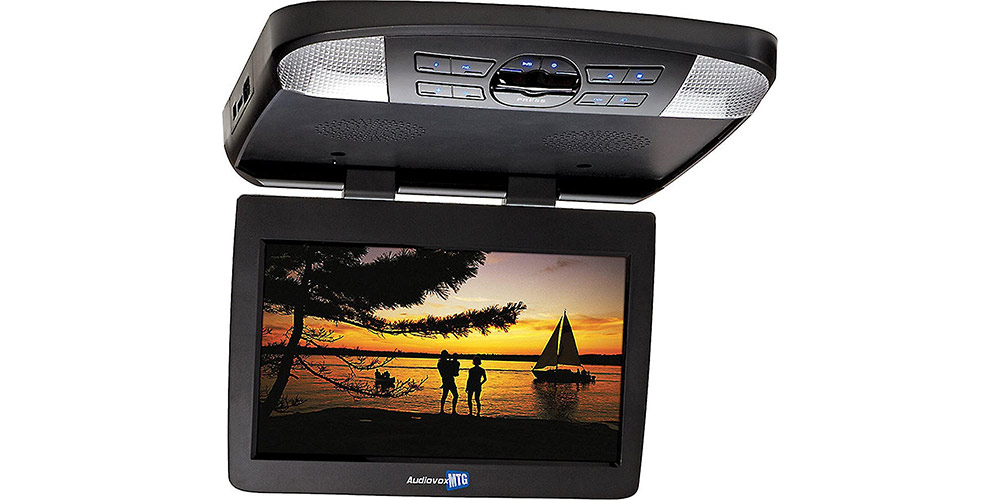 Brand: Audiovox
The Audiovox AVXMTG13UA is another mid-range option; it unfolds to expose a 13.3-inch screen with a pixel density of 1280 x 800. Although it is undoubtedly a famous brand name for some potential customers, they might be able to justify its middle-of-the-pack price tag to them.
The standard set of features is present on this player, including DVD playback, HDMI, USB, SD, and RCA. FM or IR can be used to send audio, but headphones must be purchased separately. There isn't a speaker integrated. Pewter, shale, and black snap-on covers and trim rings are provided.
The huge display is praised by users, although many point out that because of its substantial footprint, it wobbles dangerously while driving. The fact that some people continue to report product failure a few months after installation should not be entirely unexpected.
#6 Pyle 13.3″ Overhead DVD Player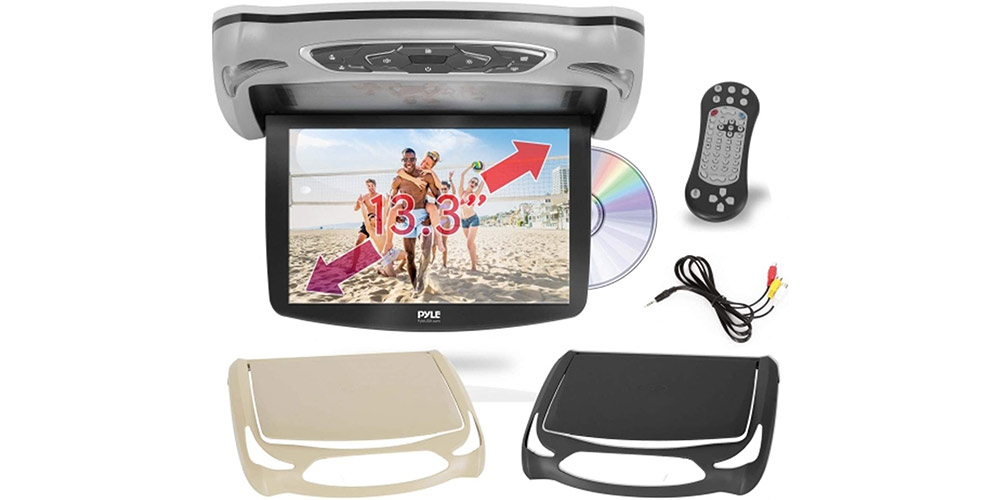 Brand: Pyle
The 13.3-inch Pyle PLRD146 is a DVD player that falls toward the middle of the display size spectrum and appears to have been created in a wind tunnel. This option is an inexpensive one that comes with all the features you would expect, with dome lights and a button array that remind you of an upside-down Ford Fusion.
It has a region-free DVD player with anti-skip and last-position memory, as well as USB, SD, HDMI, and analog RCA input choices. You can pick from silver, brown, or black plastic to match your headliner. Built-in speakers, an FM transmitter, and IR headphone support are all included.
The PLRD146's screen resolution of 1280 x 800 isn't full HD, but you probably won't notice it on a screen this big. However, consumers claim that audio is a significant weak area. The IR emitter, when tested with headphones (not supplied), has an extremely short working range, and the FM transmitter reportedly makes an irritating screech on all channels. Any third-row passengers are out of luck because earpieces stop operating beyond a 3-foot range. Consider immediately wiring this one into the audio system. Fortunately, customers laud Pyle's attentive customer support.