Cleaning your car properly and effectively is not an easy walk in the park. You will have to put in enough effort and use the most appropriate tools to get the job done. If you search for cleaning products online, you might get overwhelmed with hundreds or even thousands of options. If you've decided to perform the cleaning chores by yourself and not rely on an auto car wash or a car detailer, this article is for you.
There is an added feeling of pride and accomplishment when you take care of your vehicle yourself. We came up with the best car cleaning products that should be available when you take on the responsibility of cleaning your vehicle.
Car Wash Soaps
First on our list is a car wash soap. It might be very obvious because you need soap to wash your car effectively. However, it's still crucial to buy a car washing soap that is engineered for car care instead of just settling for regular dishwashing detergents found inside your house. These car wash soaps are formulated to handle clear coats and paint finishes. They usually provide lubricant to add a safer effect on the surface of your vehicle.
The wide array of soaps available on the market today might be too overwhelming, but we highly suggest that when you look for a car wash soap, you get one that specifically answers your needs. Do you need an affordable option? How often will you be utilizing this car wash soap? There are three categories that you need to learn about car wash soaps: wash and wax, strip, and general use.
The wash and wax car wash soaps work best when you want to maintain the wax protection of your vehicle without fully detailing it. The strip car wash soaps work best for stripping away protectant or wax from your vehicle's paint. The general use car wash soaps are best for monthly or weekly washes and won't strip away any protectant or wax.
Recommended Product: Meguiar's Gold Class Car Wash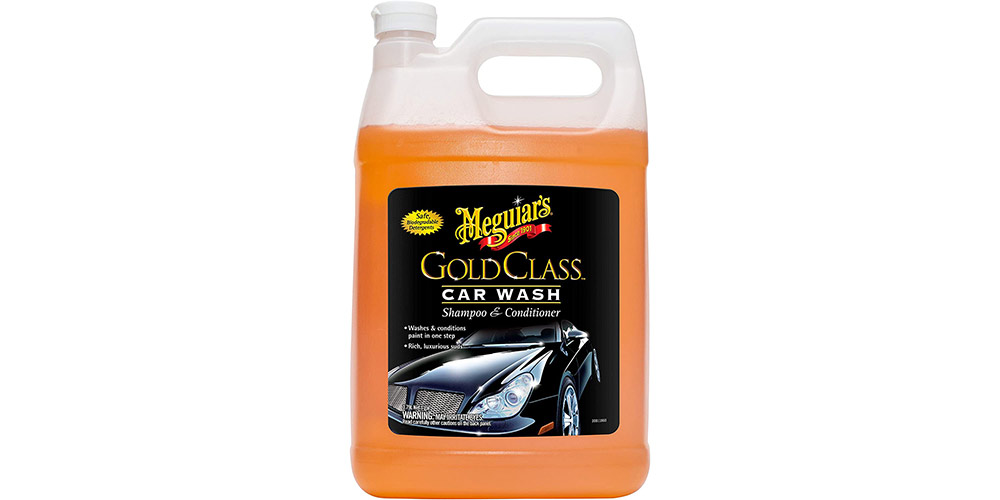 We highly suggest Meguiar's Gold Class Car Wash if you need an effective and highly-rated car soap. Meguiar's is one of the most reliable brands when it comes to car care products, so you can expect good results. This car wash soap provides a premium formula engineered to handle road grime, dirt, and contaminants without damaging your vehicle's wax. This is a non-detergent product and lubricates the car's surface efficiently, making dirt and grime glide off the car's paint.

Pressure Washers
A pressure washer is not actually a must-have item to clean your car, but if you want a more thorough approach, you'll get much better results when you use one. You have to understand that you will also need a hose for the source of water plus a power outlet. In addition, you will need a sizeable area when you use the pressure washer on your vehicle so you can move around with ease. You also have the benefit of using a foam gun or foam cannon when you have your own pressure.
When purchasing a pressure washer, you need to be aware of its cord length, power, weight, accessories, and warranty. There are pressure washers that offer options on spray tips, which you can choose from for handling light to heavy-duty tasks. The length of the cord is essential as well, so you can ensure that you reach portions of your car that needs cleaning.
Recommended Product: Sun Joe SPX3001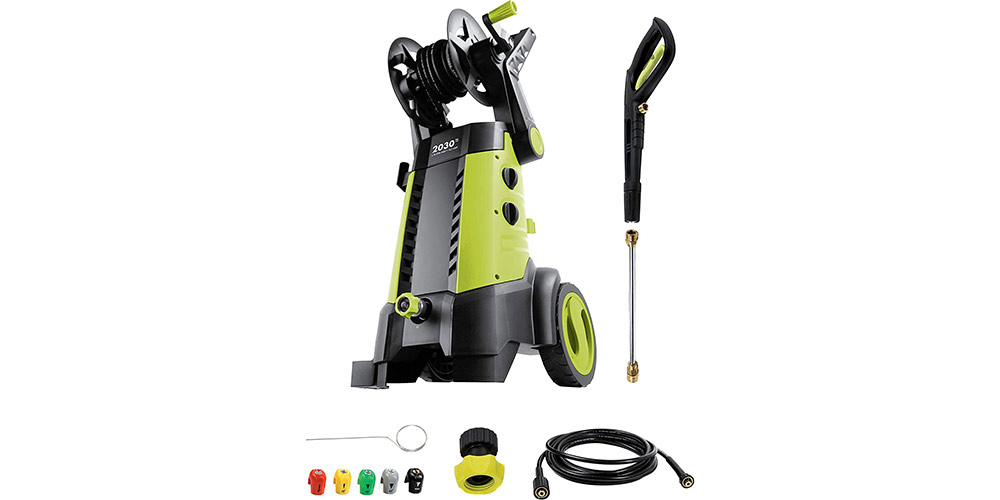 The Sun Joe SPX3001 offers 2030 PSI from a 14.5-amp, 1800-watt motor. It features an onboard reel that helps keep up to 20 feet of high-pressure hose. This impressive pressure washer includes five quick-connect spray tips. It also shuts off the pump automatically when the trigger is not used. The company offers this pressure with a two-year warranty. 

Car Wash Buckets
A normal bucket may seem sufficient when you think about washing your vehicle, but we highly recommend that you get a dedicated bucket that comes with a grit guard or a dirt trap. When you wash your vehicle, you will likely rinse your hand mirror sponge in the bucket, leading to debris and dirt mixing into the water. A grit guard or dirt trap will provide separation between dirt and water, and that will lead your sponge or mitt rinsed on clean water. It would be bad if you were washing your car with a mitt or sponge that contains dirt and using it on your clear coat.
When looking for a car wash bucket, ensure you get one with a grit guard or a dirt trap. Purchase a heavy-duty one that can last long and take abuse. Get one with a lid so you can also store other accessories in it when you're not using the bucket.
Recommended Product: Adam's Grit Guard Wash Bucket with Lid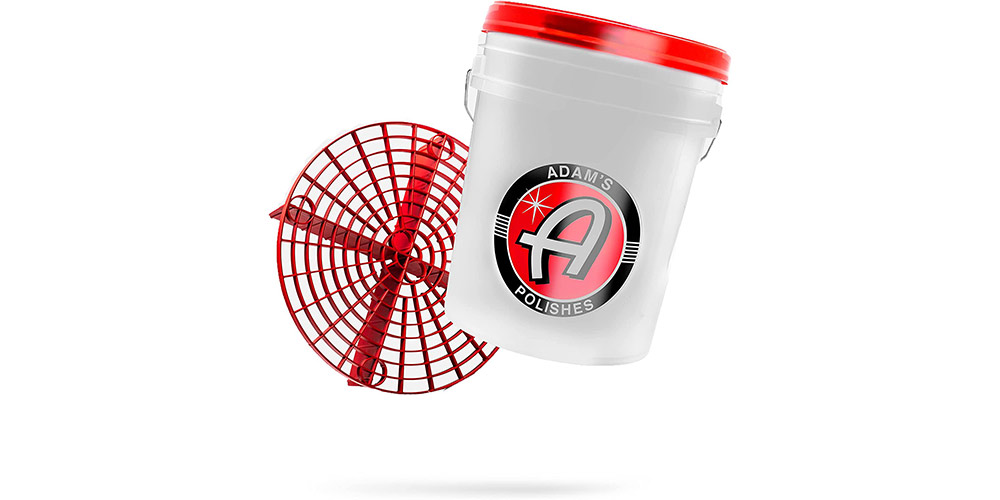 We highly suggest that you get Adam's Grit Guard Wash Bucket with Lid if you have the budget. This one may be a bit pricier compared to other buckets, but we laud it for its lid and grit guard. It offers a five-gallon capacity that can handle enough washing jobs even for bigger SUVs and trucks. You won't need other fancy features, just basic heavy-duty quality that you can rely on for long-term use and abuse.

Foam Cannon
If you have your pressure washer, it would be best to get a foam gun to clean your car properly. It can help you to coat your car evenly using soap and lets you save time washing. After you have soaked your vehicle with the pressure washer and gotten off all the loose dirt, you can use the foam gun to cover the vehicle with soap. By doing this, you can ensure that dirt, grime, and other debris are out before you wipe your car clean with a mitt.
When buying a foam gun, it would be best to ensure that it is compatible with your pressure washer. Verify it with the required pressure data. Check tank capacity as well, so you won't have to mix multiple times while you wash your car. Check the quality of the bottle and its material. Verify if the nozzle is adjustable so you can get good coverage.
Recommended Product: Trinova Foam Gun
We highly recommend the Trinova Foam Gun because it has a wide neck that helps prevent cracking. It can also work with pressure washers that offer 800 to 3500 PSI. This product also showcases an adjustable dial so you can control the foam coming out of the gun. This foam gun is a solid option that is worth purchasing if you want a great partner for your pressure washer.

Car Wash Mitts
As much as possible, do not use a towel to wash your car. The best to use for washing is a hand mitt. They offer a more convenient and comfortable option. Most of these car wash mitts are constructed from sheepskin or microfiber. This offers a safer choice to use on your vehicle's surface. You can also wash and keep them easily when not used.
There are so many companies that produce car wash mitts today. We highly suggest that you look for a mitt that is made from soft material and would never harm your car's paint, such as microfiber. There are products offered in pairs at reasonable prices. Having that second mitt would be best as a backup in the long run. Getting a high-quality mitt should be your top priority so that you can use it for a long period of time and not just for a couple of uses.
Recommended Product: Griot's Garage Micro Fiber Wash Mitt (Set of 2)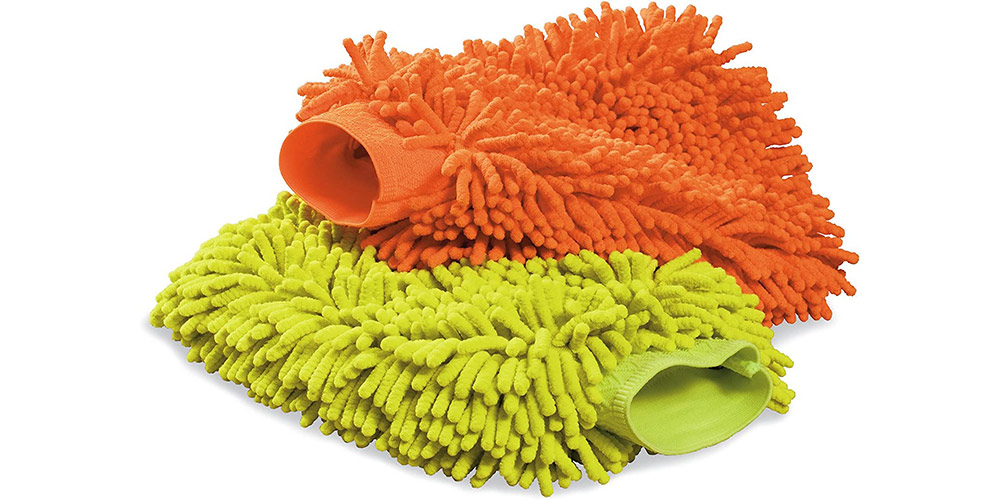 Griot's Garage is a well-respected company in the car care industry. They offer a microfiber wash mitt that comes in a pack of two. You can use one mitt for your car's glass, hood, and roof, while the other you can use for the extra dirty portions. These mitts come in varying colors, which could help you determine which mitt is used for a specific part of your vehicle. The Griot's Garage Micro Fiber Wash Mitt is also machine washable, which makes it easier for maintenance. There is also no thumb area, so you don't have to worry about rotating them on your hand. 

Choosing Car Cleaning Products
Regarding car care, we know that more products can help you with your particular cleaning needs. Our list is a guide you can check out if you've lost track of what's important. Even if you are not a car detailer, if you are equipped with the right tools and products, you have a good chance of cleaning your car with your desired results.
Hope you take in all of our recommendations and always look for quality and capability to answer your specific car cleaning needs. If you have the budget to spend, intelligently go for the ones that can offer the best results and performance.