Lowering your Honda Accord can be a satisfying experience, especially if you get coilovers as your chosen suspension upgrade. A coilover kit is a great option if you're planning to fine-tune your suspension for specific driving preferences.
The Honda Accord has achieved a good balance in handling and performance, which fits a daily driven car. However, fine-tuning your suspension for aggressive driving can be a great deal of work, especially if you have no idea what to use to do the job.
Luckily for you, coilovers got your back. Coilovers can make a significant impact on your vehicle when it comes to handling performance and height adjustment.
It presents itself as a device of choice for car enthusiasts looking forward to adjusting both the ride height and the damper settings of their cars simultaneously. With adjustable coilovers, you can slam your Honda Accord to the ground while giving justice to a damper-specific setting that you prefer.
Come see our list of the best coilovers that you can get for your Honda Accord. This list aims to help you get an idea of the most ideal coilover to get that will cater to your particular driving needs.
Maybe you want to experience the ride comfort of a decently lowered car, or perhaps you just want to tune your Honda Accord and transform it into a race track menace. Whatever the case may be, coilovers can be the solution to your problems.
#1 Function and Form Type 1 Coilovers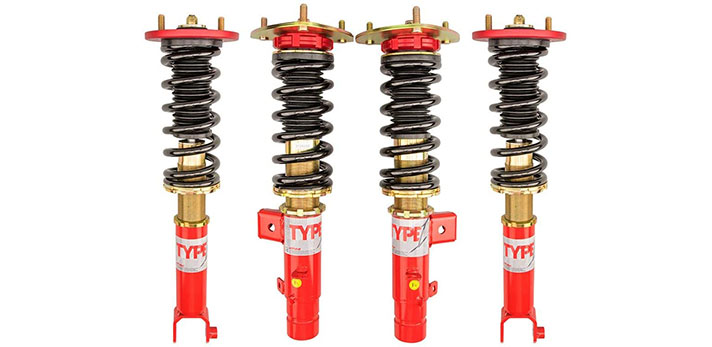 Manufacturer: Function and Form
Type of Construction: Twin Tube
Spring Rate (F/R, lb/in): 672 | 448
Compatibility: Honda Accord (2013-2016)
To start off our impressive list of the best coilovers for the Honda Accord, we have the Function and Form Type 1 Coilovers. This coilover kit is intended for drivers who want to keep things simple. If you want peace of mind while cruising while handling some pretty aggressive driving, then this coilover kit is for you.
The nice thing about Function and Form is that they don't do anything else. Their sole product category is suspension, that's all they spend their time on. With that in mind, you know you're getting a product that's been properly tuned to make your Accord ride great and handle even better.
The Function and Form Type 1 Coilovers are meant to be durable and will maintain the smoothness of your ride, all thanks to the cold-rolled Japanese steel springs and preset damping matched with the proper spring rates.
If you want a coilover that will give you peace of mind yet allow you to slam your car to the ground at whatever height you prefer, then the Function and Form Type 1 Coilover is your pick.
As far as adjustability, these coilovers are ride height and spring preload adjustable. The spring preload and ride height are separately adjustable, allowing you to fine-tune your ride quality and handling.
#2 TruHart StreetPlus Coilover System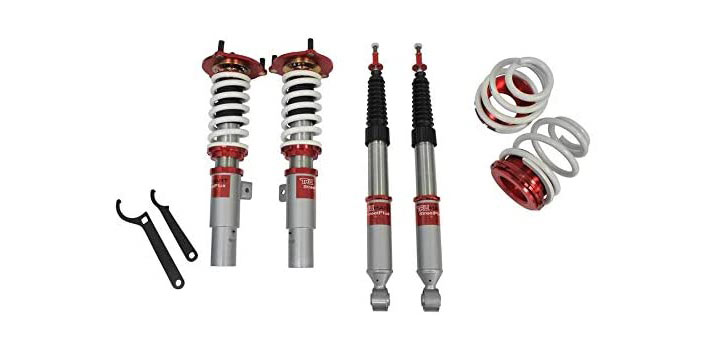 Manufacturer: TruHart
Type of Construction: Twin Tube
Spring Rate (F/R, lb/in): N/A
Compatibility: Honda Accord (2018-2021)
We can relate to budget-oriented car enthusiasts who just want some decent coilovers for their cars. At the end of the day, most of us are looking to tinker with our cars for as cheap as possible. And because of that, we give you the TruHart StreetPlus Coilover System.
This coilover features a twin-tube design, which is more affordable than its monotube counterparts. It also features independently adjustable lower mounts that give you the freedom for fine-tuning your Honda Accord's ride height without giving up shock travel. Just like the previous coilover, the damper settings can't be adjusted.
But if you just want a decent setup for your car without caring too much about the damper settings, this coilover kit is a good choice. If you need to have damper adjustability, we recommend BC Racing (found below).
#3 BC Racing BR Series Coilovers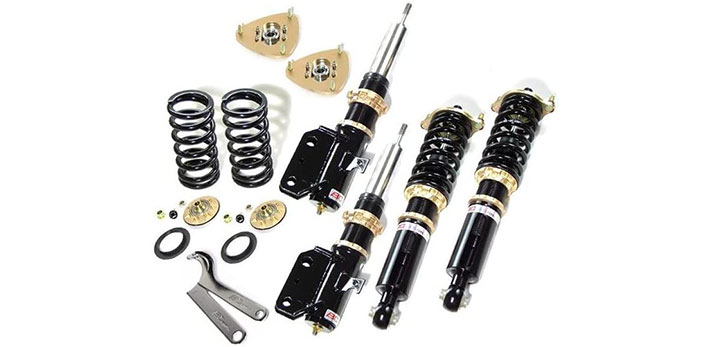 Manufacturer: BC Racing
Type of Construction: Monotube
Spring Rate (F/R, lb/in): Custom spring rates
Compatibility: Honda Accord Wagon (2002-2008)
If you've been present in the car tuning scene for quite some time now, then you've probably heard about BC Racing coilovers, specifically the BR Series. These coilovers are entry-level suspension upgrades that can give you the delight of both ride comfort and performance handling.
That being said, "entry-level" doesn't mean this can't be used at the pro-level. BC Racing is a big name in multiple motorsports, but especially drifting, so just keep that in mind.
This Honda Accord BC coilovers allow you to enjoy both street driving and the weekend road course, or even autocross duty! With its 30 levels of damper setting adjustment, you can easily tune these coilovers to the configuration you prefer.
And although these specific BR Series were meant for Honda Accord Wagon, other versions will fit the different models of the Honda Accord.
With damping adjustability, you're able to much better change how your initial turn-in feels, high-speed stability, adjust for your specific tire compound, and much more.
#4 Godspeed MonoSS Coilover Kit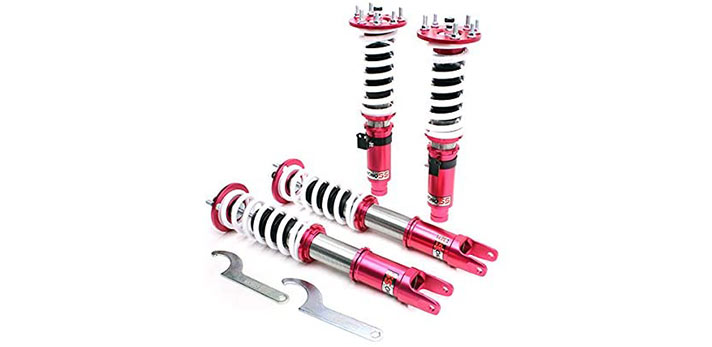 Manufacturer: Godspeed Project
Type of Construction: Monotube
Spring Rate (F/R, lb/in): 672 | 280
Compatibility: Honda Accord (2008-2012)
Another cheap, yet highly-effective coilover kit you should look out for is the Godspeed MonoSS Coilover Kit. Despite its deceiving price, the MonoSS coilovers have surprised countless owners for their solid build quality and excellent look.
However, some would say that the springs are too stiff for their preference. But suppose you want a substantial coilover on the cheaper side that has 16 levels of the damper setting adjustment, some Koyo bearings, and some durable lightweight lower mounts that you can use for a very long time.
In that case, it'd be best to get your hands on some Godspeed MonoSS Coilovers. While the spring rates are a little high, that can actually be a good thing if you're running extremely sticky tires and/or you plan on hitting the track.
#5 H&R Street Performance Coilovers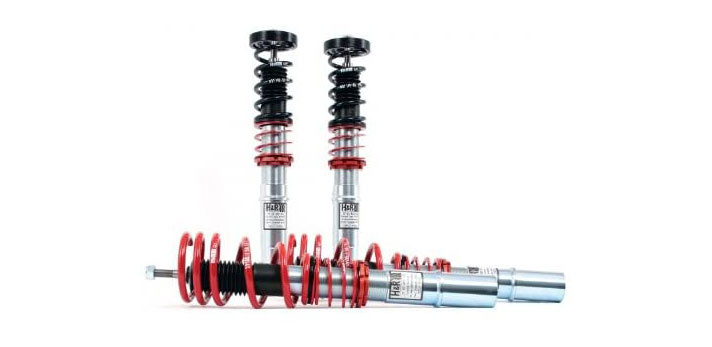 Manufacturer: H&R

 

Type of Construction: Monotube
Spring Rate (F/R, lb/in): N/A
Compatibility: Honda Accord (2003-2007)
H&R may be well-known for their top-tier lowering springs and extremely expensive high-end coilovers, but they make amazing affordable coilovers too! The H&R Street Performance Coilovers are engineered to provide both daily drivers and serious tuners with impressive handling and ride comfort.
These H&R coilovers for Honda Accord got a fully-threaded shock body which allows you to adjust the ride height of your car from 1.2″ to 2.5″ in the front and 1.0″ to  2.8″ in the rear. It doesn't have damper adjustments, though.
In a nutshell, the H&R Street Performance Coilovers are premium entry-level coilovers dedicated to discerning drivers who want a taste of a well-balanced lowered vehicle.
#6 Tein Street Advance Z Coilover Kit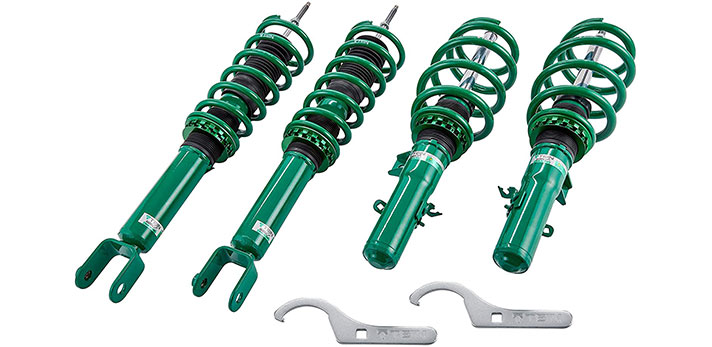 Manufacturer: Tein
Type of Construction: Twin Tube
Spring Rate (F/R, lb/in): 336 | 224
Compatibility: Honda Accord (2013-2017)
When you consider how cheap Tein coilovers are, it's pretty challenging to imagine how good they are as a modification. However, many Tein users can agree that it's a great addition to your car despite its price.
An example of this kind of Tein coilover is the Street Advance Z, a twin-tube coilover kit that can give you a stiff yet comfortable ride quality that comes along with an aggressive stance.
With 16 levels of damping adjustment and EDFC compatibility, you can conveniently adjust your damper settings, even if you're behind the steering wheel. Clearly, the Tein Street Advance Z Coilovers are meant for drivers who want to squeeze out more performance attributes from their suspensions. 
#7 Megan Racing EZ Street Series Coilovers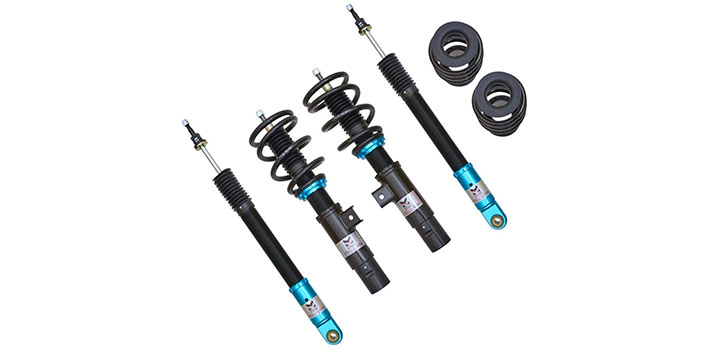 Manufacturer: Megan Racing
Type of Construction: Monotube
Spring Rate (F/R, lb/in): 392 | 336
Compatibility: Honda Accord except for Hybrid Models (2012-2021)
Now, if you're looking for some 10th gen Honda Accord coilovers, then it'd be in your best interest to consider the Megan Racing EZ Street Series Coilovers.
Megan Racing has always been one of the top choices of car enthusiasts because it does its job of giving your car a lowered aggressive stance pretty well under a pretty low price tag.
The Megan Racing EZ Street Series Coilovers, in particular, can give you the same relief, along with other suspension benefits like 15 levels of damper setting adjustments, full-length adjustability, and the usage of stock top mounts.
#8 Ksport Version DR Drag Race Coilover Kit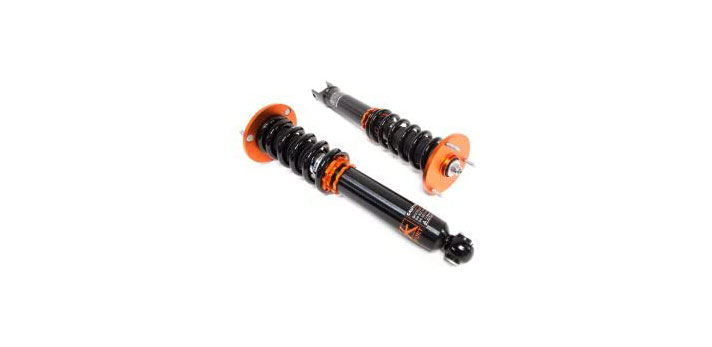 Manufacturer: Ksport USA
Type of Construction: Monotube
Spring Rate (F/R, lb/in): 672 | 487
Compatibility: Honda Accord (2003-2007)
We're saving the last slot for a special coilover. This is intended for serious drag racers, enthusiasts, and professionals who want to transform their Honda Accords into a quarter-mile behemoth (or attempts to).
The Ksport Version DR Drag Race Coilover Kit has been explicitly custom-valved for drag racing. It utilizes the appropriate spring rate to give your car the maximum traction it needs to win and a regulated weight transfer.
Using this coilover kit can significantly affect how your Honda Accord will perform in the drag strip, and heck, it may even reduce your car's elapsed time!
You've Installed Coilovers on Your Honda Accord. Now What?
After getting your Honda Accord (or any vehicle, in fact) some coilovers, it'd be in your best interest to get a suspension realignment. Coilover installation involves a lot of tinkering in the suspension department, and that may pose a problem.
Why so? Because you'll most likely make a ride height adjustment right after the coilover installation is complete. And whenever you adjust your car's ride height, you'll be affecting your camber as well.
Negative camber, which is the outward tilt of the wheels, can occur whenever you lower your car. 
If all of the explanation above sounds confusing for you, here's a short answer: realignment is necessary whenever you install a set of coilovers in your car. 
The best time to do realignment is 2 to 3 days tops, right after you've got your coilovers installed. Let it simmer down and set itself in. You can drive it around during this waiting period too.
Bringing your car immediately after coilover installation for realignment would be futile since it'll most likely go out of alignment again once the components of the coilovers finally set in.
Dropping your Honda Accord's ride height to the ground may be easy, but matching it with the right damper setting isn't. Good thing there are coilovers like the ones mentioned above to help you alleviate your pain from the worries of lowering your vehicle.
We hope that the list above has given you an idea of what type, brand, and application you want your coilover to be.