The Toyota MK3 Supra is arguably one of the best on the lines of Supras in terms of classic style, performance, enjoyability, and most of all, modification. Its younger brother, the MK4 Supra, may have been receiving a lot more love than the MK3.
However, the third generation of Supra still packs quite a punch. It doesn't fail in giving its driver a fun and enjoyable experience. It also ranks up relatively high in viable JDM project cars because of its availability for mods like aftermarket air intake systems.
Aftermarket air intake systems are amongst the most underrated upgrades that most people usually get for their cars. Sure, there's a ton of criticism surrounding it, including how it really doesn't provide extra unicorns.
Its capability to improve a car's acceleration is negligible. But let's face it: the advantages of getting an aftermarket air intake system far outweigh the disadvantages it gives. Don't listen to naysayers; help your car breathe better by installing an aftermarket air intake!
So, are you here to look for some aftermarket intake systems to improve the capacity of your Toyota Supra? Good! Below, you'll see the top 3 intakes you should get for your beloved MK3 Supra.
And since there aren't a lot of them, we'll help you build your own intake by providing you a list of aftermarket parts you'll need. If it sounds like a plan to you, then let's hop right on the list!
#1 K&N Cold Air Intake Kit
Manufacturer: K&N Engineering
Unique Feature: Undeniable reliability
Compatibility: Toyota MK3 Supra (1986-1993)
If we're going to talk about aftermarket intake systems, we better start with the most popular air intake system provider out there: K&N Engineering. Their air filters are very well known for being extremely reliable, and their capacity to clean the incoming air is notable.
In the case of an old Supra like the MK3, they've got the K&N cold-air intake kit. It's specifically designed to make your old car breathe better using their large conical air filter.
What the K&N Cold-Air Intake does is removes the restrictive stock factory air filter and airbox, replacing it with an intake system capable of more airflow. It's also precision-engineered to ensure that it beats whatever horsepower output the stock intake can produce.I
t's a viable upgrade for those who want some decent increase in horsepower and torque. Aside from that, you'll also get cleaner and denser air, which the 7M-GTE truly loves.
What really sets K&N Engineering from its competitors is the reliability of their air filters. By getting a new intake system from them, you're basically getting a new set of lungs for your Toyota MK3 Supra.
K&N's filters are some of the most sought after because they're virtually immortal; as long as you oil, wash, and clean it periodically, it's as good as new! The Toyota MK3 Supra stock air filter is nothing compared to what the K&N Cold-Air Intake's filter can offer you.
K&N Cold Air Intake Kit Features:
Guaranteed increase in horsepower output
Improves throttle response as well as the engine sound
Easy installation
Easy to maintain air filters, which can be washed and reused
Lasts up to 100,00 miles before a clean-up is required (under normal driving condition)
Backed with K&N Million Mile Limited Warranty

#2 APEXi Power Intake Kit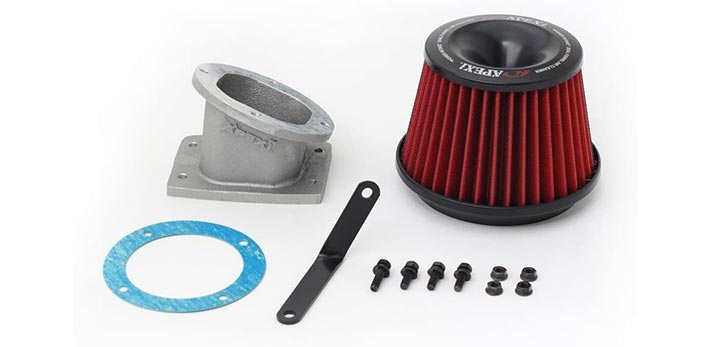 Manufacturer: Apexi
Unique Feature: Dual funnel filter system
Compatibility: Toyota MK3 Supra (1986-1992)
Next up is APEXi's power intake kit, another affordable upgrade you can get for your Toyota MK3 Supra. The Power Intake Kit is APEXi's premier intake for old performance cars designed to create pure horsepower, plus some added benefits like cleaner air and more airflow.
This intake is integrated with a unique air filter with an improved element density that effectively cleans the air before the engine sucks it up.
Aside from that, the piping design of this intake system is notable too. The Power Intake Kit utilizes a dual funnel air filter system that minimizes most of the intake's turbulence. Usually, racing machines exploit the typical air funnel characteristics where the air travels along the sides.
This, however, leaves us with one problem: the center part of the funnel is virtually unscathed and unused.
APEXi solved that problem by utilizing a dual funnel design wherein a primary funnel channels the airflow directly to the lower funnels, located at the air filter base.
With this design improvement and integrated features like new element material for the air filter and better airflow, the APEXi Power Intake Kit is guaranteed to provide your Toyota MK3 Supra with the boost it needs.
APEXi Power Intake Kit Features:
Low-restriction air filter
Dry air filter that doesn't require oil to fully function
Dual funnel filter system

#3 HKS Super Mega Flow Reloaded Kit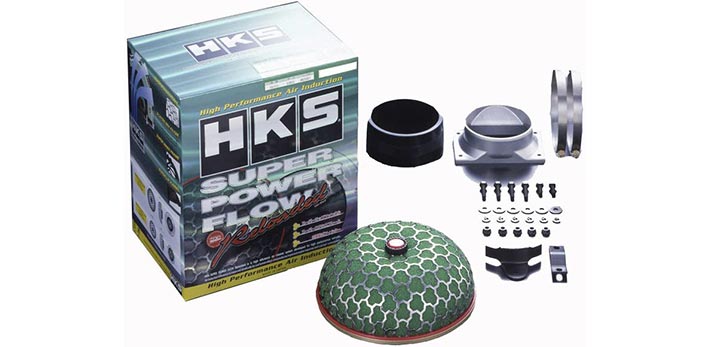 Manufacturer: HKS

Unique Feature: Hyper Stealth Frame
Compatibility: Toyota MK3 Supra (1987-1992)
The sole fact that you picked the Toyota MK3 Supra as the JDM of your choice tells a lot about you: unique, bold, and most of all, fun. Let's supplement that with a unique intake system explicitly designed for high-performance driving: the HKS Super Mega Flow Reloaded Kit.
The intake's name itself is a bit of an overkill if you ask us, but we can't argue with that because the benefits of this unique air intake are enough to make us shut up about it.
The HKS Super Mega Flow Reloaded Kit exists to dramatically minimize the restriction caused by the OEM airboxes. It utilizes a redesigned filter assembly with its very own Super Lip Funnel designed to maximize the surface area and air intake efficiency.
Aside from that, the funnel's outer edge is fixed on an aluminum plate located at the back to improve the surface area of the funnel and provide a more aesthetically pleasing look at the end.
What makes the HKS Super Mega Flow Reloaded Kit unique is its air filter. It uses a hemispherical air filter that provides the engine with better volumetric airflow. This air filter utilizes three layers of dry polyurethane material responsible for higher air intake efficiency and superb air filtration.
The only downside to this intake kit is the air filter is not reusable. After some time, you'd have to replace it with a new one.
HKS Super Mega Flow Reloaded Kit Features:
Hyper Stealth Frame support
3-Layer Super Power Flow air filter
Streamlined Super Inner frame
Super Lip Funnel

Aftermarket Air Intake Systems: Are They Worth It?
There's a lot of discussions that revolve around aftermarket intake systems. Are they worth it or not? Some say yay, while others say nay. To answer that, let's provide some pros and cons in getting an aftermarket or even a DIY intake system for your Toyota MK3 Supra.
Pros:
Longer engine life
Quicker throttle response
Increase in horsepower
Better fuel economy
Low-cost air filter maintenance
Cons:
Various types of air filters available
Opens your car up to hydro-locking
Air intake location
May cause inaccurate readings
After getting a grip of reality and understanding the pros and cons of getting an aftermarket air intake system, we can now answer the age-old question above. So, is it worth it? That depends. We know that answer is too vague, but let's discuss it further.
Getting an air intake system for your car depends on some factors. Some of these factors are the following: why you want it, the weather conditions of the area you're in, and whether your vehicle has a decent position for your new air intake.
Taking these factors into consideration will greatly help you in your decision of getting an aftermarket intake system (or why not just DIY it? It's cheap and easy!)
Do you want your engine to last long? Do you want to save up money from regularly buying non-reusable air filters? Is an increase of 5hp to 15hp enough for you? Are you ready to do your homework and look up the best type and shape for your Toyota MK3 Supra (spoiler alert: it's tapered conical)?
If so, then the answer is yes; it's worth the effort and money to get an aftermarket air intake system.
However, if you say no to those, then you shouldn't get one. Some factors to consider are hydro-locking concerns, faulty MAFs, and enough space to replace the entire stock air intake.
Before you go all in and purchase an aftermarket air intake system, you must do your homework first and research a lot about what it can and can't do for your car.
Getting the right aftermarket air intake system for your Toyota Supra can mean the difference between a fun and enjoyable ride and more time in the garage. The top 3 aftermarket intakes for the Toyota MK3 Supra mentioned above are the perfect fit for your car.
These air intake systems can give you more power, better airflow, and a sweet, sweet under-the-hood engine sound.