In today's day and age, where performance cars like the Honda Civic Type-R and Mazda MX-5 Miata filled the streets, it's only appropriate to pay homage to one of the best platforms of all time that once roamed the streets – the Honda Civic EG
Released straight out from the assembly line back in 1992, the Honda Civic EG may not be as sporty as the performance cars of this current era, but its legacy still echoes up to this day.
Many car enthusiasts still opt for oldies-but-goodies like the Honda Civic EG because it serves as an excellent platform for modification, like a canvas that's only waiting to be painted.
The difference between the Honda Civic EG and the modern cars today is how it feels when modified. When you try to alter a Honda Civic from the early '90s, there's a raw feeling of nostalgia and satisfaction that would seep through your skin, as if you're still part of the tuner scene of the past.
One of the most common modifications car enthusiasts opt for their Honda Civic EGs is exhaust systems. These upgrades add more flair and character to their cars, not to mention how it effectively improves the car's mileage to some degree.
There's certainly a lot of aftermarket exhausts out there for the Honda Civic EG, but getting your hands on the best of them will save you a lot of time, effort, and money.
We've conjured a list of the best exhaust systems that you can get for your Honda Civic EG, so you won't have to scour the shops and forums anymore.
Come take a look!
#1 Skunk2 MegaPower Cat-Back Exhaust System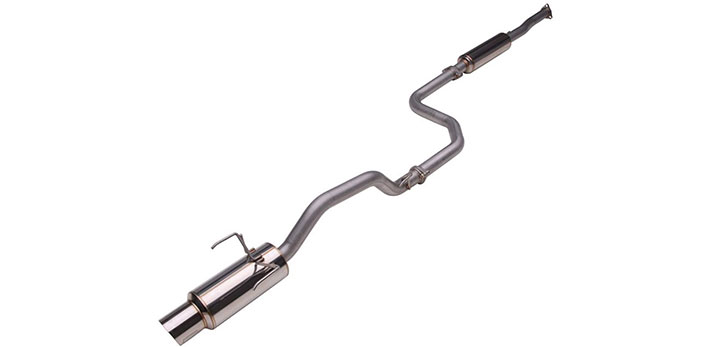 Manufacturer: Skunk2 Racing
Part Number: 413-05-2000
Compatibility: Honda Civic EG (1992-1995)
We can all agree that a properly designed exhaust system can make a lot of difference. Skunk2 Racing took this mantra seriously when they made the MegaPower Cat-Back Exhaust System for your Honda Civic EG.
With their 15 years of racing experience, they've made an exhaust system that's based on the same ones they've built for the road racing and time-attack vehicle that they've modified.
The Skunk2 MegaPower Exhaust System is a relatively affordable solution that can make your car sound and look better. This exhaust system provides you with a J-Spec N1 Style that really looks awesome, especially from the rear.
It's made from T-304 stainless steel for extra durability and has an exhaust tip diameter of 4.3″. Aside from that, the tip has an acid-etched MegaPower Badge that looks fantastic.
The most important thing to consider with this exhaust system is how you would benefit from it in terms of performance. Well, because of its CNC mandrel-bent pipings that are TIG-welded by robots, you can assure that your Honda Civic EG will experience much more exhaust airflow than it usually does.

#2 Revel Medalion Touring S Cat-Back Exhaust System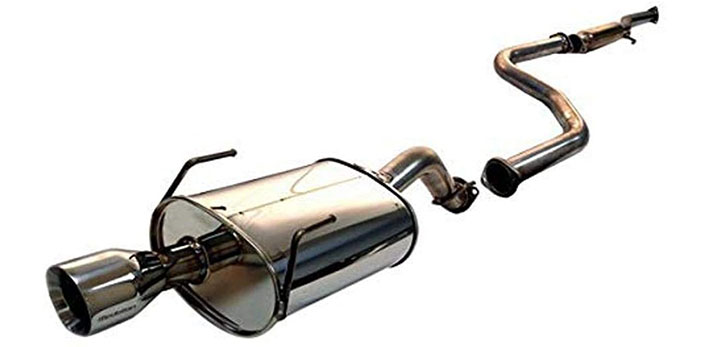 Manufacturer: Revel USA
Part Number: T70003
Compatibility: Honda Civic EG Coupe/Sedan (1992-1995)
Elegance. A well-defined look. Tastefully-built components. These are just some of the sweet gains you can get from the Revel Medalion Touring S Cat-Back Exhaust System. Formerly known as Tanabe, Revel USA is widely popular due to its blockbuster Medalion Touring exhaust systems.
These kinds of exhausts give cars an achievable level of high exhaust system efficiency, not to mention how it maintains a streetable low-frequency tone while at cruise mode.
For the Honda Civic EG coupe and sedan, Revel USA gives you the Touring S Cat-Back Exhaust System. It's made from SUS304 stainless steel and is very durable against corrosion.
This material maintains an elegant look that many car enthusiasts want for their cars.
This exhaust system also has Revel USA's very own Advantex Technology that helps suppress the thunderous sound output their exhausts make. And also maintains a 93dB sound level that proves to be pleasant all across the power range.

#3 Spoon Sports Stainless N1 Muffler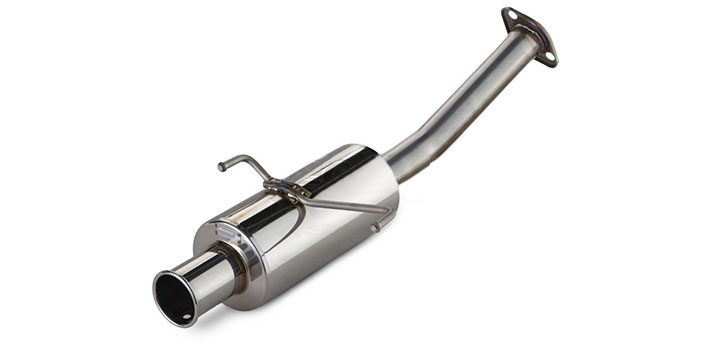 Manufacturer: Spoon Sports
Part Number: 18030-EG6-011
Compatibility: Honda Civic EG EG6/EG9 w/ B16A (1992-1995)
If you're a die-hard Honda fanatic, then there's a high chance that you've heard about Spoon Sports. They're notorious for creating some of the best performance parts for Honda vehicles, and their products are widely used for competitive racing.
What we're going to feature next is not an exhaust system (but priced like one!), but just a muffler. This muffler will work very well with other Spoon Sports components like midsections and exhaust manifolds.
The Spoon Sports Stainless N1 Muffler ensures that there's a sufficient amount of exhaust gas that exits your vehicle. This exhaust system uses an OEM-type flange to make sure that the feeling of the proper bolt-on installation is there.
Additionally, since the Spoon Sports Stainless N1 Muffler is, well, a muffler, it's mainly designed to work well with other Spoon Sports products. Spoon Sports parts are very costly, so if you're planning to build a Honda Civic EG out of Spoon parts, then you better make sure that you've got a lot of cash to spare.

#4 Invidia N1 Catback Exhaust Honda Civic EG6 Hatchback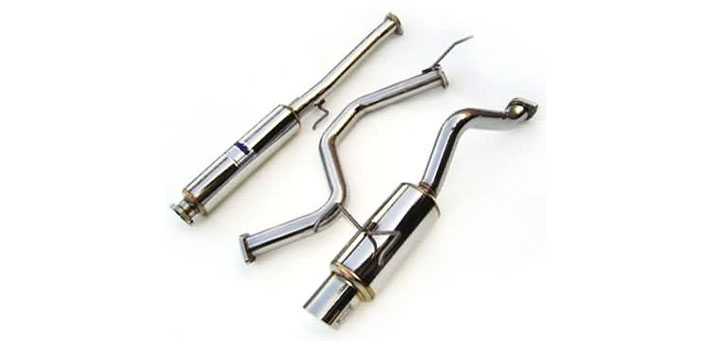 Manufacturer: Invidia
Part Number: HS92HC3GTP
Compatibility: Honda Civic EG6 SiR-II (1992-1995)
Now, for those who've imported a Honda Civic EG6 abroad or got one on their hands in some way, we've got the Invidia N1 Cat-Back Exhaust System for you. Invidia has always been one of the prominent names in the tuner scene because of their N1-style exhaust tips that make cars look exceptionally well, especially from the back.
It provides a considerable amount of extra horsepower and torque for your engine and is far better in delivering performance gains than the stock exhaust system.
The Invidia N1 Cat-Back Exhaust System is an N1-style cat-back exhaust with seamless pipes that promote maximum exhaust flow. Its exhaust tone is far more aggressive than the stock and can give you a robust mid to top-end power gain.
Overall, the Invidia N1 Cat-Back Exhaust System can give you that fantastic look and improved performance benefits you can use a lot for your Honda Civic EG SiR-II.

#5 APEXi WS2 Muffler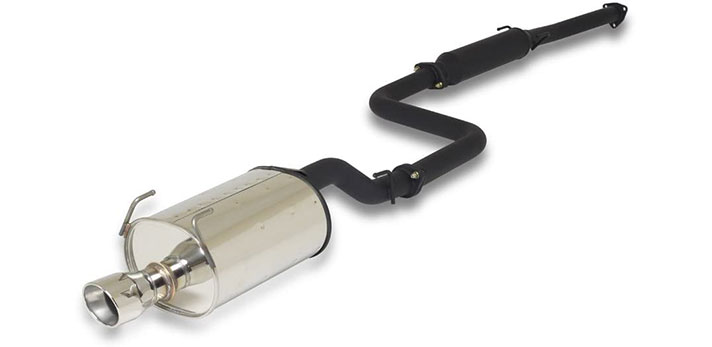 Manufacturer: APEXi
Part Number: 116-KH01
Compatibility: Honda Civic EG Coupe (1992-1995)
Here's one of the well-loved exhausts in the Honda community for the Civic EG: the APEXi WS2 Muffler. It's one of the most sought-after exhaust systems for the Honda Civic EG because it's so solidly built, and it does provide a guaranteed boost in the performance department.
Without exaggerating, this is an ultimate street exhaust system useful for many different applications, like the tracks and the streets.
The APEXi WS2 Muffler, or better known as the World Sport 2 muffler, provides pleasant low and mid-range power without emitting any excessively annoying noise.
It gives a sporty yet elegant look for your car with its dual-walled angle-cut exhaust tips that simply look phenomenal from the back.
What's more, this exhaust system has a 2.4″ SUS304 stainless steel piping that's coated with titanium particles. The APEXi WS2 Muffler is arguably one of the bang-for-the-buck purchases you can pick from this list for your Honda Civic EG.

#6 Megan Racing Drift Spec
Manufacturer: Megan Racing
Part Number: MR-CBS-F
Compatibility: Honda Civic EG Hatchback (1992-1995)
If you're a budget-oriented enthusiast who wants an exhaust that looks good and performs well, then you've got to check out the Megan Racing Drift Spec. This exhaust system may be cheap, but don't underestimate it yet!
Many Honda Civic EG owners love this exhaust system because they got what they've paid for: a surprisingly well-built and effective exhaust system for their hot hatches. Please do note, however, that this exhaust system fits only the hatchbacks.
The Megan Racing Drift Spec exhaust is for car enthusiasts who want aggressive styling and a deep exhaust tone both at the same time. It comes with a 2.5″ piping, a 2.25″ inlet, and 4″ exhaust tips made of polished SUS304 stainless steel.
The package includes a removable double-layer silencer, one gasket, and some bolts and nuts for the installation.
Overall, the Megan Racing Drift Spec is a low-cost solution for budget-oriented Honda Civic EG enthusiasts who want the best value for their well-earned money.

Do You Need A Tune After Installing an Aftermarket Exhaust System?
This question is probably one of the most common ones asked by many beginner car enthusiasts working on their project cars. Getting a tune is unnecessary if you bought an aftermarket exhaust system for the aggressive exotic car sound output.
But if you're looking forward to gaining more horsepower, and are planning to get other performance mods for your car, then it'd be in your best interest to get a proper tune from a trusted tuner.
Getting the right aftermarket exhaust system for your car is essential if you want your Honda Civic EG to stand out. Maybe you like to drive incognito, and that's okay too.
There's a lot of Honda Civic EG exhaust systems other than the ones mentioned above that offer various levels of sound output, so be sure to check them out as well.