The Honda CRX is definitely one the best daily driven cars that Honda ever made.
It's almost four decades old, yet it still looked up to as an ideal project car by many car enthusiasts. Who can blame them? It's a great commuter car, it has a great suspension setup which makes it a viable track car, and it's reliable enough to drive you anywhere you want without any fuss.
The sound it emits is pretty decent too. However, if you're a car enthusiast who's chosen a Honda CRX as a project car, then you might have a palate for a more definitive exhaust sound.
On stock, the exhaust note of the Honda CRX is pretty decent. It's reminiscent of how cars sounded in the 80s, and it's enough to bring you nostalgia. Installing an aftermarket exhaust system on this bad boy can introduce you to a whole new world of auditory car satisfaction.
Most Honda CRX cat-back exhausts offered in the market today have various sound levels, which is ideal, especially if you prefer either a loud sounding or a moderate sounding exhaust.
To assist you in your search, we've created a list of what we think are the best exhaust picks for the Honda CRX. All of them have different levels of exhaust sound output, so whether you like your exhausts loud or want mild, this list will help you out big time.
Scroll further down to see our inventory of the best aftermarket exhaust systems for the Honda CRX.
#1 HKS Sport Exhaust System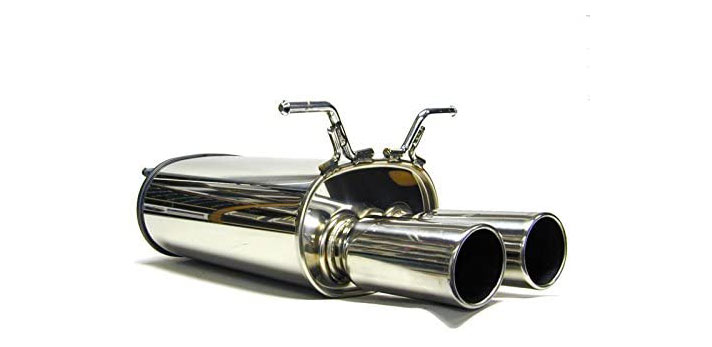 Manufacturer: HKS
Part Number: LES-H05
Compatibility: Honda CRX (1988-1991)
Let's start off the list with a Honda CRX HKS exhaust, particularly the HKS Sport Exhaust System. HKS has always been at the top of the game when it comes to producing performance exhaust systems, and their dedication to their craft is evident in this Sport Exhaust System for the Honda CRX.
Those who had the opportunity to get one of these exhausts have expressed a great deal of satisfaction on how solid this exhaust system is built and how good it sounds. HKS designed this exhaust system to reduce the backpressure of your car and significantly improve the flow of the exhaust gasses that are exiting the engine.
Every Sport Exhaust that HKS created utilizes a special muffler designed to sustain low-end torque while keeping your car's high-end power maximized.
#2 Invidia N1 Catback Exhaust System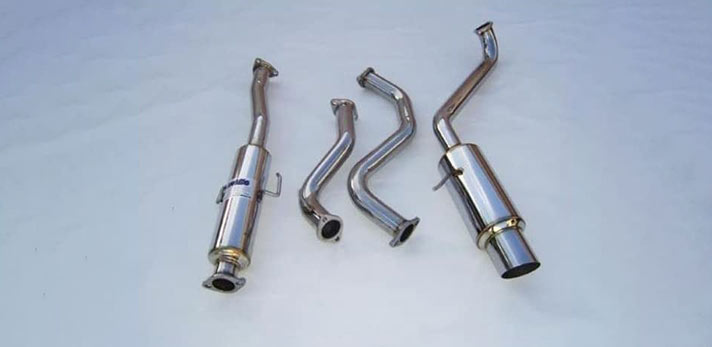 Manufacturer: Invidia
Part Number: HS88HCXGTP
Compatibility: Honda CRX (1988-1991)
The second position on this list goes to a prominent name in the aftermarket exhaust scene: Invidia. If you're a big fan of strong mid to top-end power gains, then you might as well check out the Invidia N1 Cat-Back Exhaust System.
It can quickly maximize the exhaust flow coming out of your vehicle, and at the same time, reduce the backpressure.
With components made from SUS304 stainless steel, a polished finish, and a pretty affordable price tag, you can enjoy a rather lovely exhaust tone that gets even more exciting at high revs.
Even if it's relatively inexpensive, you can't deny that this Honda CRX Invidia Exhaust System is not just your average run-of-the-mill aftermarket exhaust system.
#3 Tanabe Revel Medalion Touring S Cat-Back Exhaust System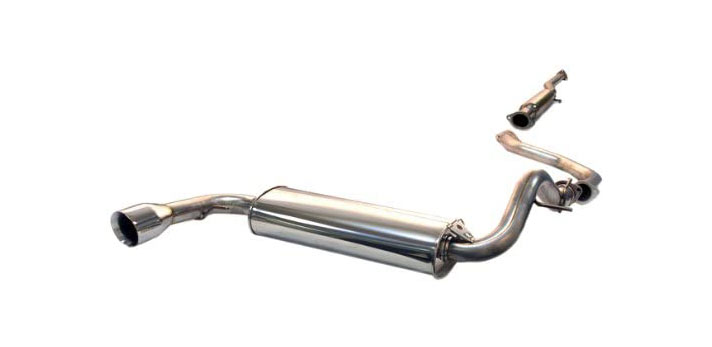 Manufacturer: Tanabe
Part Number: T70026R
Compatibility: Honda CRX (1988-1991)
Tanabe exhausts are known in the Honda community as one of the most finely built exhausts that ever existed, and that's not an exaggeration. Tanabe has released a lot of aftermarket exhausts that are constructed under the highest quality standards.
And because of that, upgrades like the Revel Medallion Touring-S Exhaust System have been birthed, capable of producing a pristine and deep exhaust tone that is both pleasant and aggressive all across the powerband.
The Tanabe Revel Medallion Touring S Cat-Back Exhaust System utilizes an advanced packing material that provides superior exhaust flow that can suppress the loudness of the exhaust.
Because of this advanced packing material, you can enjoy the best of both worlds: improved performance and an addictive clean and deep tone. Once you've installed this exhaust on your Honda CRX, you'd realize that every penny you've spent on this exhaust system is totally worth it.
#4 Megan Racing Drift Spec Cat-Back Exhaust System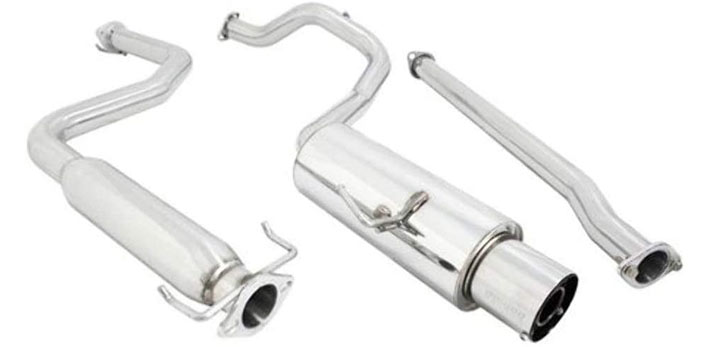 Manufacturer: Megan Racing
Part Number: MR-CBS-C
Compatibility: Honda CRX (1988-1991)
If you're budget-oriented and you want to get your hands on some cheap yet effective aftermarket exhaust systems, then you'd have to check out the Megan Racing Drift Spec Cat-Back Exhaust System.
This exhaust system can give you an aesthetically pleasing exhaust look, thanks to its classic angled-up and outward look. On top of that, once installed, you can enjoy a deep, strong, and noticeable sound that is good enough to break the necks of passersby.
Overall, the Megan Racing Drift Spec Cat-Back Exhaust System is a bang-for-the-buck purchase you can have for your Honda CRX. The reviews for this mod aren't that bad either.
For a relatively low price and the kind of sound output it makes, many car enthusiasts would say that this exhaust system is a deal that shouldn't be passed.
#5 GReddy SP2 Exhaust System
Manufacturer: GReddy
Part Number: SP2-10157040
Compatibility: Honda CRX (1988-1991)
Another terrific Honda CRX exhaust system you should look out for is the GReddy SP2 Exhaust System. This exhaust system is the improved version of the previous GReddy SP exhaust.
The catch with the SP2 Exhaust System, however, is it has a 304 stainless steel muffler canister that's mated with 430 stainless steel end caps. These two are responsible for creating that iconic deep and pleasing tone that only GReddy mufflers can make.
And although the exhaust note that this exhaust produces is deep, that doesn't mean that it's loud and obnoxious, no. Many car enthusiasts who have fitted in the GReddy SP2 Exhaust System on their Honda CRXs have insisted that this exhaust is an excellent combination of subtlety and aggression.
This exhaust system is discontinued, though, so acquiring it can be a little bit more challenging.
#6 Skunk2 Mega Power Exhaust System
Manufacturer: Skunk2
Part Number: 413-05-1590
Compatibility: Honda CRX (1988-1991)
When talking about JDM modifications, it's impossible to go over and forget about Skunk2.
They've produced impressive upgrades that made JDM cars like the Honda CRX more streetable and sometimes track-worthy. This exhaust system we're going to talk about next is an excellent example of the type of product that Skunk2 releases.
Suited for mildly modified Honda CRXs, the Skunk2 Mega Power Exhaust System is a real deal if you're not just about how an aftermarket exhaust system sounds.
By installing the Skunk2 Mega Power Exhaust System on your Honda CRX, you're not just setting yourself up for some rad exhaust tone; you're also signing up for some actual performance gains.
To further solidify the quality of this exhaust, Skunk2 tested this exhaust system on the track and on a dynamometer to prove that the performance gains this exhaust gives are real.
Add to that the predatory yet pleasant exhaust tone and some sick-looking N1-style exhaust tips, and you've got yourself one heck of an exhaust system.
#7 Fujitsubo Legalis R Exhaust System
Manufacturer: Fujitsubo
Part Number: 750-52433
Compatibility: Honda CRX (1988-1991)
Lastly, we have the Fujitsubo Legalis R Exhaust System. Made straight from Japan, this exhaust system is arguably one of the most sought-after exhaust systems for the Honda CRX.
This is an excellent solution for car enthusiasts who want to get rid of the stock exhaust system and replace it with something that can provide real performance gains, excellent exhaust sound, and good looks.
The Fujitsubo Legalis R Exhaust System is a race-inspired exhaust system constructed out of mandrel-bent stainless steel. It offers noticeable performance gains and as well as a sweet exhaust sound that's not too loud and intrusive for the tastes of ordinary people you're driving by.
Before procuring one of these Fujitsubo exhausts for your Honda CRX, please note that it's more expensive when compared to all of the exhaust systems on this list.
You'll most likely be buying from a shop that gets their Legalis R Exhausts straight from Japan, so be prepared to wait for quite some time before you get your hands on one of these high-performing exhausts.
HONORABLE MENTION: Mugen Cat-Back Exhaust System
If there's an ultimate boss of Honda modifications, then that would be Mugen. Back in the day, they created an exhaust system for the Honda CRX. But since they've stopped creating products for old cars, the exhaust system was discontinued.
Acquiring one of these rare gems can be extremely difficult. However, if by some miracle you've managed to get one, then you'd be rewarded by an exhaust system that sounds mild yet deep enough for you to have an internal monologue that says, "Yup. That's Mugen"
The Honda CRX remains one of the best project cars to work on, even up to this day. This racing behemoth/daily commuter is indeed old.
Still, once you've installed some necessary modifications like aftermarket exhaust systems on it, you'll eventually realize that the difference between an old rusty CRX and a fully restored and rebuilt one is the difference between night and day.