The Lexus IS series is an iconic line of cars known for being soft and prudent. In its inception back in 1998, Lexus was determined to compete with the BMW 3 Series and the Mercedes C Class.
Although they were in a bit of a rut during their first releases, they've managed to create competent cars that boast timeless looks and a legendary 2JZ engine; hence the Lexus IS300.
It was a class act for car enthusiasts too. Later on, they've discovered that the Lexus IS300 is an excellent platform for aftermarket modifications.
Aside from sounding awesome, an aftermarket exhaust system can boost your Lexus IS300's performance too!
These mods are notorious for adding some extra horsepower to a car, and although it's not much compared to what a forced induction device can bring, it's enough to make your car a bit more powerful compared to how it was before.
And also, you're guaranteed to get better mpg too.
If you're looking for some quality aftermarket exhaust systems for your beloved Lexus IS300, then it's your lucky day! The list below features Lexus' best sounding IS300 exhaust available in the market today.
Check them out to see what best fits your tastes.
#1 APEXi WS2 Exhaust System
Manufacturer: APEXi
Weight: 32.1lbs
Part Number: 116-KT05
Compatibility: Lexus IS300 (2001-2005)
The WS2 in the exhaust system's name stands for World Sports 2. It's the exhaust system fit for those who prefer a more chill ride accompanied by a powerful sound yet quieter than the usual roaring aftermarket exhaust system available in the market today.
A'PEXi is a Japanese manufacturer that knows a thing or two about making performance cars perform even better, so entrusting your Lexus IS300 to them isn't much of a bad idea.
APEXi's WS2 exhaust system utilizes a 2.4" piping connected to a 4" oval-dual walled exhaust tips, angle cut to make it more aesthetically pleasing. This exhaust system is a top-tier street muffler that combines improved performance and style to make the Lexus IS300 look and sound more awesome.
Aside from that, the WS2 can give your Lexus IS300 an impressive mid to high-end power, depending on what rev range you're at.
An exhaust system like this is clearly made for car enthusiasts who prefer a motorsports performance induced car that is not too loud, especially in the low to mid rev range.
The WS2 performs well just as it looks, thanks to its sporty yet elegant design that embodies what a track car looks like. This exhaust system is clearly distinctly made for enthusiasts who want to drive a high-class sporty-looking Lexus IS300 daily.
#2 HKS Carbon-Ti Series Exhaust System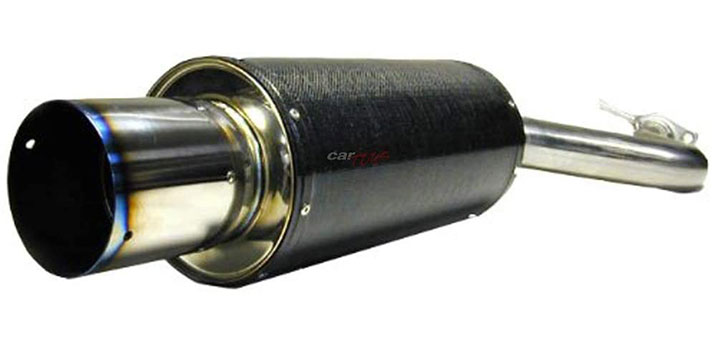 Manufacturer: HKS
Weight: 39.7lbs
Part Number: 3207-EX002
Compatibility: Lexus IS3000 (2001-2005)
HKS is by far the most popular provider of aftermarket auto parts present today. They have catered to both car enthusiasts and racers alike, and their products are sure to bring out shy bits of performance that are hiding in the nooks and crannies of your car.
For the Lexus IS300, they've got the Cabon-Ti Series: proven to make your car louder, more powerful, and more aggressive.
The Carbon-Ti Series is a single rear exit exhaust system that's guaranteed to make your car roar as loud as it possibly can. The exhaust system's 2.36" tubing was made from 304 stainless steel and is specially made to make your Lexus IS300 more powerful and loud at the same time.
This exhaust system is made with a racing mindset, so if you want to transform your car into something more race-like, then this exhaust system is unquestionably for you.
The best thing about this exhaust system? Well, it's made from carbon fiber. Racers typically use this material to significantly reduce the overall weight of the car. It makes up for the power gains eaten up by the importance of a typical titanium/stainless steel muffler.
Although it's priced higher than the materials mentioned above, carbon fiber tends to be more aerodynamic and even brandishing a more modern look.
#3 HKS Hi-Power Dual Rear Exhaust System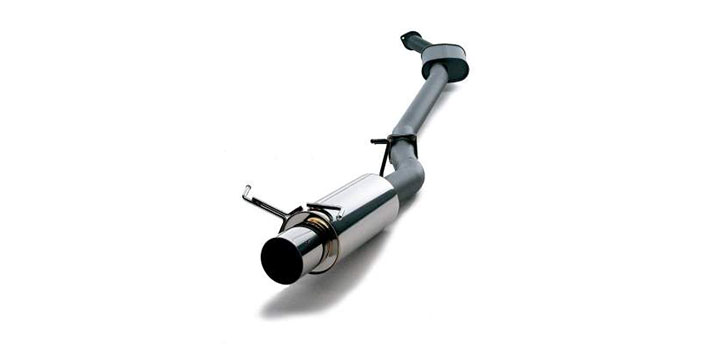 Manufacturer: HKS
Weight: 39.9lbs
Part Number: 3203-EX020
Compatibility: Lexus IS3000 (2001-2005)
Car enthusiasts just can't get enough of HKS, don't they? Here's another fan favorite from HKS: the Hi-Power exhaust. HKS is known for its specialty in making high-performance aftermarket parts, and they've been dealing with performance-related upgrades ever since their inception in Shizuoka, Japan.
Come take a look at what the Hi-Power exhaust has to offer.
To be perfectly honest, there's little to no difference between the Carbon-Ti Series exhaust mentioned above and the Hi-Power exhaust. The only noticeable change between the two is their price and the material the mufflers are made from.
Although, of course, they both have racing DNA coursing through their metallic parts. HKS's consistency gives both the Carbon-Ti exhaust and the Hi-Power exhaust the performance attributes a race-minded enthusiast needs.
This exhaust system is made through the minds of endurance/GT racing-inspired engineers that want both turbocharged and naturally aspirated engines to go for gold.
The Hi-Power exhaust system utilizes an offset muffler and a piping design made for the streets, which allows the Lexus IS300 to have a greater exhaust flow and some significant power gains in the high revs.
#4 DNA Motoring Catback Exhaust System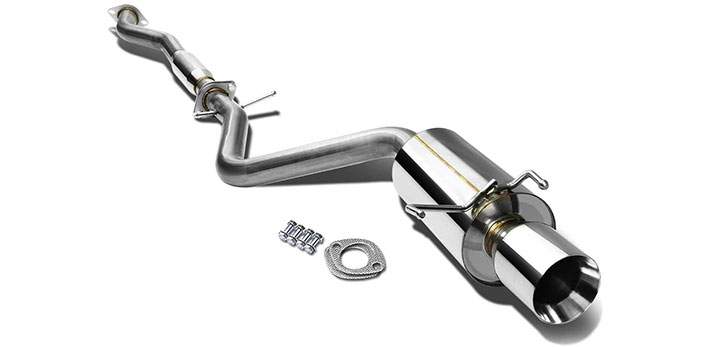 Manufacturer: DNA Motoring
Weight: 19lbs
Part Number: CBE-IS300-NRT
Compatibility: Lexus IS3000 (2001-2005)
Now, if you want a starting-grade exhaust system that goes through your wallet like molten aluminum, then you should take a shot with DNA Motoring's cat-back exhaust system.
This exhaust system can slightly improve your car's power output while giving off a fairly loud sound for its price. With larger pipes that minimizes airflow restrictions, DNA Motoring's cat-back exhaust is a bang for the buck purchase, especially if you don't want to spend too much money.
So what's with DNA Motoring's cat-back exhaust system? It's an exhaust made from T304 stainless steel mandrel-bent to ensure that it will withstand whatever road punishment it's subjected upon.
The flanges used to keep the different parts of the exhaust connected are TIG welded, and CNC machined. Aside from that, its smooth, deep, and aggressive tone show that the exhaust gas flows freely, with minimum restrictions.
What's more, the cat-back exhaust system made by DNA Motoring is proven to give some significant increase in horsepower output, by up to 15hp to 25hp, give or take. Overall, this exhaust is a cheap yet reliable aftermarket mod to make your Lexus IS300 louder and more powerful.
#5 Tanabe Medalion Touring Cat-Back Exhaust System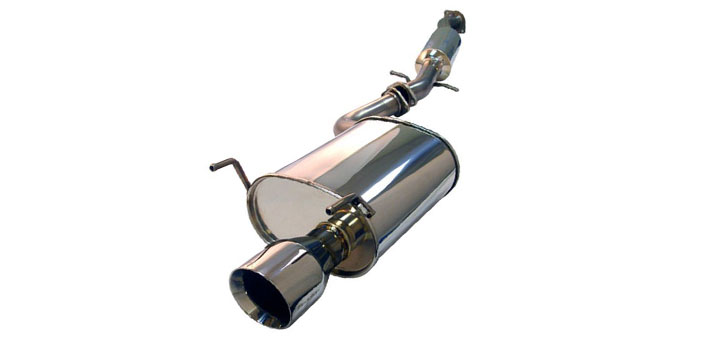 Manufacturer: Tanabe
Weight: T70038
Part Number: T70038
Compatibility: Lexus IS3000 (2001-2005)
For the last entry for the best exhausts for Lexus IS300, we have the legend: Tanabe and their Medallion Touring cat-back exhaust system. By far, this is the best purchase that you can make if you're shopping for some premium exhaust systems for your Lexus IS300.
The Medallion Touring is elegant, well-defined, and most of all, it matches the artistry of a highly tuned machine like your modded Lexus IS300.
The Touring Medallion, according to Tanabe's own words, got created for "max streetability." This exhaust system utilizes the Advantex Performance Exhaust Technology.
Advantex is an internal material that allows the exhaust to sound more while promoting maximum exhaust gas flow. Aside from that, it's made with an emphasis on weight reduction, especially on parts like the flanges, piping, and exhaust hangars.
But wait, what does the phrase "max streetability" mean anyway? The Touring Medallion exhaust is very well-known for having a distinct exhaust note, unique to what the other exhausts offer.
Tanabe's trademark is its clean, crisp, deep, yet aggressive tone on all the RPM ranges. This exhaust is CARB compliant, making its 93db output very "streetable."
Is Getting a Performance Exhaust for Your Lexus IS300 Worth it?
Absolutely! Although the Lexus IS300 sounds excellent even if it's using its stock exhaust system, however, let's keep it real here, folks: it's kinda mediocre, and it deserves any upgrades that it can get.
There is a lot of affordable and noteworthy aftermarket exhaust available out there, and it's pretty easy to find one, depending on whatever preference you have.
Not only that, most aftermarket parts manufacturers these days integrate innovative gimmicks to their creations, just to make mods like aftermarket exhaust systems even more powerful and iconic.
Aftermarket exhaust systems add value to your car. With a newfound deep and aggressive sound partnered with an aesthetically appealing look from the rear, you and your car's status elevates.
Regular car owners and seasoned car enthusiasts respect someone with a modified car, whether we like to admit it or not.
Do you want to cruise the streets as chill as possible, or do you want to let the cops know that you've got a loud roaring exhaust?
Whatever your choice is, there's a lot of exhaust options available for you out there, and the list above features the best ones that you can get for your beloved Lexus IS300.