Having a luxury car is one of the most outstanding achievements anyone can have. Aside from the apparent show-off of the owner's capacity to buy one, it also shows that you, as a car enthusiast, have a more refined taste when choosing a car. Luxury cars like the Lexus IS350 offer a great deal of comfort, luxuriousness, and status.
And to add more flair to the dramatics, you can also modify your Lexus IS350 with something like an aftermarket exhaust system.
Getting an aftermarket exhaust system can transform your Lexus IS350 from a luxury car into a sporty luxury car, capable of roaring loudly or moderately, depending on your preference.A
uto parts manufacturers these days offer various exhaust systems, ranging from loud to moderate sounding ones. Whatever type of exhaust system your choice maybe, it will surely increase your prestige and status.
A premium car deserves a premium exhaust system. If you're looking for a high-quality exhaust system to outfit your Lexus IS350, then we've got you covered. Here's a list of the best exhaust systems that are available in the market today.
All of them offer unique and extraordinary benefits that will make you fall in love with your car harder once installed. What are you waiting for? Go check them out now!
#1 Invidia Q300 Axle-Back Exhaust System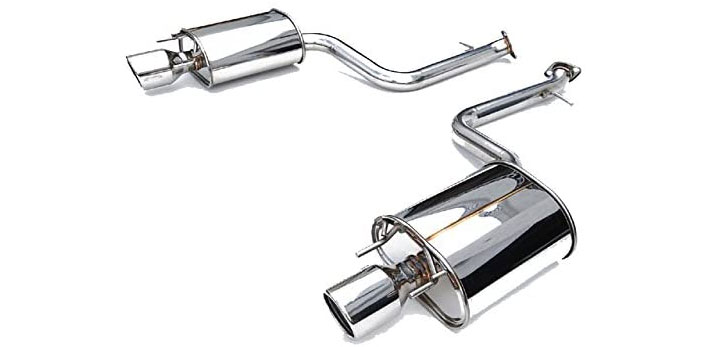 Manufacturer: Invidia
Weight: N/A
Part Number: HS13LISG3S
Compatibility: Lexus IS350 (2013-2016)
For the first of the best exhaust systems for Lexus IS350, we have the Q300 cat-back exhaust system from Invidia. Previous customers have expressed their delight when they've had this axle-back exhaust system installed on their Lexus IS350.
Invidia has been surprising car enthusiasts for years, and this time, they've got something special for those who want to upgrade their car's power output and exhaust note.
The Invidia Q300 axle-back exhaust system is a bang for the buck purchase, especially if you're looking for exhaust systems that deliver excellent performance without costing a fortune.
It is constructed out of high-quality SUS304 stainless steel, its flanges are CNC-machined, and its parts are TIG-welded to ensure that none of the pieces would fall out of the system. The Q300 also has some double-walled tips to add a fuller and richer exhaust sound.
What's more, the Invidia Q300 axle-back exhaust has astonishing titanium burnt tips. This style adds more appeal to the Lexus IS350's aesthetics, especially from the rear.
Invidia intended the muffler's design to be flat, so your Lexus IS350 can have improved aerodynamic characteristics. Not only that, the use of Advantex material inside the muffler results in a more free-flowing path that translates to an increase in horsepower and torque and a more aggressive exhaust tone.

#2 Megan Racing Drift Spec Axle-Back Exhaust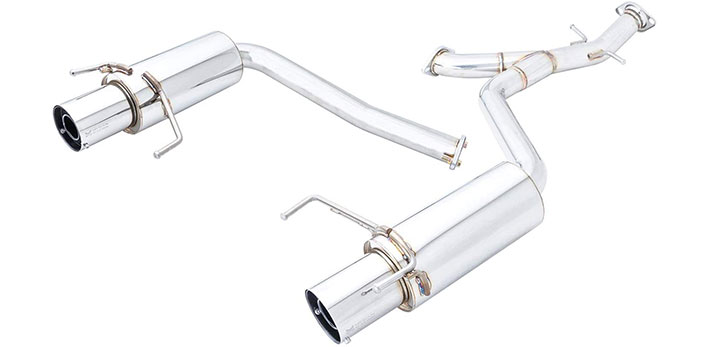 Manufacturer: Megan Racing
Weight: 36lbs
Part Number: MR-ABE-LI06DS
Compatibility: Lexus IS350 (2006-2013)
The second best exhaust for Lexus IS350 is Megan Racing's axle-back exhaust, made explicitly for Lexus IS350s from 2006 to 2013. This axle-back exhaust system exists for car enthusiasts who'd like a direct bolt-on exhaust system tailored to their taste.
It's easy to install, it works well with the stock mid-pipe, and replaces the existing OEM exhaust system. It's a much lighter alternative to the stock, and it offers extra horsepower.
With the classic mirror finish polished to perfection, the Drift Spec provides a more free-flowing path for the exhaust gasses that rushes out of the engine.
Making the pipings less restrictive, the Drift Spec provides the exhaust gasses a higher volumetric flow rate, allowing them to run out of the system faster. This results in a significant increase in horsepower output and that deep, growling sound that all car enthusiasts love.
To add a bit of spice, Megan Racing's Drift Spec exhaust system puts up an increased power-to-weight ratio, which plays a vital role in improving both a car's handling and performance.
A quick note, though: all of Megan Racing's exhaust systems are for off-road use only, so if you insist on getting your hands on their Drift Spec axle-back exhaust, then you should be prepared to partner a muffler silencer on it.

#3 Greddy – Supreme SP Exhaust System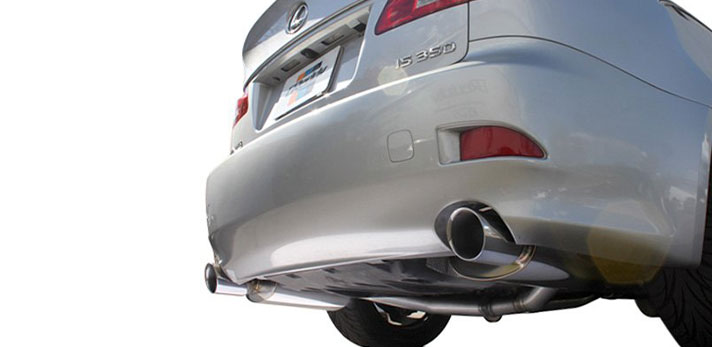 Manufacturer: GReddy

Weight: N/A
Part Number: 10118202
Compatibility: Lexus IS350 (2006-2013
Still in tune with Lexus IS350's best exhaust systems? Good. Here another one, and this time, it's something supreme. Greddy, an aftermarket car parts manufacturer, founded and managed by racers and car enthusiasts alike, has developed something unique for the Lexus IS350.
The Supreme SP axle-back exhaust system offers sophisticated exhaust tones and an aesthetically pleasing design – something fit for a Lexus IS350.
What does the Supreme SP have to offer? This classic dual-rear exit axle-back exhaust system utilizes a 2.5" piping connected to 4.5" tips, a diameter size larger than usual exhaust tips.
These huge exhaust tips are responsible for Supreme SP's superb sound suppression when the car is idle or cruising. However, once in acceleration, the Supreme SP roars into life with its deep, rich, and distinct Greddy exhaust note.
Traditionally, Greddy keeps the double-wall muffler tips on their Supreme SP to match the aesthetic appeal of the Lexus IS350. And also, like all of their exhaust systems, they've hand-welded their SUS304 stainless steel exhaust systems that hold a limited lifetime warranty.
This limited lifetime warranty is handy just in case you've found some factory defect on the Supreme SP (which is highly unlikely).

#4 APEXi N1 Evolution-X Axle-Back Exhaust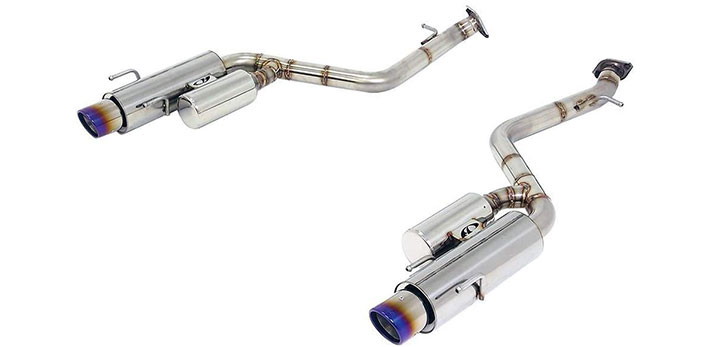 Manufacturer: Apexi
Weight: 34lbs
Part Number: 164-KT02
Compatibility: Lexus IS350 (2014-2016)
If your definition of the best sounding exhaust for Lexus IS350 is something that sounds rich, deep, and yet moderate, then the Apexi N1 Evolution-X axle-back exhaust is something that might pique your interest.
Based on the popular muffler style, the N1 Evolution-X highlights optimum exhaust efficiency by using a straight-through layout design. Their internal hybrid silencer keeps the exhaust sound moderate.
What's in the bag? The N1 Evolution-X utilizes high-grade stainless steel used to combine quietness with high-performance output.
Matched and manufactured specifically for the Lexus IS350, this specific N1 Evolution-X has a proprietary megaphone piping structure that swirls the exhaust gas, paving the way for tremendous torque and even better throttle response.
Apexi has been using this tech for years, and for that period, they've produced consistent results.
What sets the N1 Evolution-X from the rest is its internal hybrid silencer. It combines the power and the free-flowing characteristics of the exhaust gas leaving the engine, resulting in functional, pleasing sound output. The muffler tips look cool as well.
These tips are built out of light-weight titanium attached to a double-pipe that works as a diffuser, which reduces the heat in the tips while retaining its burnt sporty look.

#5 Borla S-Type Axle-Back Exhaust System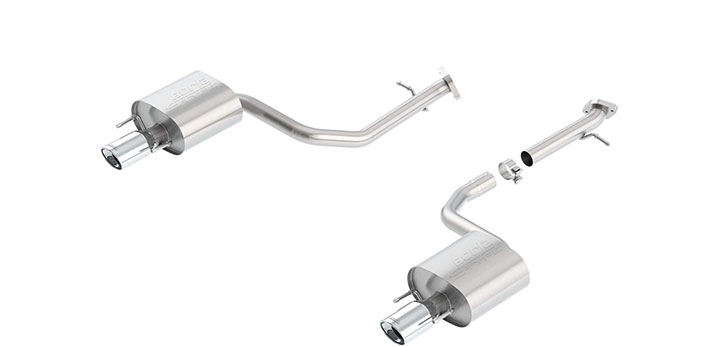 Manufacturer: Borla Performance Industries
Weight: N/A
Part Number: 11898
Compatibility: Lexus IS350 (2014-2017)
Now, if you have a weird fascination for thunderous exhaust notes, this exhaust system might be the perfect one for you. We have Borla Exhausts and their S-Type axle-back exhaust system introducing the last entry for this list of best IS350 exhaust.
Before we jump into its specs and benefits, you must be warned that this exhaust is for race use only. It's not legal for street use (but hey, you do you, right?)
Borla Performance Industries has been leading the herd since 1978, paving the way to produce the best exhaust systems present in markets today. And for the Lexus IS350, they've created something special: the S-Type axle-back exhaust features a very aggressive sound fit for the race track.
This exhaust optimizes the exhaust gas flow, allowing the Lexus IS350 to have better performance, more power, and better fuel economy.
What makes the S-Type exhaust a cut above the rest is its iconic sound. The S-Type emits a very defined tone at cruise speeds, but once the car accelerates, you'll be met with a throaty and aggressive sound.
The benefits of installing this exhaust on your Lexus IS350 include an increase of 7-10% in both horses and torque, highly durable materials, and piping with a very low airflow restriction.

Installing an Aftermarket Exhaust System on a Lexus IS350: Is it Worth It?
A luxury car exists to have something that the typical consumer car doesn't have: heightened comfort and extravagant ride quality. But remember, we're talking about Lexus here, specifically the Lexus IS350, a car known to mix sophistication and performance in its ride quality.
It's a JDM car. What do you expect? So to answer the question, yes, installing an aftermarket exhaust system on a Lexus IS350 is worth it. It highlights the status, presence, and performance of the luxurious Lexus IS350.
The Lexus IS350 offers a lot more than luxury. When partnered with the right modifications such as an aftermarket exhaust system, the Lexus IS350 stands out more than ever.
The aesthetic appeal of the car together with a roaring thunder from the exhaust system makes the vehicle more distinct, unique, and attention-worthy.