Pretty much everyone wants an LED light bar on their truck. Not only do they look awesome, but they also add a lot of functionality. Choosing the right one, however, can be fairly difficult, thanks to the plethora of cheap Chinese LED light bars found on Amazon.
There are different sizes, brackets, styles, colors, brands, light outputs, etc, to choose from. If you have an F-150 or F-250 and like to go off-roading at night time then you definitely need an LED light bar.
An LED light bar can help you see at night, but it can also save you from getting yourself in dangerous situations off-road. Even if you never take your F150/F250 off-roading at night, an LED light bar is still a great modification.
In this short guide we'll cover the best LED light bars for your F-150 or F-250, and the best brackets.
F-150 Roof Mounted LED Light Bars
Most people who own an LED light bar put it on the roof of their truck. Mounting an LED light bar on your roof allows for a 50-inch+ light and it helps eliminate shadows. The only downside to mounting a light to your roof is possible windshield glare and limited sight in the dust.
#1 Rigid Industries 50" RDS E-Series Midnight


In our #1 spot for F-150/F-250 light bars is Rigid Industries. The 50" E-Series is the perfect size for an F-150 of any year and the Midnight Edition looks super awesome. On many newer Ford trucks you can fit a 54-inch light, but we listed a 50-inch just in case you have an older truck.
This 50-inch LED light bar is impact, dust, and waterproof, so it won't break just because you because you like to go hard off-road.
Plus, this light bar outputs an impressive 26,150 lumens at 375W.
Like any high-quality product, this LED light bar is expensive. The expensive cost can be justified with Rigid Industries lifetime warranty. If you were looking for something more affordable, we've listed cheaper options further down. If you want the best of the best, however, this is the way to go.


Warranty: Lifetime
Power: 375W
Output: 26,150 lumens
#2 Rigid Industries Radiance 50"


In our #2 spot is another Rigid Industries product. If you don't have a lot of money but still want the best quality possible the Radiance 50" is definitely the way to go. Although it doesn't look as awesome of the E-Series midnight, we think it still looks cool.
What makes the Radiance light so unique is its built-on ambient lighting system which allows you to give your truck a very unique look. Just like other Rigid Industries lights, the 50-inch Radiance is water, dust, and shock resistant, plus it offers the same lifetime warranty as other Rigid products!


Warranty: Lifetime
Power: 278W
Output: 15,876 lumens
#3 Rough Country 54" Curved Black Series


In our #3 spot in a budget-minded product from Rough Country. Although this LED light bar might not be as durable as more expensive options, it's still pretty strong and will definitely hold up to any amount of mild usage.
Unless you're planning on racing your truck, this Rough Country light is the perfect balance between cost and quality. We chose the Black Series because it looks way better than the standard version. As mentioned earlier, some F-150s can fit up to a 54" light bar, plus they design the Rough Country brackets for a 54" LED light bar.
The warranty is only 3 years as apposed to Rigid's lifetime warranty, but you get what you pay for.


Warranty: 3 Year
Power: 24,960 lumens
Output: 312W
Rough Country F-150 54" Brackets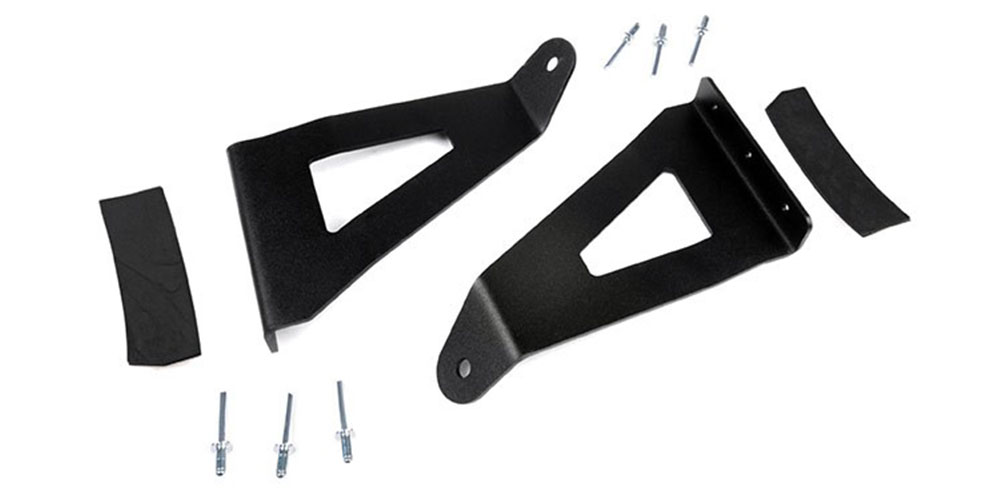 We strongly recommend using vehicles specific brackets. They design the brackets that come with light bars to bolt directly on your roof. Not only does this look terrible, it can cause massive dents on your roof which are expensive to repair.
They typically make the stock brackets from weak cast aluminum which is much more susceptible to breaking. Plus, the vehicle specific brackets look way cooler.


F-150 Grill Mounted LED Light Bars
One of the cool things about Ford trucks is the space left in the grill and bumper, which is perfect for mounting an LED light bar. Mounting an LED light bar in your grill or bumper doesn't produce windshield glare like a roof mounted light bar can.
It can slightly reduce cooling efficiency, so if you live in a hot climate this might not be the best solution.
#1 Rough Country Dual Grill Light Kit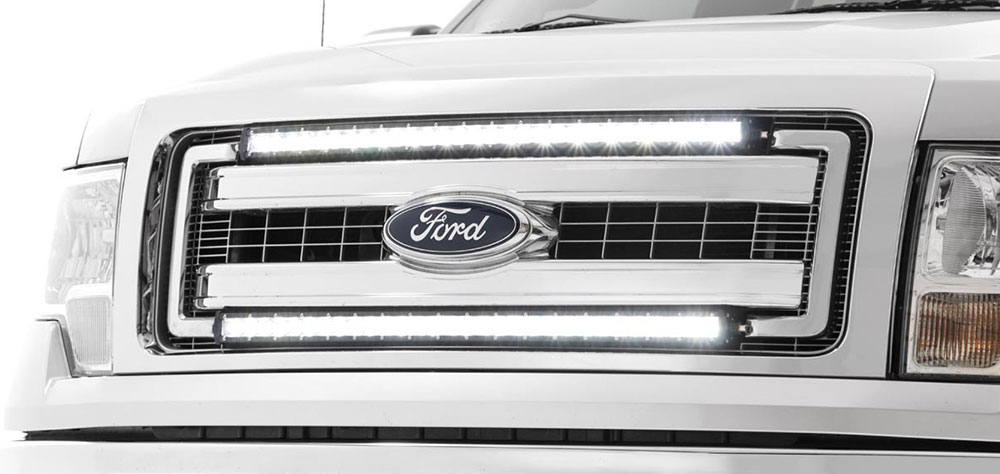 Although we would have loved to feature a Rigid Industries product in our #1 position, we won't. Rough Country's F150 grill kit mounts two 30" single row light bars seamlessly into your factory grill.
This kit only works with the C-Clamp style grill so make sure your truck has that! The kit includes brackets for grill mounting, two 30" light bars, and two wiring harnesses. They limit the warranty to just three years, so buying this kit and upgrading to higher quality LED light bars is a good idea.
For most people, however, this kit is perfect.


Warranty: 3 Years
Power: 150W each
Output: 12,000 lumens each
#2 Rigid Industries Grill Light Kit


If you want a light bar inside your grill but don't like the look of the factory grill, then this kit is for you. The Rigid Industries grill kit includes a laser-cut metal grill with a cutout at the bottom designed for a 20" light bar.
Unfortunately, the only kit we could find on Amazon doesn't include the light bar so you'll need to purchase that separate. For whatever reason, this grill is extraordinarily expensive, so it might not be the best option if you're on a budget.


F-250 Roof Mounted LED Light Bars
Putting an LED light bar on the roof of an F-250 is trickier because the cab is much wider than an F-150 cab. Because of this, you'll probably want a 54" or bigger LED light bar. A 50" LED light bar will fit, but it won't look that great since it's so much smaller than the width of the cab.
#1 Rigid Industries 54" RDS-Series Midnight Edition


Although the 54" RDS from Rigid Industries is relatively expensive, for an F-250 you'll want something that can take a beating. The 54" RDS is water, dust, and shockproof.
You never know when something might bump into your light bar especially since F-250s are so tall. We will recommend the midnight edition because of how awesome it looks. The 54" RDS outputs an impressive 28,242 lumens, lighting up the darkest of nights.
It consumes quite a lot of power, so make sure your alternator can keep up with the extra load!


Warranty: Lifetime
Power: 405W
Output: 28,242 lumens
#2 Rough Country 54" Curved Black Series


If the Rigid Industries 54" RDS is out of your price range we strongly recommend the Rough Country 54" curved. Although this LED light bar isn't as strong or as powerful, it performs decently and is expensive.
We picked the Black Series because we believe "chrome" light bars are ugly. The 54" curved from Rough Country outputs 24,960 lumens: about 3,700 lumens less than the Rigid Industries RDS listed above. If you're on a budget, this is the light bar to buy.


Warranty: 3 Years
Power: 312W
Output: 24,960 lumens
Rough Country 54" Curved Brackets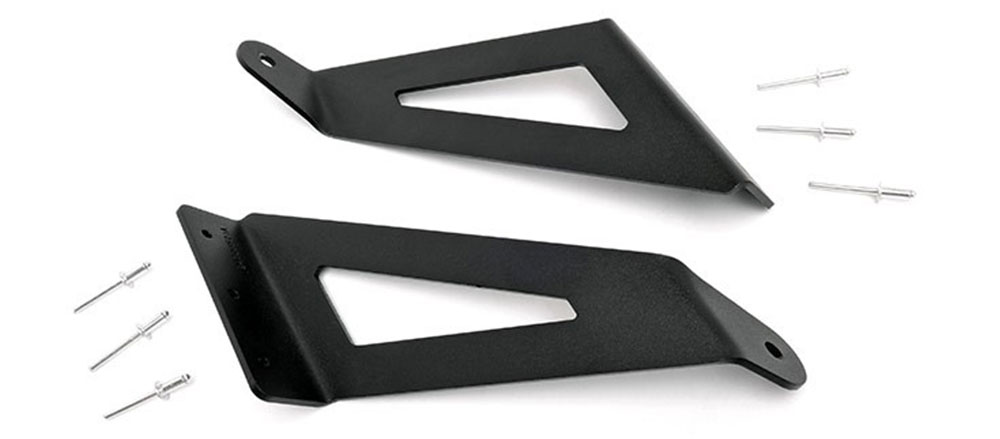 We recommend using brackets that are designed for your specific truck. Rough Country makes a nice set for 54" curved LED light bars. They construct these brackets from high-quality steel so your light bar doesn't wiggle around.
Although these brackets aren't the best looking, they're cheap and work well.


Rigid Industries 54" RDS Brackets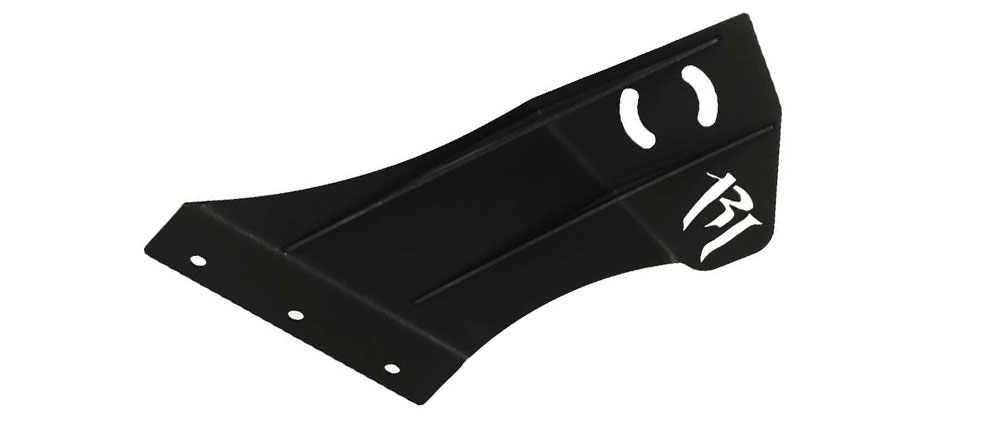 If you plan on buying the Rigid Industries 54" RDS which we highly recommend you can't use the Rough Country brackets listed above. Rigid Industries using a different mounting system than most LED light bars meaning you have to use Rigid Industries specific brackets.
Although these brackets are more expensive than the Rough Country brackets, they look much better and they're stronger.


F-250 Grill Mounted LED Light Bars
Just like the F-150, the F-250 has a massive grill with tons of extra space. Although we will list grill LED light bar kits, you can also just make your own mounts and put any 30" light bar behind the grill.
#1 Rigid Industries 11-16' Grill Kit


If you're tired of the ugly factory grill, then this kit is perfect for you. This kit includes a laser-cut stainless steel grill that's powder coated black that looks awesome. Also included is a 30" RDS-Series light bar that outputs 15,690 lumens.
Although this kit is expensive, all the components included are high quality.


Warranty: Lifetime
Power: 225W
Output: 15,690 lumens
#2 Rough Country Dual Light Bar Grill Mount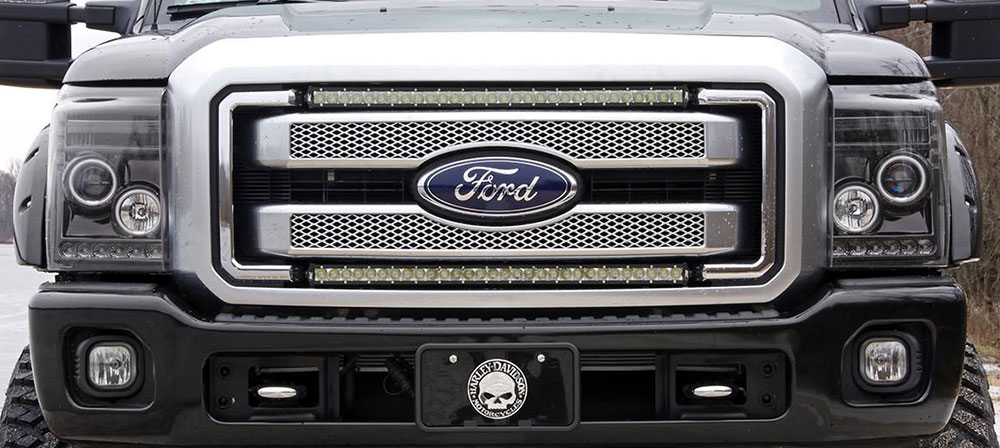 Just like with the F-150 grills, the F-250 has the same C-Clamp style grill. The area in between the tops and bottom of the clamps is perfect for a single row light bar. This kit from Rough Country allows you to mount 2x 30" single row LED light bars in your grill.
What's great about this kit is that it looks like it was a factory option. The light bars included out 12,000 lumens each.


Warranty: 3 Years
Power: 150W each
Output: 12,000 lumens each
#3 Rough Country 11-16' Bumper Mount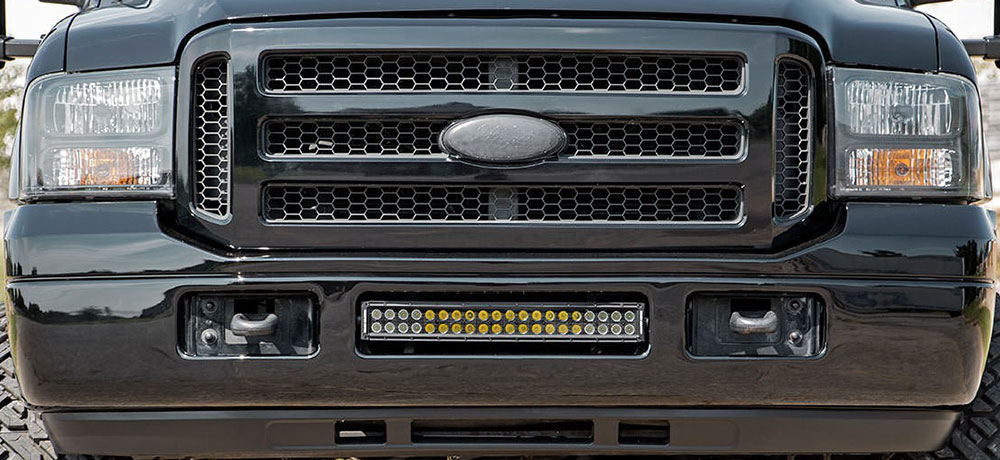 Replacing the factory grill plus buying a light bar can be expensive. If you're on a budget, the Rough Country bumper mount is for you. These brackets allow you mount a 20" LED light bar inside the small slot in the bumper.
Although it isn't as cool as a grill mounted LED light bar, it's much cheaper. We would recommend using the Rough Country brackets with a 20" E-Series from Rigid Industries for the best light output.


Why Put a Light Bar in Your Grill?
At this point you may ask yourself why the heck people put light bars in their grill? Won't that negatively affect the cooling system? Depending on how large the light bar is and how small your grill is, yes it can negatively affect your cooling.
Ford trucks, however, have massive grills that are actually larger than necessary for typical use.
If you're doing a large amount of heaving towing, a grill mounted light bar can have a noticeable impact on cooling. The last thing you want is your truck to overheat while you're towing because a light bar was blocking the airflow.
Cooling system aside, the main benefit to a grill mounted light bar is no windshield glare. When you mount a light bar on your roof, some light will shine down on the windshield and hood. This can make it harder to see depending on how dirty your windshield is.
Mounting the light bar in the grill eliminates the windshield glare effect.
Summary
All the options we listed above are kits that anyone can buy. If you want something more custom, we recommend going to a local fabrication shop and having them build your custom mounts.
Combine those custom mounts with a quality light bar from Rigid Industries and you'll have a setup nearly everyone is jealous of.
You can read even more about what light bars you should and shouldn't get in our Light Bar Buying Guide.