The weekend has come. You and your family have decided to spend quality time outdoors. As you pack their gear on the truck bed of your beloved Ford F-150, you realize that something is wrong.
How would you secure those gears when you have an exposed cargo bed?
If you face the same problem, then you're not alone. Many people find it troublesome and annoying to keep their valuables safe and secured on their cargo bed, away from nasty natural elements such as rainwater and dust.
But how can you fix this? Good thing there's an answer to that solution: install a bed cover on your truck.
If by any chance that you're looking for a high-quality truck bed cover to outfit your Ford F-150, then you've come to the right place. We've curated the best truck bed/tonneau covers for your ride that will suit your needs.
#1 Tyger Auto T3 Soft Tri-Fold Tonneau Cover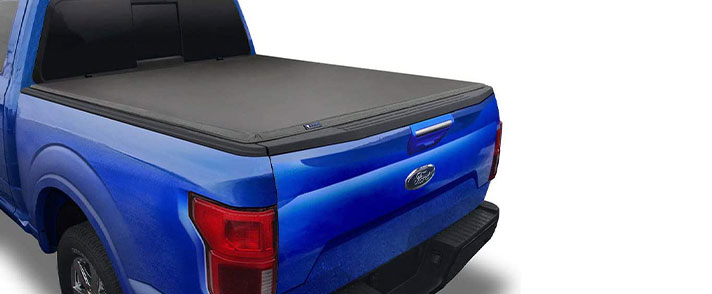 If you want a cheap, soft top cover, then the Tyger Auto T3 Soft Tri-Fold Tonneau Cover is for you. Tyger Auto, a company that focuses on creating top-tier aftermarket parts that qualify to OE standards, manufactured this bed cover.
This cover is easy to fold, has a sleek design, and offers an impressive 13% improvement on your fuel economy. Pretty good, right?
What do you get from buying a T3 Soft Tri-Fold Tonneau Cover?
DURABLE MATERIAL. The frame of this tri-fold cover is made from aerospace-grade aluminum frame and is dual-coated with marine-grade vinyl.
EASE OF USE AND INSTALLATION. Crossbars are available to support and fold up the tri-fold conveniently to provide full access to the bed whenever needed. It is also fairly easy to install: mounts are included in the package and no drilling is required!
SECURITY. Quick-release clamps together with rods made of stainless steel can be used to securely lock your cover in place.
If you're not satisfied with a soft tri-fold cover, you should check out the Tyger T1 (soft roll-up) and the Tyger T5 (hardtop tri-fold). They also have 2-in-1 cleaners available!

#2 Gator ETX Soft Roll Up Tonneau Cover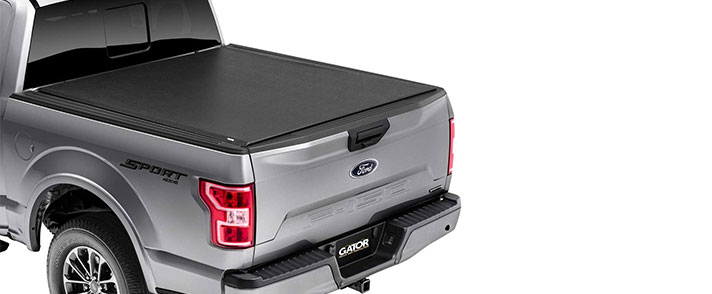 The second spot on the list goes to Gator and its thick, leathery hide. Introducing the ETX Soft Roll Up Tonneau Cover, created by Gator Covers to protect your cargo and allow full access to your truck bed.
It's made in the USA and comes with a limited lifetime warranty.
Interested in the ETX Soft Roll Up Tonneau Cover? Here's what you'll get:
100% BED ACCESS. Since this is a soft roll-up cover, you can easily access the full capacity of your cargo bed, even if the cover is fully open. It does not interfere with the trunk space since it is rolled upwards.
EASE OF INSTALLATION. No need to drill; just clamp it on the rails! The package comes with an assembly that is easy to install.
CONVENIENCE. You can have the option to drive with the cover open by simply latching the rolled-up cover towards the cab and hold it in place with the use of fastening buckles. There's also a trigger latch beside the driver, so you can do a one-hand operation.
You don't fancy a soft roll-up? They have other variants like the tri-fold, hard tri-fold, and the hard quad-fold.

#3 Syneticusa Retractable Tonneau Cover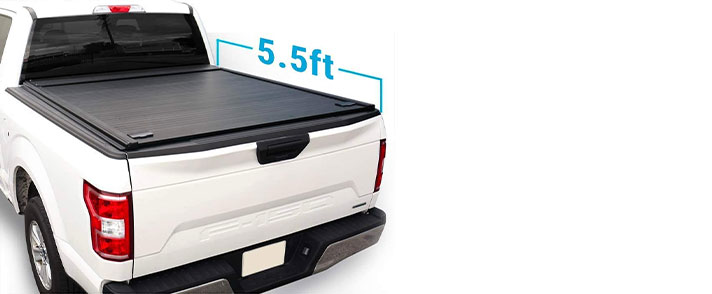 If you have a thing for durable slats then the Syneticusa Retractable Tonneau Cover is for you. This one is retractable, durable, low-profile, and most of all, effective, This tonneau cover offers retractable aluminum slats that are made to endure.
What do you get when you purchase a Syneticusa Retractable Tonneau Cover?
HEAVY-DUTY PROTECTION. The black-matted aluminum retractable slat is strong enough to protect your cargo from harsh natural elements and hazards like rain, sand, salt, snow, etc. The dustproofing and waterproofing technology of this one is impressive because it allows the cover to flush water to the rails to keep your belongings dry and secure.
LOW PROFILE. Since the tonneau cover is just a few inches from the level of the railings, it gives your Ford F-150 a low-profile design and a stylish look. The matte black finish also makes the cover scratch resistant.
FAR BETTER THAN A TRI-FOLD. A tri-fold cover has one weakness: when strong winds hit your truck, there's a tendency for your cover to get damaged. A retractable slat eliminates that liability.
The Syneticusa Retractable Tonneau Cover is a great purchase if you have the budget to spare. It comes with the degree of protection you need while keeping a low-profile.

#4 Undercover Flex Hard Folding Tonneau Cover
If you're an undercover agent, then you'd want to keep a low-profile. That's what the Undercover Tonneau Cover does. It enhances the appearance of your truck by having the cover flushed down towards your cargo bed.
It's easy to use, easy to install, and is worth your money in every way possible.
Thinking of having an Undercover Flex Hard Folding Truck Bed Tonneau Cover? You'll get:
100% BED ACCESS. With this thing on you can either open the cover (partially or fully) or you can fully close it with interfering with the trunk space.
EASE OF USE. A releasable aluminum latching panels are present on either side of the rails for easy usage. There is also a dual-action tailgate that you can use to close the tailgate without even closing the hoisting the cover first.
LOW-PROFILE LOOK. The cover is flushed downward on the truck, making your truck look even more stylish.
This one is a functional, effective, and stylish truck bed cover ideal for your truck.

Choosing the right truck bed cover for your Ford F-150 is imperative if you want a convenient and satisfying riding experience.
Each type of tonneau cover, whether it is a roll-up, a tri-fold, a quad-fold, or even a retractable slat, serves different purposes. So make sure that you select the best one that will solve the cargo problems that will leave you satisfied.