The Honda Civic FK8 Type R is arguably one of the greatest JDM performance cars of the 20th century. It's fast, it's powerful, and most of all, aggressive. Just one look at this car and you'll have your jaws drops just by the aesthetics of it.
It is considered one of the best of its class mainly for its capacity to drop you off from one place to another – at an impressive speed.
It may be a tremendously amazing car, but it's not perfect. It has its flaws, just like any other car out there. One such flaw is its suspension ride height. Just the wild idea of having 20" wheels fitted on your Type R can be considered rather taboo.
Sports cars of this kind deserve smaller tires!
To help you with that problem, we offer you an attractive solution: coilovers. This modification will do your Type R a lot of good, especially with that fender-to-tire clearance issue. Below are the best aftermarket coilovers for your Honda Civic FK8 Type R.
Don't waste any more time and check them out now!
#1 H&R Springs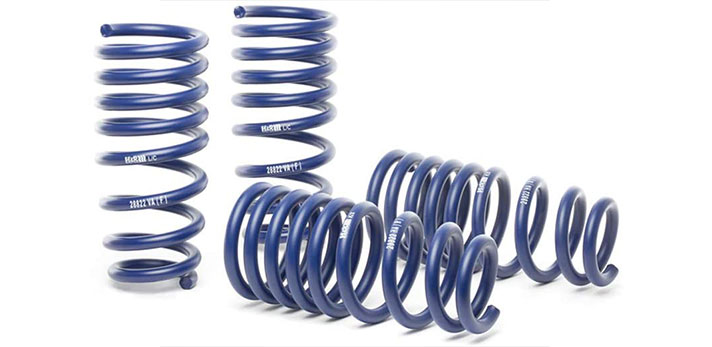 WEIGHT: 18.5lbs
TYPE OF CONSTRUCTION: Progressive Springs
HEIGHT DROP: 0.8"
COMPATIBILITY: Honda Civic Type-R (2017+)
If you're gearing up to reduce your FK8's ground clearance the most affordable way possible, then you're in for a treat. H&R has got some spring suspensions for you. Detect visible height change when you've got these spring installed in your FK8, thanks to the 0.8" height reduction that it gives.
With the use of progressive springs, you can experience a quality ride at the lowest price possible. This is an option for you if you want to try out lowering your FK8's front and rear height but you're yet ready for some real coilovers.
The best thing about it is incredibly cheap! With such a low price, you can experience driving a lowered Honda Civic FK8 Type R. No need for expensive coilovers!
#2 Tein S-Tech Lowering Springs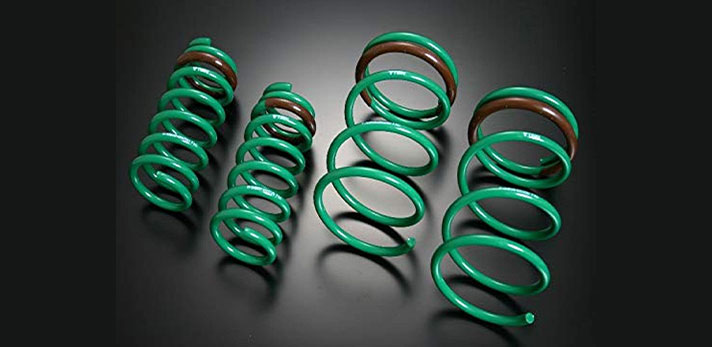 WEIGHT: N/A
TYPE OF CONSTRUCTION: Progressive Springs
HEIGHT DROP: 1" (Front and Rear)
COMPATIBILITY: Honda Civic Type-R (2018+)
Do you want to lower your FK8 Type R without needing the performance enhancements a coilover can bring in? Then lowering springs are for you? And what better way to pick a great lowering spring than to select it from a reliable suspension parts manufacturer like Tein.
They have a great reputation when it comes to reducing a car's ground clearance in the best way possible.
So what do you get from buying these lowering springs? Approximately 1.5" in height reduction. That is ideal for cars that go well with smaller wheels like the Honda Civic FK8 Type R.
With these lowering springs on, you can lower an expensive car using cheap modifications. Talk about saving money!
What makes the Tein S-Tech lowering spring one of the finest in its capability to be used alongside with OEM replacement shocks. There's no reason to disassemble them and buy a new one.
These springs are also reliable because they've been road-tested by Tein themselves.
#3 BC Racing BR Series Coilovers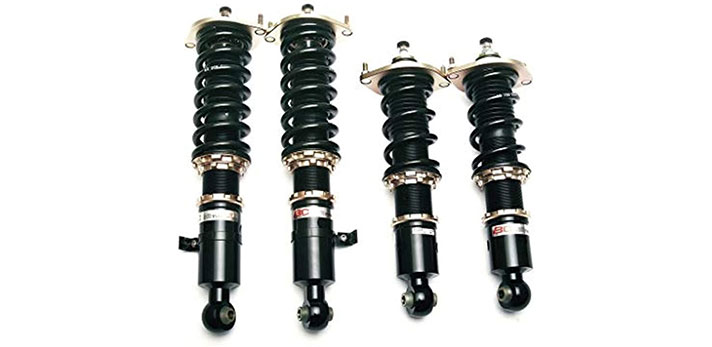 WEIGHT: N/A
TYPE OF CONSTRUCTION: Monotube
HEIGHT DROP: Adjustable
COMPATIBILITY: Honda Civic Type-R (2017-2019)
Now if you're looking for something spicy to significantly lower your FK8's height while experiencing performance upgrades, then you should check this one out. Featuring the BC Racing BR Series and their coilovers.
They may not belong to the lines of famous suspension companies, but they offer coilovers like no other.
By selecting this amazing coilover, you get to experience multiple benefits. These include adjustable height and damping with camber plates for both the front and the rear. You also get custom spring rates upon request.
What's the best feature you can get with the BC Racing BR Series coilovers? First, a year of warrant in case the coilovers have manufacturer defects. Second, a chance to rebuild the coilovers.
And in case you wreck some of the parts, don't worry. You can purchase them separately.
#4 HKS Hipermax IV SP Full Canceller Kit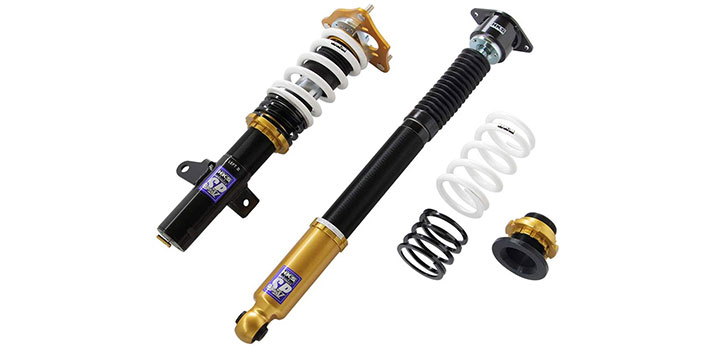 WEIGHT: 62lbs
TYPE OF CONSTRUCTION: Monotube
HEIGHT DROP: Adjustable
COMPATIBILITY: Honda Civic Type-R (2017-2019)
Would you forgive yourself for going all out, even just this once? If so, then prepare to meet the best value for your huge bundle of money: the HKS Hipermax SP Full Canceller Kit.
This kit includes a lot of over-the-top components, so let's not waste time and check them out.
What are some of the items included in the canceller kit? Monotubes to maintain consistent responsiveness on the track. A dampening adjustment to cater flexibility both on the track and the streets.
A camber plate for the front and spherical bearing. And lastly, an error light canceller.
The best thing about this kit? They're all made from quality metal glazed with a special coating to protect the coilover from the harsh environment. They've even tossed in an error light canceller to eliminate inconsistent flickering, just to provide some answers to lighting failures.
This kit may have been the best one on this list, but it does come with a big noticeable problem: It's super expensive! But hey, considering all of the awesome components inside the kit, every penny you spend on this one will be worth it.
The Honda Civic FK8 Type-R is by itself a powerhouse when it comes to performance, both on the track and the streets. It's the perfect example of what a JDM performance car can do once it has achieved a respectable amount of deduction in ground clearance.
Make sure to buy the best lowering option for you. Whether it's a lowering spring or a coilover, the items above are the best choices that you can do for your Honda Civic FK8 Type R.