In the world of fast sportbikes and loud cruisers, you wouldn't a small bike on the verge of being a scooter would sell very well, especially in North America.
As you probably already know, Honda found a massive niche market with the Grom which quickly became a massive hit when it came to the US in 2013. Since then, the Grom "scene" has completely blown up and the Grom is everywhere.
One of the problems the Grom faces is the extremely quiet exhaust system. With how slow and small the Grom is, the extra sound from an aftermarket exhaust can massively improve riding safety because drivers are more likely to notice you.
On top of that, the Grom sounds pretty awesome with an aftermarket exhaust. To help you find the perfect exhaust for your Grom we've created this guide.
#1 Yoshi Full System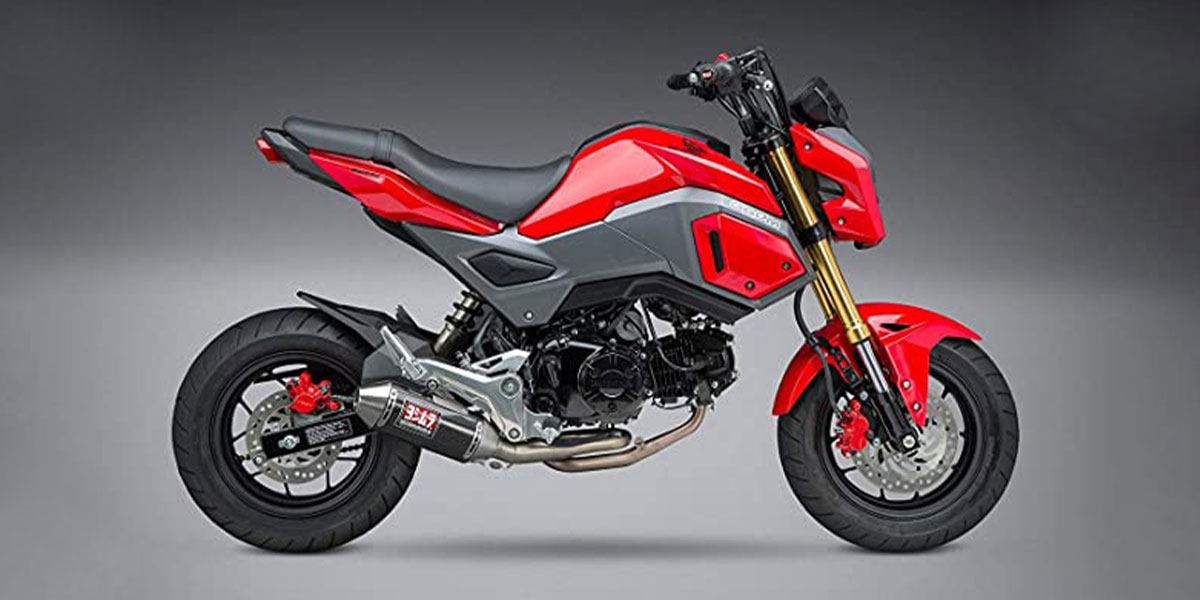 In the world of Japanese bikes, Yoshimura has long been one of the most popular brands out there, and their exhaust system for the Honda Grom is also very popular, however, it's also one of the more expensive options on this list.
If you're looking for cheaper options we have some listed below.
The Yoshimura system for the Honda Grom is constructed from stainless steel and features a carbon fiber canister with a stainless steel cap.
What's unique about the system is that it features a contemporary satin finish which gives it a unique look compared to other exhaust systems.
Another unique feature of this system is the exhaust loop that sits underneath the engine. This helps eliminate empty space which might be left by the normal exhaust system.
Functionally at this loop does basically nothing but it does give it a unique look.

#2 M4 Low Mount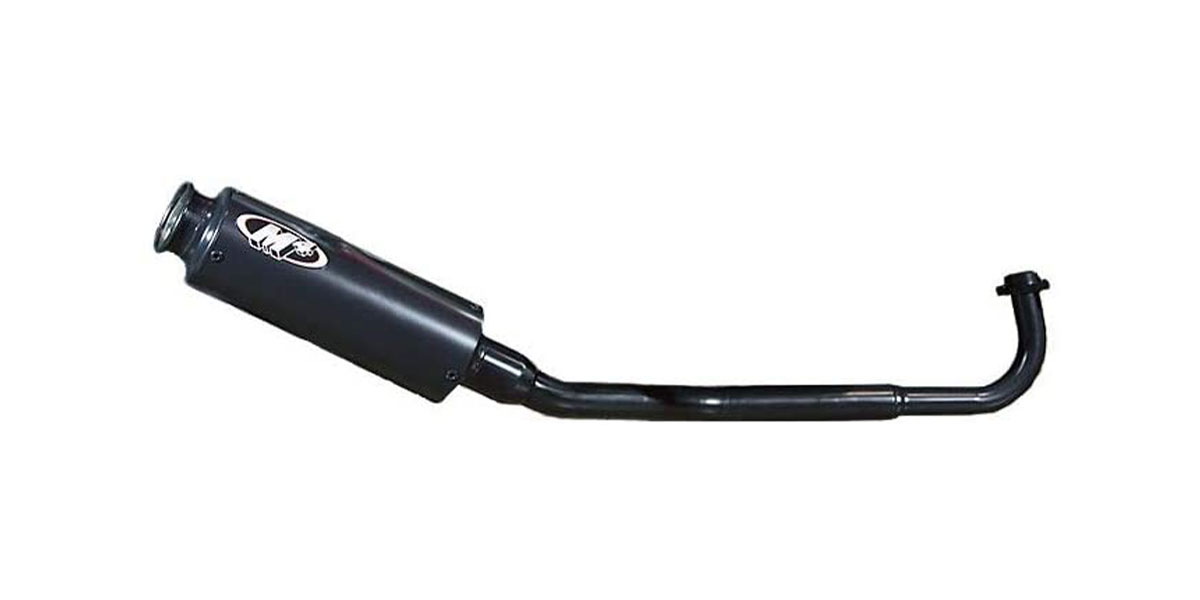 Another popular brand you'll see with Japanese bikes is M4. Compared to the Full Yoshimura system listed above, this system is more affordable, however, it doesn't have the same good looks. What makes this particular system so unique is the ceramic coated finish.
Ceramic coating is far superior to raw stainless steel and it offers much better thermals, but heat isn't much of an issue for the Grom. Unfortunately, the canister isn't nearly as sleek looking as some of the other options on this list, but if the ceramic coating is a must-have for you, then this is the best option.
As per M4's performance claims, you can expect gains up to 0.5hp with a 37% reduction in weight compared to stock!

#3 Coffman's Full Exhaust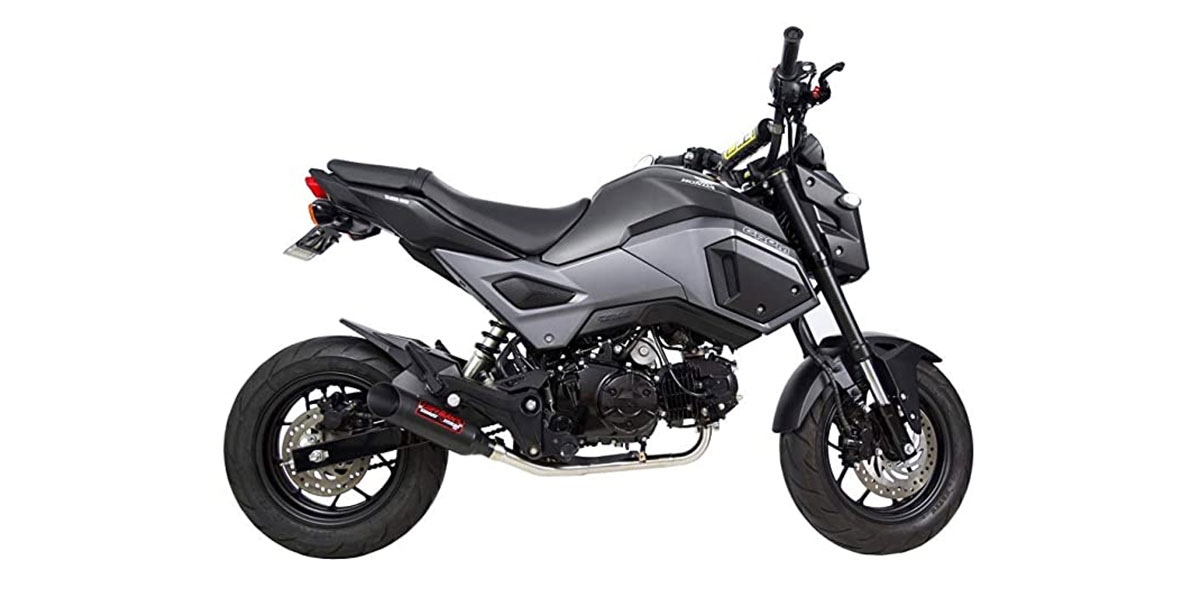 If you're looking to make your Grom look unique with a colored exhaust tip than the Coffman's system is a great choice for you. Functionally, this system is very similar to the M4 listed above, but with a much a better canister shape and design.
The big feature of the Coffman's system is the tip, which is available in Black, Blue, Gold, Green, Polished, or Red. All the tubing is constructed from stainless steel and CNC welded for the best possible fit and finish.
The canister is pretty small, so the total exhaust volume is fairly loud, however, a ceramic-coated baffle is included to help regulate the sound level.

#4 ZoOM Full System Low Mount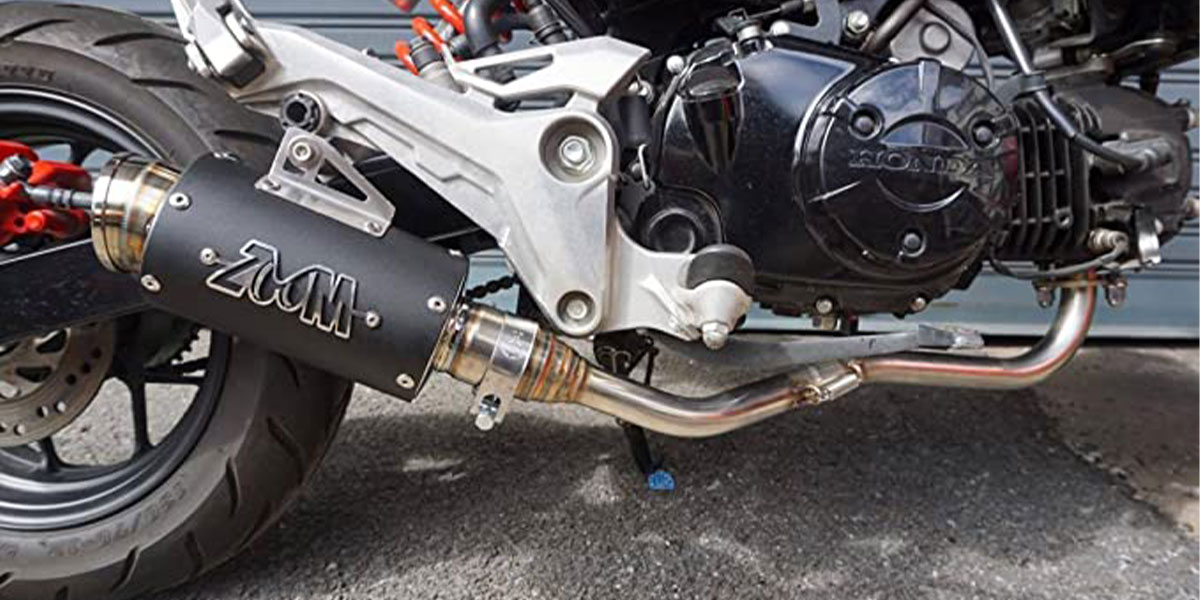 As an even more affordable option, we recommend the ZoOM exhaust, which is one of the cheapest name-brand systems you can get for the Grom. A unique design of this system is the multi-piece construction, where the main pipe is separated and the muffler isn't welded to the main pipe.
Functionally, the multi-piece design doesn't do anything for performance, but it helps make this system more affordable.
The canister is finished in a black sandblasting which gives it a great satin style look. The tubing is constructed from 304 stainless steel and the muffler features unique pie-cut transitions which is something you typically only see on high-performance turbo cars.
As one of the cheapest systems on this list, it's pretty hard to beat!

#5 Bassani Hi Exit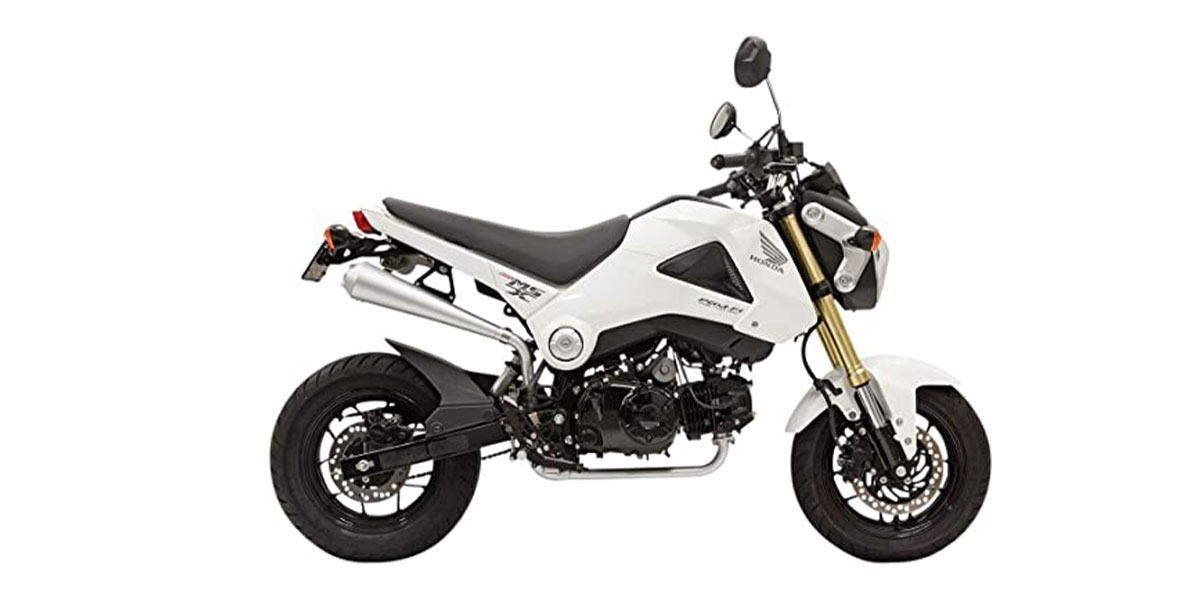 All of the systems we've featured so far use a low exit design, meaning the exhaust tip is mounted very low and close to the rider's footpeg. Of course, not everyone is a fan of this design and many people prefer the more traditional high-exit design.
If you're one of the high-exit fans, we recommend the Bassani Hi-Exit system. Bassani is best known for their automotive products, however, their Grom system is very constructed.
The system is fully constructed from stainless steel like many of the other systems on this list, but this one features unique stepped headers that transition from 1-1/8in to 1-1/4in.
The stainless steel megaphone muffler features a removable baffle if you're looking for more sound and the end cap is constructed from aluminum. Unfortunately, this system doesn't work with facelifted Groms.

#6 iStunt Full System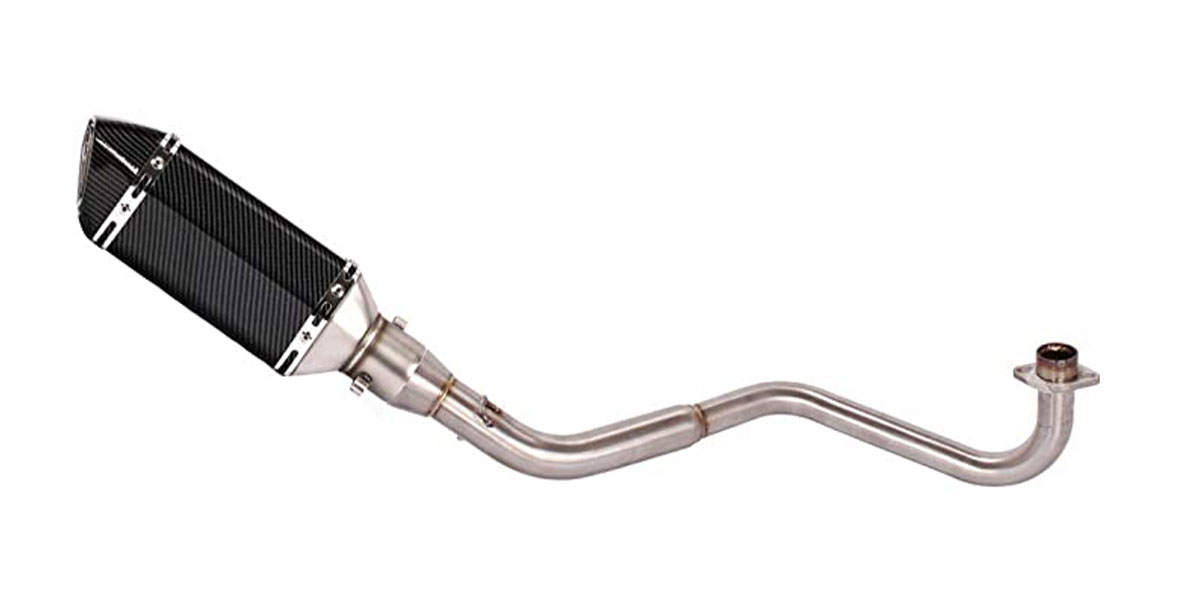 Last but certainly not least is the ISTUNT full system. The quality and performance of this system are questionable, but if you're just looking for an ultra-affordable way to give your Grom the loud exhaust you've always wanted then this is the best choice for you.
Priced at a fraction of the cost of many of the systems on this list, the ISTUNT full system is the cheapest option on the market by far.
The system is constructed from stainless steel and it appears to feature robotic welding. The muffler has a "carbon fiber look" but it's unclear whether it uses real carbon fiber.
Surprisingly, this system features a removal baffle if you want to make your Grom even louder, which is a great feature for this cheap!

Do I Need to Tune my Grom?
With many bikes, tuning isn't necessary when installing an aftermarket exhaust, but it's typically highly recommended. In the case of the Grom, it's not necessary to install a tune with an aftermarket exhaust.
Realistically, you're going to find any big power gains from tuning a Grom since it's only a 125cc engine.
With an aftermarket exhaust, there is a possibility of your Grom running slightly leaner air/fuel ratios because of the increased flow. Running lean typically isn't an issue unless it's very extreme or you're pushing your Grom to the limits for extended periods, such as during a track day.
If you have the money, tuning is a great option (as well as an aftermarket cam) but it's not mandatory.