When Honda brought the Grom to the US, they had no idea how large the niche was that they were about to uncover. The Grom wasn't just a small bike to appeal to people who would otherwise buy a scooter, it's a small bike that appealed to everyone including sportbike and cruiser owners.
Since the Grom hit the USA it has developed a massive cult following and it seems like nearly every biker wants to own one.
Because the Grom is cheap and slow, it's the perfect platform for modifications. Naturally, the aftermarket for the Grom exploded and nearly any modification you want is now available. To help you find the perfect mods for your Grom we've created this short guide!
#1 Exhaust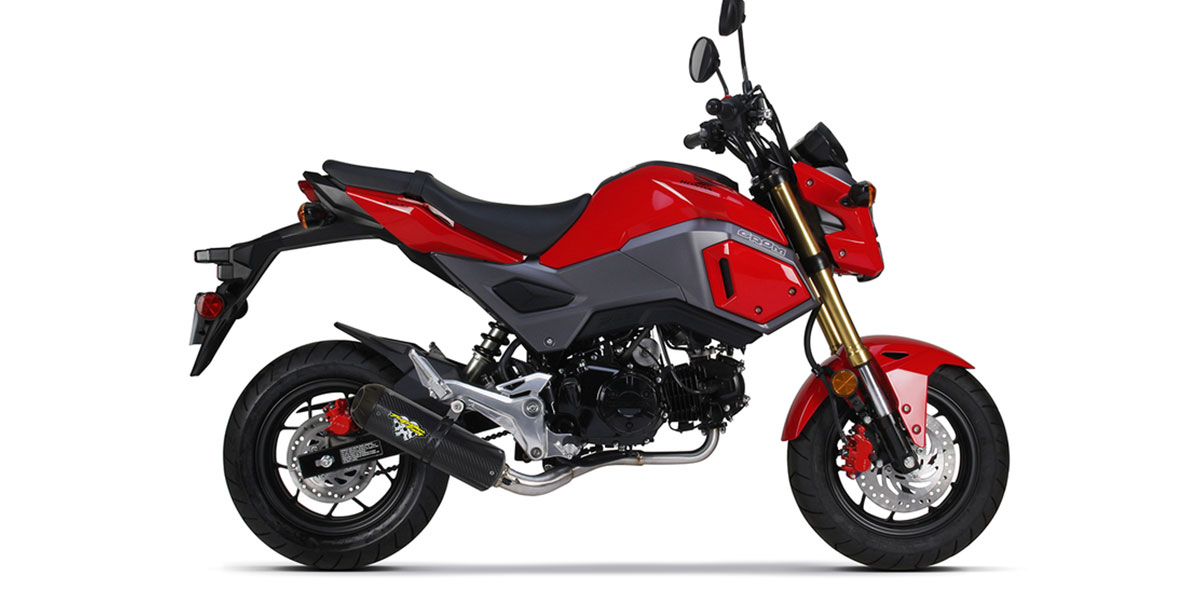 By the far, the most popular and best modification for any Grom is an aftermarket exhaust. The biggest problem the Grom faces is being hard to notice by drivers because of its tiny size and super quiet OEM exhaust.
Obviously, you're not going to change the size of your Grom, but you can make it louder to make yourself more noticeable. If you're more noticeable, you're less likely to be run over.
Aside from safety, you're going to want to an aftermarket exhaust to give your Grom a cool sound and slightly increase power. The largest gains you'll see from an aftermarket on a Grom will probably be less than 1hp, but that's still a decent increase for such a small bike.
An aftermarket exhaust will also weigh less, although the Grom is already extremely lightweight in stock form.
To help you find the perfect exhaust we created our Top 6 Best Grom Exhaust guide, but realistically most exhaust systems for the Grom are nearly identical. Just pick up something brand name and you'll be happy with the quality and performance!
#2 Bars & Mirrors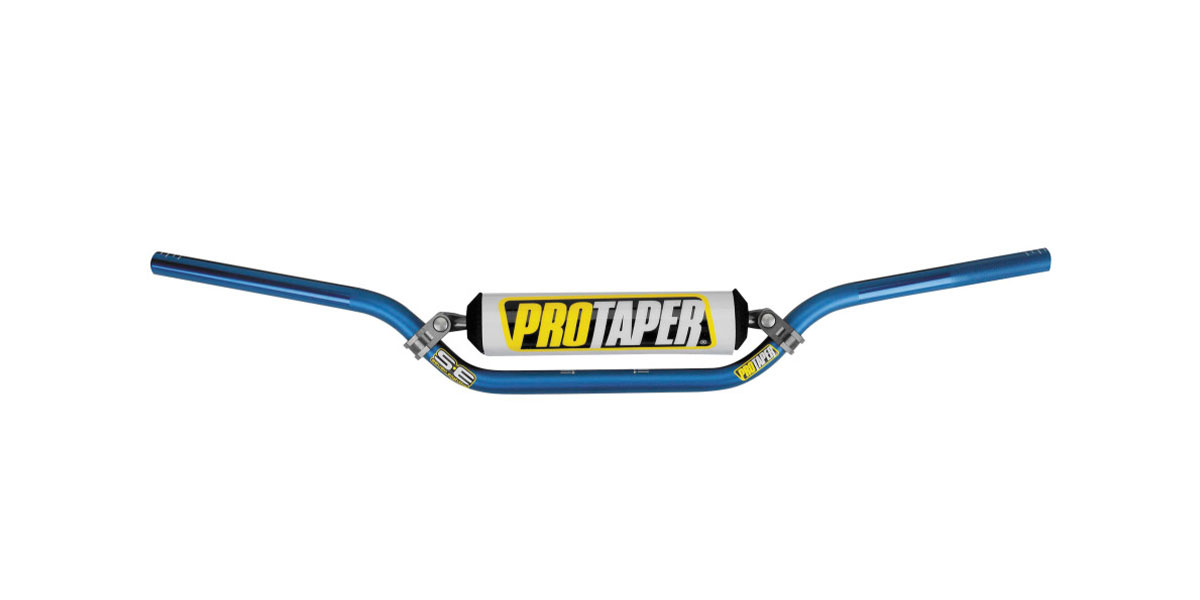 Honda set up the ergonomics of the Grom to be extremely comfortable, but that forced them to use strangely tall handlebars. Functionally, the OEM handlebars are totally fine and do their job perfectly, but they look absolutely ridiculous.
They look like some sort of tall Harley handlebars that were shrunk down to use on such a small bike.
With a set of aftermarket bars, not only are you getting rid of the funky looking OEM bars, but you're also giving yourself a slightly more aggressive riding position. With a bit more weight on the bars, it will feel a bit more confidence-inspiring going into turns.
The more aggressive riding position will also help you combat wind since you'll be leaned further forward.
The Grom uses 7/8″ handlebar thickness, so make sure to get the right size! We prefer ProTaper and it's a brand we've gone to with our previous motorcycles.
It's also worth upgrading to bar-end mirrors when you upgrade your handlebars since the OEM mirrors are an eyesore at best.
#3 Levers
One of the unfortunate design features you'll find on any bike, including the Grom, is the OEM levers are so long that when you drop your bike, they'll either bend or break. Unfortunately, all bikes get dropped or go down at some point.
This means you have two options: replace your levers before they get bent or after they get bent. Luckily, it's super easy to install aftermarket levers on a Grom.
With "shorty" levers, the total length of the lever is drastically shorter than the OEM levers. This means they won't bend or break when you drop your Grom because they're unlikely to come in contact with the ground.
Many shorty levers are also adjustable, making it much easier to get them at the perfect distance for your hand size! This is especially useful for riders with very small hands.
#4 Fender Eliminator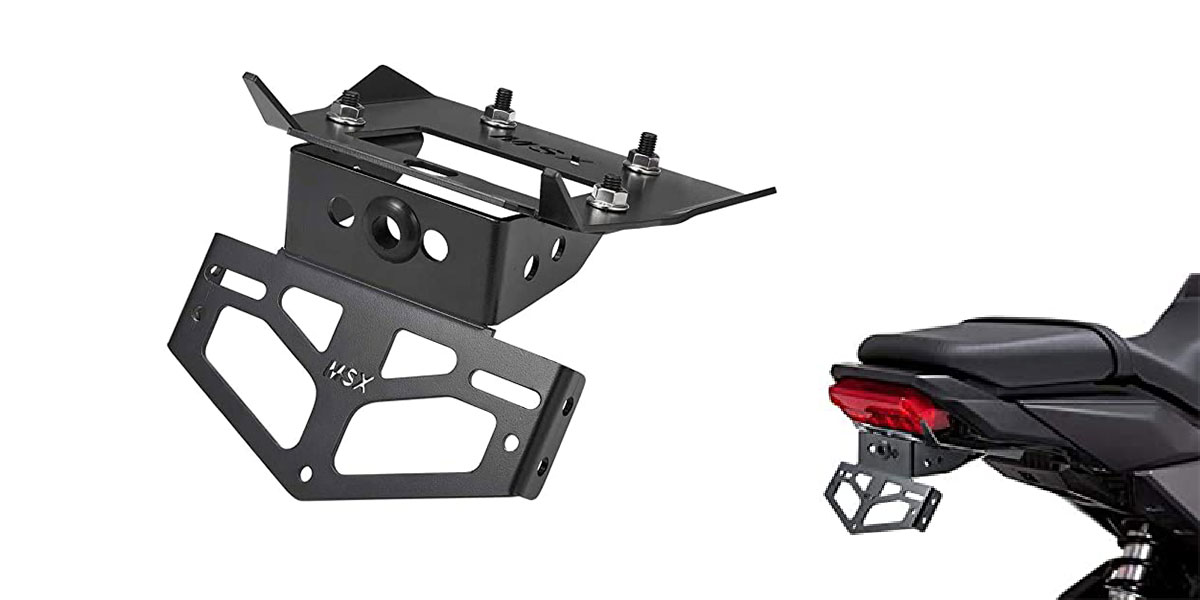 Another eyesore you'll find on all bikes including the Grom is the massive OEM rear fender. Of course, Honda has to install such a ridiculous looking fender for legal reasons, but in most places in the world, it's okay to use a much shorter rear fender or no rear fender at all.
The rear fender does protect the rider from rain which can shoot up off the rear tire, so keeping your plate back there is still useful for that purpose.
There are a few different options on the market for fender eliminators, but they all serve the same purpose.
For legality, you may want to look at fender eliminators which place the license plate below and behind the taillight, where it's easily visible. Fender eliminators which make the license plate harder to see can get you in legal trouble depending on where you live and how law enforcement feels that day.
#5 Stunt Cage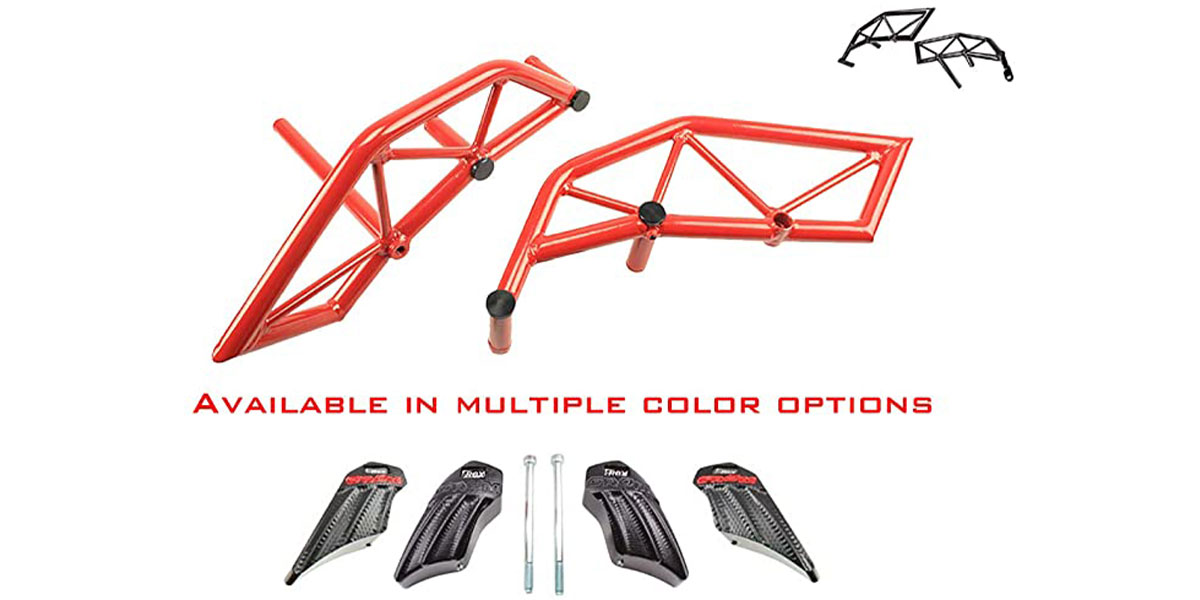 Protection is important! Groms are meant for hooning, jumping, etc. While hooning them is super fun, it's only a matter of time until you go down, drop your Grom, or loop out on a wheelie.
Before that happens, you should equip your Grom with protection, so when you do crash, the damage to your Grom is as minimal as possible.
cage is basically just metal tubing that mounts to your Grom and protects the plastics on it. Every cage is different and some have unique features. If you're not interested in a full cage, you can also invest in frame sliders that perform a similar function but may give you less overall protection than a cage will.
If you plan on hooning your Grom, a cage is a very good investment.
#6 Integrated Taillight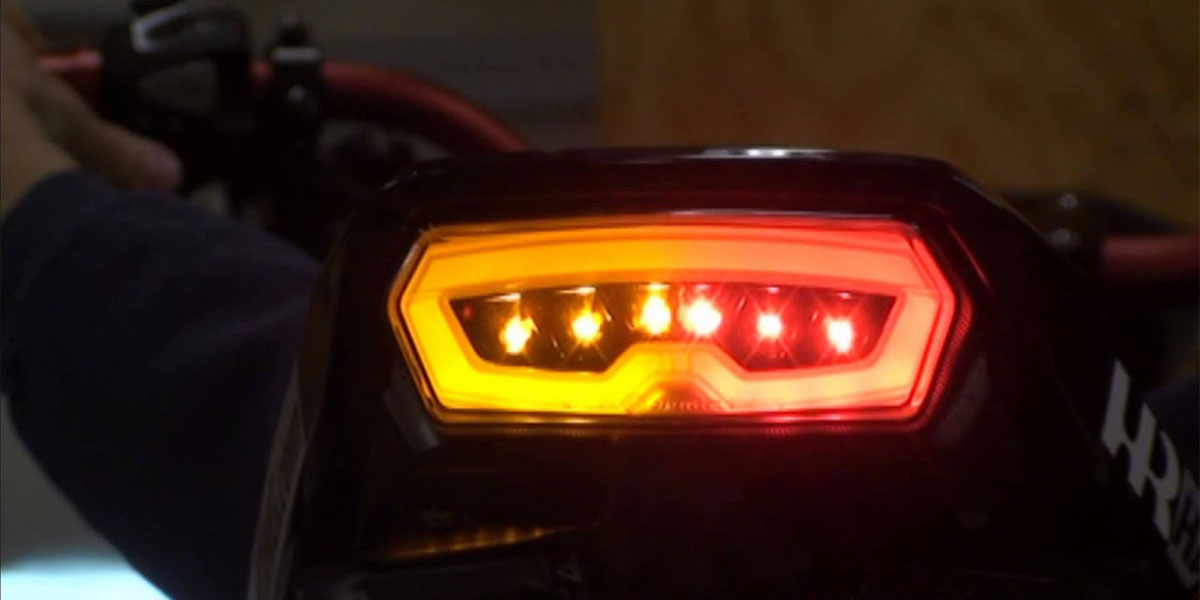 Last, but certainly, not least is an integrated taillight kit. This a must-have modification, especially if you install a fender eliminator.
The OEM turn signals on the Grom aren't particularly good looking and integrating them with the rear light gives the Grom a much more premium look. If you install an integrated taillight, it's also worth upgrading your front turn signals to something more low profile to match.
These kits would be completely eliminating the OEM turn signals in the rear and building into the taillight. With this kind of setup, the tail light, brake light, and turn signals are all held within the same light housing.
The design and look of the light are different for every manufacturer, but all integrated taillights are functionally identical and it's just up to you to decide which manufacturer's design you prefer the most.