Japanese cars are one of the favorite novelties of most car enthusiasts today. Most of us gearheads are usually into customizable JDM cars like the Lancer EVOs or Civics.
But what about those people who want the flair of luxury, customizability, and JDM DNA in one car? Does that exist? Of course! The Lexus IS350 is one of them, made by Toyota's luxury division.
Most people see the Lexus IS350 as the luxury car as it is. It's a little bit cheaper compared to most luxury cars available in the market today, yet it delivers the same lavish vibe that some car enthusiasts desire.
Unbeknownst to many, this car is somewhat famous for its openness to modification. Just like any other JDM car, the Lexus IS350 has its doors for aftermarket modifications, both performance, and cosmetic mods alike.
In these lists, we'll show you the five most important performance and cosmetic modifications that you can get for the Lexus IS350. We've taken a look at what people on the interwebs have and would want in their Lexus IS350, so you're guaranteed to have the most desired mods Lexus IS350 owners wish to.
Are you ready? Take a look!
Performance Mods
Making a car perform better step-by-step can be quite addictive. Let's start that addiction with this list of the best performance mods to prioritize for your Lexus IS350.
#1 Intakes Systems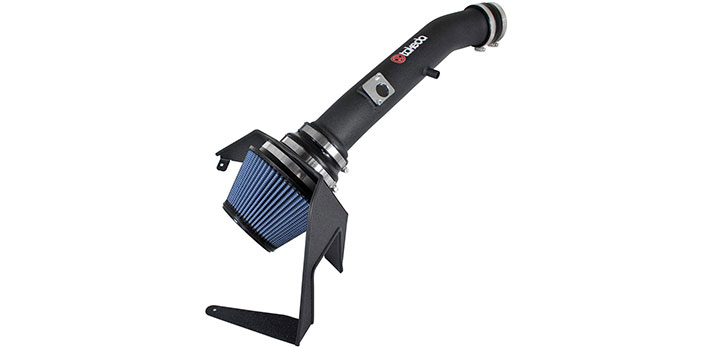 Intakes are among the most critical performance mods that you need if you want to make your Lexus IS350 a little bit more robust.
Of course, you can add in a turbocharger or a supercharger if you're going to (or you can just get the IS350 Sport), but if you don't want to spend a crap ton of money to get too much power, then we suggest an aftermarket mod like a cold-air intake system.
Benefits of Having an Aftermarket Air Intake System
Better fuel economy
Low maintenance (Reusable innovative air filters)
A significant increase in horsepower and torque output
Besides these benefits, you can have an excellent sound under the hood, especially on high RPMs. If you're looking for some high-quality intakes for your Lexus IS350, check out the Takeda Stage-2 cold air intake system from aFe Power.
#2 Exhausts Systems
Another part of making your Lexus IS350 more powerful is looking out for aftermarket exhaust systems. There are usually two options for exhaust systems: cat-back or axle-back.
They have their differences, but both of them can make your Lexus IS350 more powerful. And oh, did we mention that sweet deep, and aggressive tone that you'll have once this mod on?
You can either get loud-sounding exhausts or moderately sounding ones, depending on what you prefer.
Benefits of Having an Aftermarket Exhaust System:
Extra power
Aggressive exhaust tone
Improved fuel economy
Most manufacturers create their exhaust systems from high-quality materials like high-grade stainless steel and are often integrated with different tip materials like titanium and aluminum
Come and check out the Invidia Q300 Cat-Back Exhaust System so you can have an idea of what a sound Lexus IS350 aftermarket exhaust system looks like.
#3 Lowering Options
Lowering a car can be a thrilling experience for a car enthusiast, let alone driving one. Fortunately, we have just the right mods for that.
When lowering a car's ride height, you have to ask yourself this: "Do I just want to lower my car to a set height, or do I want to lower my car depending on my preference?" If your choice is the first question, then it's a set of lowering springs for you.
Otherwise, it's a coilover kit that matches you.
Both lowering springs and coilovers are considered to be among Lexus IS350's best mods, but they gave their differences. The former lowers your car's ride height to a preset height, while the latter does the same thing, with other benefits included.
Benefits of Having Lowering Springs:
Improved handling
Lower center of gravity
Stiffer ride
Benefits of Having Coilovers:
Mostly all of lowering springs' benefits
Adjustability over ride height and stiffness
Prestige
For you to have an idea on what an excellent lowering springs and coilover kit looks like, check out H&R Sport Springs and KW Coilover Kit Variant 3
#4 Brake Kits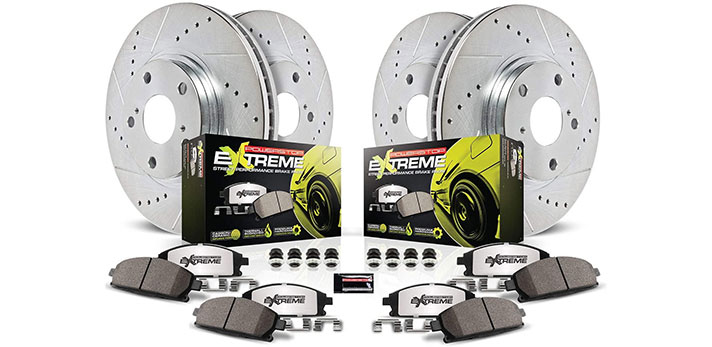 Replacing a car's brake pads and rotors are one of the most underrated actions a gearhead can do to make their car better in many ways. The results of getting aftermarket brake pads may not be as apparent as the results of installing an intake or exhaust system, but it keeps you and your passengers away from harm's reach.
Statistics show that 300,000 cars crash due to brake failures, so getting a new brake kit can be a literal lifesaver.
Benefits of Having Aftermarket Brake Kits:
It comes in kits (brake pads, rotors, etc.)
Improved safety
Higher quality and variety of brake pads
The best type of brakes for the IS350 is performance brake kits, and this one is just the thing: Power Stop Street Warrior Brake Kit.
#5 Sway Bars
If you're a big fan of the track and you want to use your Lexus IS350 for it, then you need something to stabilize the car; something like sway bars. Sway bars are one of the best mods for Lexus IS350, primarily if you use the vehicle for demanding activities like track racing and autocross duty.
Sway bars help the car control itself by reducing its body roll when encountered with sharp turns and road irregularities.
Benefits of Having Sway Bars:
Reduce the car's body-roll
Influences overall handling of the car
Keeps the car stabilized
Whiteline has some heavy-duty sway bars for your IS350. Do check them out.
Cosmetic Mods
The style and the aesthetic appeal of a car draw the line between having a jaw-dropping stare-worthy car and a just-looked-once car type. Here are some cosmetic mods that you should get first to add a bit of flair to your Lexus IS350.
#1 Tinted Windows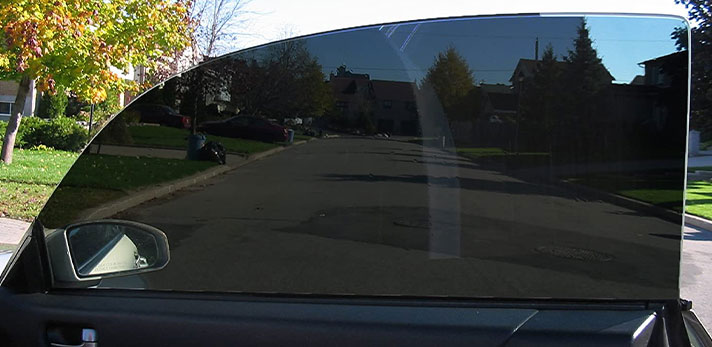 Having a Lexus IS350 as a luxury car is indeed a treat and a sight for anyone's sore eyes. Do you know what's one of the factors that makes something luxurious? Privacy. Just like most cars that come out of the dealership, the stock windows of a Lexus IS350 are pretty clear from the outside.
What makes tinted windows among the best mods for Lexus IS350 is its capability of driving the car to look more and feel more private, hence luxurious.
Benefits of Having Tinted Windows:
Aesthetics
Privacy
Protection
Comfort
If you're keen on making your Lexus IS350 more private, you should check out Wimax Professional Window Tinting Films. They've got pretty good reviews!
#2 Spoilers
There is something about cars with a spoiler that gives off that relaxed vibe. Maybe it's because it makes the car look sportier, or perhaps because it tells everybody that the owner of a vehicle is an aficionado.
Regardless of the reasons, spoilers are a great addition to any JDM car, especially the Lexus IS350.
Benefits of Having Car Spoilers:
Improved aerodynamics
Improved fuel economy
Better traction
Enhanced braking stability.
A great example of a nice car spoiler for the Lexus IS350 is Cuztom Tuning's AR Style Carbon Fiber spoiler wings. It's easy to install and will make your Lexus IS350 look sportier.
#3 Head Unit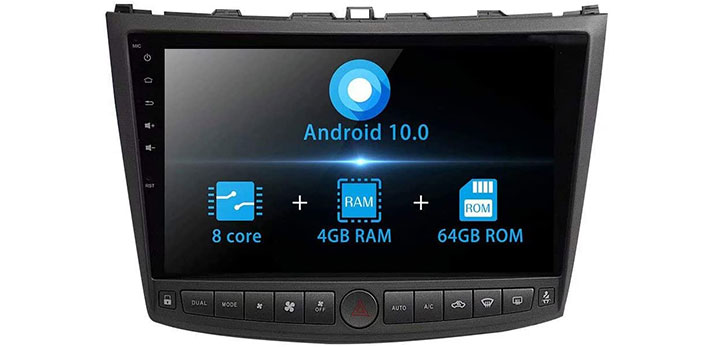 One of the major complaints of Lexus IS350 owners (especially the latest ones) is its head unit: it needs an update. If there's one sin that Lexus committed, it'll be putting in an outdated head unit in its latest batches of cars.
Its update is way long overdue! If you're annoyed by the current head unit of your Lexus IS350, you can change it, especially if you have Lexus IS350 from 2009 and up.
Benefits of Replacing the Existing Head Unit:
Better interface response time
Easy to install
Offers other cool options like GPS, WIFI, Bluetooth, and radio
Here's a much-loved 10.1" head unit from TopNavi. Go ahead and give it a look.
#4 Seat Covers
Do you want your car's interior to have a newly improved design and vibe? You can start by changing your seat covers. Car enthusiasts love to cover their car's OEM seats, and frankly, you should do the same.
Although the Lexus IS350's stock seats look nice and all, you can get better-looking ones on the market. And the best thing about replacing your car's seat covers is you get to choose whatever style you want: race, luxury, utility, leather – whatever floats your boat.
Benefits of Car Seat Covers:
Protection
Aesthetic appeal
Customizability
Here's a nice-looking set of car seat covers for your Lexus IS350 from the FH Group Store. It's got high-grade faux leather seat cushions that fit well on the seats.
There's no doubt that the Lexus IS350 is an excellent performance luxury car. By adding a few bits of aftermarket parts, both performance and cosmetic mods, you can even level up your Lexus IS350 higher than what you initially imagined.
Both performance and cosmetic mods can make your car look more powerful, stable, and aesthetically appealing – all at the same time.