What if I told you that 2-speed differentials work? Although modern consumer trucks don't use the 2-speed differential, older medium-duty, and heavy-duty trucks do. We know many of us don't really know how a 2-speed differential works, so we're going to explain it to you.
We're going to talk about how they work, and why you would even want one. We know understanding something like this can be difficult, so we've including a YouTube video down below to help explain it.
Benefits of a 2-Speed Axle
If you need to haul a heavy load you'll want a really low gear rear end. This will multiply the torque, effectively making the wheel torque much greater, allowing you to tow heavier loads.
However, a low gear limits your cruising speed, as it makes your engine RPM high. The only way to have both tons of pulling power and good cruising speeds is to have a 2-speed differential.
In modern trucks, a 2-speed rear end isn't really necessary, which is why they are far less common now. Back in the day trucks didn't have that much horsepower and torque.
Today in 2017 you can buy a 3/4 ton truck with 910 lb-ft of torque right off the showroom floor. With 910 lb-ft you don't need nearly as much torque multiplication, allowing for a lower differential gear ratio.
How it Works
In a standard differential, the wheels are the ring gear rotate at the exact same speed. The gear ratio is determined by the pinion gear and ring gear relationship. If you want more pulling power you need a lower gear ratio pinion and ring gear installed.
If you want more cruising speed to need a higher gear ratio.
The 2-speed axle works on the same basic principles, but with an added planetary gear set inside the ring gear. In high range, the planetary gears don't do anything and the differential works totally normal.
This works by sliding a clutch gear meshing with the high range clutch plate.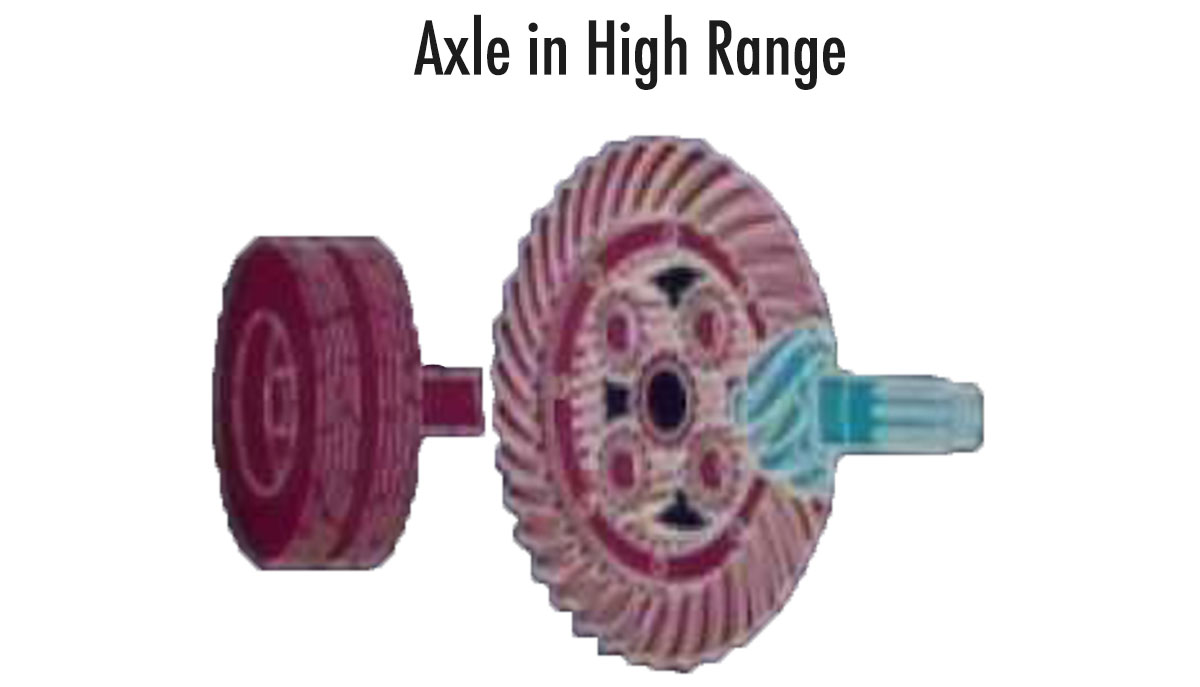 When the low range is selected, the sliding clutch gear engages with the low range clutch plate. This disengages the high-speed clutch plate and makes the ring gear completely stationary. This forces the planetary gears to rotate on the inner ring gear teeth.
The planetary gears rotate on the clutch gear at 1/3 of the ring gear speed. This happens because of the number of teeth on the planetary gears in relation to the number of teeth on the inner ring gear. This drives the wheels the 1/3 slower than high range. This adds torque multiplication which increases pulling power.
High range wheel speed = Ring gear speed.
Low range wheel speed = Planetary speed which is 1/3 less than ring gear speed.
Most of the time this is all activated by a diaphragm which relies on engine vacuum. There is typically a push/pull button on the shifter. Up is for high gear, down is for low gear.
Summary
Although 2-speed differentials aren't really necessary any more thanks to modern engines, they're pretty cool. Trucks that pull massive loads (50k lbs+) might still use the 2-speed axle since they still need a lot of torque multiplication.
We hope this short article helped explain how the 2-speed diff works. Check out the video below which explains it in more detail.