If you own a trailer, the first important accessory you should get is a high-quality trailer hitch lock. A little investment in a trailer lock might potentially save you from a lot of stress and anguish in the future. After all, purchasing a trailer lock will be less expensive than purchasing a brand-new trailer.
There are various types of trailer hitch locks available; we'll examine the most well-liked, bestselling, and cost-efficient options. We'll list here what to look for when purchasing one and how to pick the best one for your needs.
#1 AMPLOCK Trailer Coupler Lock (U-BRP2516)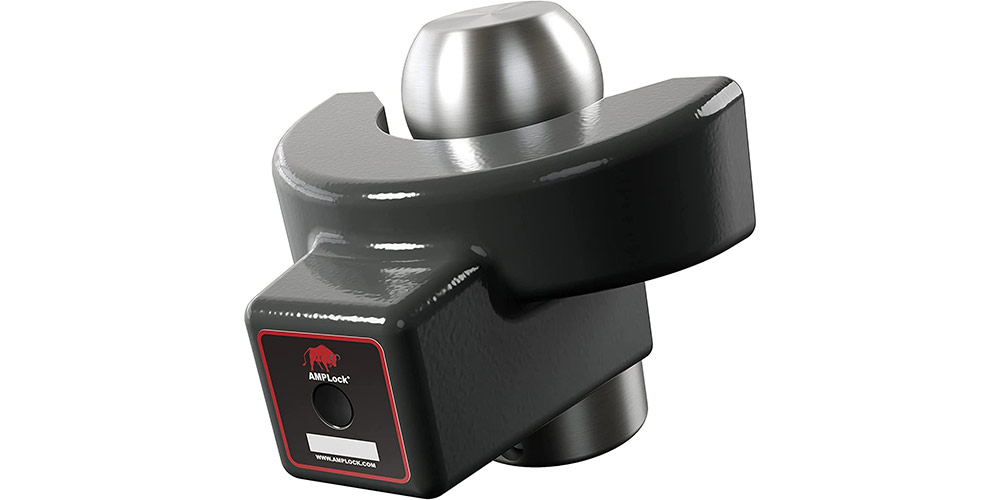 Brand: AMPLOCK
This coupler lock from AMPLOCK is made to fit particular couplers with trailer balls measuring 2-15/16 inches. It has a two-step locking mechanism that is patented. The cylinder lock's location makes it difficult for criminals to get access, while the swivel design helps limit vehicle traction when locked.
It is a strong lock made of cast iron and stainless steel that can withstand being cut with a torch and frozen with liquid nitrogen. With a push-and-lock cylinder lock that is simple to use, you can swiftly lock up your trailer so that you can go on your way.
#2 Trimax UMAX100 Premium Universal Solid Hardened Steel Trailer Lock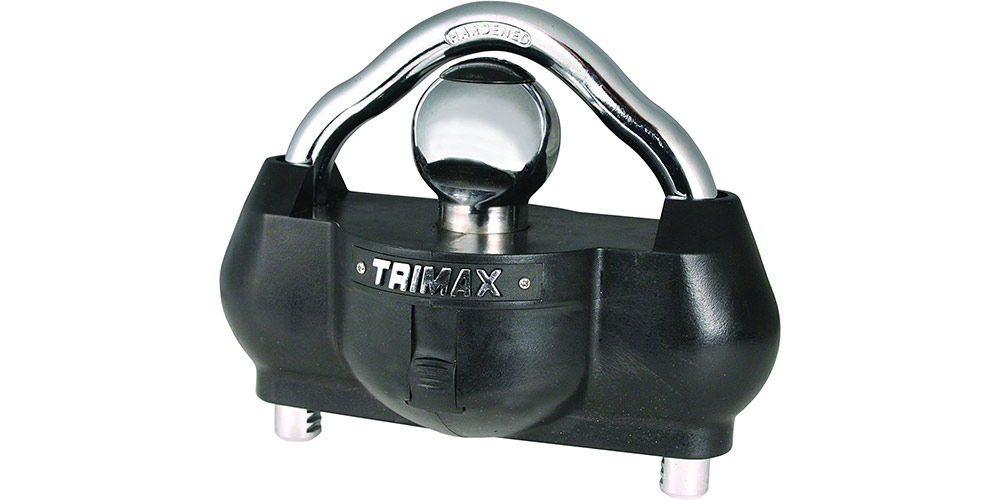 Brand:  Trimax
Trimax's UMAX100 universal coupler lock is a stronger-duty trailer lock. This hitch lock has a 9/16-inch shackle and is made of solid hardened steel. It is designed to suit most couplers ranging in size from 1-7/8 to 2-5/16 inches and features a ballistic grade nylon housing that can resist hammer strikes while also protecting against harsh weather conditions.
The nylon housing also has a keyhole cover to keep dirt and grime out. A type A key, a spring-loaded, seven-pin high-security key, is used with this coupler lock.
#3 Trimax Premium Key Receiver Lock (T-3BLACK)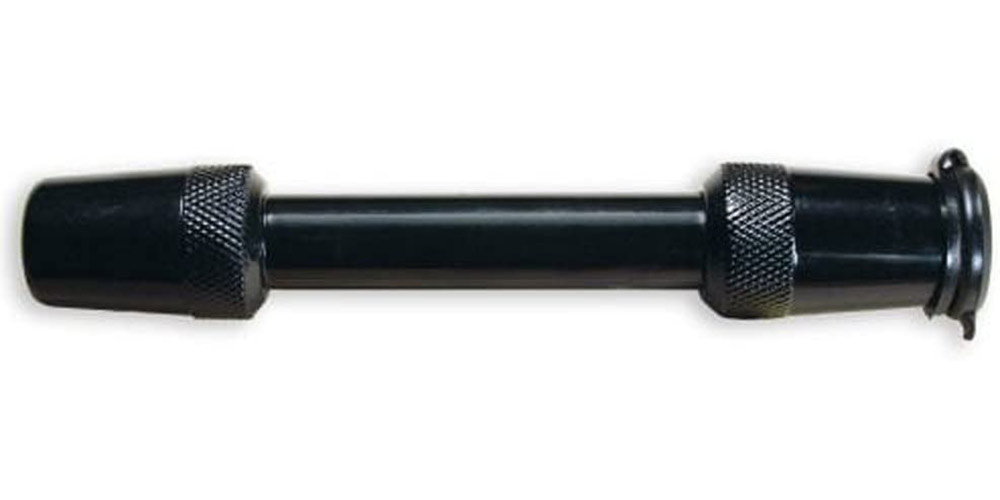 Brand: Trimax 
Trimax's high-end key receiver lock is made of forged, hardened steel of the highest quality. To help keep out dirt and corrosion, this product has a tough black epoxy powder coat, an O-ring seal, and a watertight cap. The head can be locked and unlocked with just a quarter turn.
The 5/8-inch pin is compatible with all Class III, IV, and V receiver hitches and has a span of up to 2.75 inches. This is a type A key, which means it's a spring-loaded, seven-pin high-security key. 
#4 Master Lock Receiver Lock (2866DATSC)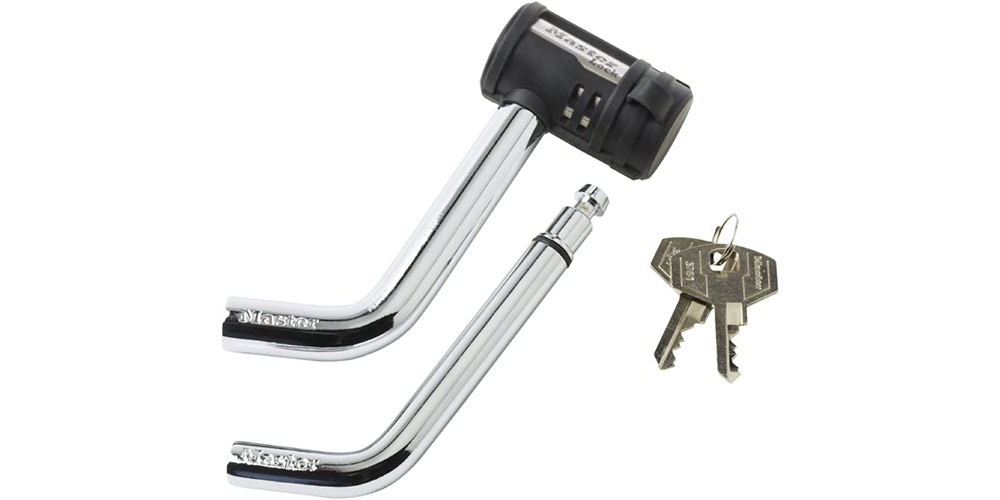 Brand: Master Lock
This receiver lock is designed to fit 1/2-inch and 5/8-inch receivers. The Class I/II 3,500-pound load rating of the 1/2-inch pin is higher. The receiver pin's usable length is 2.75 inches.
It has a handy push-to-lock mechanism, so all you have to do to unlock it is press the lock body against the pin. Its strong construction includes a weatherproof seal and a watertight cover that serve to protect from moisture and debris. The four-pin cylinder resists lock picking, and the keyway is made of brass to be corrosion-resistant.
#5 Cocoweb C-Lock Heavy Duty Locking Hitch Pin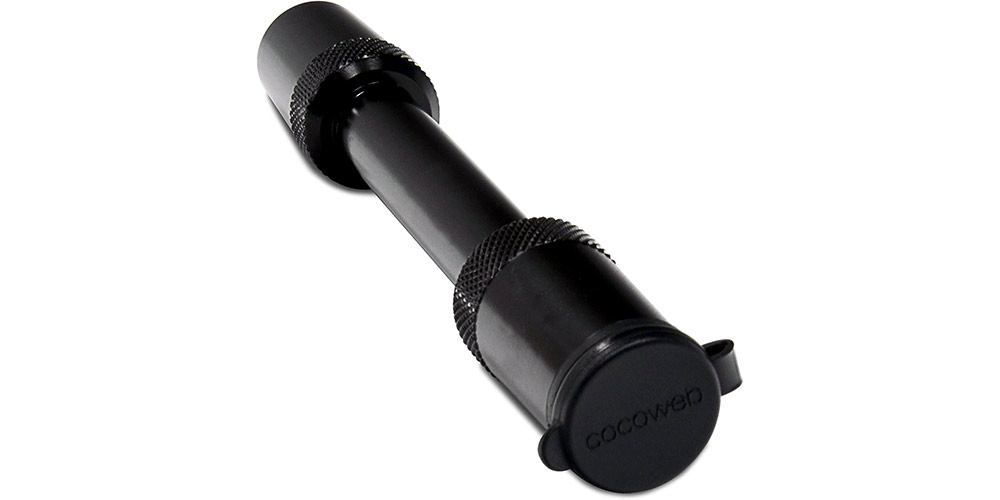 Brand: Cocoweb
Cocoweb's C-Lock heavy strength hitch pin lock is available in 1/2- and 5/8-inch sizes. This locking hitch pin features a standard design with a weatherproof cap that shields the keyhole from moisture and dirt while also preventing rust on the lock.
The pin is designed to fit Class I, II, III, and IV hitches with a maximum outer width of 2.75 inches. The solid steel lock is six inches long and includes a barbell locking mechanism to make the lock fit more tightly and securely.
#6 Reese Towpower Universal Coupler Lock (72783)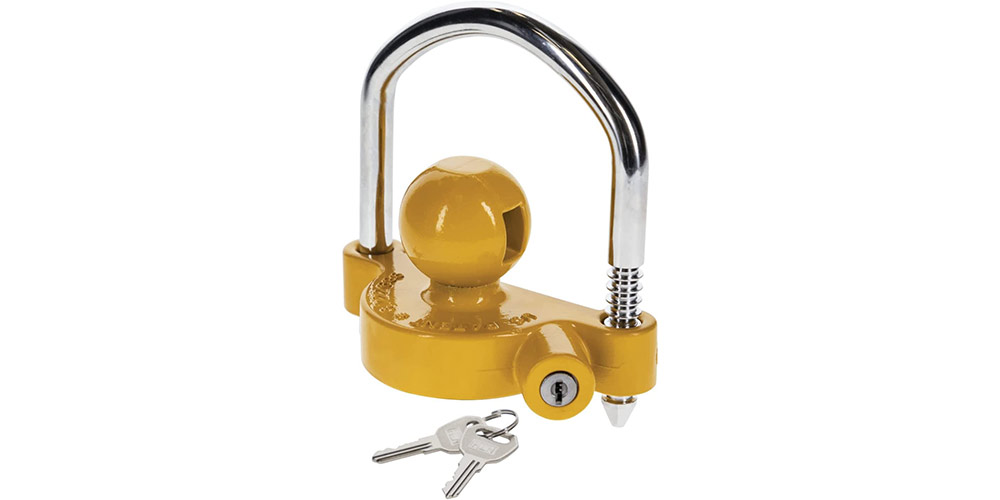 Brand: Reese
A universal coupler lock with dimensions of 9 x 9 x 3. It is made with an aluminum body and a heavy-duty steel lock bar, and it has a ratchet design with 11 locking positions that make it universally fit. It works with couplers that measure 2-5/16, 2, and 1-7/8 inches. The superior lock is resistant to picking, prying, and drill-outs, while the long-lasting bright yellow finish serves as a theft deterrent.
#7 Master Lock Trailer Lock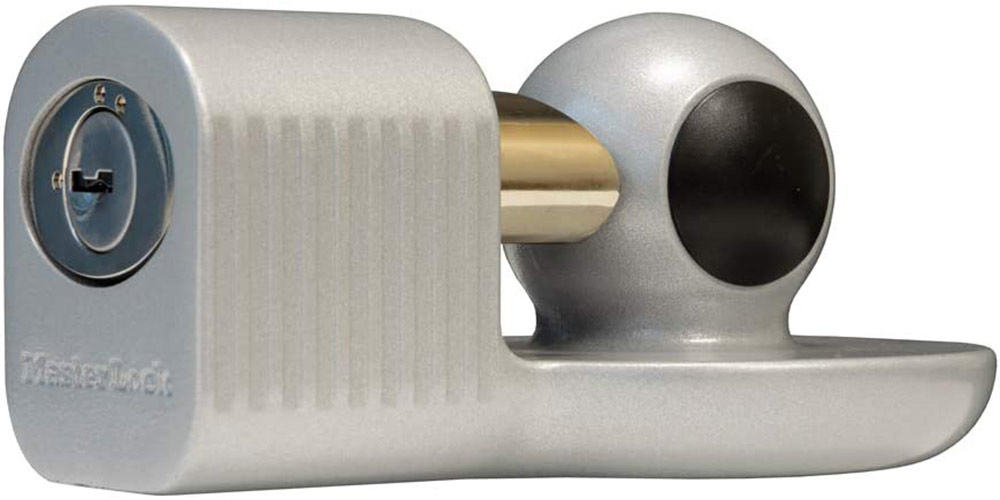 Brand: Master Lock
This trailer lock has a size range of 1 7/8 to 2 5/16 inches. It has two keys that give resistance to picking and prying, an advanced corrosion-resistant zinc mechanism.
This trailer lock is a solid, heavy-duty product that is well-built and durable. It's one of the hardest locks to pick if a potential thief doesn't have access to a key.
#8 Trimax UMAX50 Premium Die-Cast Dual Purpose Coupler Lock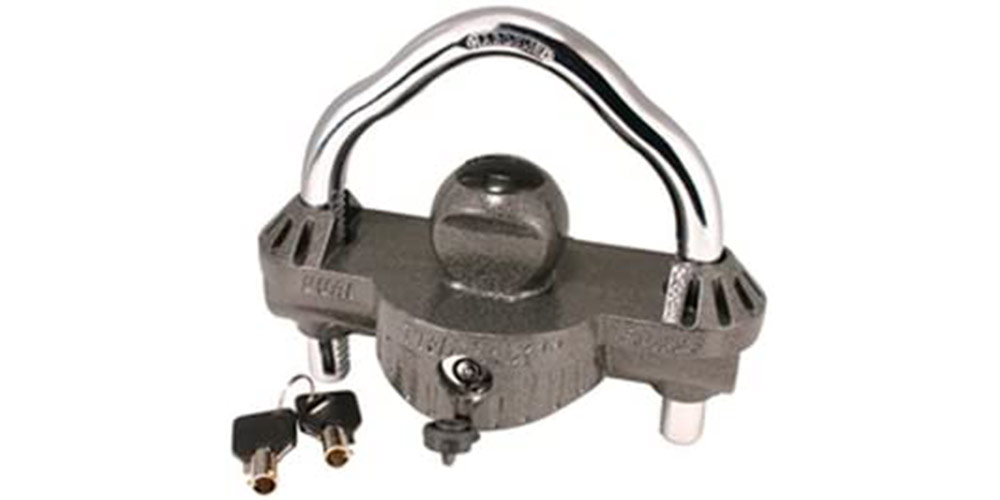 Brand: Trimax 
The "one size fits all" design has a superior die-cast coupler lock with a dual ratchet lock system. The unique design offers a rust-proof hammer tone epoxy finish and 360 degrees of hardened steel protection. Features a keyhole cover that slides up to keep out dirt and filth and is compatible with couplers that measure 1-7/8, 2, and 2-5/15 inches.
This trailer lock utilizes a Type A seven-pin high-security key that is spring-loaded to prevent attempted drill-outs. This product is a little more costly than some of the competitors; it is fully guaranteed for life.
#9 Tow Ready GorillaGuard Coupler Lock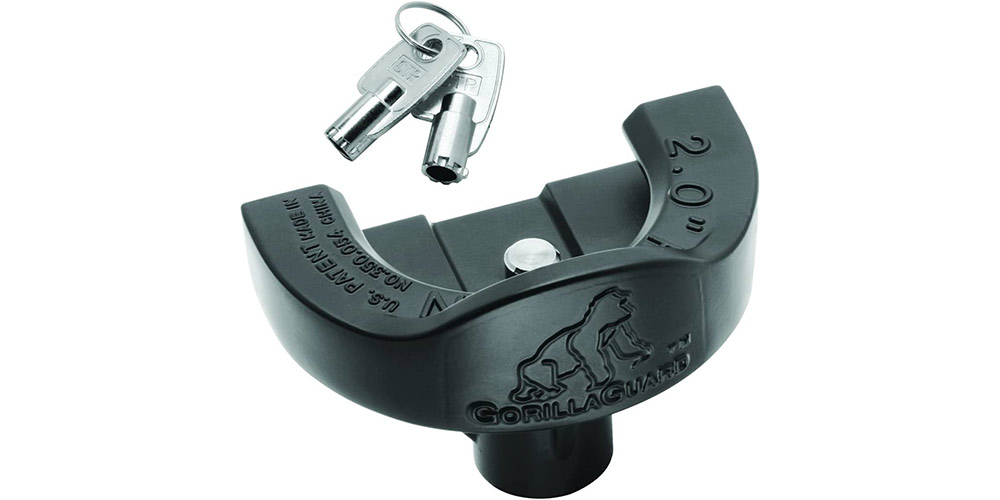 Brand: Tow Ready
Consider the Tow Ready GorillaGuard coupler as a less expensive option. This product fits the two-inch couplers and is made to protect the lock from tampering tools. The diameter of the coupler width must be 3-13/16 inches or less for this coupler to function, and the coupler lip's height must not be greater than 5/16 inches.
This is a surround lock that is keyed differently, so you don't have to worry about a thief having the same key. It is intended to safeguard unattended trailers, but it is also tow ready and simple to install without the use of any tools.
#10 Proven Industries Trailer Hitch Lock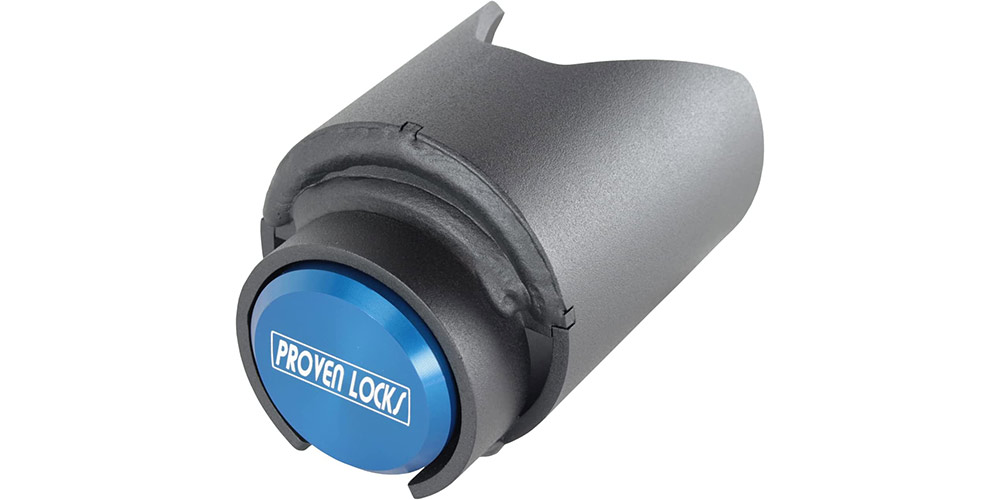 Brand: Proven Industries
They have a variety of types in 2- and 2-5/16-hitch sizes. It is a heavy-duty trailer lock that fits a few 2-inch trailer couplers and is designed to keep your trailer secure—constructed from steel that has been hardened for improved security. Being among the best-rated trailer hitch locks available in the market today.