Are you looking to get into the off road "scene"? But, you have never owned an off road truck? There are a few things you must consider when deciding what you want out of your off road truck.
Do you just want to go camping? Do you want to go trail riding? Rock crawling? What about desert prerunning? Here's what you need to look for in an off-road truck:
Price: If you're just getting into the off road lifestyle, you probably don't want to break the bank. Picking up something cheap to wheel on the weekends is ideal.
Durability: You want something that is tough, and can survive harsh conditions and treatment.
Size: You obviously don't want to wheel a school bus, but maybe a Wrangler is to small for you. Small off road rigs like the Wrangler don't allow you to bring many friends and/or gear. Big off road rigs like the Chevy Suburban can't easily fit on many trails.
Articulation: Depending on the type of wheeling you'd like to do, articulation may be important. If you just want to do simple trail riding or camping, then this is much less important.
Now that you have a good understanding of what you'll want, let's look at the candidates. Here are the best beginners off road trucks:
1. Jeep Cherokee
The Jeep XJ Cherokee was made from 1984 to 2001 and was the Predecessor to the original body-on-frame SJ Cherokee. The XJ Cherokee was unlike the SJ Cherokee; it was small, it didn't have a standard frame, and didn't come with a V8.
Robert Cumberford, from Automobile Magazine said: "Great designs never grow old, a truth no better confirmed than by designer Dick Teague's masterpiece, the Jeep Cherokee. Possibly the best SUV shape of all time, it is the paradigmatic model to which other designers have since aspired."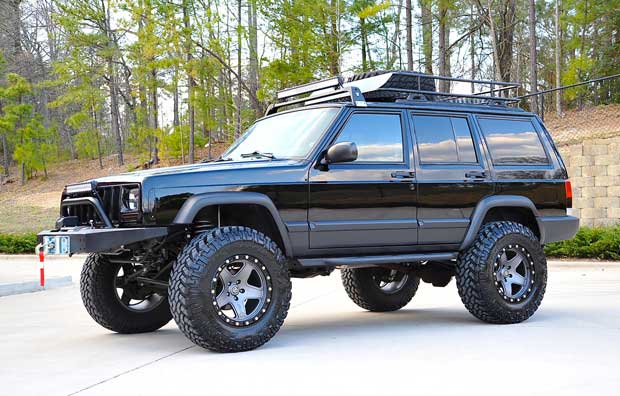 Generally speaking, most XJ Cherokees are four door, 4.0L inline 6, and 4WD. Which is perfect, 4 doors to more easily hold gear and people. The 4.0L is notoriously bullet proof, and the 4WD system is great for the trails. Since the XJ Cherokee is unibody and 4 link suspension up front, they articulate very well and ride very smooth.
Since the XJ Cherokee was made for such a long period of time, they are everywhere and dirt cheap too! With so many of them around, a huge amount of off road companies started making aftermarket parts for them, making parts dirt cheap too!
Prices for the XJ Cherokee generally range from $1000 to $6500
Too see what a commonly modified XJ Cherokee looks like, check out Coles XJ Cherokee.
2. Chevrolet K5 Blazer
The Chevy Blazer/GMC Jimmy was made from 1969 to 1994 and was made to compete with the Jeep CJ-5. Almost all Blazers came in 4WD with a 305CI (5.0L) or a 350CI (5.7L) small block chevy. The Chevy Blazer is a frame-on-body design, with leaf springs front and rear of the truck.
Being that they are frame-on-body, they are very heavy duty and very strong. Leaf springs front and rear allowed for cheap manufacturing and add stability while driving the truck.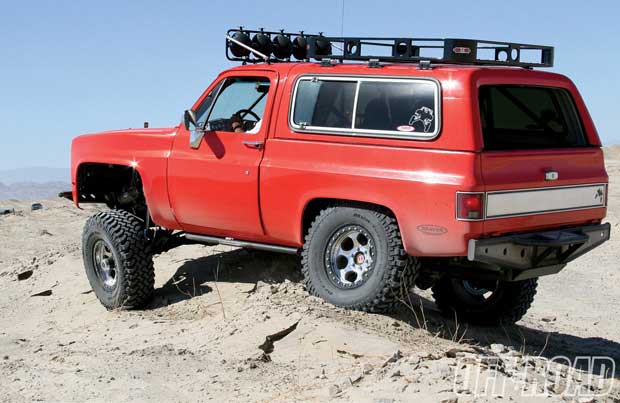 The leaf spring design doesn't articulate, or ride very well, but with some modifications can perform very well. Since Chevy trucks have been around for so long, it's impossible to run out of factory used or aftermarket parts.
Much like the Cherokee, the Chevy 350 is also a great engine,it makes plenty of power and torque and retains the old-school, but proven engine design.
The US Military used the K5 Blazer from 1983 to 1986, they named them "CUCV M1009". The M1009 came with a 6.2L Detroit Diesel and an Eaton Gov-Lock rear differential, and served many purposes in the US Military.
Prices for the Chevy Blazer range from $1000 to $5000
3. Ford Bronco
The Ford Bronco was made from 1966 to 1996, and was also built to compete with the Jeep CJ-5. The 302CI and the 351W were the most common engines that the Bronco came with. The Ford Bronco, like the Chevy Blazer, was also frame-on-body, making it heavy duty and strong.
The Bronco had a leaf spring suspension design front and rear until 1980. In 1980 Ford introduced the TTB (Twin Traction Beam), to allow for a smoother ride, on and off road. The TTB suspension system worked very well, it improved handling and ride comfort, but sacrificed wheel travel and is notoriously hard to align.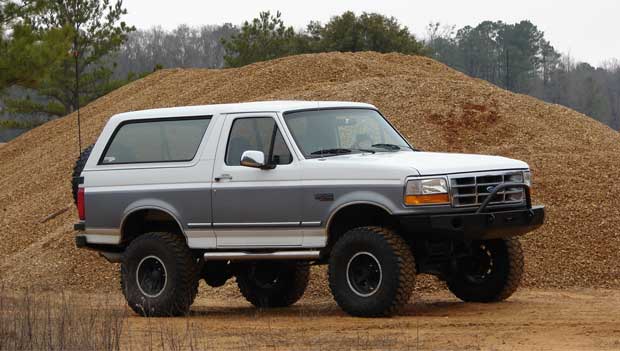 Both the Ford 302 (5.0L) and the 351 Windsor (5.7L) are great motors, making good power while still being reliable and cheap to maintain. Parts for the Bronco aren't nearly as abundant as the other two trucks, but parts are still easy available.
The TTB system, lead to the Twin I-Beam suspension, which is the same as TTB, except its not 4WD. I-Beam suspension is what many "pre runner" trucks use and works great for high speed off roading.
Prices for the Ford Bronco range from $1000 to $5500
Summary
The XJ Cherokee is great for rock-crawling, the Blazer is great for mudding and trail-riding, and the Bronco is great for going fast in the dirt.
All 3 of these trucks are very cheap to buy and easy to fix, and can take a hard beating off-road. Making them all perfect candidates for a beginner off road truck. The choice is yours to make.