Rust is one of the biggest obstacles to maintaining your car or truck roadworthy if you're the type of driver that enjoys performing extensive maintenance on their vehicles. Untreated metal will rust as a result of a chemical reaction that takes place when it is exposed to water or air that is wet, circumstances that are regularly present in many coastal areas. If you reside in a part of the country where snow and ice are a common feature of the winter, you may have noticed that the corrosion process is sped up by the salt used to treat slick roads.
Despite the fact that many new cars come with some level of rust protection, if you want your car to stay rust-free for as long as possible, you must treat it with an aftermarket corrosion prevention product once a year. Undercoating is one of the most typical varieties of these. The best undercoating treatments can help stop rust-related damage to floor panels and important structural and suspension parts when used on the underbelly of your car. Even though there are many expert businesses that can protect your car from rust, some of the greatest undercoating products are available in handy packaging so you can apply them to your car yourself.
As you may anticipate, there are many possibilities accessible, making it challenging to select the finest product option. We've put together a list of the best undercoating sprays to help you prevent rust on your car for years to come.
#1 Rust-Oleum Professional Grade Undercoating Spray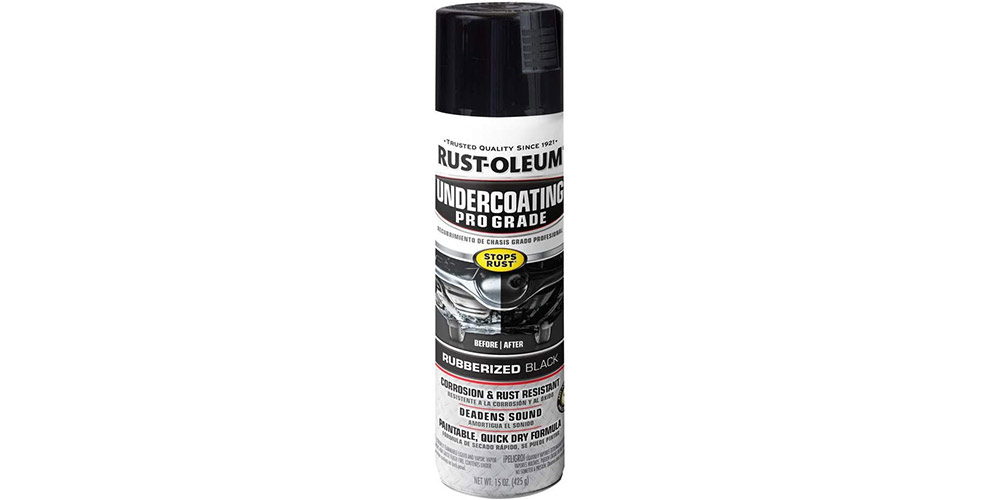 Brand: Rust-Oleum
This product does exactly what it says on the can: it protects your car from the ravages of rust and other harm that can happen on the road. Rust-Oleum is not a newbie to this industry; this product is reliable enough to function in the harsh ocean environment; you can trust it to shield your car from winter road salt as well.
This spray is rubberized and is applied similarly to spray paint, but when it dries, it hardens into a thick, damage-resistant coating. The substance must dry to the touch for about an hour. You'll need more than one can of Rust-Oleum to completely coat the underbody of your car because each can cover between 10 and 15 square feet. Thankfully, both single cans and six-packs of this undercoating are available. The can itself is made to spray in any direction, including upside down.

#2 3M Professional Grade Rubberized Undercoating
Brand: 3M

Another well-known brand in car protection, 3M, takes the third slot on our list of the top undercoating products. It comes in an easy-to-use spray can, goes in the dark, and dries to a flexible, rubberized surface that will shield the metal of your car from salt damage and other road risks.
Since 3M's undercoating delivers some sound-deadening, like many other undercoating products, applying it will make your vehicle a little quieter. The metal does not need to be primed first, as you would if you were painting it, even though it is advisable that you use this spray on a clean, dry surface. You should be able to coat the underside of a small car with the spray cans you buy, which are sold in a six-pack. 

#3 Woolwax Automotive Undercoating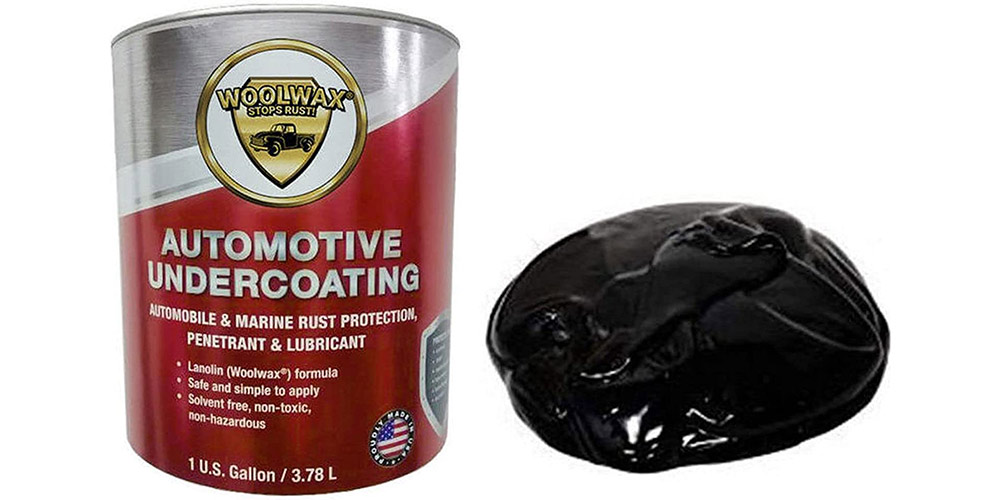 Brand: Woolwax
Our third undercoating suggestion comes from Woolwax, a product created from lanolin, a naturally occurring wax excreted by animals that produce wool, like sheep. It is non-hazardous and environmentally friendly, free of solvents, and non-toxic. This makes it less dangerous for you to accidentally breathe in its vapors or get it on your skin, but the main advantage is that the absence of solvents prevents its undercoating from evaporating over time. This indicates that your car will be protected long after you apply it.
In order to spray its undercoating, Woolwax creates a patented sprayer design that must be purchased separately. This sprayer is thick enough to prevent dripping and fluid enough to spray. This undercoating will cure after application and thicken to a gel-like consistency. Thus, even if the covering is scratched, it maintains its flexibility and will "repair" itself.
However, this Woolwax formulation is black; a clear variant is also available. For easier application, Woolwax also produces an undercoating product in a spray can.

#4 Fluid Film Undercoating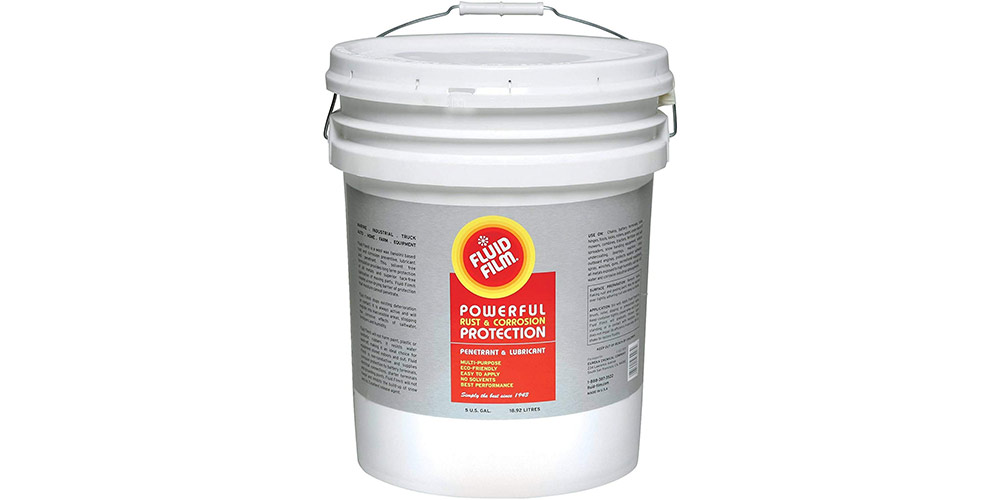 Brand: Fluid Film 
If you need a substantial amount of top-notch undercoating, this one's for you. Corrosion is a major issue aboard large ships and offshore oil rigs, where their undercoating was developed for industrial uses. That explains why this substance is available in enormous five-gallon pails.
Despite the small container, this product is meant to be sprayed onto your car. It is advised to apply this undercoating in warm weather when the substance is in its most fluid state because it is rather thick. While the price of this product might be off-putting, keep in mind that you can apply numerous coats of undercoating to your vehicle with this pail, which is approximately the same as what you would hire a professional to do, and its composition is safe. But you can't use it as easily as a hand-held spray can because of the way it is packaged.

#5 Rusfre Spray-On Rubberized Undercoating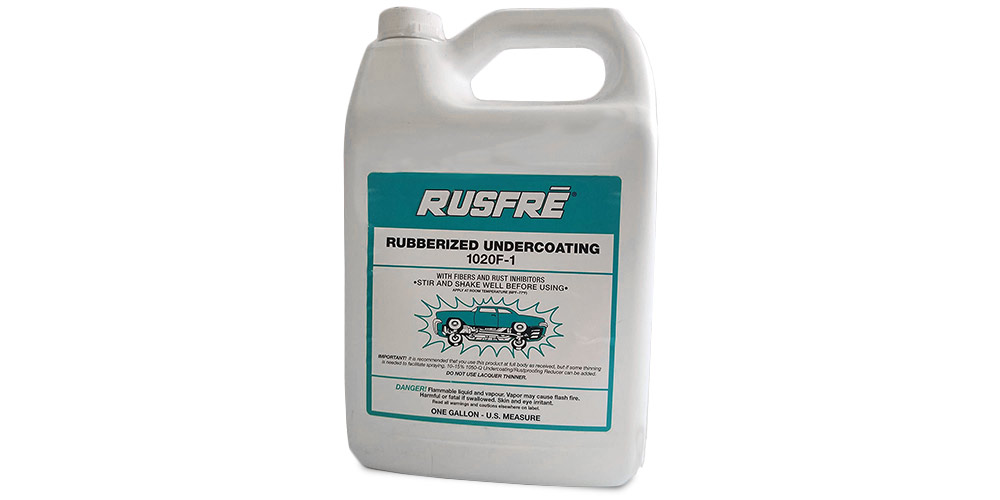 Brand: Rusfre
This spray-on undercoating formulation from Rusfre is the second undercoating item we suggest to you. Its undercoating comes in a one-gallon container and is intended to be applied with the business's own applicator gun. This will cost you more money, but it will guarantee that the product is applied to your vehicle as intended and provide the finest protection available. The upside is that this container ought to be sufficient to coat the underside of practically any passenger car completely.
Like the majority of other undercoating products, Rusfre is rubberized, so in addition to protecting your car from rust and other damage, it also has some sound-deadening properties. The liquid has fibers that are bonded together to assist it in adhering to the metal of your car and keep it from peeling, flaking, or cracking after it dries. Its undercoating is asbestos-free, which makes it safer for you to use even though it does not make any claims about being non-toxic.