We know that not everybody has the financial means to park their car in a garage every night. If that describes you, it would be beneficial to consider purchasing and having installed a carport for your home. These are typically unattached, covered structures designed to protect your vehicle. They offer less security than a garage, but they allow for better airflow. Most carports feature a steel structure and a fabric roof that shields against rain, snow, ice, and ultraviolet light.
There are two major concerns to consider while searching for a carport: the price and the materials utilized in its construction. That means it's not always simple to shop for them, especially if you're not sure how much money you have to spend.
We'll go through five of the best available carports and what to look for while searching for one. We'll go over the features and disadvantages of several carport designs so you can choose the one you want to cover your car with certainty.
#1 ShelterLogic Peak Style AutoShelter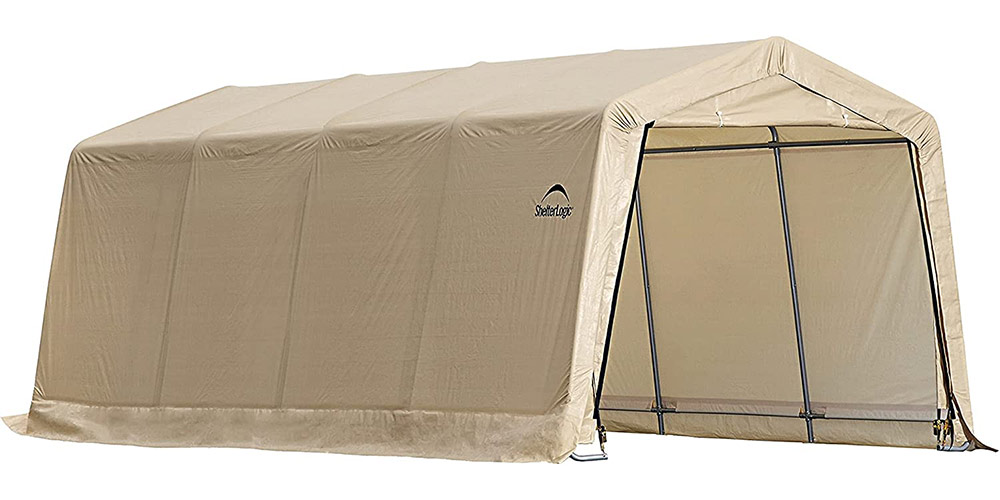 Brand: ShelterLogic
One 3/8-inch all-steel structure makes up the Peak Style AutoShelter by ShelterLogic, which measures 10 feet by 15 feet by 8 feet. The entire steel frame has been coated with a high-quality Powdercoat to help prevent chipping, peeling, rust, and corrosion. This carport employs an advanced engineered ripstop polyethylene cover with an improved weave, making it 100% waterproof. It has a five-rib, five-foot spacing design. The cover has also been UV-treated both inside and out, including fade blockers, anti-aging, and antifungal agents, and has been UV-treated to withstand the weather.
A cover tensioning system called Ratchet-Tite assures a solid connection between the entrance panel and cover to the frame, and patented ShelterLock stabilizers add to the shelter's stability and durability. The cover is fastened down using the Easy Slide Cross Rail system, which also enables continual cover tightening. The object's weight is 134.6 pounds.
The Peak Style AutoShelter from ShelterLogic is slightly more expensive than canopy-style carports, but it gives better all-around protection.
#2 Caravan Canopy Domain Carport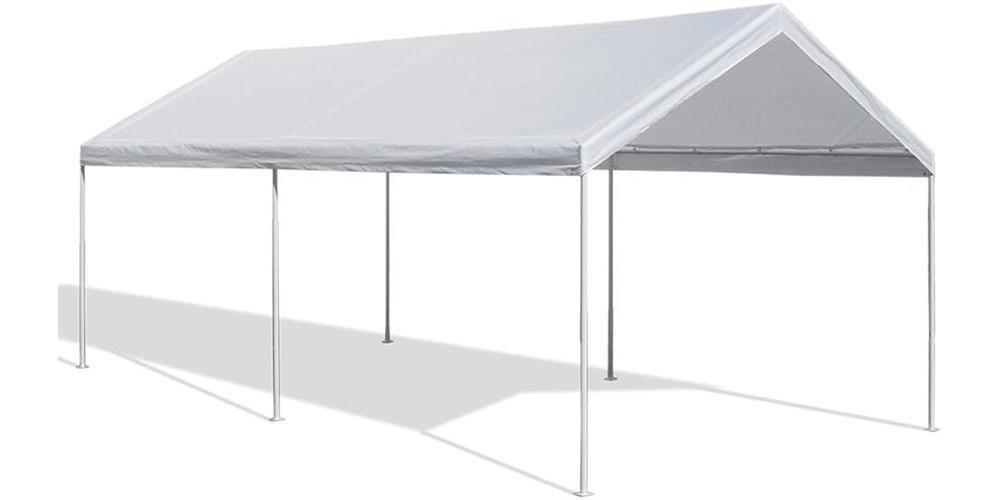 Brand: Caravan Canopy

One of the best-quality canopy-style carports available at a reasonable price. This canopy includes a 3/8-inch diameter tubing that connects to a steel frame with a compression lock to provide stability. It has a polyethylene top that has been heat-sealed, treated with fade protectors, anti-aging, and antifungal chemicals, and is water- and UV-resistant both internally and externally.
This six-legged carport is offered in two different top colors: white and black. Built-in, slip-together swedged tubing makes the assembly simple. Large footpads are also there to give it a stable base on both soft and hard surfaces. However, it is not suitable for windy weather.
The highest height of this carport, which measures 20 feet by 10 feet, is 8 feet, 9 inches.
If you prefer do-it-yourself tasks, this carport is still a superior value, even with the additional expenses of materials to protect it from flying away and being damaged.
#3 Abba Patio Outdoor Carport Canopy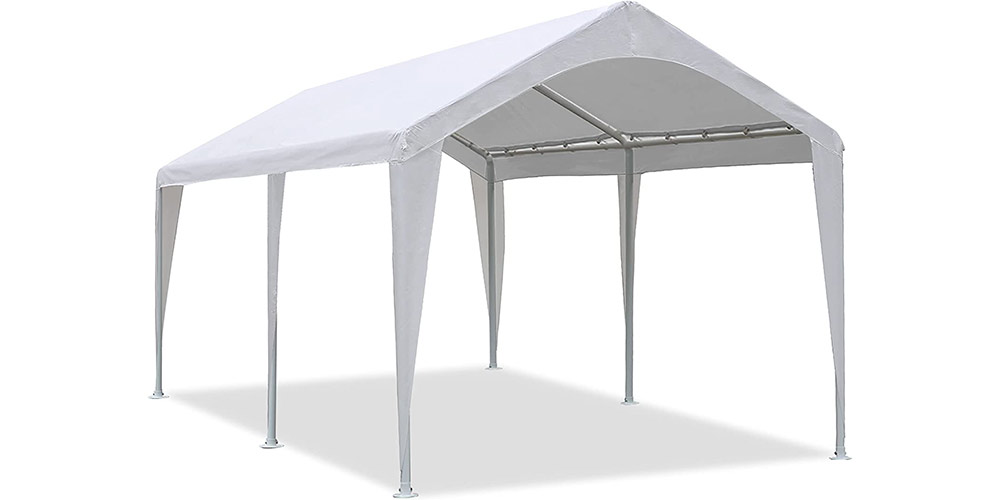 Brand: Abba Patio
Abba Patio offers this carport, which is a fairly typical canopy-style structure. With dimensions of 20 feet by 10 feet by 9.5 feet and a double polyethylene fabric that is UV and water-resistant, it protects your automobile from wind, rain, and snow. It has a steel frame with a one 1/2-inch diameter that is powder coated to prevent chipping, peeling, rust, and corrosion.
This carport sets up quickly, is simple to use, and entirely collapses for transportation and storage. Stability is increased by the foot pads on the canopy legs, which also make it simple to locate secure anchor points. The tarp cover is kept firmly fastened on the frame using heavy-duty bungee cords.
This carport is available in two colors: beige and white.
#4 Palram Verona 5000 Carport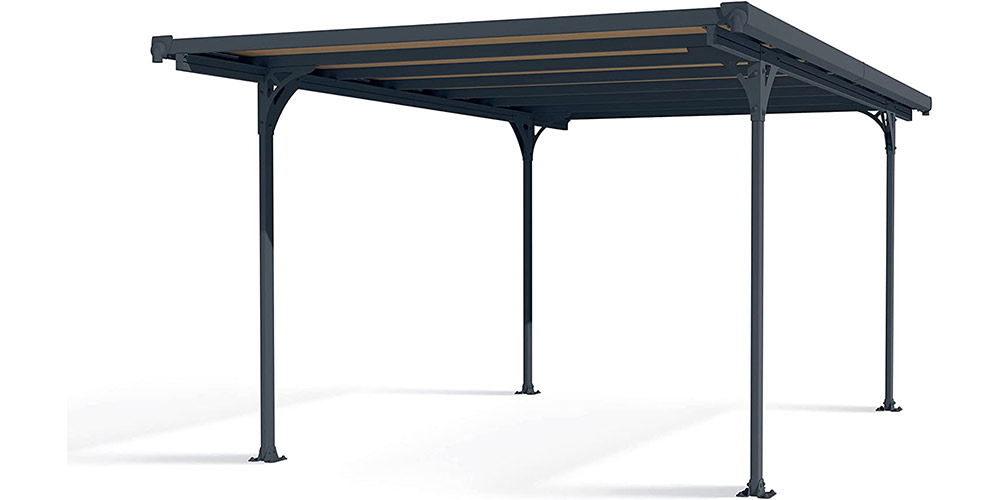 Brand: Palram
Palram Verona 5000 is offered in three different sizes and has either a flat roof or an arched roof. Purchasers have a choice between three sizes: 16 feet by 12 feet by 8 feet, 16 feet by 10 feet by 7 feet, and 16 feet by 10 feet by 8 feet.
This carport is intended to safeguard your vehicle and is made of 6mm twin-wall polycarbonate panels with a bronze tint that are virtually unbreakable and provide 100% UV protection. These panels are hard to break, offer complete protection from a variety of weather situations, and won't corrode over time. The carport's frame is constructed from heavy-duty aluminum and galvanized steel, and to prevent corrosion, it is then finished with an anthracite powder coat. If you live somewhere where it rains a lot, it also has built-in gutters to direct water.
This carport costs significantly more than ones that resemble canopies, but it provides better protection. No professional tools are needed for installation, and the support beams can be modified to match your driveway or patio. You may also just anchor and fasten it to the ground to make it even more sturdy.
#5 Ikuby Portable Lockable Carport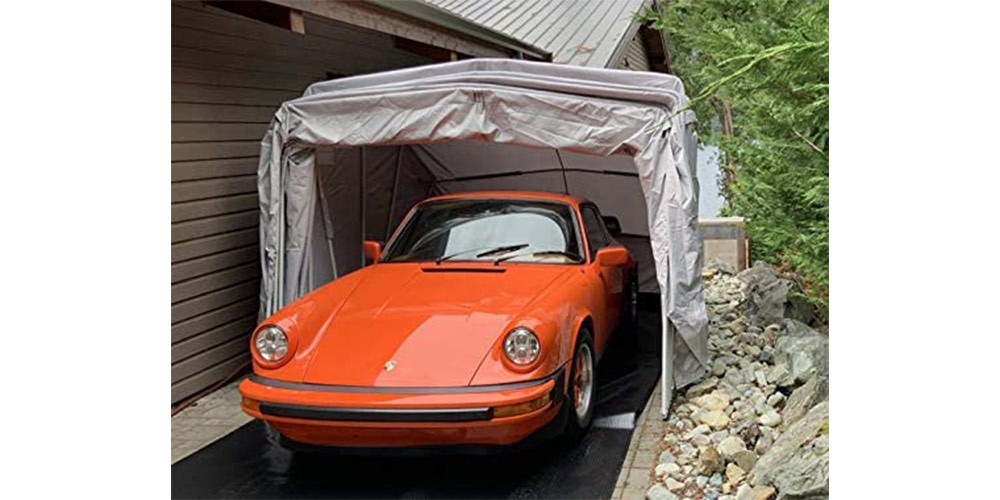 Brand: Ikuby
The more expensive but adaptable option is the Ikuby carport. This carport is heavy-duty, transportable, and lockable, weighing 170 pounds. The folding steel framework for this canopy is constructed of mild steel and has a black powder-coat surface. Its cover is made of durable 600D Oxford fabric that has been entirely waterproofed by being coated with polyurethane. This canopy shields your automobile from the sun, snow, and frost, in addition to protecting it from hail. Additionally, it is resistant to wind, dust, rust, and ultraviolet rays.
The Ikuby carport is a retractable auto shed that offers full coverage for your car, protecting every part from the weather. It is 18 feet by 8.5 feet by 6.7 feet in size. The fact that each pipe is numbered and has the added benefit of being locked makes it quite easy to assemble.
This carport does require some time to assemble, but the directions and clip-in design make it quite simple. The fact that this product is composed of mild steel, which can rust while being powder coated, is its worst flaw.