The Ford F-150 belongs to the most reliable full-size pickup trucks in the market. It also has everything that a truck lover would love to have in their truck.
Let's admit it. It has great hauling and towing capabilities, cozy interiors, and non-intimidating technology. But what captured our attention when bought the truck was its aggressive stance. The strong and powerful style that highlights the truck is too captivating. 
The Ford F-150 may seem like a very likable vehicle, but like any other truck, it comes with a problem. The "rake" is a phenomenon where the front of the truck sits lower compared to the rear. Most pickup trucks experience this and it causes your F-150 to look like a sad defeated animal.
But if there's a problem, then there is a solution. By installing a lift kit, it doesn't level the height of the front of the truck to its rear, but it also lifts the both of them. With a new lifted height of 3" and above, your truck will look far more superior compared to what it looks like before. It can also endure more off-road activities. Cool!
Good thing you stumbled upon this article. This is a list of the best Ford F-150's lift kits. These will make your truck look taller and more aggressive. Check them out!
#1 YITAMOTOR – 3"X 2" Leveling Lift Kit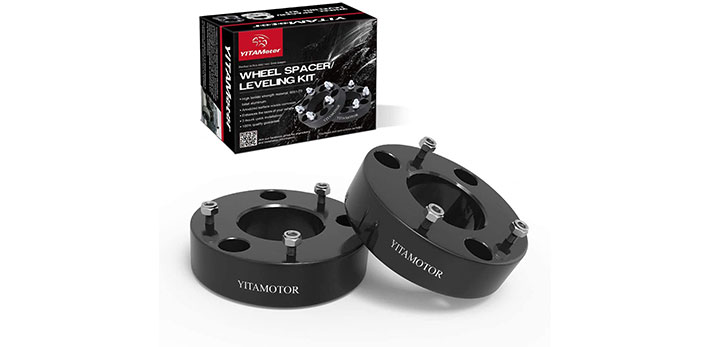 This lift kit is perfect for you if you want a superior and long-lasting lift kit. YITAMOTOR are experts in making off-road products. They've applied their expertise on these kits to make sure that you get the best from every buck you've spent. This lift kit comes with fashioned strut spacers compatible with 2WD and 4WD Ford F-150s from the manufacturing years 2004 to 2018.
Installing this lift kit would mean that your truck will receive a greater ground clearance. With that extra clearance, you can fit in larger tires for off-road uses. With your truck lifted by 3" in the front and 2" on the back, your Ford F-150 will get the dominance it has always craved.
What makes it so durable? The spacers in this kit are the same aluminum used for manufacturing airplanes. The kit also comes with 10.9 bolts that went through heat-treatments to make it even tougher. To add a cherry on top, it will only take you up to two hours or less to finish installing this kit. That's neat!

#2 MotoFab – 3″X 2″ Leveling Lift Kit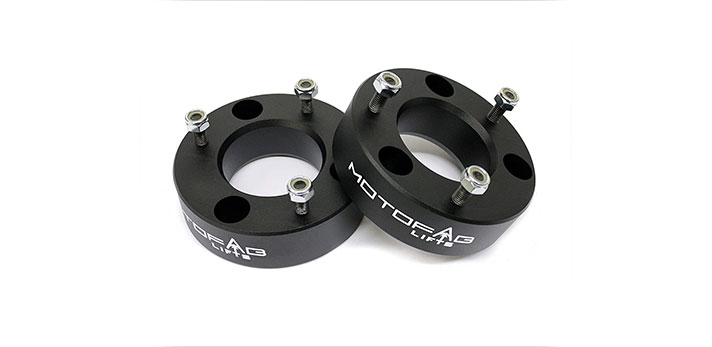 Are you dreaming of fitting larger tires for your Ford F-150? Do you want to drive around with 22" to 24" tires on? Have you always wanted that aggressive and aesthetically pleasing strut extension installed in your truck? Look no further. This MotoFab Lift kit will do just the trick. It's compatible with 2WD and 4WD Ford F-150s manufactured from 2004 to 2014. Note: this kit will not over-extend your truck's ball joints, don't worry.
The MotoFab lift kit solves not only the rake problem, but it also lifts your truck by a few significant inches; both in the front and in the rear. By doing so, it allows you to accommodate larger tires that will satisfy your adventurous on-road and off-road cravings.
You don't have to remove the OEM struts when you're installing this kit. Just allocate a couple of hours for installation, and voila! Within a few hours, you'll have your lift kit fully installed. Don't even bother yourself with thoughts about those spacers getting corroded – they won't! 

#3 Rough Country 2.5″ Leveling Lift Kit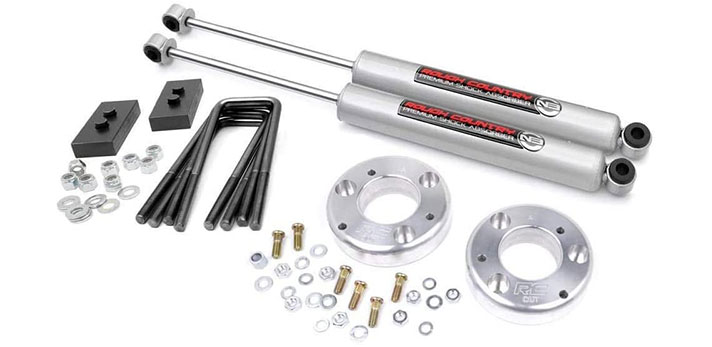 Now, if you're into extreme off-road activities, or maybe you just want to haul your goods more effectively. If so, then you should try out the Rough Country and their leveling/lift kit. The package includes U-bolts and some shock absorbers to effectively lift your truck by up to two inches. This kit is compatible with Ford F-150s from 2004 to 2008.
Outfitting your truck with lifts that raise your truck's height and gives it an additional aggressive look has never been this easy. Aside from the spacers, U-bolts, and lug nuts, and N3 shock absorber is also included in the kit. This addition is to make sure that both your on and off-road performance are remarkable.
Just like the previous lift kit, the struts don't need to be disassembled for you to have this lift kit installed. 

#4 KSP – 3″ Leveling Lift Kits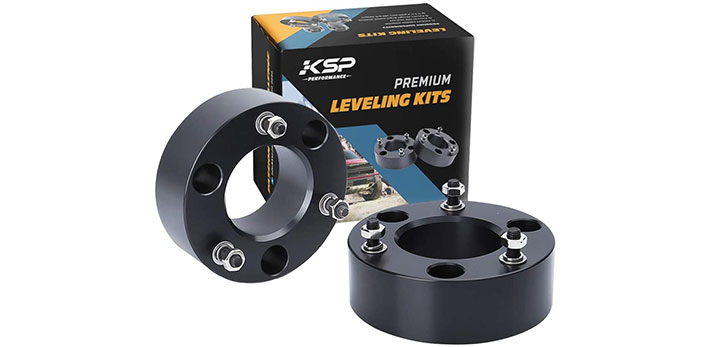 Well-matched with F-150s from 2004 to 2019, the KSP 3" Leveling Lift Kit. This does not only lift your truck by three inches, but it also allows your ride to be more maneuverable in tough terrains while looking aggressive as hell. The black coating that the spacers have ensured that it won't get any corrosion.
What do you get from a three-inch increase in height? Larger ground clearance and the ability to install larger tires, preferably around 24" to 33". This makes your Ford F-150's performance even better than before.
KSP Performance is known to be one of the best providers of lift kits in the market. So when they offer you a product like this, they're pretty serious about your satisfaction as a customer and as a Ford F-150 owner. 

#5 ZY Wheel 3"X 2" Rear Leveling Lift Kit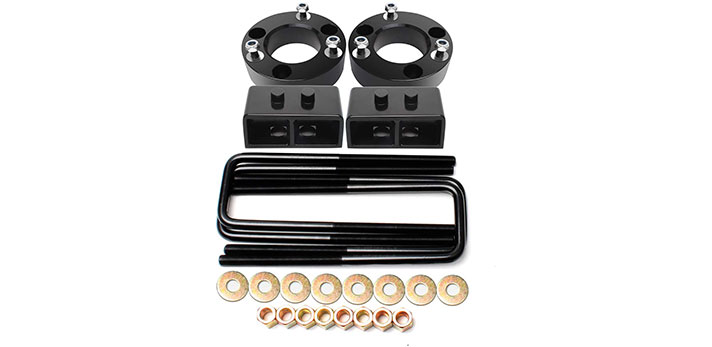 And last but certainly not the very least, we have the ZY Wheel and their lift kits, capable of raising your truck's height by up to three inches in the front and two inches in the rear. This lift kit is perfect for Ford F-150s that were made during the manufacturing years 2004 to 2019.
This lift kit is the right choice if you want to solve the factory rake that has been plaguing your truck for years now. It's made from aircraft-grade aluminum billets and will give your truck the aggressive look it deserves. But unlike the previous lift kits, the ZY Wheel will require you to remove the factory blocks that must be removed first before installing the new ones.
There you have it! These are the five best lift kits for your Ford F-150. Say goodbye to your truck's rake and say hello to a more aggressive and effective truck!