Although they aren't particularly glamorous, windshield wipers are essential when it comes to driving in inclement weather. That becomes even more crucial in the winter, especially if the roads in your area are treated with salt or sand or experience cold temperatures.
Windshield wipers have it tough during the winter because of the chilly weather, ice and snow, and freezing water. Additionally, the roadways are frequently covered in damp salt, which sticks to your front window and is hard for summer wipers to remove. You need strong winter windshield wipers because of this, and we can help you get the best for ideal visibility.
Finding wiper blades that fit your automobile isn't the only thing you need to consider while shopping. To choose the best pair for the job, you must take into account your unique situation and the weather you will be dealing with. We'll not only provide our top suggestions, but we'll also go through what to look for in winter wiper blades.
#1 TRICO Ice Extreme Weather Winter Wiper Blade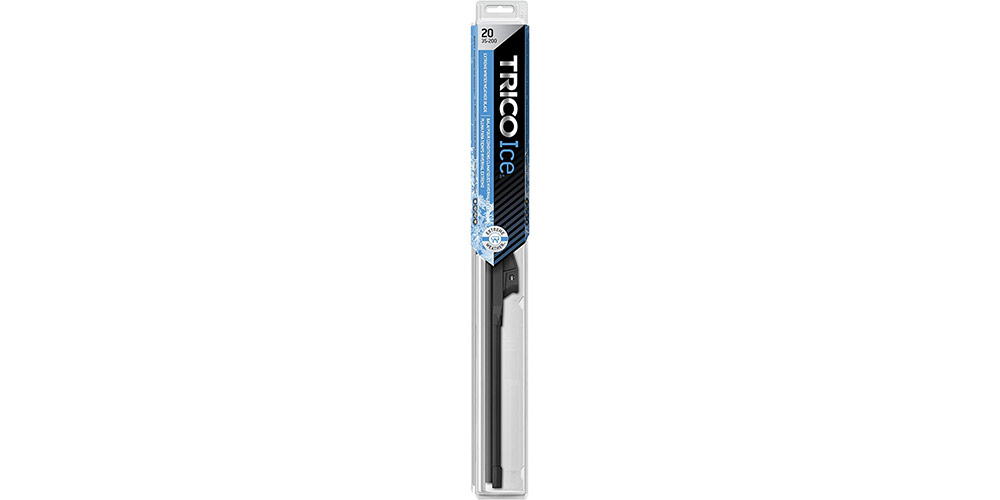 The windshield wiper blade was created in 1917 by the company TRICO. The company continues as one of the best manufacturers of wiper blades worldwide, proving that the business is knowledgeable in its field.
The important parts inside the wiper arm are protected from ice and snow by the TRICO Ice Extreme Winter Weather wiper blade, keeping them in good condition even at temperatures well below zero. They include a flexible arm design to assist in keeping them flat against your glass, followed by rugged armor to prevent ice from blocking the blade and preventing it from flexing.
The wiper blade itself is laced with Teflon for a consistently smooth, quiet wipe and is made of a strong gauge to prevent damage while removing ice and snow that has accumulated on your windshield. To ensure appropriate fitment, a variety of sizes are available along with any required adaptors.
#2 AERO Voyager All-Season Windshield Wiper Blades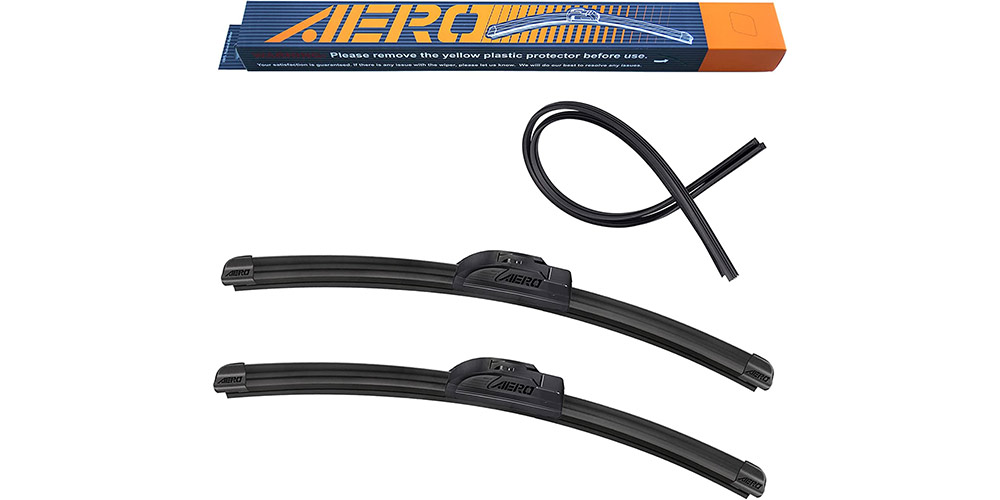 Both the protective cover and the one-year warranty that come with these wiper blades make them stand out from the competition. Wiper blades can begin to degrade as soon as they are exposed to UV light. Thus, the protective cover aids in keeping them fresh in the box.
Four seasons of windshield clarity should be covered by a one-year warranty, but this set of wipers also includes an additional rubber refill as a bonus. Because the majority of blade-type wipers last for many years, only the little strip that meets the glass needs to be replaced. A replacement refill enables you to alter just that edge, providing you with future performance while minimizing trash shipped to a landfill.
The wipers' aerodynamic design is intended to enhance performance, decrease noise, and keep snow, ice, and water off your windshield. The wipers will be transported in their manufacturer's box rather than a huge shipping carton, thus reducing waste.
#3 TRICO Chill Extreme Weather Winter Wiper Blade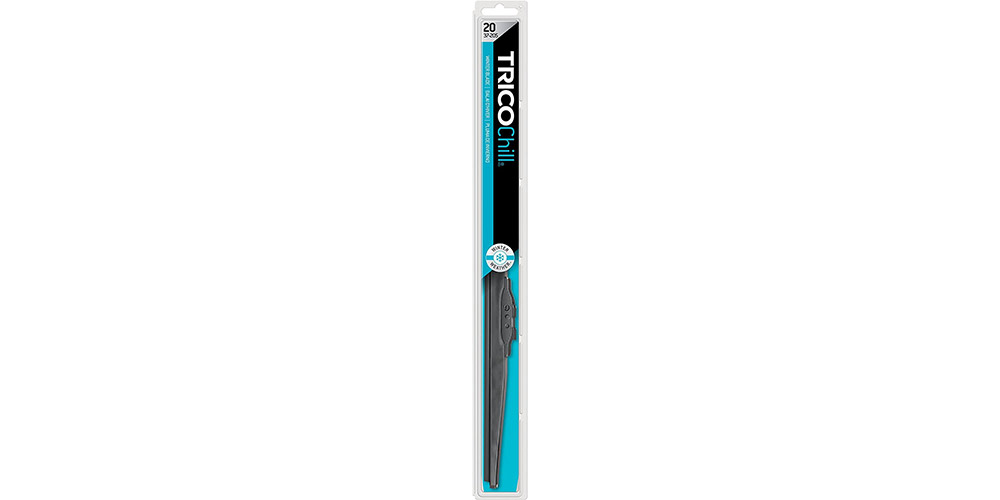 Due to the fact that this TRICO wiper is an earlier model, the pricing is reduced. It has a traditional hinged design rather than a flexible one-piece design.
The movable parts are enclosed in a protective rubber boot to keep them safe from snow and ice and to maintain their flexibility. While that does a good job of keeping out snow and ice, it only lasts as long as the boot is in ideal condition, which makes this design more prone to damage. However, wipers like this offer a cost-effective approach to maintaining the clarity of your front glass throughout the winter if you just use them occasionally during periods of freezing weather as opposed to a severe Midwest winter.
Since this design has been used for lots of years, it has been well tested. Each component comes with an adaptor already attached to make installation quick and simple. A heavy-gauge precision-cut rubber wiper blade resists shredding in below-freezing temperatures. The wiper is composed of coated steel for performance and strength as well as resistance to corrosion.
#4 Bosch ICON All-Weather Wiper Blades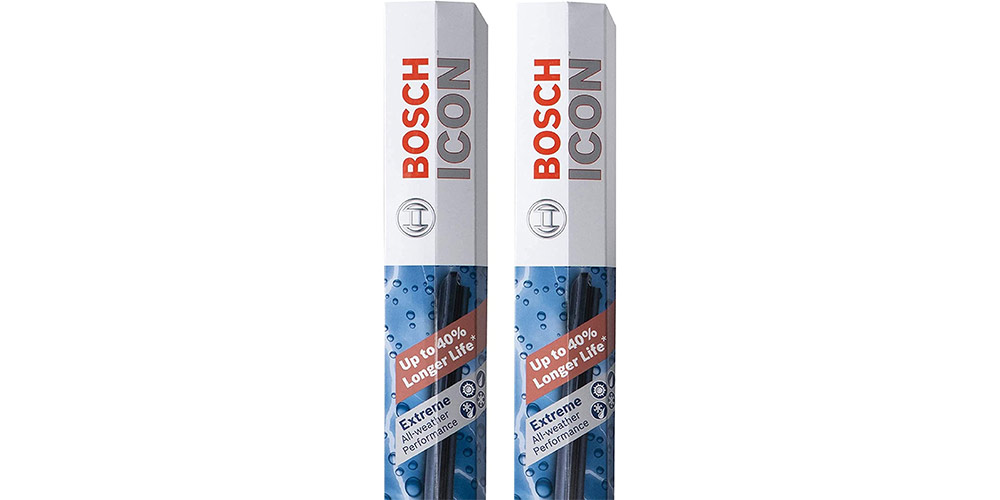 Since there are no moving parts between the mounting and your window, these Bosch wipers are of the beam type. Instead, the wiper's spring-like design keeps the blade surface pressed up against the windshield for the best possible contact.
The ICON wiper blades from Bosch include a built-in spoiler that mimics the function of a race car's wing. Make sure the wiper doesn't float, bounce or clatter on the road by rapidly pushing it down against the glass. That could improve your visibility and prevent long-term harm to the wipers.
In order to clear snow, ice, and rain and, according to Bosch, make them last up to 40% longer than other blades, an exclusive FX rubber dual compound is created to withstand heat and ozone deterioration in the summer and remain flexible at all degrees in the winter. There is no need for adaptors because the ICON wipers are designed to meet a specific vehicle specification. The rest is simple if you choose the proper wipers for your car.
#5 Michelin Storm Hybrid Blade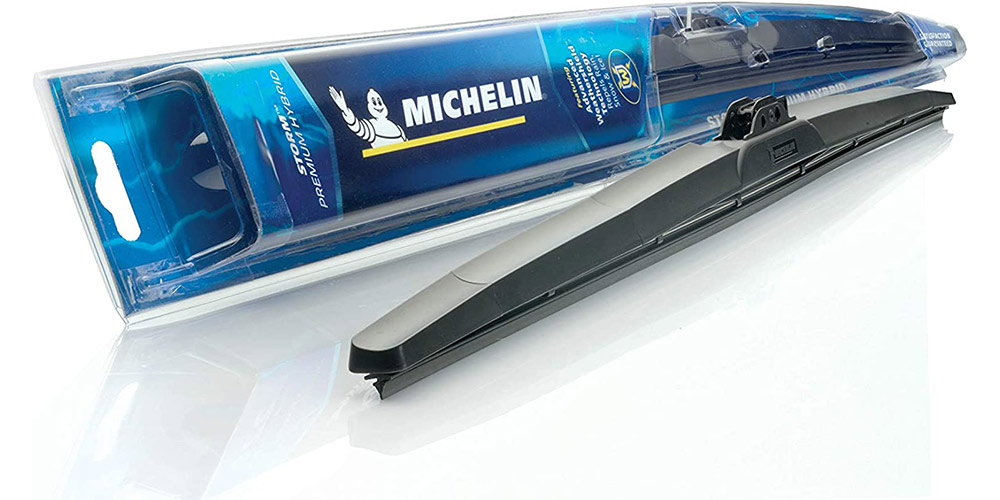 The Michelin Storm is a hybrid blade that brings together some of the best elements of the beam style and the best elements of the traditional models. There is a mechanical arm with many pivot points hidden beneath the sturdy plastic outer shell. Additionally, there is a beam-like spring that aids in maintaining the blade's tightness to your windshield glass. The pivots enable it to do this even if your windshield has complex curves that would be challenging for either design to follow on its own.
Instead of the typical rubber boot, the pivots are protected by a hard segmented plastic cover, which ensures that they continue to work even during cold weather. Additionally, it aids in removing heavy snow from the glass.
According to Michelin, the wipers feature WeatherShield Technology, which helps to repel snow, ice, and rain from the blade cover, protecting the wiper even more and ensuring that it continues to function well below the freezing point.
Essential Information About Winter Wiper Blades
You likely need winter windshield wipers if you're going to install snow tires on your car for many of the same reasons. Winter wiper blades are made to be flexible in colder climates since they age more quickly in warmer climates. Additionally, they employ unique construction techniques to help protect the wiper mechanism from snow, salt, ice, and sand, allowing them to function better in cold weather than conventional windshield wipers. Winter wiper blades should be purchased if the temperature drops below 40 degrees Fahrenheit.
Checking your owner's manual is the first step in selecting the best winter wipers for your vehicle. You can determine the length of the wiper you need there. The left and right blades typically have various lengths. Make sure you choose a single pack of blades or two-pack of blades because the latter will cost more and keep you with excess lying in the trunk because you'll likely need two different sizes of wipers.
One type of wiper arm attachment will only fit some of the wipers on this list since they are exact fits. Check the list of fitments on the description page to make sure your car or truck is included before purchasing that type, which is typically a little more expensive. Most wipers are universal fitting, which means they come with a variety of adaptors to help them fit your car. You must choose the appropriate one using the wiper on your car at the time and, frequently, a diagram on the packet that comes with the replacement blades.
Size and attachment are the first two things to consider, then comes wiper style. A more contemporary design that allows the blade to make strong contact with as much glass as possible is one with a beam-style blade. They operate by transforming the entire blade into a spring that can flex and bend while remaining in contact with the windshield. Since there are no moving parts, they are more dependable but also typically more expensive.
Traditional-style blades use a system that flexes at several hinges and relies on the force of the wiper arm to keep them pressed up against the glass. Poor glass contact may result from their decreased flexibility, and the problem may be made worse by the hinges' susceptibility to corrosion and sticking. Although a protective boot renders them winter-ready, a decent beam wiper blade will still most likely last longer and perform better.
Now that you have a better idea about winter wiper blades, hopefully, you can pick the best one that would suit your needs. Whatever you choose, always go for the quality. Never rely on the price because you can choose to look at it as an investment that can keep you safe during the winter season or during inclement weather conditions. Never underestimate the importance of winter wiper blades for safety, visibility, and functionality.