Internal combustion engines continue to power the majority of vehicles and appear to be here to stay, even though their dominance is diminishing. For the combustion process to occur and for the engine to operate well, every engine that generates power by burning fuel requires a significant amount of air.
Under normal conditions, your car's engine consumes between 150 and 400 cubic meters of air every hour. That air, however, contains abrasive particulate matter that, over time, can speed up engine wear and lead to the premature failure of components like bearings, cylinder walls, and piston rings. Engine air filters are installed in cars to remove dirt and other pollutants before they might cause issues.
The traditional saying that clogged air filters reduce fuel economy is no longer valid with modern, electronic fuel injection systems. When the engine air filter reaches the end of its useful life, you should change it to keep your vehicle running at peak shape.
Here, we help to "clear the air" regarding what engine air filters do, what they're constructed of, how frequently they should be replaced, and how you can repair them yourself to save some money.
#1 Wix Engine Air Filters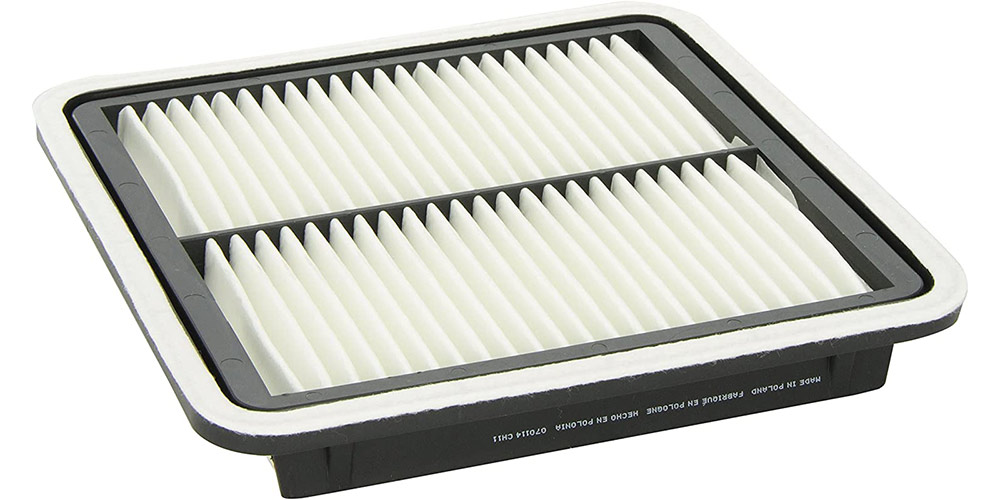 Brand: Wix
Wix has been established for more than a century and has a longstanding reputation for producing high-quality goods. They are used in industrial applications and motorsports.
Wix Engine Air Filters have a 45% greater capacity for pollutant capture and a 30% longer lifespan than competing brands. Additionally, they offer a product range with over 16,000 replacement filters, so whatever your car may be, they undoubtedly have one that will fit it. Depending on the application, the majority of Wix engine air filters are made of pleated cellulose media or synthetic non-woven fiber.
Wix filters are typically slightly more expensive than those made by Fram and other rivals, though not significantly; they are also a little more difficult to find on Amazon. Wix engine air filters are easy to purchase on Amazon; they might just require a little bit more digging. Of course, Wix items are also sold at conventional brick-and-mortar component stores. It's important to remember that Wix manufactures own-brand filters for merchants like NAPA.
#2 K&N Replacement Engine Air Filters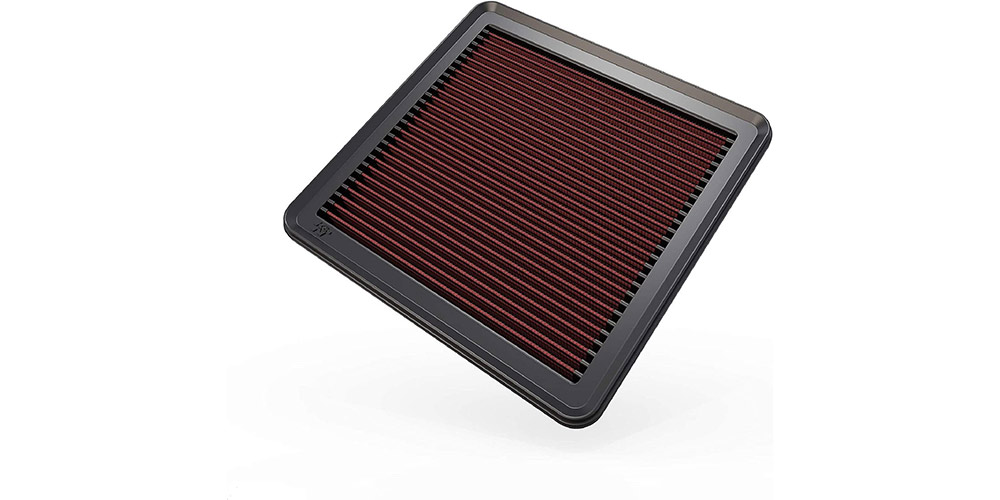 Brand:  K&N
In contrast to their rivals, K&N filters use oiled cotton gauze filter media in the majority of their engine air filters as opposed to cellulose or synthetic non-woven fiber. Since K&N filters are also not disposable, they must first be cleaned with a unique K&N filter cleaner before being re-oiled with K&N filter oil.
K&N air filters have no discernible effect on horsepower or torque in an otherwise stock engine. Their special filter material is created to sustain high airflow characteristics over long distances and under demanding circumstances, like racing or off-road driving, which is why we chose them as the ideal filter for high-performance applications. Unlike K&N air filters, which may be restored with a wash and oil, conventional air filters become more and more restrictive and must be changed.
Although their filters are somewhat more expensive than disposable filters, over the course of a vehicle's life, that initial investment is amortized, and you may end up spending less money on operating a washable K&N engine air filter than a disposable one.
#3 Bosch Workshop Engine Air Filters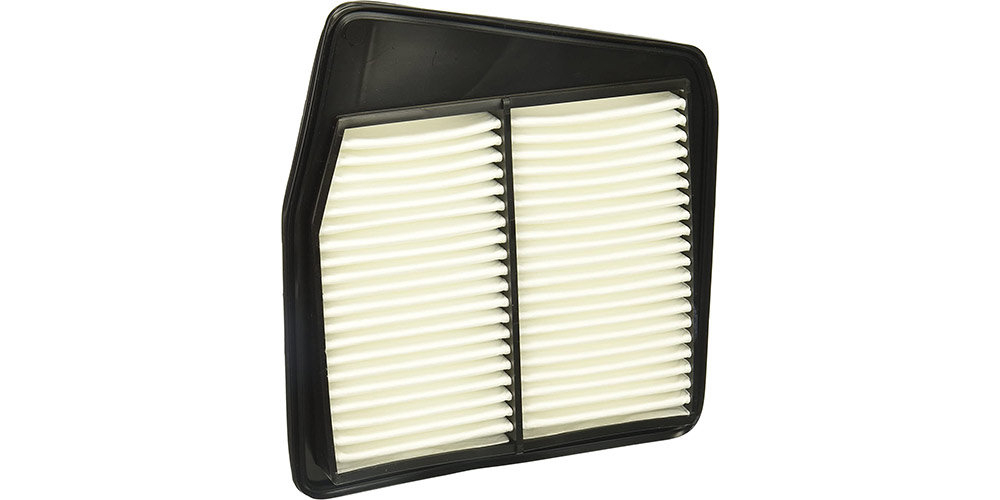 Brand:  Bosch Workshop
The air filters made by Bosch Workshop are intended to be reasonably cost OE replacements. Bosch provides engine air filters for 90% of cars in the US and Canada with its list of more than 200 different Workshop air filter part numbers.
The Workshop line uses a "high-velocity" cellulose filter medium and polyurethane seal for a leak-free fit and 98% filtration effectiveness.
The Bosch name has been around for as long as the automotive industry; the company provides OEM and aftermarket parts for numerous well-known producers.
#4 Fram Extra Guard Engine Air Filters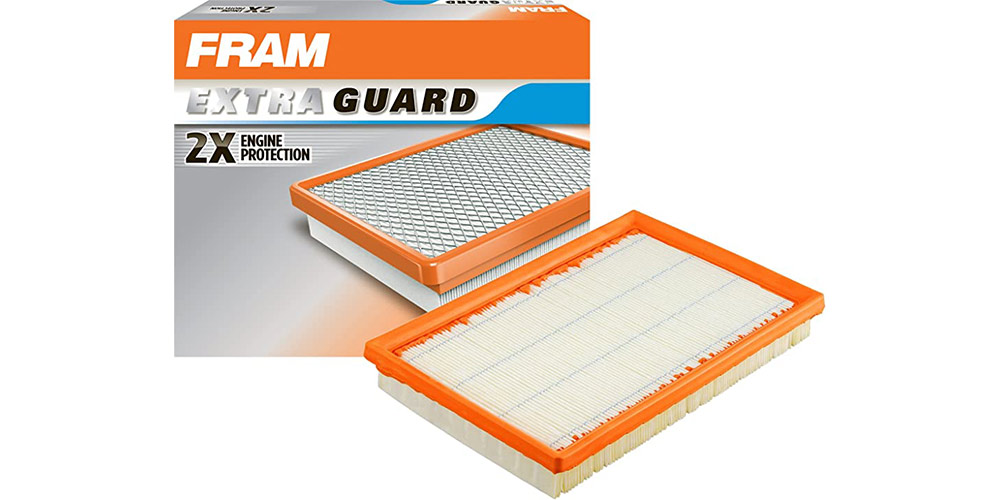 Brand: Fram Extra Guard Engine

Fram has also had a lengthy history with engine filtration for vehicles. Their items are available in several quality levels, starting with replacement-level basics and moving above.
When comparing filters, their Extra Guard line comes close to having the features of our top option but often costs a few dollars less. Similar to Wix, the majority of Extra Guard filters use non-woven synthetic fiber or pleated cellulose as their filter material. The fact that Fram products are widely available and the company offers filters for the majority of makes and models should make it easy for you to get what you need.
#5 EcoGard Engine Air Filters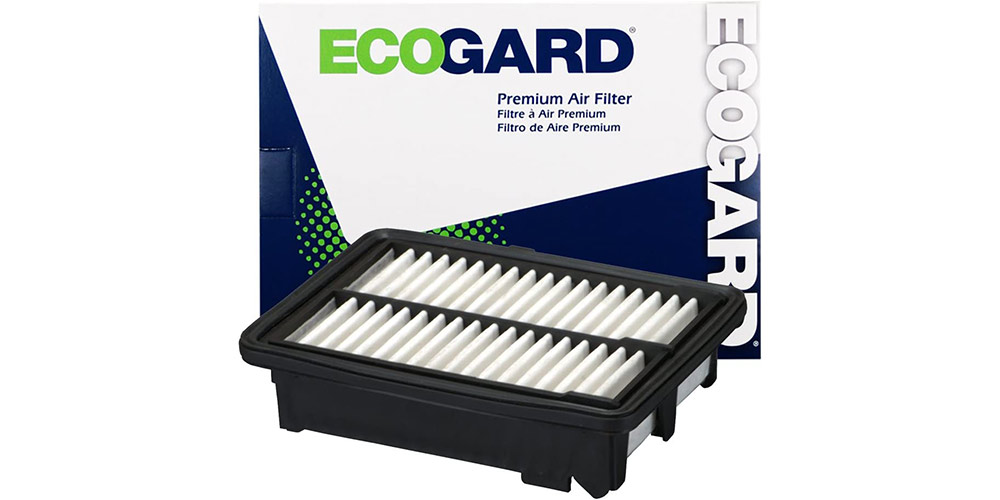 Brand: EcoGard
The name EcoGard may not be as well-known as the old standards like Wix, Fram, and Bosch, but in their very brief history, they have established a niche by offering replacement auto components at competitive prices.
The majority of EcoGard filters have a 99% filtration efficiency and use non-woven synthetic fiber or conventional cellulose filter media. Additionally, EcoGuard has a broad enough selection of products that it should be easy to discover an EcoGard engine air filter that fits your car. They work to market aftermarket air filter replacements for new models as quickly as they can.
#6 Purolator Engine Air Filters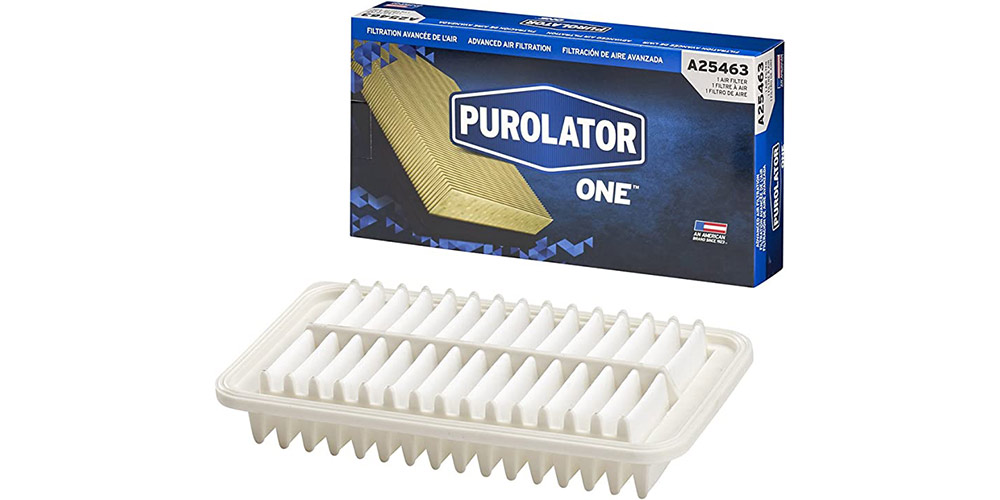 Brand:  Purolator Engine
The majority of Purolator air filters employ a "multi-fiber" filter medium and are made conventionally. Although Purolator doesn't specify, we assume that the fibers are primarily made of cellulose. Nevertheless, they assert that their replacement air filters are 99% efficient, which implies that for every 100 grams of dust that pass through the filter, 99 grams are retained in the filter media. Most air filters have an effectiveness of at least 98%.
Their filters can increase acceleration by 11%, but it should be noted that any brand of the air filter will increase acceleration when a severely clogged filter is replaced. Or, to put it more precisely, to regain any lost acceleration as a result of blocked engine airflow.