When it comes to measuring pressure in your tires, you should always rely on a tire pressure gauge. Tire pressure gauges are simple devices for measuring the pressure inside tires.
Correctly inflated tires ensure longevity and increase your car's performance, and safety.
Tires are designed so that they have to withstand different weather conditions including rain, snow, and heat, but also different types of surfaces such as dirt, mud, tarmac, gravel, and more. Each tire needs to be inflated to a certain amount of pressure, so its performance capabilities would stand out.
In order to have an overview of the condition of your tires at any time, you need to have the best tire gauge so that you can know whether your tires are inflated correctly. Too much pressure is not good but not nearly bad as a tire with not enough pressure.
In this article, we'll cover the types of tire pressure gauges, and we'll list out a few of the best ones you can currently buy.
Types of Tire Pressure Gauges
There are three specific types of pressure gauges that you can choose from. These include:
Pen-shaped tire pressure gauges
Digital tire pressure gauges
Analog tire pressure gauges
The pen-shaped tire pressure gauge is simple to use, very small, and accessible. The downside to pen-shaped tire pressure gauges is that they're more difficult to read because of their small size, and they're prone to breaking.
Digital tire pressure gauges are extremely popular amongst amateurs and enthusiasts, and it's because they're very simple to use and store. The downside to digital tire pressure gauges is that they're battery-powered and can show false readings when the battery power is low.
Lastly, there are a lot of analog tire pressure gauges you can find online. Although they're bulkier than either of the other two alternatives, analog gauges provide the most precise readings. In most cases, they include a small hose that's connected to an analog dial which shows the exact tire pressure.
Now that we've covered the most common types of tire pressure gauges, it's time to mention a few that are worth considering.
AstroAI Digital Tire Inflator with Pressure Gauge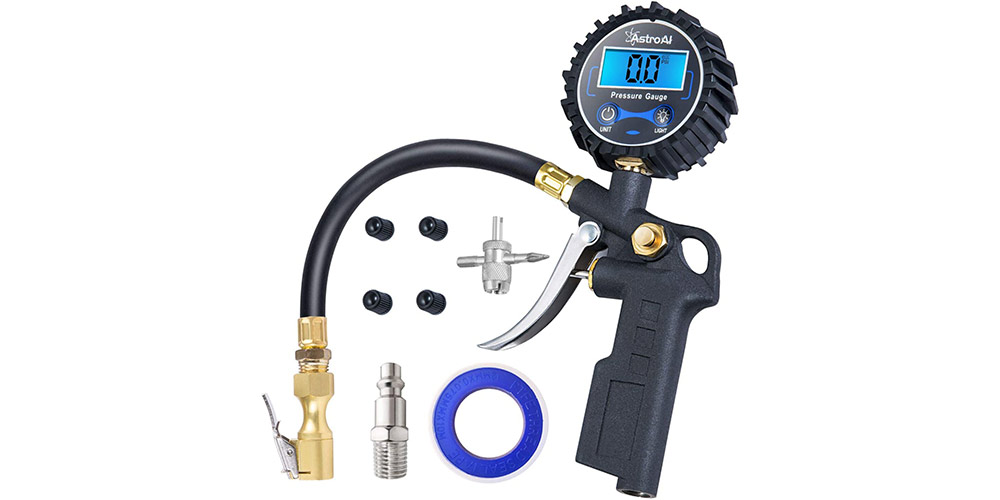 The AstroAI digital tire inflator gauge makes inflating tires and checking the pressure a breeze. it is extremely precise, fast, and easy to use. All you need to do is to hold the handle while it inflates tires to the desired pressure. You can also use the AstroAI tire inflator to deflate the tires if they're over-inflated so that you can avoid a tire burst or explosion.
It is compatible with various means of transport such as cars, bicycles, motorcycles, trucks, and vans. Also, the extension is suitable for several different air compressors. Three main features of this tire inflator are that it's safe to use, has leak-proof installation, and has versatile use.
The Vondior Tire Pressure Gauge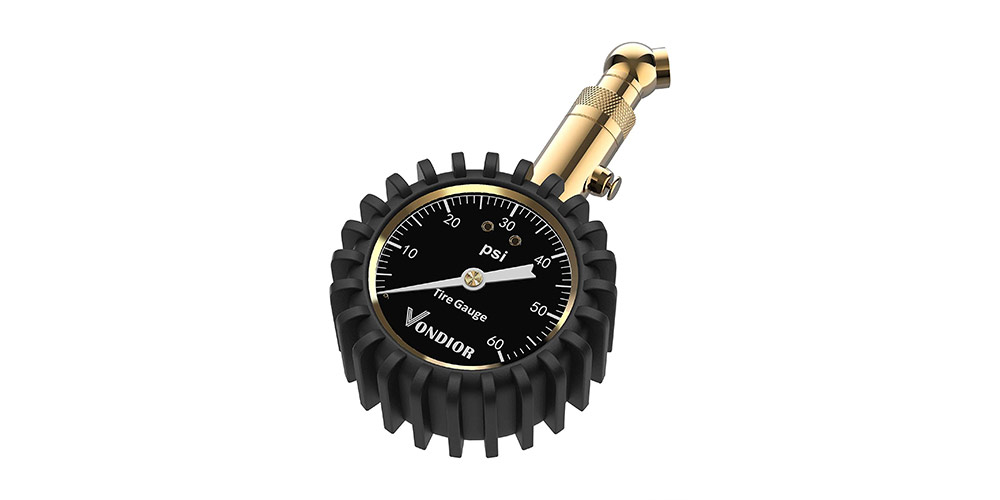 The Vondior tire pressure gauge is used for cars and trucks, and it offers an easy-to-read glow dial. It comes in black and white color, so aside from providing you with important information about your car's tire pressure, it can be used as a car accessory that will match the color of your interior as well. 
The Vondior tire pressure gauge is extremely easy to use and available for everyone's pocket with a price of around $20. A high-quality tire pressure gauge ensures precision measuring, thus saving you money on gas and new tires in the long run. 
The AstroAI Pencil Tire Pressure Gauge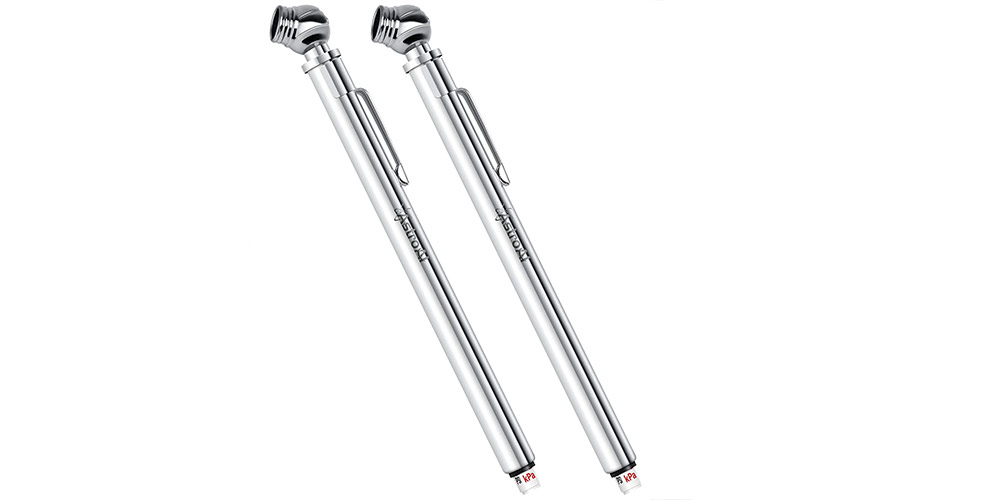 Our third pick is the Astro pencil tire pressure gauge. It is very small, convenient, and practical. The AstroAI pencil tire pressure gauge is made of stainless steel, so it is not prone to corrosion and you can carry it everywhere with you because it even fits your pocket. It's battery-free and it can serve in all weather conditions.
The Gerchway Tire Inflator With Pressure Gauge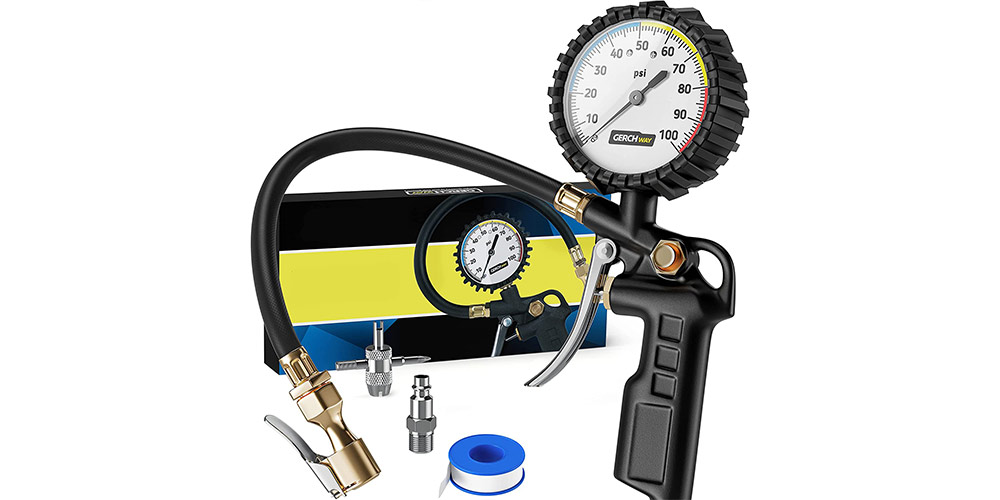 For those who care about higher-quality products, the Gerchway Pressure gauge is an ideal choice. Not only is it made from high-quality materials, but the set also includes a few helpful accessories that will make inflating or deflating tires to a certain pressure a simple and easy task. It has a longer hose than most products we listed and offers a tight seal, which frees your hands to operate the inflator easily. The accessories included in the set make the Gerchway inflator an ideal pick for any application, whether it's for a car, truck, motorcycle, or anything else.
The Motion Pro Digital Tire Pressure Gauge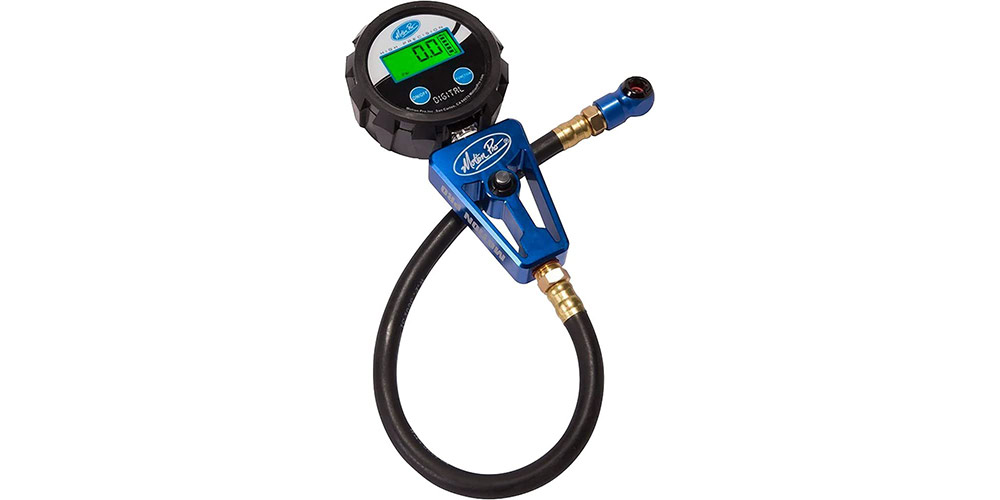 If you're looking for a professional tire pressure gauge, this digital one from Motion Pro will do the job perfectly. It is extremely precise, measuring up to 1/100th of a PSI, and it's made from a high-quality aluminum alloy and high-pressure rubber to withstand high pressure up to 60 PSI. The high flow bleeder allows quick pressure adjustment. It is battery-powered, but batteries are included in this Motion Pro digital tire pressure gauge.
Milton Precision Digital Tire Pressure Gauge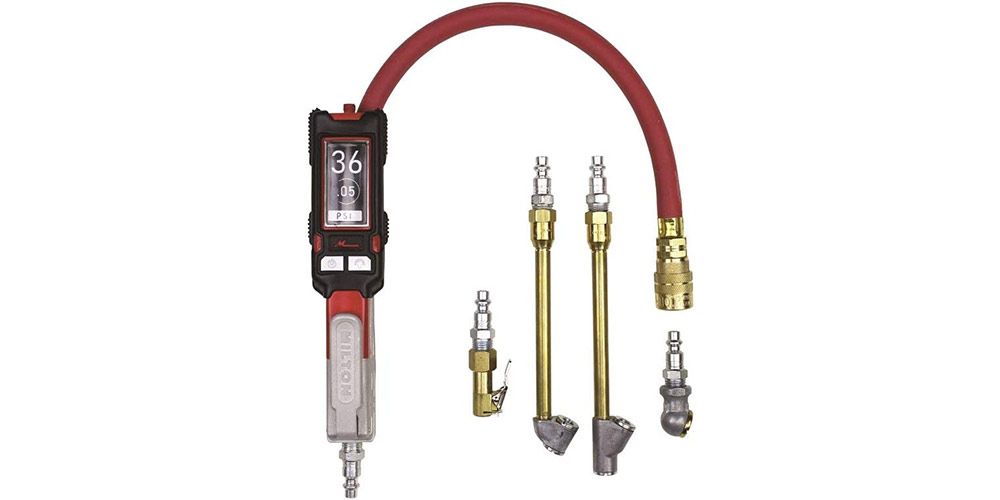 The Milton precision digital tire pressure gauge is a US-made product used by professionals and amateurs alike. It includes an easy-to-read display and a long enough hose that you need only one hand to operate it. It's battery-powered, and two AAA batteries are required.
Because the Milton Precision Digital tire pressure gauge offers up to 0.05% precision, it's used by racing teams and enthusiasts that understand that even the slightest difference in tire pressure can change the way the car drives and feels on the road.
Hundreds of people have tried and rated the Milton precision digital tire pressure gauge. Out of all the tire pressure gauges we've mentioned, this one is the most expensive, standing at around $200. Aside from a very precise gauge, this kit comes with a number of accessories that will help you keep your tires inflated at exactly the pressure which will allow optimum performance.