If you love going on a long road trip, there is a huge chance that you get to spend more time on the road than at stops. You will most likely accumulate a lot of trash while you consume food and drinks. You can't just toss trash out of the window. If you want to preserve cleanliness inside your car, we highly recommend getting a car trash can. Options for car trash cans come in different shapes and sizes. Whatever you choose, the essential thing is not to make a mess and preserve a neat car interior.
If you can't choose among the options available in the market, we came up with the top 7 best car trash cans list for your convenience. Keep on reading to know more about our most recommended options.
#1 EPAuto Waterproof Car Trash Can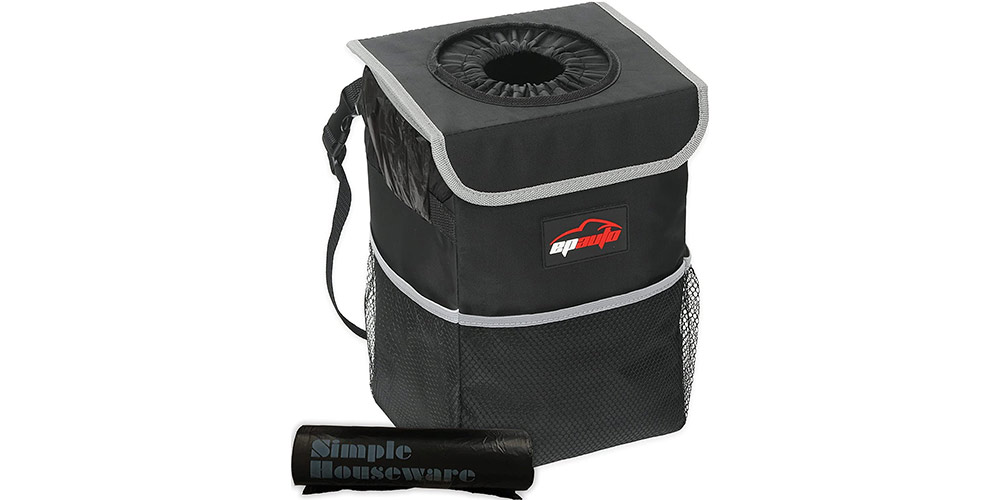 Brand: EPAuto
If you need a car trash can for your long road trip, we suggest getting the EPAuto Waterproof Car Trash Can. It has a two-gallon capacity and a waterproof interior, so you won't have to worry about leaks affecting your car's interior. It includes a lid that has a cinched opening. This helps with ease of access and also keeps items from falling out when the trash gets full.
The EPAuto Waterproof Car Trash Can has stiffened sides to keep the product upright. It also comes with Velcro-type fasteners on its bottom so you can attach it to your vehicle's floor. It also features three exterior pockets that you can use for hand wipes and tissues. According to the company, you can place this car trash can in various places. Just use the adjustable strap if you want to hang it from the front-seat headrest, center console, or glove box door. You can also choose from different color options.
For some, this car trash can may be too big and take up a big space in smaller cars. Overall, we highly recommend this product due to its capacity and versatility. 
#2 Carbage Can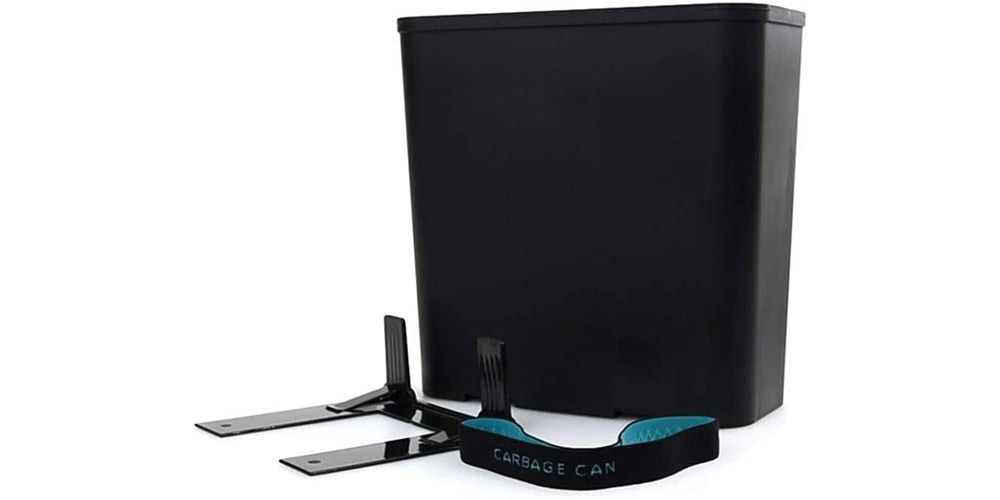 If you specifically need a car trash can that is floor-mounted, the Carbage Can is a great option. Its name is as clever and as direct as possible. This product oozes simplicity. It might seem like just any other small trash can that you can see in your bathroom or desk. However, it stands out because it comes with a clip that you can attach to your car's floor mats. You'll have to secure the Carbage Can to the clip. It uses the floor mat's weight to keep the trash can from tipping over. You also have the option to install the clip between the backrest and the rear seat cushion. It just misses a lid to hide and cover the trash.
The Carbage Can comes with storage nooks inside plus a strap to hold it in place and not slide down. Overall, we love the practical design and the potential of not tipping over. We wish it had a lid to hide the accumulated trash.
#3 Lusso Gear Hanging Garbage Bin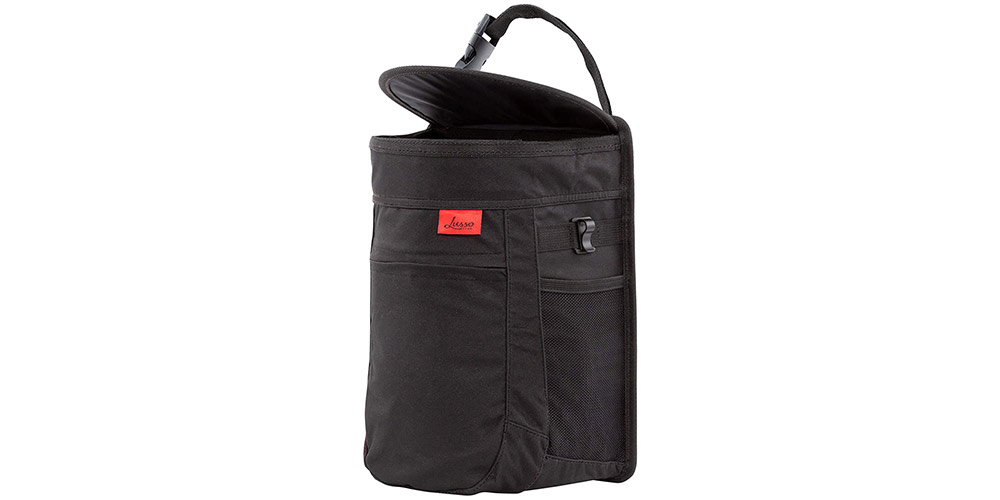 Brand: Lusso Gear
If you want a stylish option, the Lusso Gear Hanging Garbage Bin is a nice option as it presents a hiking backpack look. It looks well-made and also comes in a variety of colors that you can match to your car's interiors. The color options include black, tan, brown, and grey. There is also a black option with red stitching.
According to the company, the straps of this product allow you to hang it from the usual glove box, seatback, and console location. You can even mount it on the inside part of a door panel. This trash can can handle 2.5 gallons of volume. The Lusso Gear Hanging Garbage Bin comes with a removable leakproof vinyl liner. It also has hooks for holding a plastic bag in place. This comes with a flip-open to keep your trash hidden, plus side pockets for stashing small items.
Overall, we recommend this for its great design, color options, and interior volume. 
#4 OUDEW Mini Car Trash Cans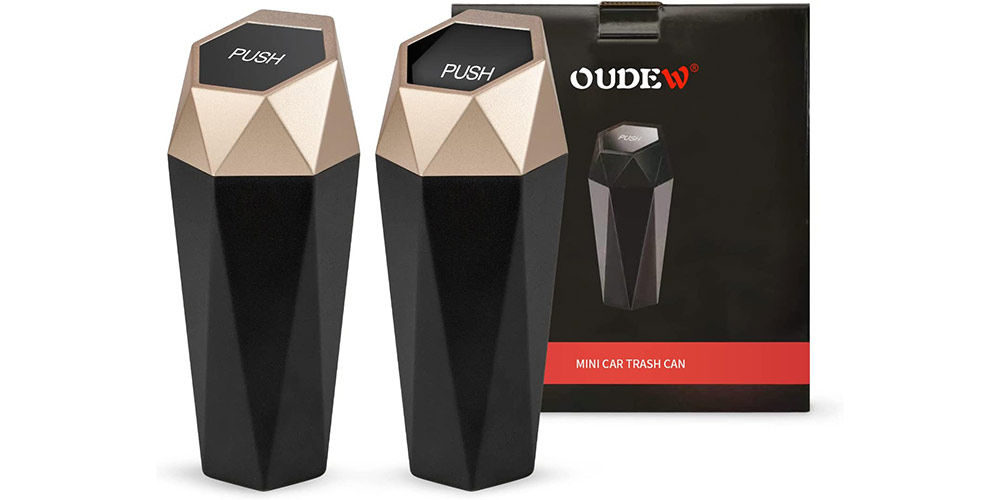 Brand: OUDEW
If you drive a more compact vehicle, you would want a more compact trash can option. You need space; that's why we recommend the OUDEW Mini Car Trash Cans. This is designed to fit cupholders of cars, on car doors, and on the center console. These are tall and slim trash cans, so they are not suitable for bulky trash. However, this is a great stash can for candy wrappers and other small types of trash.
You will appreciate its spring-loaded lid. You have to push down on it to place your trash inside. It then flips back up to a closed position so the trash is hidden and won't make a mess. This product is of plastic construction so you can clean it easily using soap and water.
#5 Power Tiger Hanging Trash Can/Organizer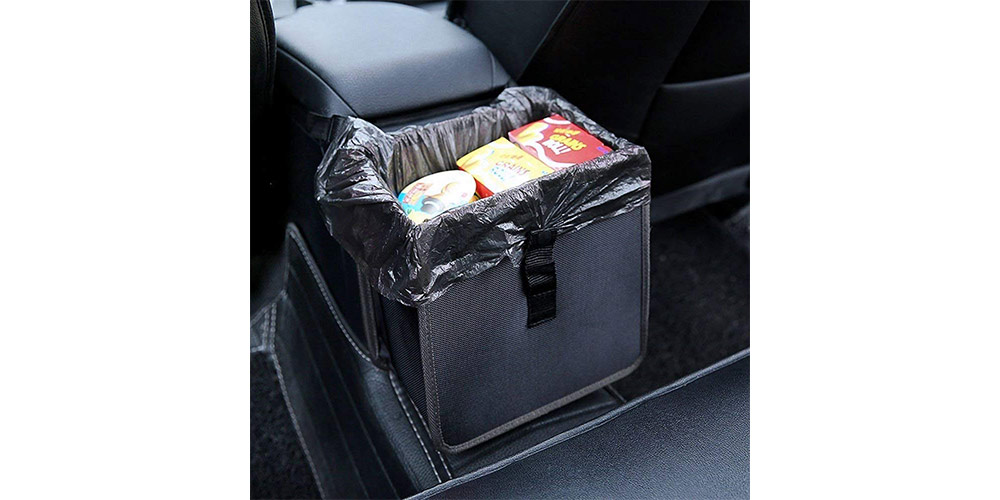 Brand: Power Tiger
If you're looking for an affordable car trash can, check out the Power Tiger Hanging Trash Can/Organizer. This is a no-frills trash can that comes with an adjustable strap that you can use to hang from a center console, shift lever, or headrest. Just take note that this has no lower strap, so you cannot secure it against sliding or swinging around when you drive.
According to Power Tiger, this product is waterproof that comes with an inner lining that is easy to clean. We recommend inserting a plastic bag inside so that you can dispose of trash easier. You can opt to use this as an organizer as well, so you can keep your supplies organized in your back seat or trunk. You can also use this for a picnic and place drink cans with ice inside. Secure the product from tipping over if you don't want a messy interior.
The lack of a lid is the drawback of this product, but overall, we still believe you will get the best value for your money with its affordable price. 
#6 Drive Auto Car Trash Can/Cooler Combo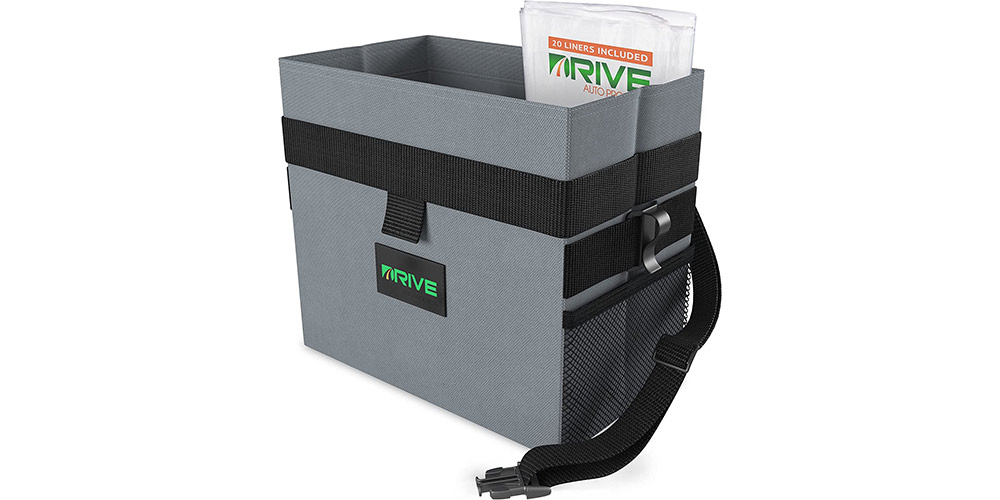 Brand: Drive Auto
If you want a car trash can that can also function as a cooler, you'll love the Drive Auto Car Trash Can/Cooler Combo. This product has been advertised on TV as well. It features an open top, and you can also hang this from the back of your seat or center console. It has a capacity of two gallons. It also features insulated sides, so you can turn it into a small cooler if needed.
According to Drive Auto, this car trash can is waterproof, that's why it works great as a small cooler. It also includes pre-sized plastic bags for storing trash and for avoiding a mess inside the can. You can use the clip on its side to hold the included plastic liner in place. The glaring drawback of this product is the lack of a lid. You can't hide your trash with its open top. 
#7njnj Waterproof Car Trash Can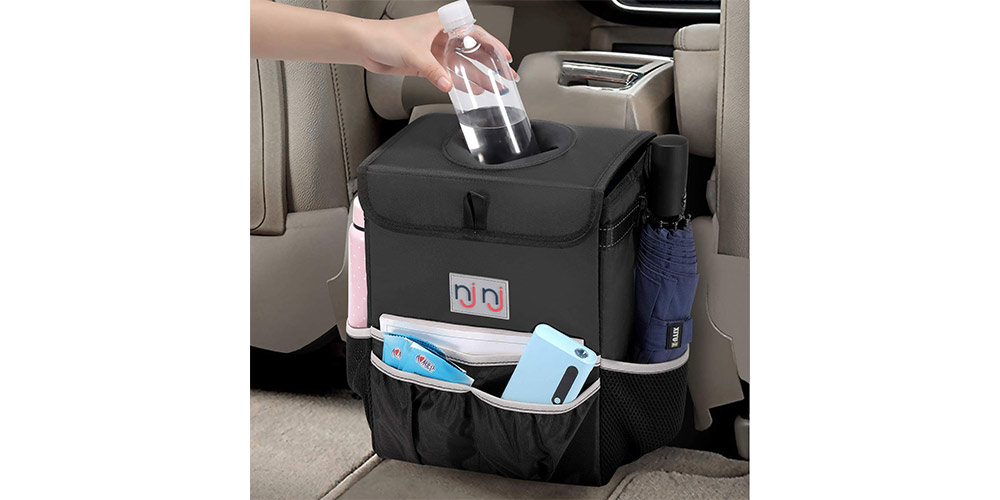 Brand: njnj
Another impressive option that deserves to be on the top 7 best car trash cans list is the njnj Waterproof Car Trash Can. This is one of the biggest trash cans on this list. It measures 9.5-inches wide, 13-inches tall, and around 6-inches deep. This product has an interior volume of 2.7 gallons or 0.36 cubic feet. With this product, you can drive longer before worrying about a roadside garbage bin.
Similar to the other trash can options on this list, this product comes with a waterproof lining. We like that it comes with a lid to contain trash and odor as well. That is a huge plus for us.
This car trash can includes a strap to hang it from a headrest or place it securely on the center console. To keep the car trash can in place, you can utilize the hook and lower tether. You'll also find multiple exterior pockets so you can stash tissues and wipes. Lastly, this product can be folded when you don't need to use it.
Overall, we love that the njnj Waterproof Car Trash Can comes in attractive fabrics and has bigger storage. However, for those who don't want to take up much space inside your car, you can opt for other products on this list.
Choosing the Best Car Trash Can
Now that you've read the top 7 best car trash cans we highly recommend, it would be smart to verify your specific requirements. Do you have a compact car that can't welcome a big trash can? Do you want a waterproof one so you won't have to worry about potential leaks? Are you on a budget, or do you have funds to spend on an option with added features? Are you okay with an open-top trash can, or do you prefer one that comes with a lid? Answer these questions, and you're well on your way to picking the best car trash can for your vehicle.