Using one of the best trickle chargers to preserve your battery is essential if you're going to take an extended vacation. If you do not have a car battery charger, you can return to a dead battery when it's time to restart your vehicle.
The older your car, the weaker your battery is. Trickle chargers keep a battery topped off at its fully charged state by releasing a tiny amount of electricity to meet a battery's natural self-discharge pace. The finest car battery chargers offer repair cycles that can help revive a dead battery and prolong the life of an older battery system.
We came up with a list to help you decide on which options are best for purchase. Here are the top 7 best trickle chargers for car batteries. Check it out.
#1 Battery Tender Plus 12 V, 1.25 Amp Battery Charger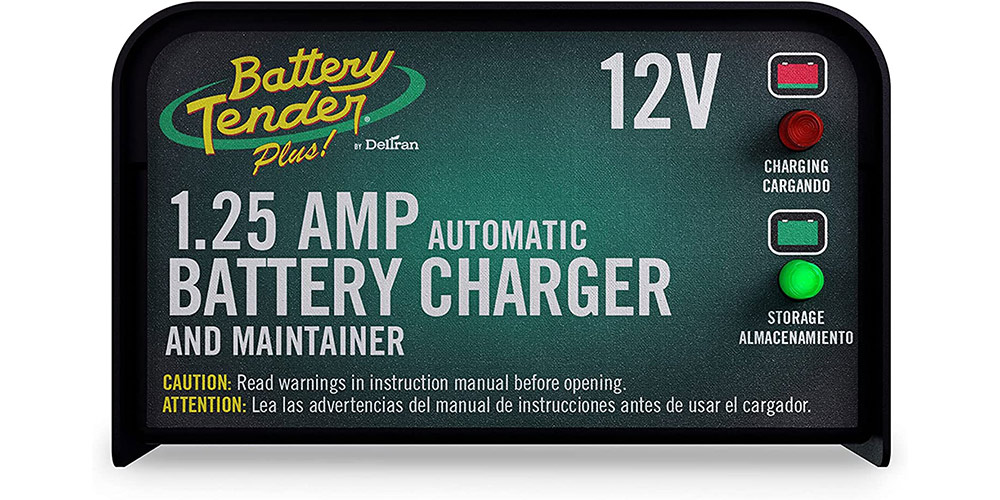 Brand: Battery Tender
For most vehicle owners, our top option strikes the perfect combination between performance and price. The Battery Tender Plus has a thermal correction feature that optimizes charge voltage depending on ambient temperature. It functions as both a trickle charger and a maintainer. The tender plus will fully charge the battery in your car before being automatically switched to float charging to keep it powered.
No matter how long your car is idle, it won't overcharge and will keep your batteries safe. Only 4.87 x 3.25 x 2.93 inches and 1.45 pounds make up the entire package. All 12V lead-acid, flooded, AGM, and gel cell batteries are functional with the Battery Tender Plus car battery charger. 
#2 BLACK+DECKER BM3B Fully Automatic 6V/12V Battery Charger/Maintainer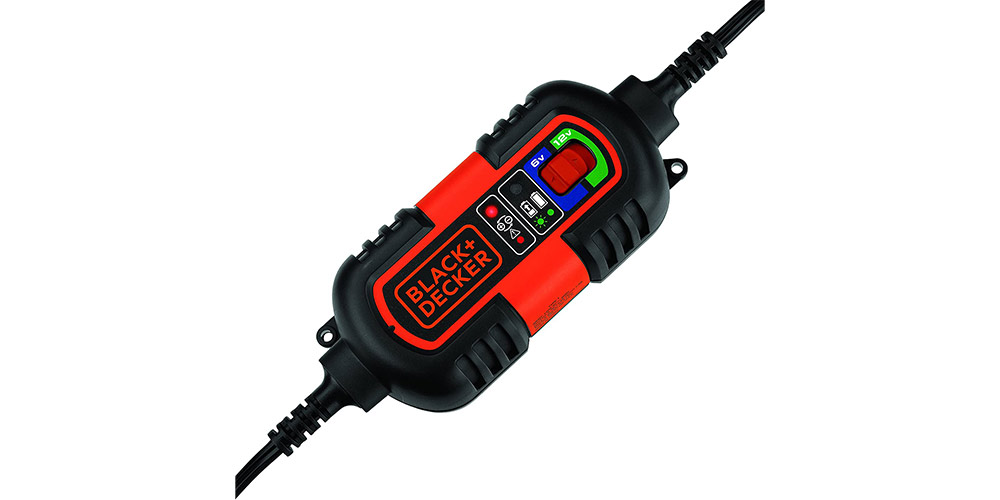 Brand: BLACK+DECKER
The car battery charger from BLACK+DECKER will fit your budget. It's incredibly lightweight financially and physically, measuring 5 x 3 x 8.9 inches and weighing one pound.
It has a few unique characteristics and safety nets. It has both O-ring post and alligator clamp terminals for both types of battery post styles, as well as one-touch automatic charging. All 6- and 12-volt AGM, gel and wet batteries are compatible. It can only charge at 1.5 amps. It contains a reverse polarity check to make sure your battery is not harmed in any way.
#3 Schumacher SC1304 Fully Automatic Battery Charger Maintainer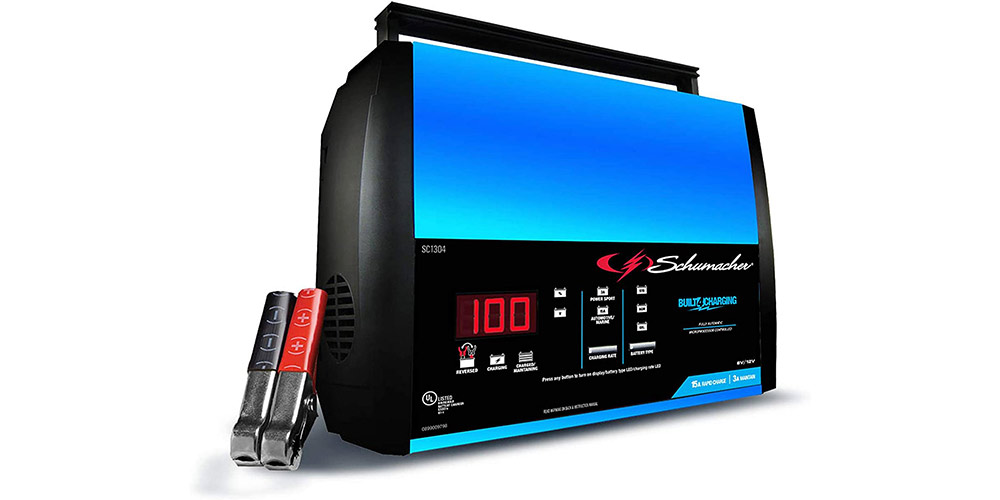 Brand: Schumacher

The new SC1304 Fully Automatic Battery Charger Maintainer can charge six and 12-volt conventional, AGM, and deep-cycle batteries and has a peak charging rate of up to 15 amps is more than sufficient for any vehicle battery.
It has a three amp maintenance cycle that is adequate for most current batteries. Although it weighs three pounds and has dimensions of 10.3 x 8 x 3.7 inches, it is still a tiny battery charger. The best feature is the automatic, walk-away charging for both six and 12-volt batteries, which detects and charges appropriately. Once the battery is fully charged, it enters maintenance mode to keep the batteries topped off and in good condition for several months.
#4 NOCO genius5, 5-Amp Fully-Automatic Smart Charger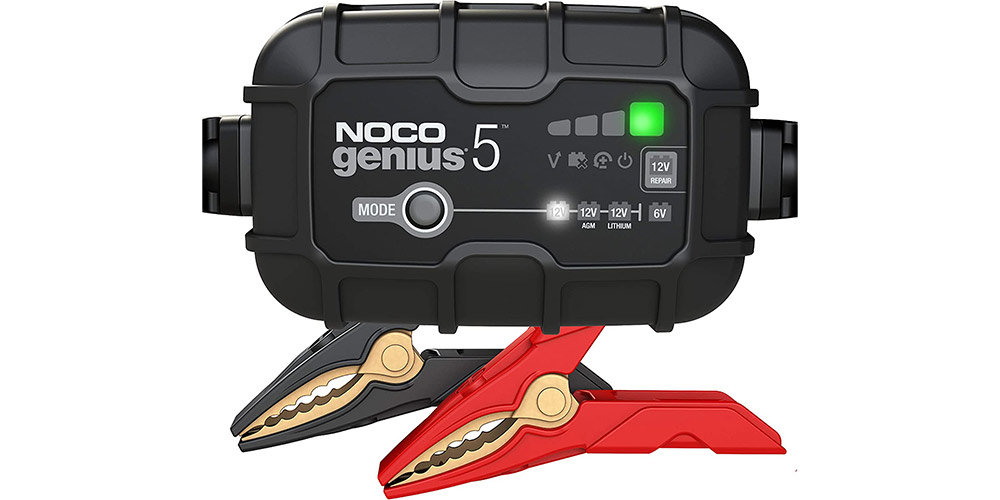 Brand: NOCO
The genius5 is a relatively compact device that combines the tasks of a battery charger, maintainer, trickle charger, and desulfator. It runs on 6 and 12 volts and provides 5 amp, 75-watt charging for lithium-ion batteries.
It contains a thermal sensor to take into consideration outside temperatures. It automatically enters maintenance mode after a battery is fully charged and stays in that state for as long as it is connected.
The trickle charger features dimensions of 4.61 by 3.43 by 7.95 and a weight of 1.59 pounds. If you need to attach it to a battery on a shelf permanently, a mounting strap and screws are included.
#5 SOLPERK 50W/12V Solar Battery Trickle Charger Maintainer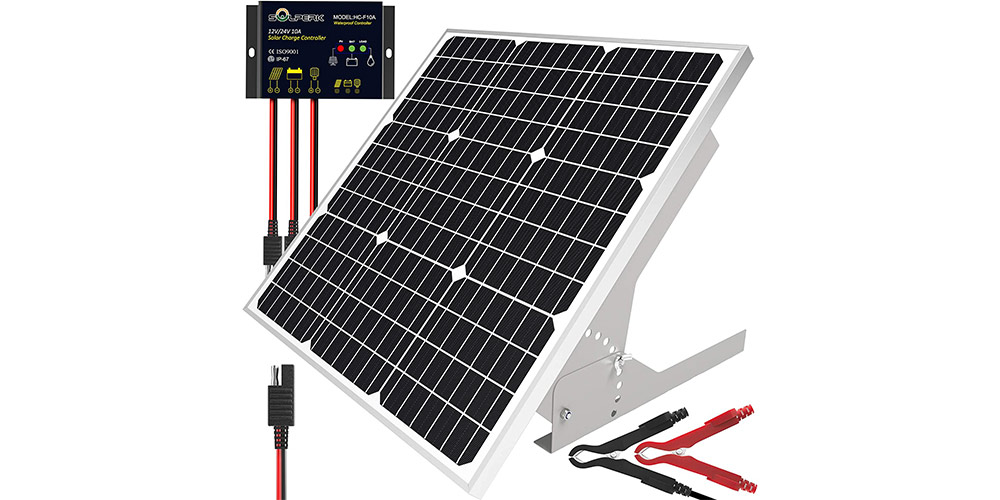 Brand: SOLPERK
Maintenance-free solar battery charger from SOLPERK, you can keep a battery charged that you don't need right away. Fifty watts of power and 2.78 amps at 12 volts. The main benefit is that you only have to purchase it once and that extension cables are not an issue.
It also includes a waterproof controller with bulk, boost, and maintenance float charging capabilities, allowing you to mount the entire system on a building's side. Built-in components safeguard against overload, voltage drop, short circuits, and reverse current. The controller supports all 12V battery types, including wet, gel, MF, EFB, and AGM.
A solar battery charger is substantially larger than a plug-in one; it is9.4 pounds and measures 21.3 x 21.3 x 4.45 inches, not including the controller.
#6 Clore CHARGE IT! 4506 6/12V (6/2) Amp Smart Charger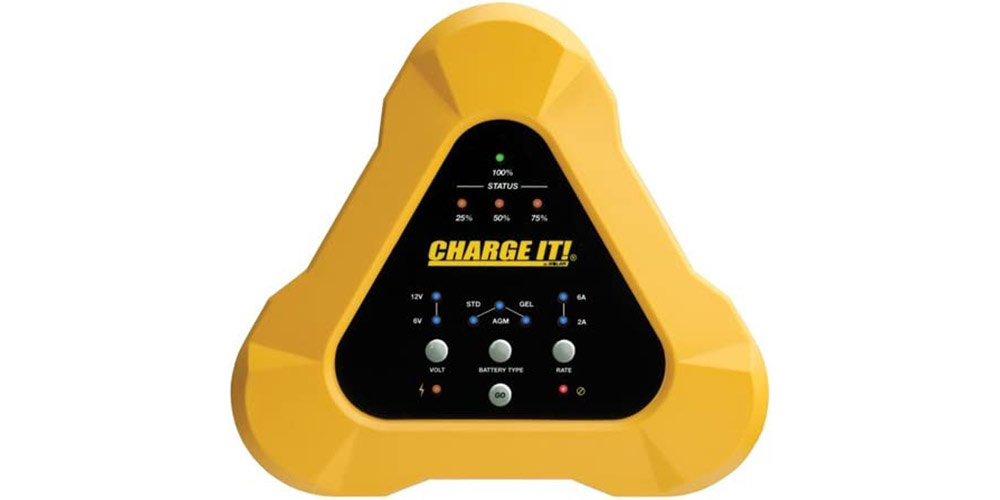 Brand: Clore Automotive
In the small triangular CHARGE IT! 4506. All six and 12-volt batteries, including AGM, deep cycle, gel cells, and maintenance-free batteries, are charged and maintained. It won't be quick because the charge cycle is only six amps. The line's primary option lacks the other models' higher 12 and 20 amp capacities and digital displays, but it's the only one that also works with the 6-volt batteries.
The Clore only weighs 1.1 pounds and has small ropes on the underside that wrap around tiny legs. Its dimensions are 8 x 7 x 4.5 inches, and while in use, it is intended to be placed under the hood near the battery.
#7 Forney 52755 Battery Charger, 6V 2A/10A, 12V 2A/10A/40A/200A Engine Starter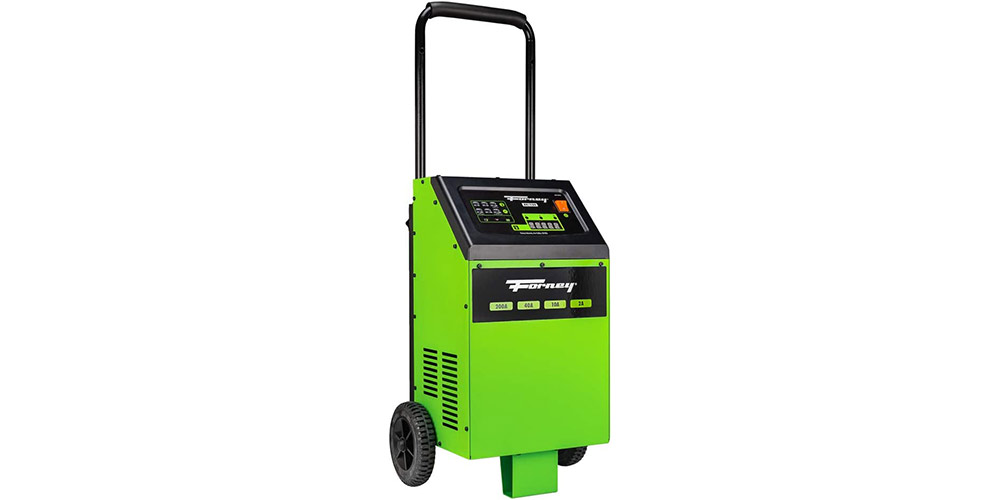 Brand: Forney
With the added capability of working with big engines and batteries in trucks and machinery, the Forney delivers all the charging, maintenance, and even repair duties of a smaller device. It can work with six and 12-volt batteries in or out of vehicles since it automatically changes to a floating battery maintenance cycle after a charge is finished.
You should utilize the handle and wheels and keep it in the shop because it weighs 40.3 pounds and has dimensions of 13 x 13.75 x 21.75 inches.
Choosing the Best Trickle Chargers For Car Batteries
You can find a lot of options when it comes to trickle chargers. Most offer different features with varying rates of charge plus a handy boost just in case your vehicle's battery dies and needs a quick jump. Some trickle chargers even include handy lights to confirm whether you've made the right connection and properly completed the circuit. Some trickle chargers also showcase a timer function so you can charge your car's battery at specific times. Hopefully, our list can make it easy for you to choose which one to purchase.