If you're looking for a car horn to replace your factory horn, there are many options available that you can choose from in today's market. However, if you are overwhelmed by these options, we got you covered. No need to scramble for different reviews on multiple products. We came up with a list of the top 8 best car horns today. Check it out below.
#1 HELLA Supertones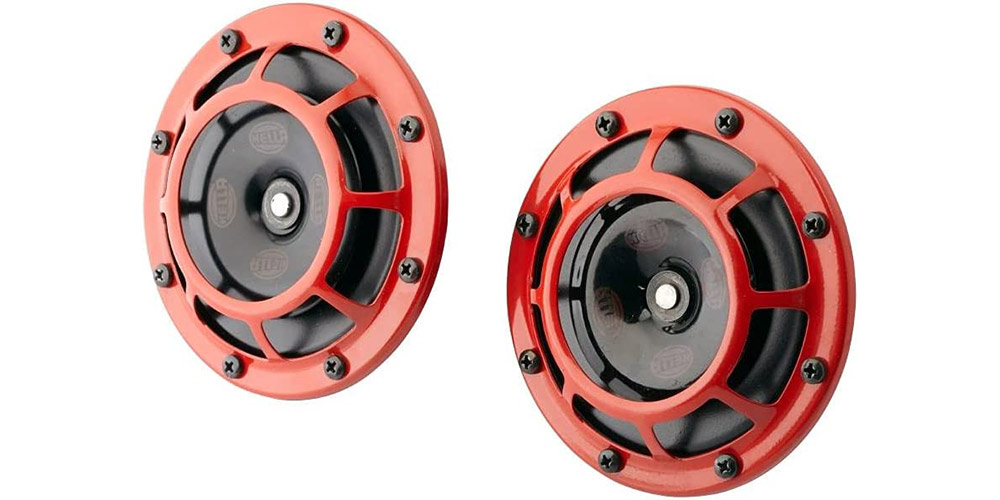 Brand: HELLA
The Hella Supertone is one of the top aftermarket picks by car owners. This is quite popular among owners of Subaru WRX and STIs. However, even if you don't own those types of vehicles, this car horn would be a great replacement of choice. What makes this one of the best car horns available today? Well, it comes with a 118 dB(A) twin-tone high-low sound, offering clarity to ensure everyone nearby hears it. It also comes with a fresh red finish that helps fight corrosion and Teflon bits on the inside for protection against humidity.
The beep sound made by the Hella Supertone effectively penetrates other vehicles. This product is ideal not just for on-road but also for off-road vehicles as well. Overall, we love its two-tone and loud features. The only drawback is that you can't exactly hide them in the bumper.
#2 Carrfan Vintage Horn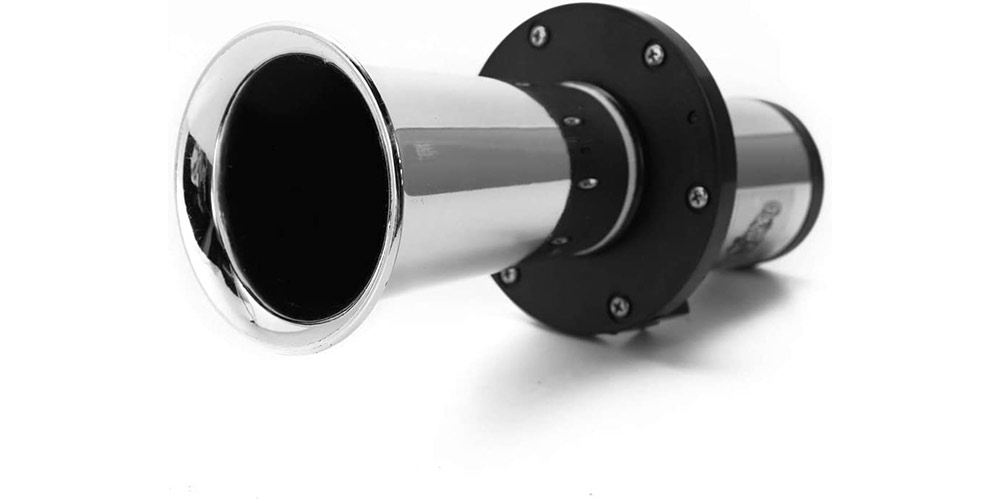 Brand: Carrfan
Are you familiar with the "aoooga" sound that once was very popular, dating back to classic 1920s vehicles? The Carrfan Vintage Horn can recreate that sound and bring back old memories via its 12-volt format. Its look is as vintage as it gets due to its chrome finish. We recommend getting this product because it offers the right amount of loudness you need from a car horn.
The Carrfan Vintage Horn offers 110 dB with a 490Hz sound. This horn is made from ABS and aluminum. It also comes with two connecting terminals and a mounting bolt, so you won't have difficulty installing and setting it up. If you want a car horn that is unique and special, this one is a great choice.
#3 Wolo Juke Box Electronic Musical Horn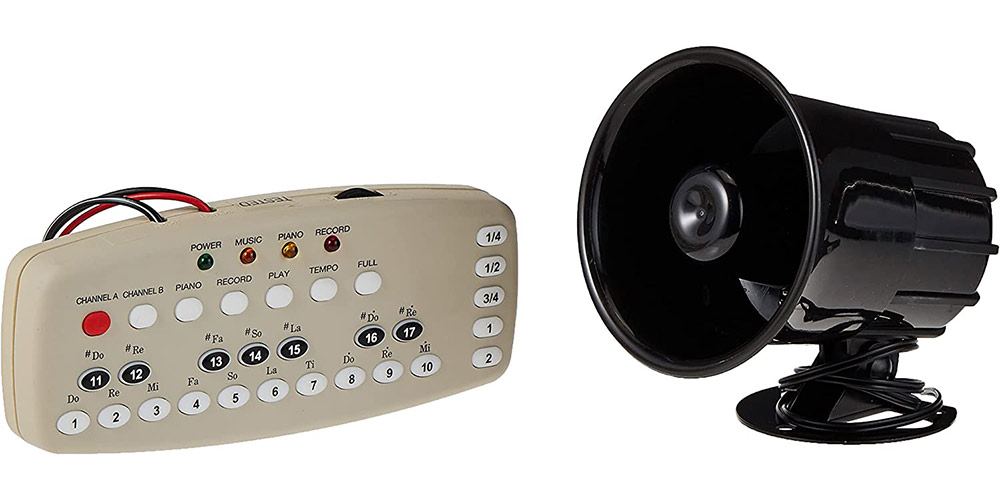 Brand: Wolo
If you want a car horn that offers more than just a plain and boring honk, it's time you get the Wolo Juke Box Electronic Musical Horn. This car horn can play 34 songs that are pre-programmed into the product. You'll enjoy the variety of songs. In addition, we love this car horn because it has a control box with a keyboard function. This allows you to program your car horn to any song you can come up with using the notes.
The Wolo Juke Box Electronic Musical Horn gives you flexibility in creating music to play for your horn. Customizing your car horn is as good as it gets with this option. You can play whatever you desire with it. Some users have noticed that this horn is a bit quieter than other horns. Overall, if you want a car horn that offers you creativity, this one is the best to purchase.  
#4 PIAA Sports Horn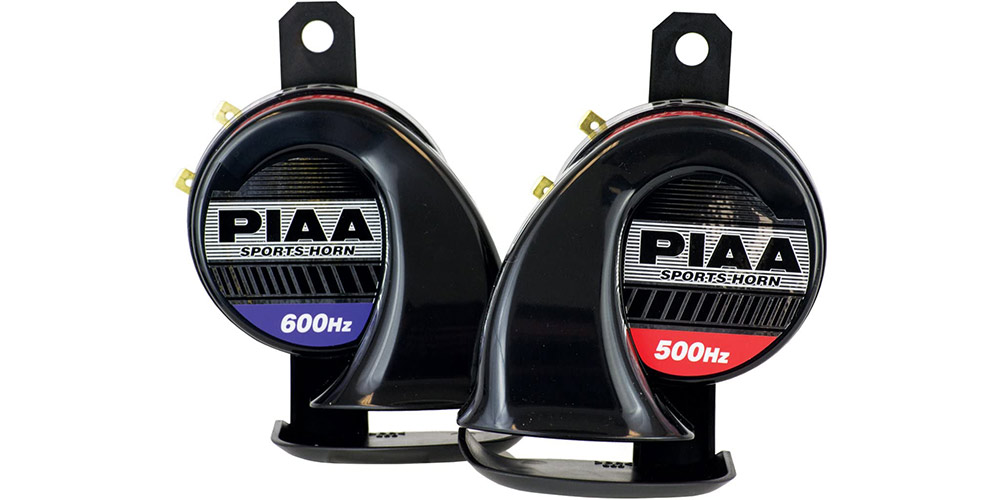 Brand: PIAA
The PIAA brand has been known as a reliable manufacturer of multiple car accessories such as windshield wipers and fog lights. The company is also popular in terms of car horns. The PIAA Sports Horn made our list because we believe in its features as well as its brand's integrity.
Getting the PIAA Sports Horn as a replacement for your factory horn is a smart decision. You'll get a pair of car horns, one is a 500 Hz horn, and the other is a 600 Hz horn. They offer a high-low tone that produces 115 dB. Compared to standard horns, these ones offer a higher pitch. It sounds a bit similar to the Ferrari chirp sound.
According to PIAA, these horns offer twice the loudness of standard horns while only using 2.7 amps. They feature a slim-fit design that is compatible with factory locations. If you want a car horn that offers a high-pitch honk, this product is a great upgrade for your factory horn.
#5 Vixen Horns Train Horn Kit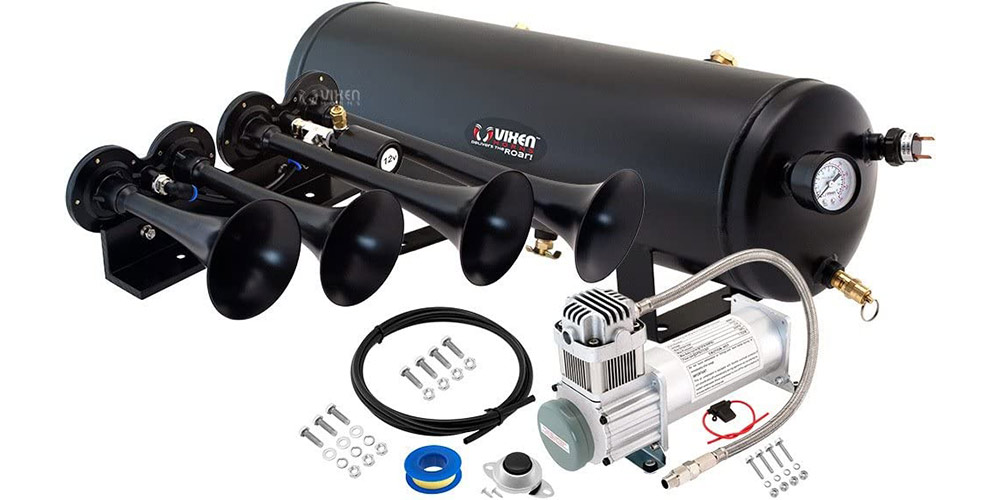 Brand: Vixen Horns
If you want serious volume from your car horn, you will have to add air. So, if you want your vehicle to have train-like levels of loudness, you should go for the Vixen Horns Train Horn Kit. If you want to get noticed while on the road, this horn kit offers just that.
This kit comes with four horns and a compressor. We suggest avoiding full pressure so you don't blast people off the road, but it can be very handy when you need it the most. When it comes to installation, this needs an expert or a professional. The air compressor will require room as well as the four horns. Some people might even get overwhelmed when they see everything that comes with the kit. It includes a three-gallon tank supplied by the 2000psi pump. It also comes with lines, fittings, solenoids, air and electrical connections, plus a button.
This kit is impressively durable as it is made of metal and sports a black shade finish. If you want a massively loud option, this is a great choice. However, if you only want a simple one, you may be turned off by this complicated kit.
#6 FIAMM Freeway Blaster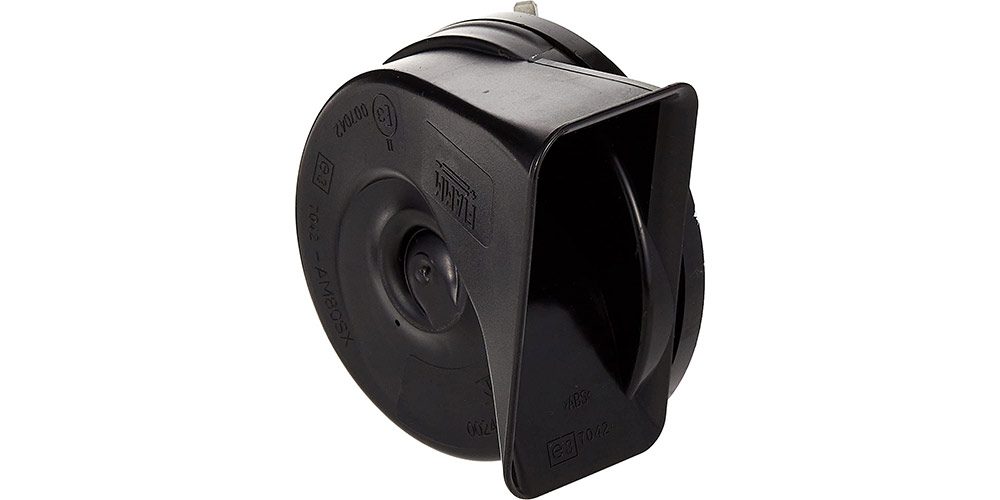 Brand: FIAMM
We really love the name of this product, the FIAMM Freeway Blaster. If you need a single-horn replacement, this is a nice option to consider. You can also pair this to a horn with a high note to achieve a two-tone sound. This horn can produce up to 133 dB, so it's definitely one of the loudest options on our top 8 best car horns list.
The FIAMM Freeway Blaster comes with an ABS plastic snail-curve inlet and steel housing. These help in protecting the horn against corrosion and water. FIAMM is one of the biggest manufacturers of car horns, so you can trust that their products meet ISO standards. With that being said, you can expect quality out of the Freeway Blaster. This product is extremely compact, and you won't have a hard time finding a location to mount this horn on your car.
If you need a really loud horn, we recommend getting this one, but if you only desire a friendly horn chirp, this might not be your best option. 
#7 FARBIN Compact Air Horn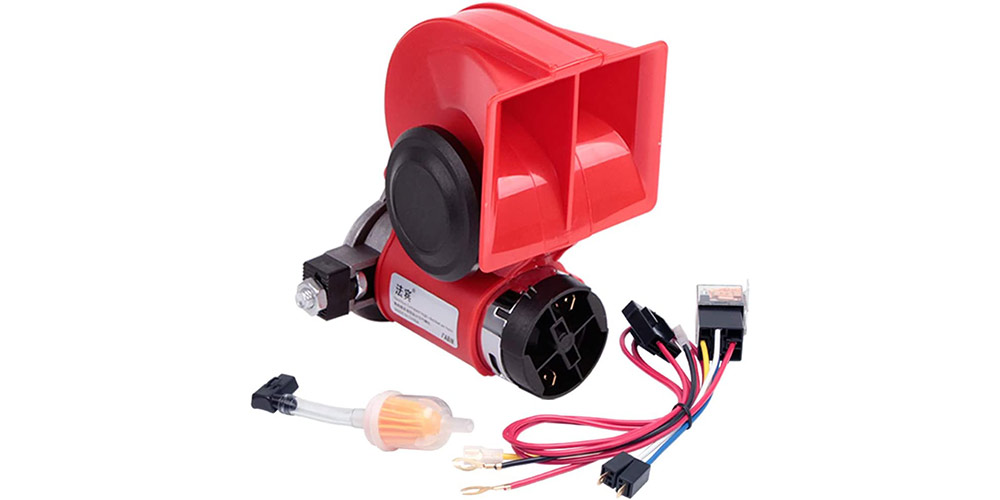 Brand: FARBIN
When it comes to air horns, you get a loud output, but you also take up quite some space. Their designs are quite complex and usually have multiple long horns, an air tank, and an air compressor. If you want an option that shrinks all of that, the FARBIN Compact Air Horn is a smart choice. According to FARBIN, this air horn can produce 150 dB. It features two horns with a 760 Hz high and 600 Hz low-tone sound.
It comes with a small air compressor that requires thicker wiring. You should verify your car wiring first. It also has a relay, fuse, harness, and everything needed to make it work. It also features an air filter that is attached to the pump intake, which offers protection to the inside components and helps achieve better performance and longer life.
Overall, we love the features of this car horn, but the complex wiring may be its main drawback.
#8 Wolo Musical Horn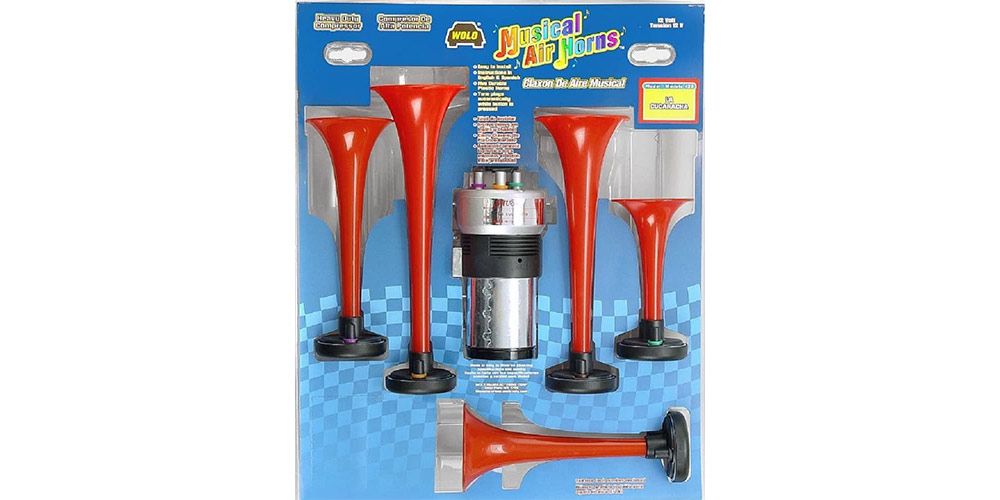 Brand: Wolo
If you want another fun option with your car horn replacement, the Wolo Musical Horn plays La Cucaracha and other songs via a set of five air horns. It produces 120 dB of output and can definitely get people's attention. If your whole point is to get noticed, you will easily accomplish that with this option. This is an interesting aftermarket product that can draw some laughs out of people. This kit includes mounting hardware for installing the five horns, plus the compressor.
Picking the Best Car Horns
Now that you've read about the top 8 best car horns, we highly recommend you consider what's best for your specific needs. If you want to install it by yourself, you can go for the simplest options with complete accessories for mounting and installing. You should also check whether you want an air horn or not. Air horns offer a much louder output, and it may be too much for some car owners. If you don't want to cause trouble by honking too loudly, you should consider the decibel output of each of the options.
We highly recommend that you check the wiring and mounting requirements of the car horns that you will be purchasing. Some of the options on this list would require professional installation so you won't mess up your car's electrical system.
Take these considerations seriously, and you will be able to get the ideal car horns for your needs. Weigh your options and always look for quality with whatever you choose to buy.