The trunk of your car may be large and capable of holding a lot of goods and luggage. It is not particularly effective at keeping your belongings organized. This is especially true; smaller items can fly around the trunk, making a lot of noise, which can be irritating and dangerous.
You need a trunk organizer if you want to address the problem of a disorganized trunk permanently. They will not only assist you and make the most of the space in your trunk. To help you in selecting the best trunk organizer for your needs, we've compiled a list of the best trunk organizers available on the market now.
#1 Trunkcratepro Trunk Organizer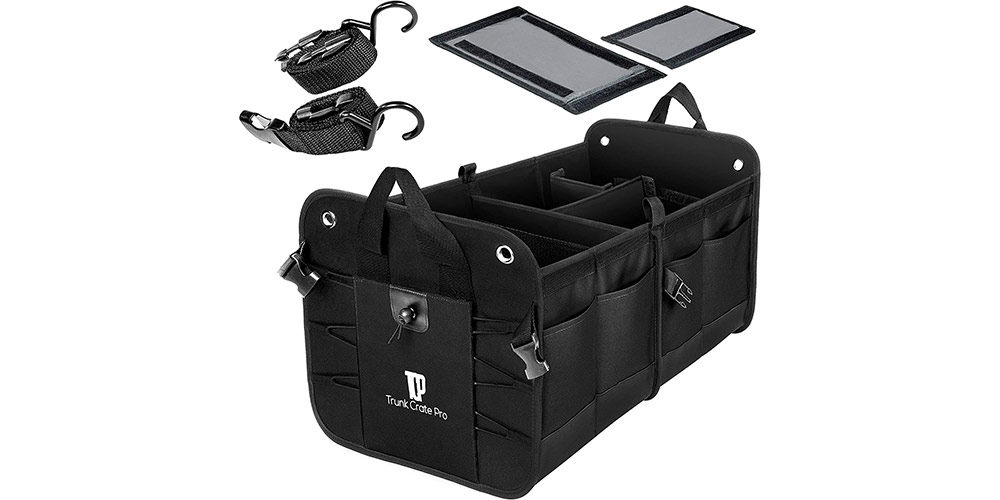 Brand: Trunkcratepro
Trunkcratepro is made from materials of the best quality, and the level of detail is remarkable.
It has dividers, subdividers, and mesh compartments on the inside. In other words, this is the best organizer available for big, medium, and small objects. To keep it firmly in place, it also has eyeholes, non-skid hooks, and Velcro strips. Waterproof materials are used, and the built-in handles are strong and comfy as well. This is perfect for keeping liquids out of your trunk. Plus, it is quite strong and maintains its shape even when heavier goods are stored. 
#2 Picnic at Ascot Trunk Organizer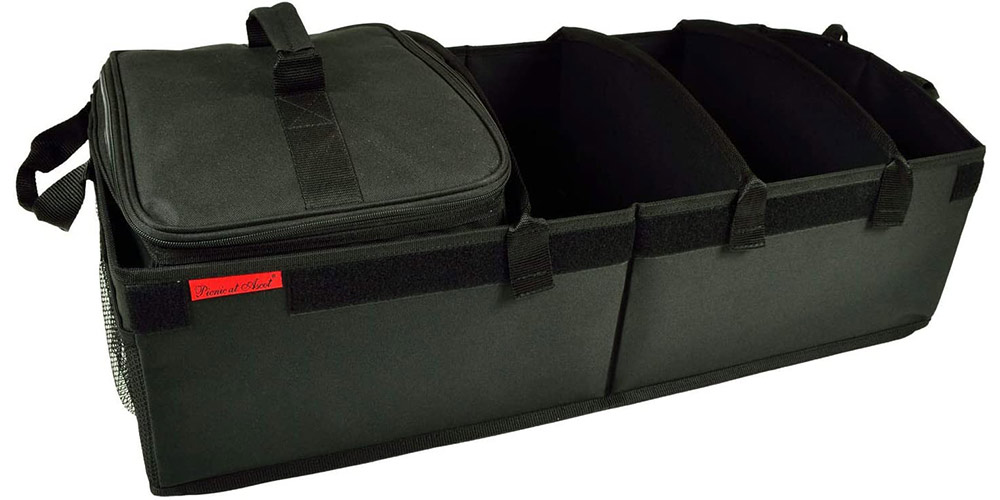 Brand: Picnic at Ascot
This organizer is built of high-quality materials with great attention to detail. The level of detail extends far beyond the construction. The Picnic organizer includes waterproof materials, adjustable panels, and a built-in cooler.
This includes heavy-duty handles that can withstand a lot of abuse and Velcro straps underneath to keep it firmly in place while driving. And despite being extremely strong and long-lasting, this organizer features a smart design that makes it simple to collapse when not in use.
#3 Drive Auto Car Trunk Organizer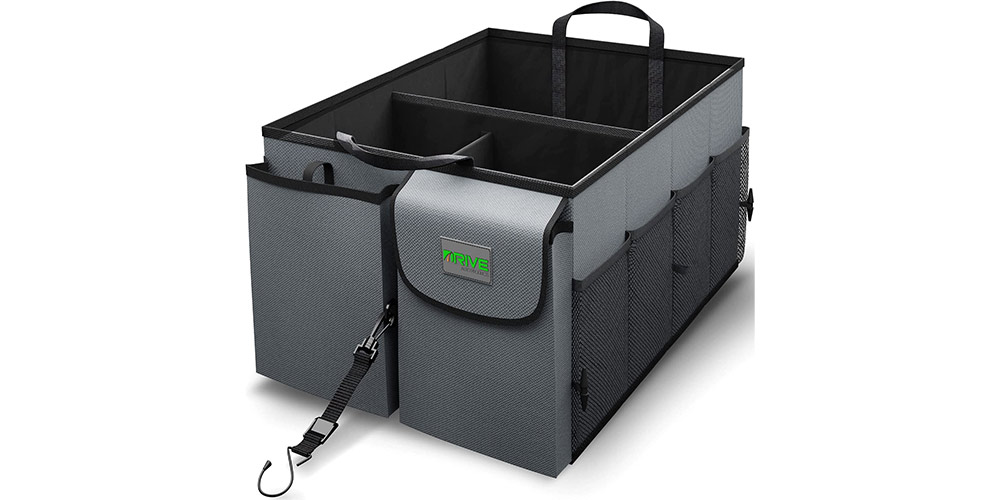 Brand:  Drive Auto
This organizer consists of a rubberized, waterproof, foldable-but-stiff fabric that stays in place well when empty. It contains a main central divider, a smaller snap-in divider that folds out of the way and measures a practical 23 x 17 x 11 inches. The stitching and materials are of high quality, and it appears to be long-lasting.
#4 MaidMAX Trunk Organizer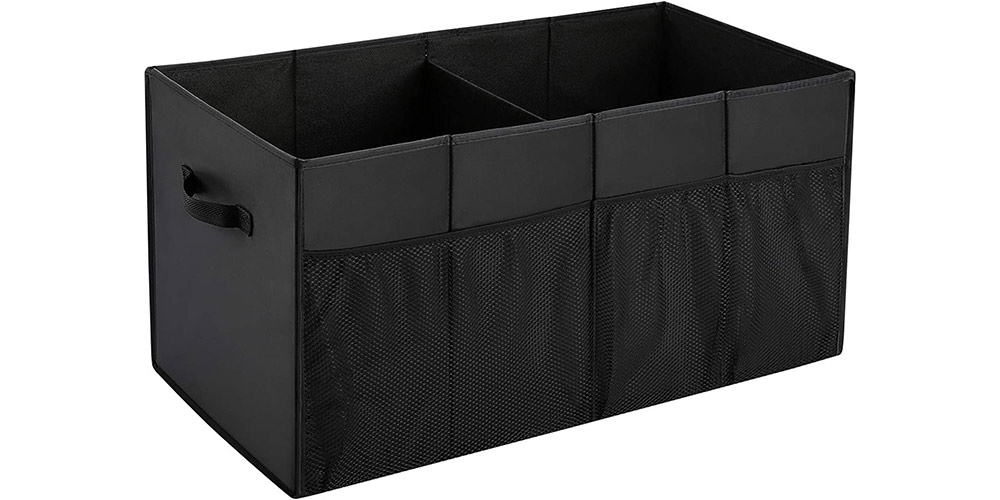 Brand: MaidMAX
Try the MaidMAX Trunk Organizer if you have a very limited budget but still need a way to organize the items in your trunk. You can't really complain too much, though, because the price is low, and you get what you pay for. It may not be constructed like a tank, and it may not be as durable as we would have liked.
The MaidMAX organizer has two built-in compartments and meshes pockets on the outside to keep your smaller belongings organized. It even has grips on the outside, although they aren't the most pleasant to use. Due to its softer side panels, this organizer is less durable than others and may deform if you place heavier items inside.
#5 FORTEM Trunk Organizer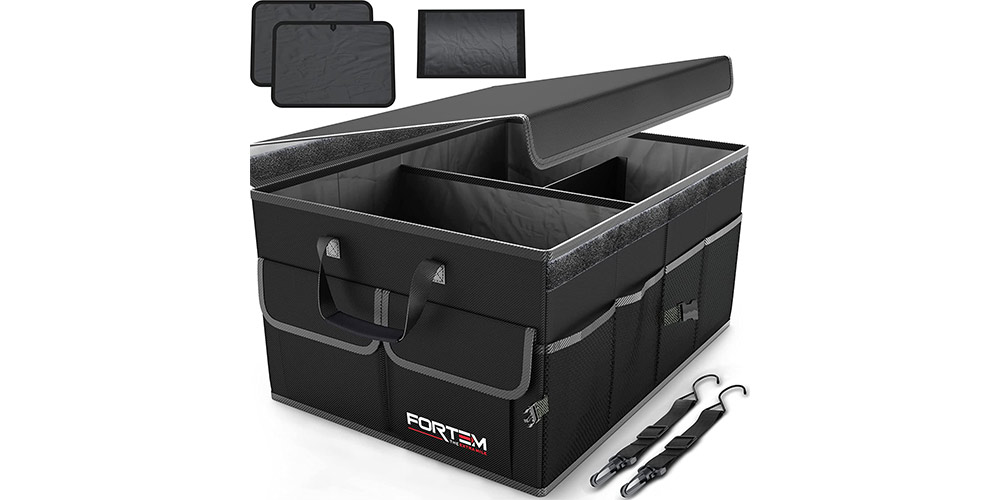 Brand:   FORTEM
FORTEM includes a nylon cover. Although the cover may limit available space, it is still useful to have. It features three compartments inside and is easily adjustable to various lengths to better suit your needs. Additionally, it is constructed with high-grade components, and the build quality is sufficient for heavy-duty uses.
It also has Velcro strips below to help keep it firmly in place when driving. It can also be folded up extremely simply and very compactly, which is perfect for storing.
#6 Starling's Car Trunk Organizer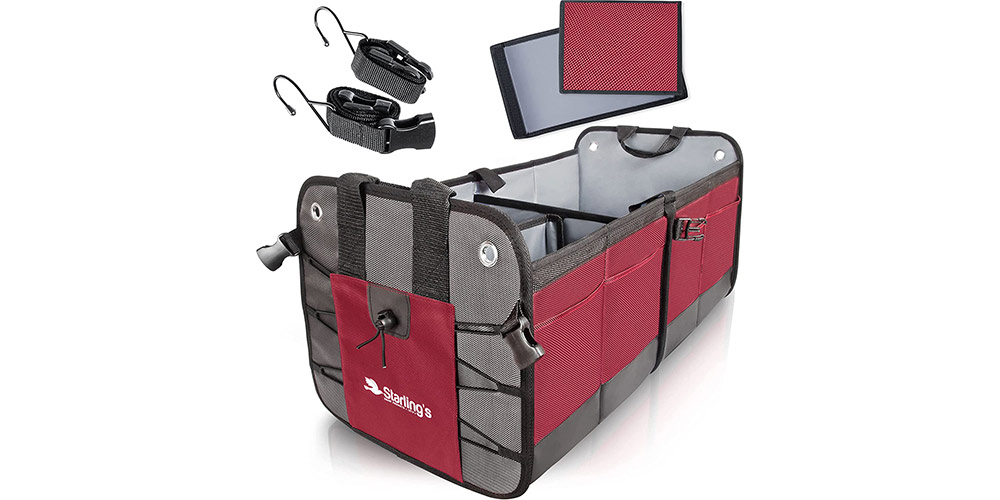 Brand: Starling's
Starling's trunk organizer includes three compartments on the interior, which is ideal for arranging objects of various sizes, and it also has pockets on the outside. These pockets are not as expandable as some of the other pockets on our list, though.
It also provides a very high-quality 1680D Oxford Polyester material for the price, which is quite sturdy and doesn't bend even when used to the maximum. It features two rubberized Non-Skid grips on the bottom, but there aren't any Velcro strips, which are usually better at keeping it in place when driving.
#7 YoGi Prime Trunk Organizer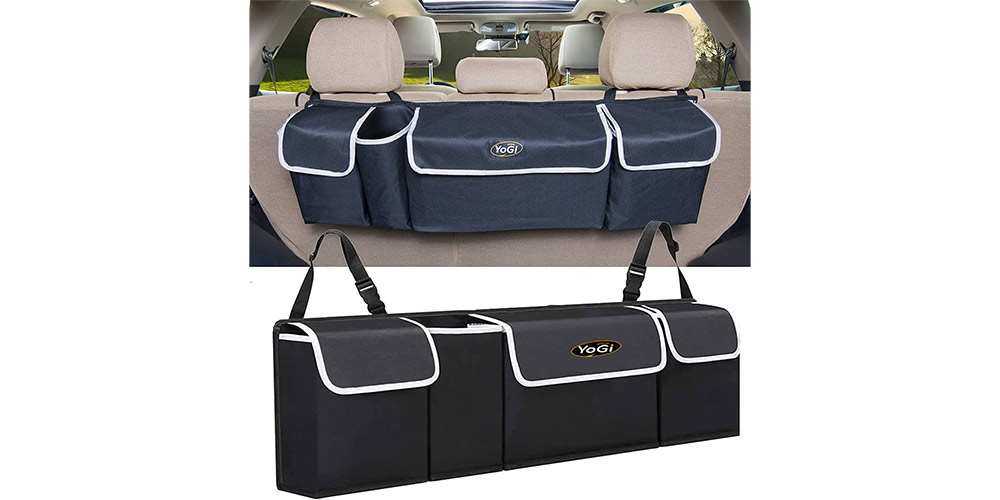 Brand: YoGi Prime
YoGi's car organizer for the trunk and backseat can be used to add additional storage spaces within the vehicle while it is attached to the front seats. It is built of reasonably high-quality materials and appears to be durable.
It features four pockets of various sizes, three of which have covers on top; however, these only allow you to store shorter objects inside the pockets. 
#8 Honey-Can-Do Folding Trunk Organizer
Brand: Honey-Can-Do
The Honey-Can-Do trunk organizer is a low-cost product with two large compartments on the inside that are ideal for larger items. Given its height and width, it works best on SUVs and minivans but can also be utilized on select sedans. It also folds down and collapses into a half-size organizer for easy storage. It also has expandable mesh pockets on the outside for storing small items.
Despite having handles, they are not really comfy, especially if you are carrying heavier items. The Velcro strips underneath help it stay in place while driving, which is a plus. This is undoubtedly something you wouldn't anticipate from a product this affordable.
#9 Rola M.O.V.E. Trunk Organizer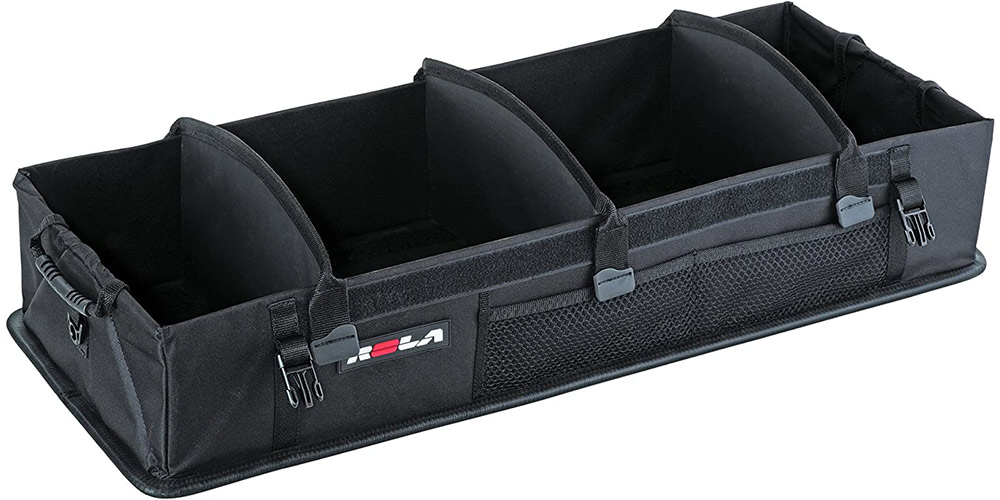 Brand:  Rola
This trunk organizer is unquestionable of great quality. Even when used with very heavy goods, it is sturdy and maintains its shape. Although the four compartments are a great feature, they are pretty shallow.
The materials are of impressive quality, and the attention to detail is exceptional. The mesh pockets on the outside are helpful for holding smaller goods, while the mesh pockets are simply adjustable and remain in place even with heavier items. Additionally, it folds down effortlessly for storage in the trunk. Another benefit of this trunk organizer is that it will remain in position when your car makes sharp turns because of the non-slip material.