If you enjoy keeping your car clean, but you don't want to spend a fortune at the car wash or entirely rewash it every day. You need to purchase some waterless car wash products, it seems.
A cheap and simple approach to keep your vehicle looking brand new is to use waterless car wash products. These products enable you to simply remove any surface grime like water spots, bugs, bird droppings, and more by using a pre-mixed spray to the body of your car, SUV or truck as long as there is not much dirt or dust on the surface.
Without time to wash the automobile before a significant occasion or maybe a date? Or perhaps your home lacks a carport and hose necessary for a decent car wash. Residents of condos and apartments can benefit from a waterless car wash. Just take the waterless car wash product and cloth out of the trunk, spray it on, and wipe it off to give your car the impression that it has just come from the local car wash.
If you don't have any idea which waterless wash product to buy, we came up with a list of the top 8 best waterless wash products for cars available today. Check it out below.
#1 Meguiar's Ultimate Waterless Wash & Wax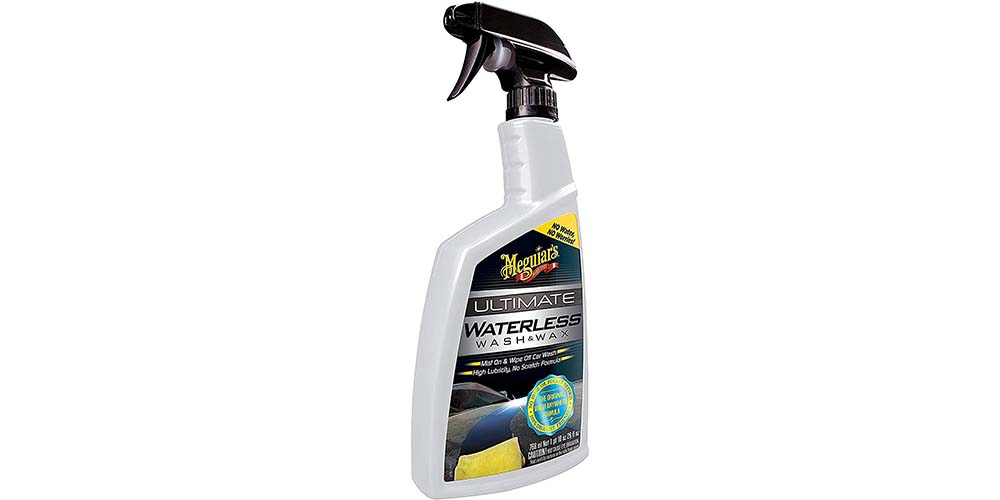 Meguiar's Ultimate Waterless Wash & Wax is a reasonably-priced waterless car wash solution that will aid in removing debris from your vehicle's surface and also leave a wax layer for a beautiful, sealed result.
Meguiar's assures that its waterless wash and wax will prevent scratches and swirls while leaving no water stains behind. It's safe for polished metals, plastic trim, and even glossy paints with clear coat finishes.
For a car that has already been cleaned, this product is perfect. However, they might not leave your car looking quite as glossy as this Meguiar's product does. Some alternative waterless car wash products will be rougher on dirt, bugs, and other sticky surface grime and dirt.
#2 Chemical Guys Hyper Concentrated Waterless Car Wash & Wax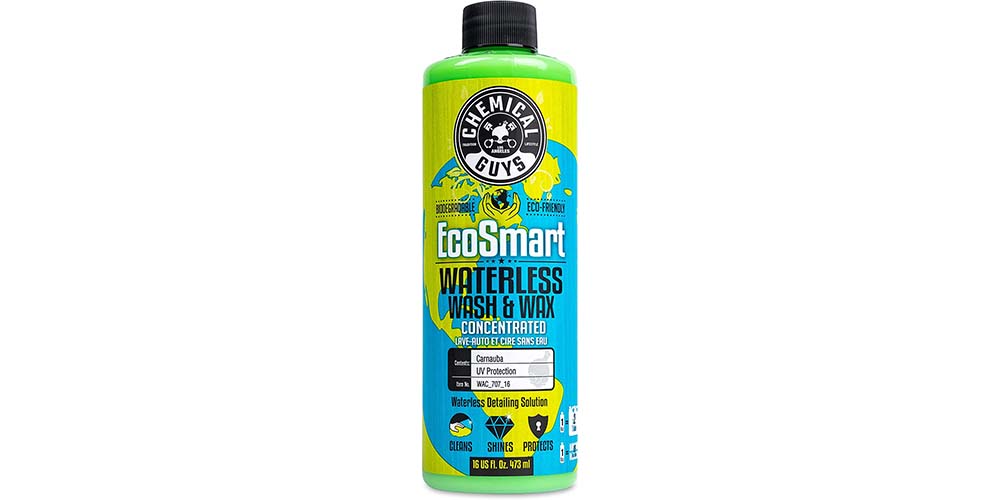 This waterless wash and wax is a concentrated mixture that can be diluted to make it go a little bit further. It is provided by the reputable company Chemical Guys. Up to 2 gallons of waterless wash are said to be produced, according to Chemical Guys.
This waterless wash and wax will polish your automobile and offer long-lasting protection from dirt and grime. Without damaging the exterior of your car, it safely sweeps away dirt. With this wash, you ought to use a premium microfiber towel. The paintwork, bumpers, plastic trim, wheels, and other surfaces can all benefit from its use.
When watered down at the ratio advised by Chemical Guys, some consumers complain that the wash is a little too thin. You might want to use a little bit more of the concentrated wash than the bottle recommends in order to correct this.
#3 Aero Cosmetics Wet or Waterless Car Wash Wax Kit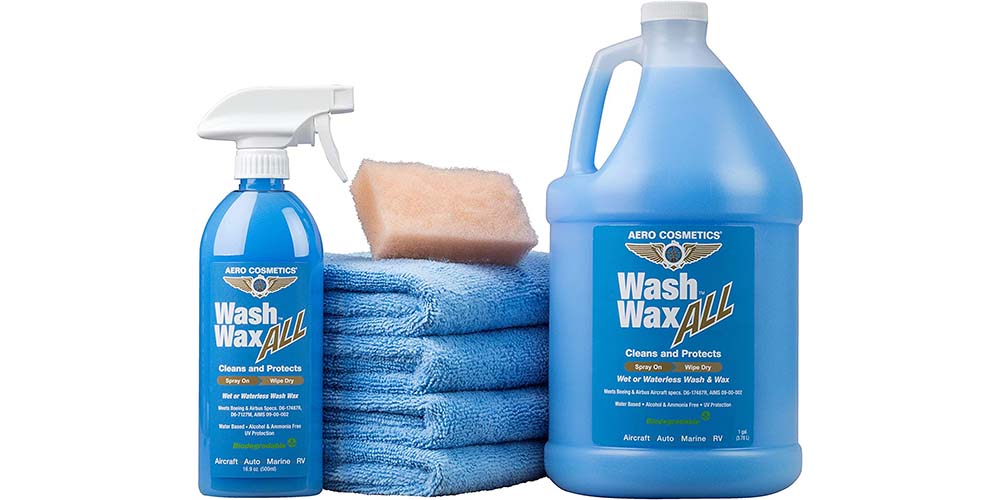 This waterless car wash kit from Aero Cosmetics is a fantastic deal and includes everything you possibly need for cleaning your car without requiring a hose or a water bucket.
A 16 oz spray bottle plus 4 microfiber towels, a comprehensive how-to manual, and a 144 oz waterless wash are all included in the industrial level wash and wax set. Additionally, it won't bother your skin or eyes and is biodegradable.
According to Aero Cosmetics, in addition to cars, the wash is suitable for RVs, motorbikes, and boats.
#4 Griot's Garage Spray-On Car Wash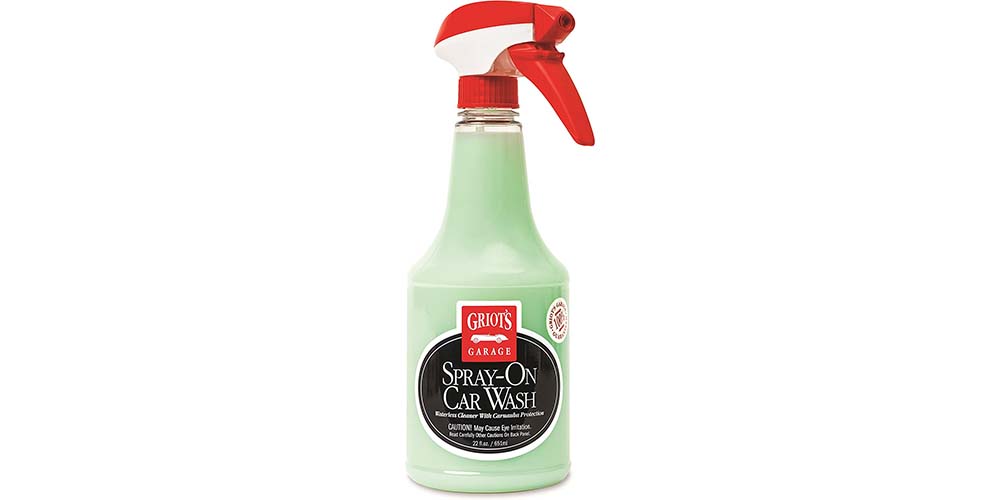 For the same cost as many other washes that come in 16 oz sizes, Griot's Garage Spray-On waterless car wash is available in a 22-ounce format.
It is consequently cost-effective and won't leave behind smears or streaks. To thoroughly clean a car that is very dirty or dusty, however, you might need to use a lot more of the spray than you would with some other less expensive waterless washes.
This waterless wash from Griot's is a reliable, cost-effective choice if your car receives frequent water washing and you're searching for a product to help that shine last a little bit longer.
#5 OPT Optimum No Rinse Wash & Wax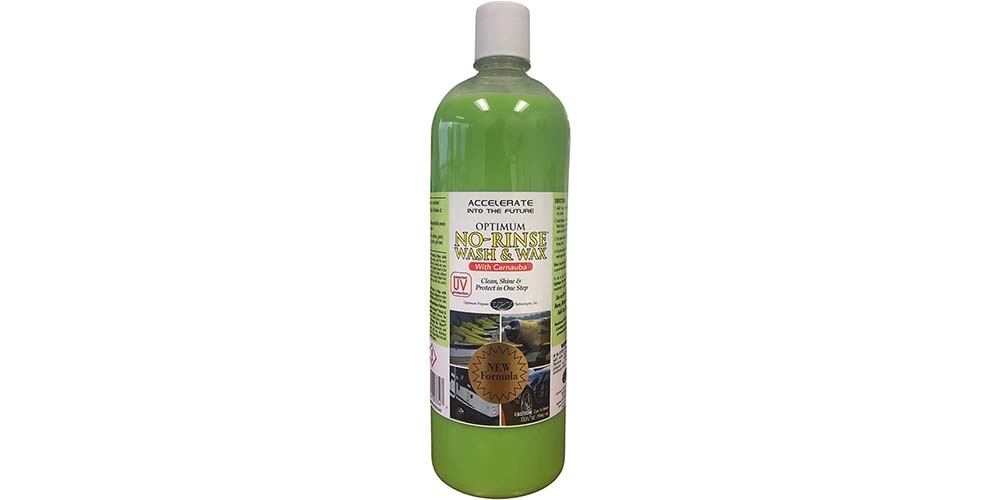 This OPT no-rinse, waterless wash and wax is reasonably priced and offered in a handy 32 oz package.
Your vehicle will remain clean for many weeks after using the product, which removes dirt and seals it with wax. According to OPT, it may be used to wash wood or fiberglass paneling and is suitable for use on automobiles, trucks, boats, and RVs.
After applying this waterless wash, you might wish to give your car a specialized wax for a very glossy finish.
#6 Rain-X Waterless Car Wash and Rain Repellent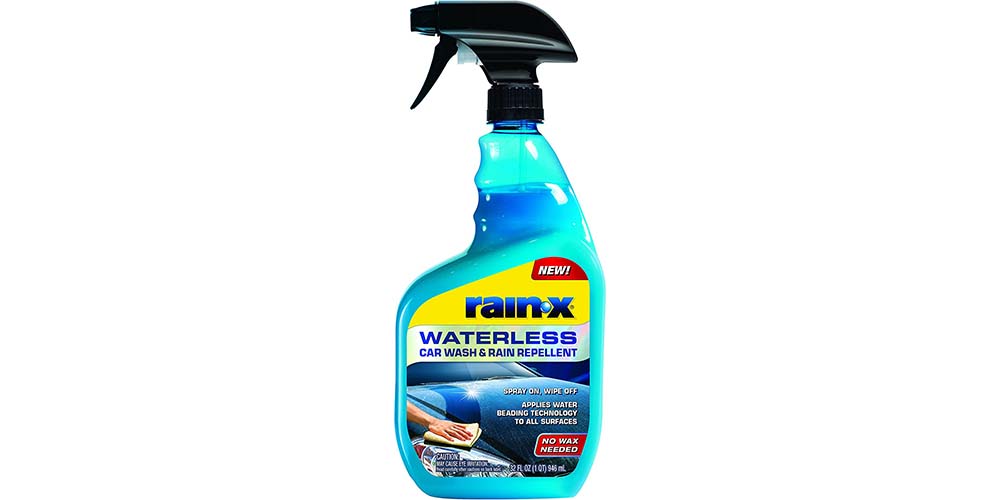 Although it's likely that you've heard of the brand's water-repelling products, you might not be aware that the Rain-X also produces a waterless car wash.
This cleanser will successfully clean your car of dirt and grime, much like other waterless washes. However, it also has another function, which is to make sure that in a storm, water will bead off of your car. So that water doesn't collect on them and impair visibility, it can be applied to your car's windows and headlights.
According to Rain-X, this waterless car wash won't scratch the surface of your car, SUV, or truck and is safe for all exterior surfaces.
#7 DualPolymer Waterless Car Wash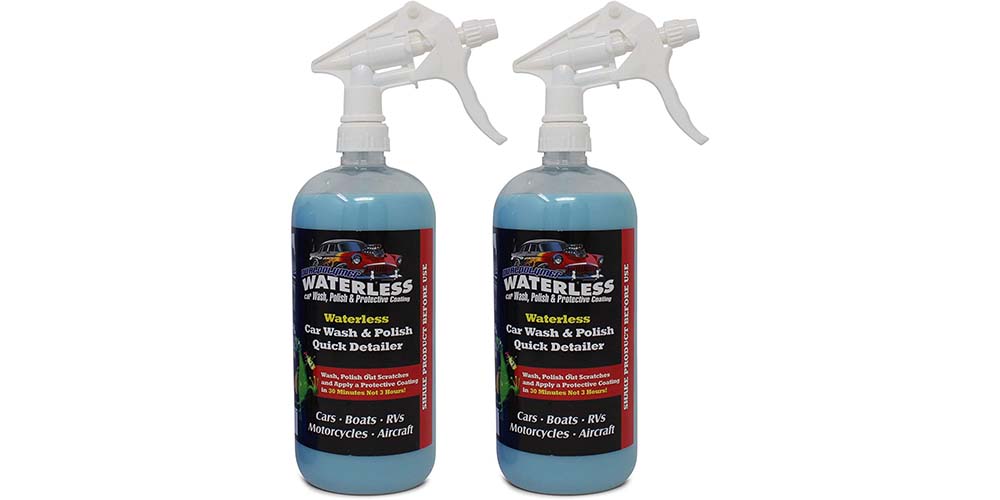 Acrylic resin, which can fill small scratches on your car's bodywork and lessen their visibility, is a component of this waterless car wash from Dual Polymer.
The product keeps its ability to function as a waterless wash and wax in addition to filling small scratches.
DualPolymer's solution includes a free microfiber towel despite being slightly more expensive than some other waterless wash and wax products. Additionally, it may be applied to almost any surface and is suitable for your motorcycle, boat, or RV.
#8 Mothers California Gold Waterless Wash & Wax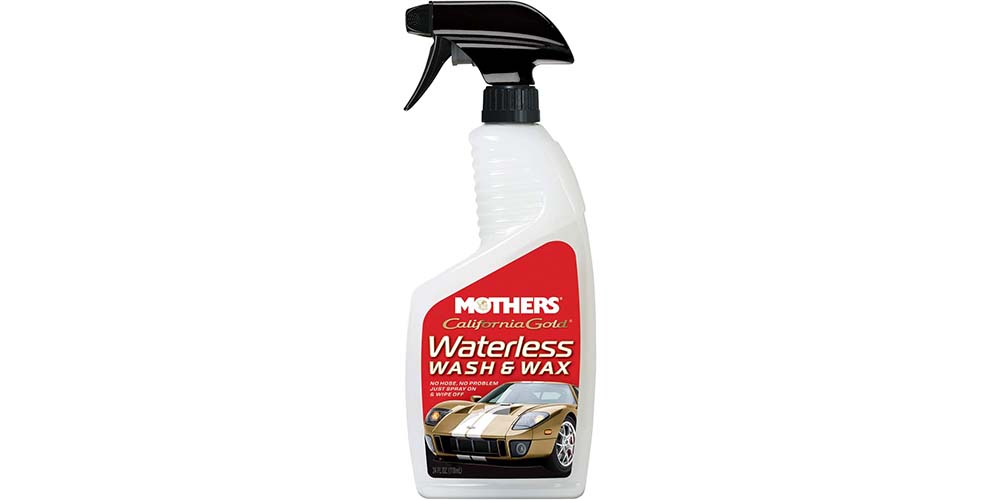 It's likely that you've used one of Mother's products if you've ever detailed or washed a car. With the company's highly lubricated wash and wax, your car will have a bright, scratch-free surface. Any outside surface, including glass, plastic, and chrome, is also safe.
For less money than some companies charge for a 16 oz waterless wash, you may purchase a 24 oz bottle of this waterless wash and wax. The item can also be purchased in a package with a tire renew solution and a glass cleaner. The product, according to some consumers, doesn't smell as good as some other waterless washing detergents' fruity, tropical fragrances.
Essential Information About Waterless Wash Products
When using a waterless car wash and wax, it's crucial to make sure your automobile isn't excessively dirty. It won't matter how much product you use or how good of a product it is if your vehicle is entirely covered in surface dirt; you'll only distribute the dirt around and run the danger of scratching or creating swirls in the paint.
These compounds work best when applied between thorough washes or immediately following hose-down car washing. It works well for spotting cleaning as well.
The use of a thick drying towel is essential because it can effectively trap the dirt rather than spread it across the surface of your car as a thinner drying towel can. Additionally, a thicker tower will assist in absorbing the cleaning agent and stop it from spreading or causing streaks.
In addition to effectively cleaning wheels and rims, waterless car wash products also perform well on bodywork and windows. However, you should be sure to use a different towel for the wheels than for the bodywork or windows. This is so that you don't transmit excessive amounts of dirt from the wheels onto the body of your car. Your vehicle would not only seem dirty as a result of this, but it could also harm the paint.
Many of these products can also be utilized as wax and wash. These two-in-one treatments can save you money and time even though they are less effective than a standalone wax at making your car seem shining and safeguarding the paint. However, they do not entirely take the place of a good wax. We advise sticking with a traditional wax if you genuinely want to protect the paint on your car.
When purchasing waterless wash products, many consumers dilute the solution in a hand pump pressure sprayer with water. This makes it simple to wash a big surface area and then quickly wipe the car down afterward. Although it may go against the notion of a "waterless" wash, it is considerably simpler than getting the hose or a pressure washer out.
Hopefully, you learned a lot from this article and have a broader picture of what these products can offer. You can rely on our list if you want an efficient waterless wash product for your car.