Your vehicle's maintenance items may seem too many to think about, but one that you should never ignore is the brake pads. You could drive better and safer if your car had high-quality brake pads. When you fail to replace your brake pads regularly, you are putting yourself and your family in danger.
If you find it hard and tedious to shop for brake pads, we came up with a list of the top 9 best brake pads available in today's market. Take note that the majority of brake pads are sold separately, meaning the front and rear brake pads are not usually sold together. Always carefully examine if you are purchasing the proper product for your specific needs.
#1 Brembo Brake Pads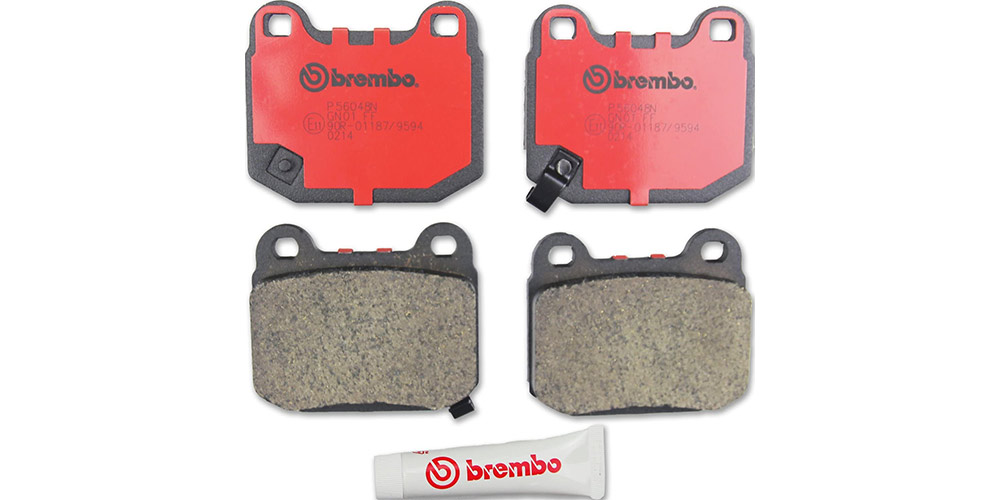 Among the most respected brands in the braking industry is Brembo. You can never go wrong with braking pads when it comes to Brembo. The company specializes in braking components. Their brake pads are designed and engineered to enhance braking power and help minimize the braking distance as it they offer a safe and quiet braking experience. A lot of Brembo's products feature the multi-layer ESE (elastomer-steel- elastomer) signature red shim of the company. This specific shim assists in minimizing vibrations and dampening noise.
Bembro's offerings are mostly ceramic brake pads. They are manufactured via an Original Equipment Direct Molding Pressing Process to achieve proper and accurate fitment for your car. Extreme pressure is used in this process to compress friction materials which provide a balanced bonding to the backing plate. The pads are then put through a thermal process to lessen fading and running-in. 

#2 Best Budget Option for Rear Brake Pads: ACDelco Advantage Ceramic Rear Brake Pads (14D698CH)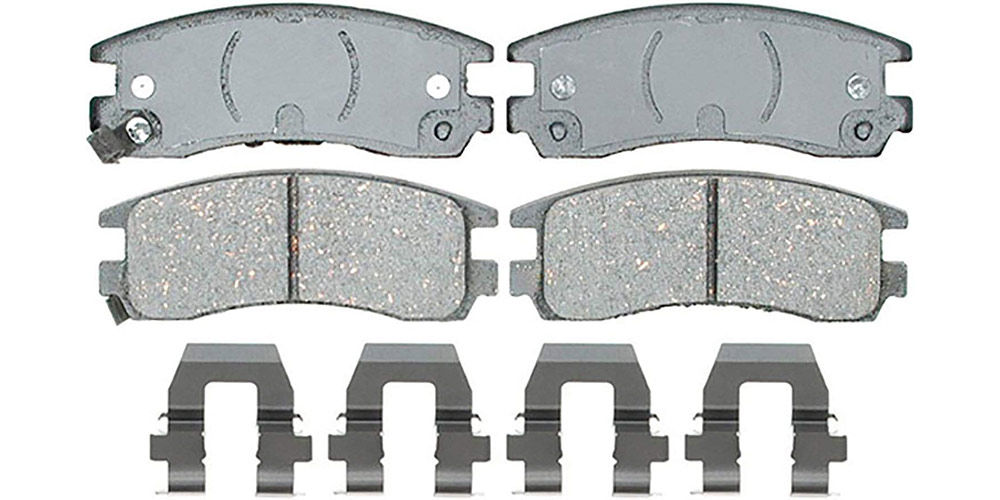 If you're looking for affordable rear brake pads, The ACDelco Advantage Ceramic Rear Brake Pads feature impressive performance. It provides a ceramic formulation wherein less metal is used. You can expect quality braking power in a low-dusting and quiet package. These rear brake pads utilize basic shims, slots, plus chamfers to assist in diminishing noise, braking harshness, and vibration.
Right off the box, these brake pads are ready and can be installed immediately. Most users of these rear brake pads are happy with the performance and the value that they get for their money. With a reasonable price point, satisfied owners praise these brake pads for they fit well and make minimal to almost no noise at all. These brake pads are not perfect, as some owners have reported that they've experienced cracking with their rear brake pads. 

#3 Bosch QuietCast Premium Ceramic Rear Brake Pads (BC905)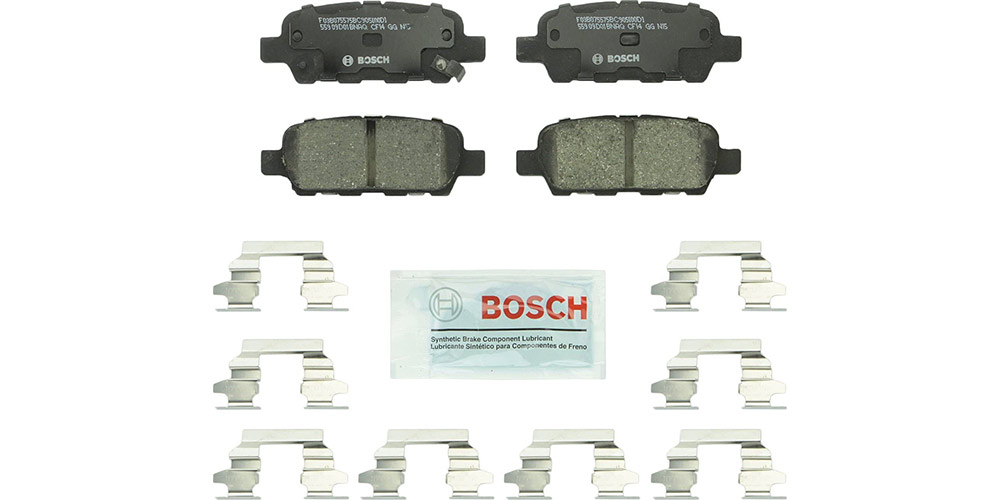 If you're looking for rear brake pads, we recommend the Bosch QuietCast Premium Ceramic Rear Brake Pads as one of your best options. Bosch has been one of the most respected brands in terms of automotive replacement parts. Automakers have often used this brand as their supplier for original equipment components.
The Bosch QuietCast Premium Ceramic Rear Brake Pads are designed to provide a quiet operation with exceptional stopping power while making as little brake dust as possible. These brake pads showcase a shim style that's heated and then pressure-cured between two steel layers resulting in increased strength, lower noise, and corrosion resistance.
Performance-wise, these brake pads utilize the same aluminum-based alloy that is being utilized in aerospace engineering. Bosch guarantees that you will be getting copper-free brake pads. 

#4 Wagner ThermoQuiet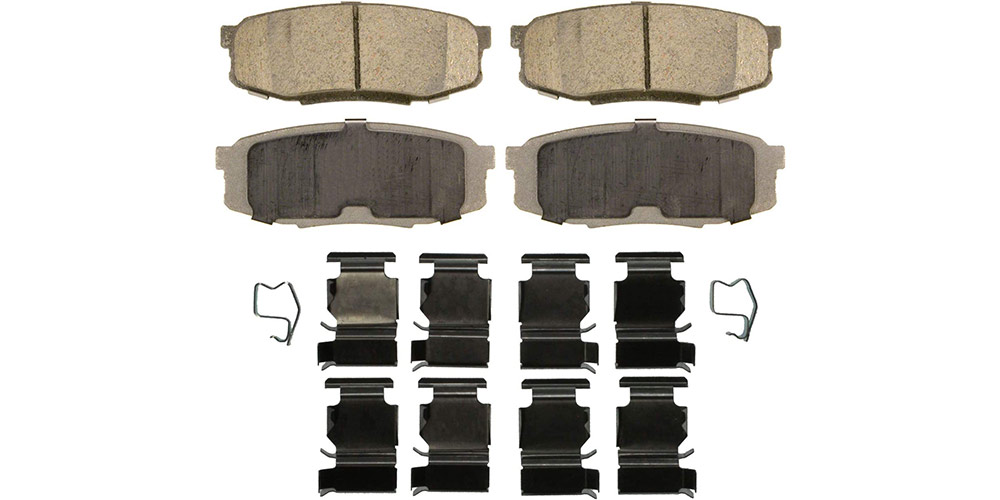 Wagner's ThermoQuiet series features quality brake performance. It comes in a package that is developed for reducing brake noise. These pads are copper-free and get bonded to a vibration and noise-reducing underlayment compound that sandwiches the actual steel backing plate.
The ThermoQuiet braking pads are laser shaped and come with tapered edges. This helps in reducing judder against brake discs. They are made with an OE25 semi-metallic formulation. They can even outperform other pads as they produce less brake dust to make wheels dirty.
These brake pads offered by Wagner come with a two-year/24,000-mile limited warranty. If you plan on purchasing brake pads that offer a quieter effect, we recommend getting these ones for your vehicle. 

#5 ACDelco Professional Ceramic Front Brake Pads (17D1367CH)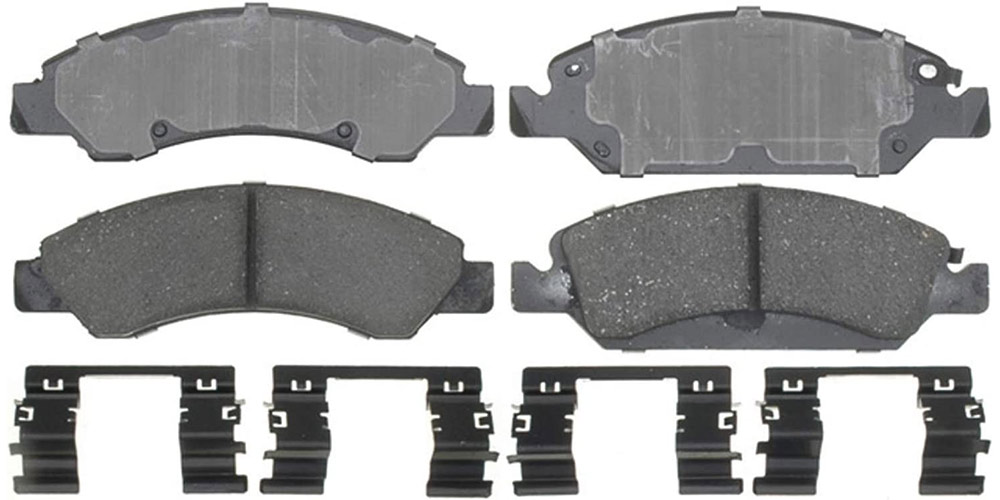 If you're having difficulty choosing front brake pads, we highly recommend you check out the ACDelco Professional Ceramic line. These pads are SAE J2784 tested. These products have undergone durability/wear and Noise/Vibration/Harshness (NVH) testing for quality assurance. With semi-metallic, organic, and ceramic formulas used on these brake pads, you can expect reliability and safety for various vehicle applications.
ACDelco outfitted these brake pads with premium shims, chamfers, and slots to significantly reduce vibration, braking harshness, and noise. A stamped backing plate is also available and helps with proper pad movement. This plate also helps with brake pulsing, reducing noise, and protecting against premature wear. For bond integrity, each brake pad comes with friction material molded to the backing plate.
If you have no idea about ACDelco, this brand has been manufacturing over 90,000 General Motors OE and other parts. For that reason alone, you'll know that this company is reputable and well-respected.

#6 Power Stop Z23 Evolution Sport Front Brake Pads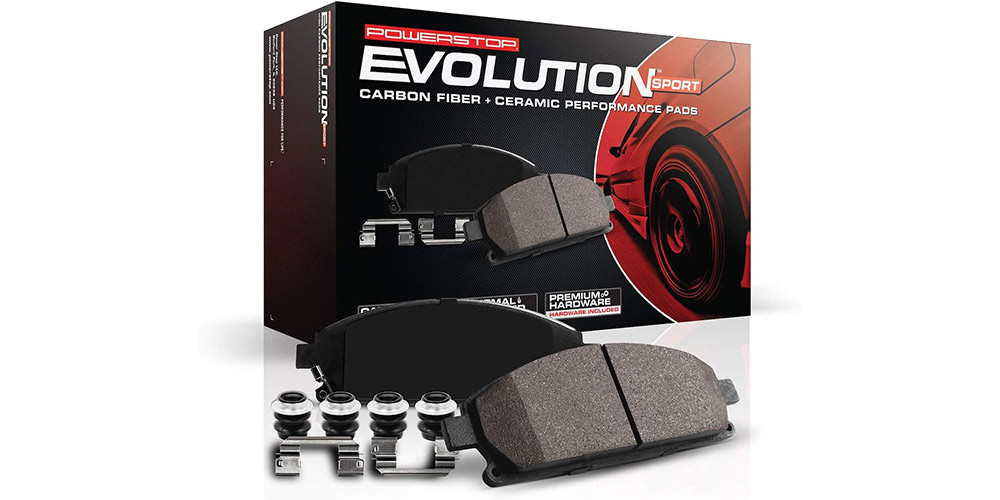 If you're willing to pay more for high-performance brake pads, you can check out the Power Stop Z23 Evolution Sport brake pads. They offer a carbon fiber-infused ceramic formula that delivers superior performance and braking power. A powder-coated backing plate helps extend these brake pads' life by fighting rust and corrosion. They also come with premium rubberized shims for noise-free braking purposes. To reduce noise, these brake pads are slotted and chamfered just like OE pads.
Being performance brake pads, the Power Stop Z23 Evolution Sport brake pads will resist fade on higher temperatures better than standard OE units. These brake pad sets include a ceramic brake lubricant. Certain applications also include bin bushings plus a premium stainless steel hardware kit.

#7 Akebono ProACT Ultra-Premium Ceramic Brake Pad Set (ACT1089)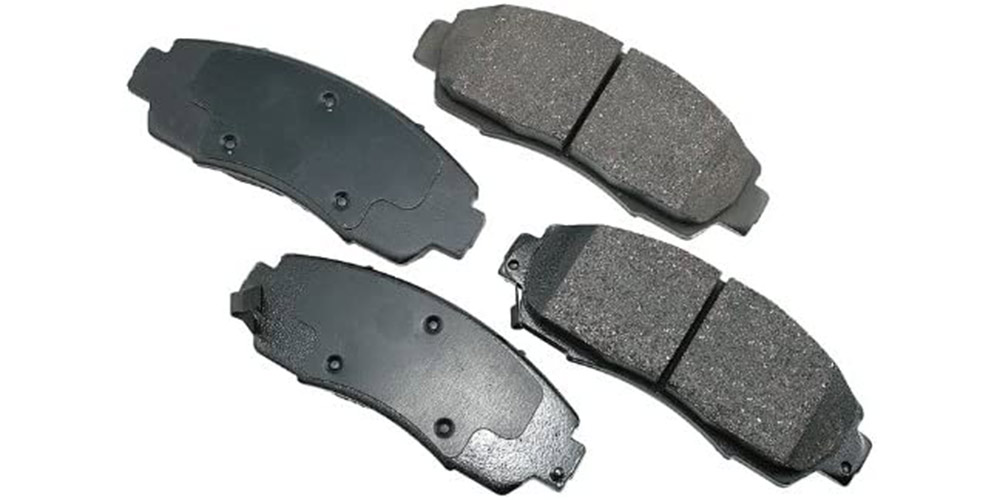 The Akebono ProACT Ultra-Premium Ceramic Brake Pad Set is a bit pricier than the other brake pads on this list. However, it delivers in terms of high quality. These brake pads are available for domestic as well as Asian vehicles. The Akebono company is the biggest supplier of OE pads. This brand is also considered the number one choice by North American automakers. With that being said, you can expect OE-quality products that would easily satisfy many car owners.
The Akebono ProACT Ultra-Premium Ceramic Brake Pads are engineered using friction formulations focused on eliminating vibration, harshness, and noise while limiting brake dust. These brake pads are great replacements for OE ceramic units. They can also be considered a smart upgrade from conventional pads.
Aside from smooth braking and low dusting benefits, these Akebono brake pads also offer improved pad wear performance. You will have a longer allowance before needing new pads.

#8 Bosch Blue Brake Pads (BE923H)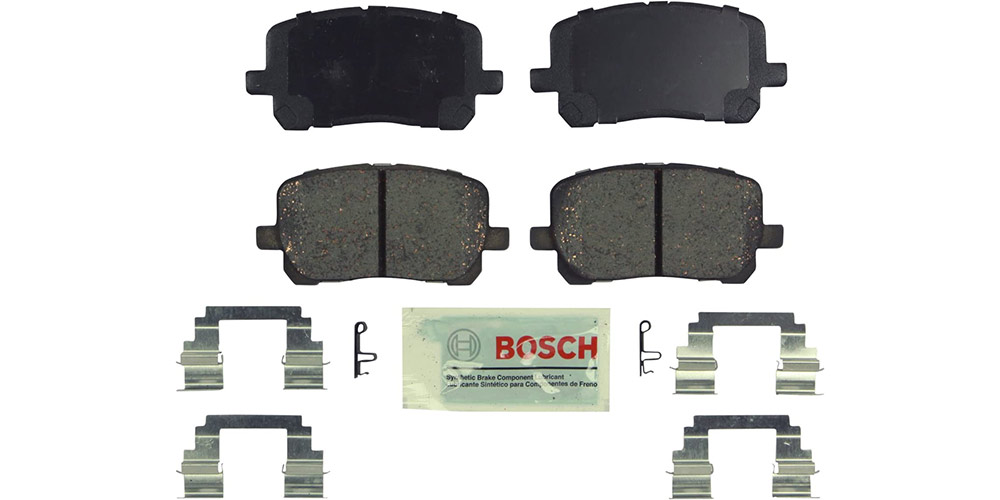 Another brake pad from Bosch is the Bosch Blue Brake Pads which offer advanced platform friction material formulations – Semi-metallic and NAO-Ceramic formulas. These help in providing optimal performance. OE-style multi-layer shims are used on these pads for effective noise dampening. It also features a rust-inhibitive coating to help protect against rust. For every set of brake pads, included is a hardware kit plus a synthetic lubricant.
Bosch Blue Brake Pads are perfect for those who are looking for both performance and affordability. These pads go through a similar engineering and testing process that the premium braking products of the company go through.  

#9 KFE Ultra Quiet Advanced Premium Ceramic Front Brake Pads (KFE914-104)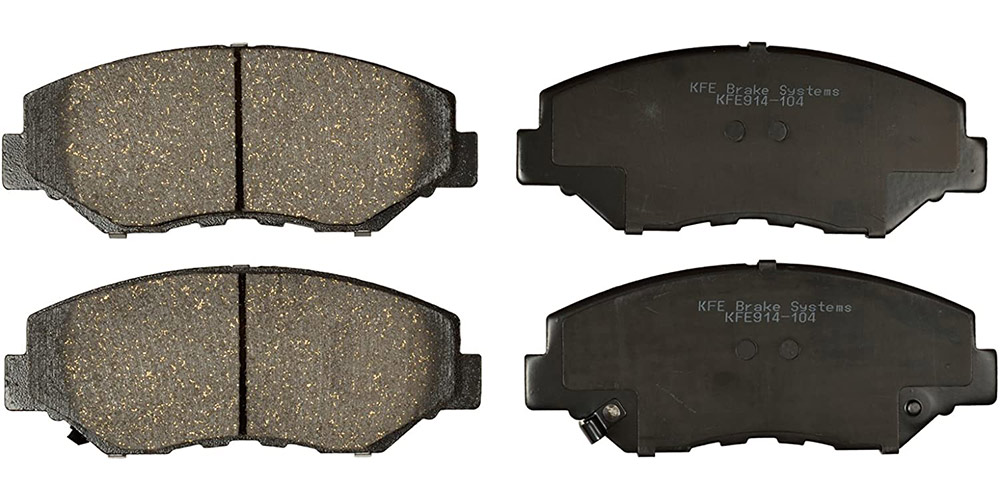 If you want front brake pads that deliver low noise and solid performance, we recommend the KFE Ultra Quiet Advanced Premium Ceramic Front Brake Pads. From the name of these brake pads, you can tell that it focuses on reducing noise and its dual rubber shims help with that cause. With these pads, you have less break-in time because they are tested via a thermo-scorched process.
The KFE Ultra Quiet Advanced Premium Ceramic Front Brake Pads offer enhanced brake bite and chamfered edges that further contribute to pad life and reduced noise. Just take note that not all applications come with chamfered and slotted features. These brake pads are engineered with 100% asbestos-free materials.