The wheels are the most crucial component of an automobile's looks in the eyes of the majority of car owners and car enthusiasts. New owners frequently upgrade their otherwise stock cars with new wheels initially.
It's simple to make a car appear more costly than it is by changing the wheels. The aesthetic of your car as a whole is greatly influenced by how well-kept those wheels are, yet due to their constant exposure to the elements, wheels may become extremely dirty very rapidly. Because they are frequently exposed to mud, dust, road water, roadkill, slush, bugs, salt, and even brake dust, wheels typically become dirty more quickly than any other portion of your car.
To match your vehicle's clean appearance, you must keep your wheels and tires clean, yet the majority of drive-through car washes lack specialized wheel scrubbers. There are numerous wheel care products available on the market. In addition to providing more than just a shine, a proper wheel care product should shield the wheels from the weather and prevent the tires from deteriorating. Here are the top 9 wheel and tire cleaners available so you don't have to search through hundreds of options.
#1 Meguiar's G7516 Endurance Tire Gel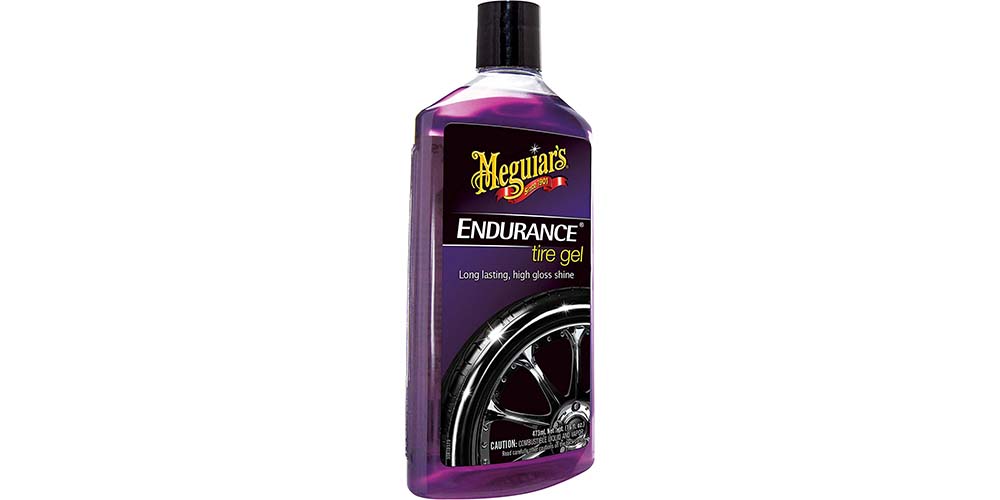 Brand: Meguiar's
Meguiar's is renowned for producing high-quality car care items. Although Meguiar's products aren't really considered as high-end, they definitely outperform the majority of the competitors and fall between mid-range and high-end. Generally speaking, they are more specially designed than anything else in their price category.
This item is a tire gel, not a spray. You need to use a waxing pad or a sponge to apply it. This deep purple bottle holds 16 oz of liquid. Like with any Meguiar's product, the results did not fall short. In addition to shielding the tires from UV radiation and browning, the gel withstands water and rain.
Overall, we like this product because it dries quickly, leaves tires incredibly shiny, requires little application—usually 1-2 swipes are sufficient—and, depending on how often you wash your car, is known to last for one solid month. However, it lacks an applicator and is prone to sling off chemicals if used excessively.

#2 Car Guys Tire Shine Spray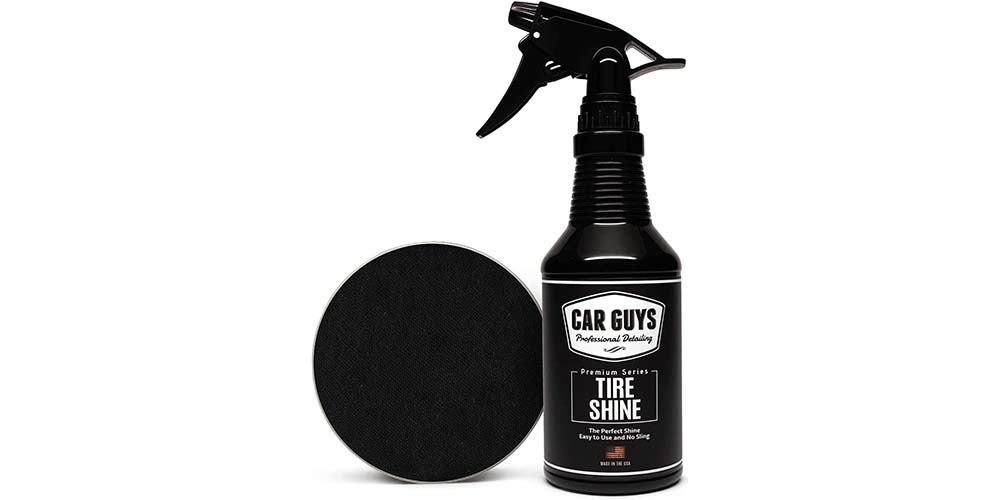 Brand: Car Guys
This product is a thick anti-sludge tire spray that may be used either as a regular spray or with a microfiber cloth for application. It offers tires with a show car appearance and features UV protection. According to the manufacturer, the nano polymer additives in this tire spray increase the tire dressing's longevity.
When traveling at high speeds, the spray forms a bond with the tire surface to stop sling and runoff. For ease of application, it is offered in a kit with an applicator. The applicator provides you an even look, but directly spraying the dressing provides your wheels with a rich glossy finish, so a detailer could choose the kind of shine they desire. However, every detailer has their own style and preferences.
Overall, we like this product because the spray is firm and strong, offers a high gloss shine, easily removes grime, grease, and brake dust, is useful for restoring dull and faded rubber, and comes with an applicator. This cleaner is reasonably priced for an 18oz bottle. However, some users have claimed that it degrades more quickly than stated.

#3 Adam's Deep Wheel Cleaner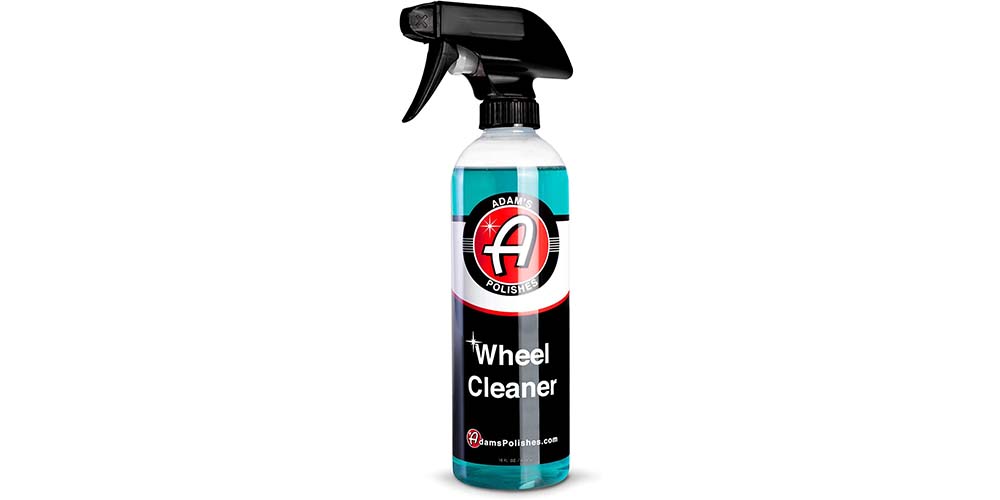 Brand: Adam's
This wheel cleaner was created specifically to remove heavy brake dust. Cars with larger or upgraded brakes that generate more heat tend to benefit from this. This wheel cleaner, which comes in a spray bottle, turns brake dust bright purple before dissipating. Its recipe, which is pH neutral and free of acids, makes it safe for both the skin and the clear coat on wheels. The majority of wheel finishes, such as clear coated, chrome, powder coated, alloy, and painted wheels, are safe to use with it as it dissolves metallic contaminants.
Overall we like this product because spraying brake dust off is simple, safe for all wheel types, and effective for German cars with dusty OEM brake pads. However, the bottle won't last long, and some people might not like the smell.

#4 Black Magic Wet Tire Foam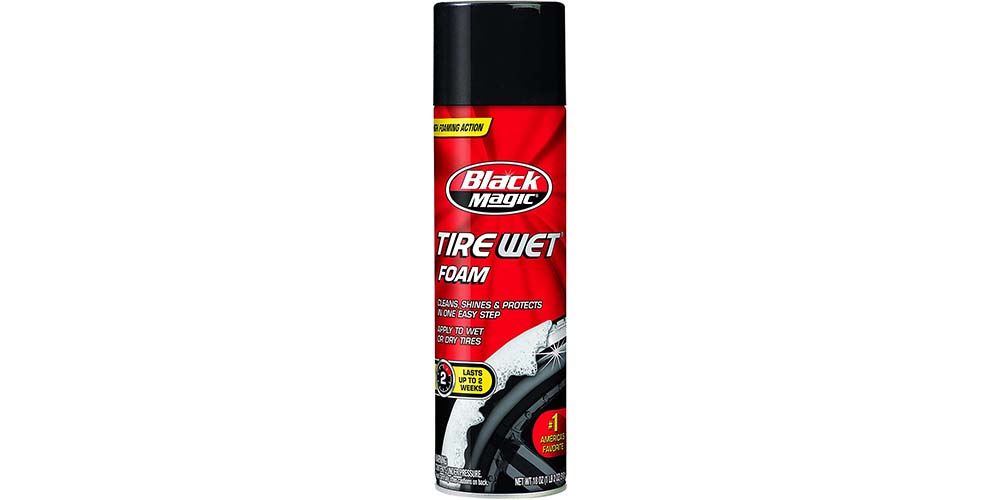 Brand: Blue Coral
Tire foams are not everyone's favorite because they often don't last very long, but they are simpler to use than gels. They offer a hassle-free approach to maintaining the best possible appearance for your tires without getting your hands filthy.
For the price, Black Magic's Tire Foam is a remarkable product. Although there is no need for drying time, the foam still needs to dissolve for seven to ten minutes. The foam removes as much grime, dirt, and brake dust as it can while dissolving, leaving your tires looking like new. Of course, it lacks the additional UV protection and other advantages of similar products, but it is a simple and inexpensive tire gel substitute.
Overall, we like this product because it quickly dissolves, easily shines, requires minimal effort, and requires neither scrubbing nor wiping. However, it will not perform well on a white-lettered tire. Also, one can won't last very long, and the nozzle can occasionally lose pressure.

#5 Armor All Extreme Tire Shine Gel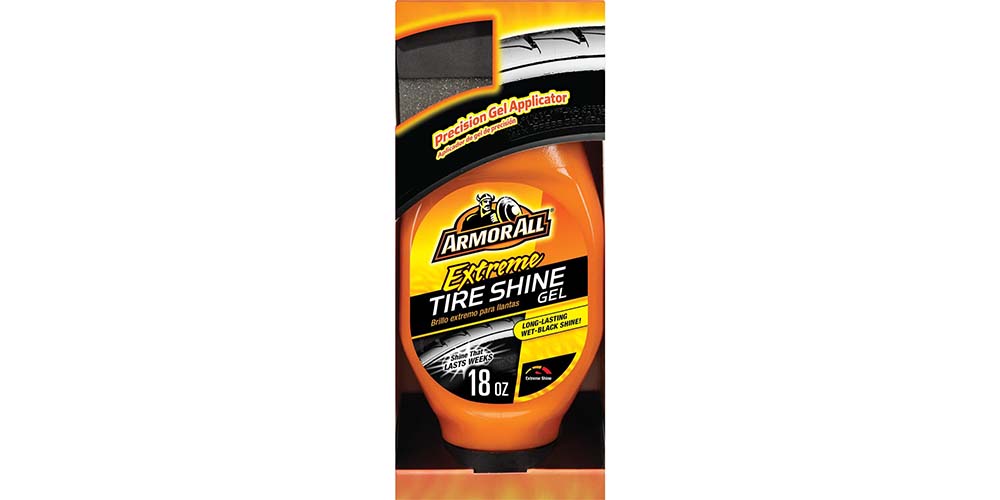 Brand: Armor All
The Toyota Corolla of the detailing industry is Armor All. Despite not having the most features available, they produce reliable light to medium duty detailing solutions that are efficient, affordable, and last for a significant amount of time.
Most detailers are satisfied with Armor All products because they perform as promised. With very little effort, this tire gel produces extremely impressive results and leaves your tires looking great. The gel covers the rubber in a layer of protection and prevents the tire from cracking.
Overall, we recommend this tire cleaner because of its reasonable price; it is simple to use, comes with an applicator, and maintains a high gloss for more than two weeks. One bottle lasts a very long time and is suitable for use on one vehicle for almost a year. However, no matter how many days you give it to dry up, some chemicals will inevitably spray off into your wheel wells. It also has a flimsy applicator.

#6 Meguiar's D14001 Wheel Brightener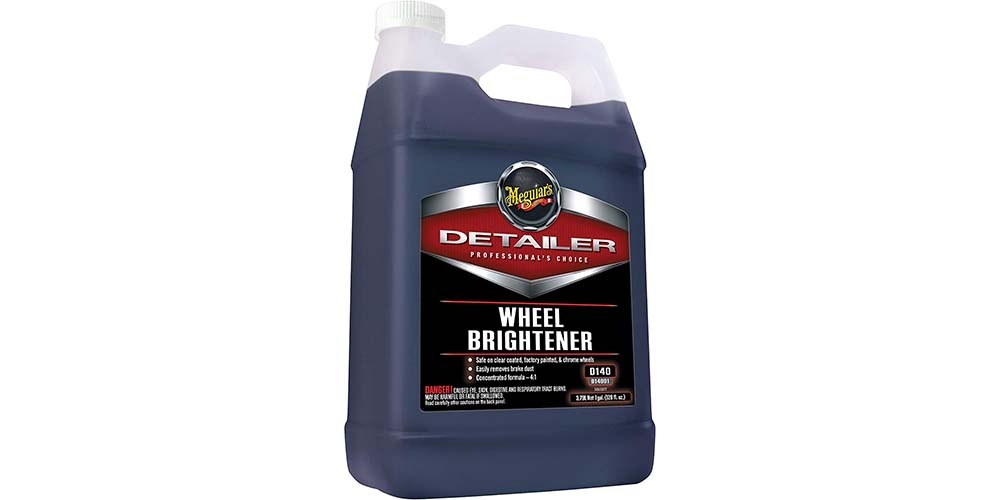 Brand: Meguiar's
All types of finishes, including matte, clear coated, gloss, factory paint, and chrome wheels, respond nicely to Meguiar's wheel cleaning and shine. However, because this product is acid based, using it on anodized or polished aluminum wheels could etch their texture.
Additionally, it functions as a detergent, clearing your wheels of brake dust, filth, and dirt, so they look as if they just came out of the factory. This will need to be applied either with a spray or a pad, rinsed with water and then removed with a dry microfiber cloth. Remember that this liquid needs to be diluted 4:1 for heavy-duty cleaning, 6:1 for medium-duty cleaning, and 10:1 for light-duty cleaning or removing hard water stains. One bottle will also last longer as a result of this.

#7 Black Magic Tire Wet Spray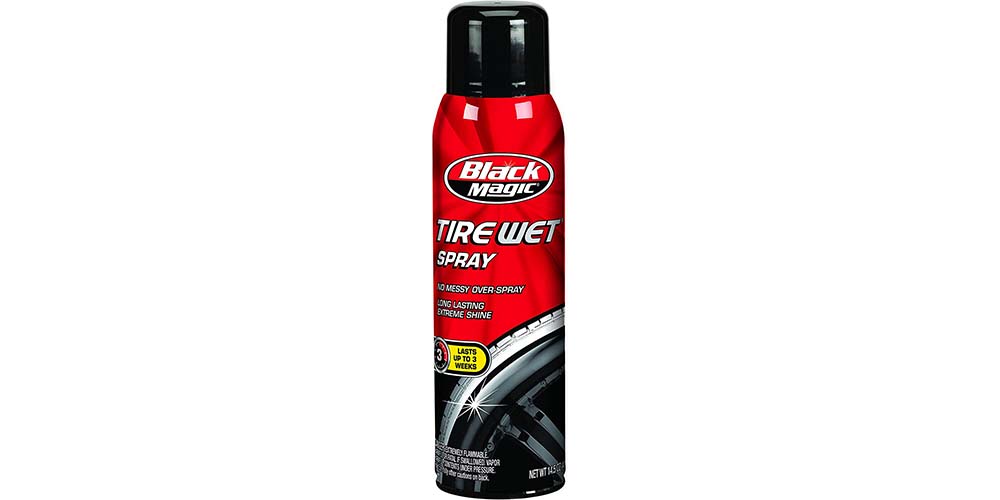 Brand: Blue Coral
This tire spray is thinner and dries more quickly. The bottle holds more liquid—23 oz as opposed to 15 or 18 oz—than other comparable brands. Black magic tire spray provides the tires a nice, smooth texture. The manufacturer states that because the product is more concentrated than that of other tire sprays, you need to use less liquid to achieve a noticeably better shine.
The chemical liquid has a special blend of polymers and high molecular weight silicones that cling to tires more effectively and thoroughly for a longer-lasting shine. Considering the low price and the additional liquid in the container, the majority of consumers are pleased with this spray and state that it offers great value for money.

#8 Chemical Guys Blue Guard II Wet Look Premium Dressing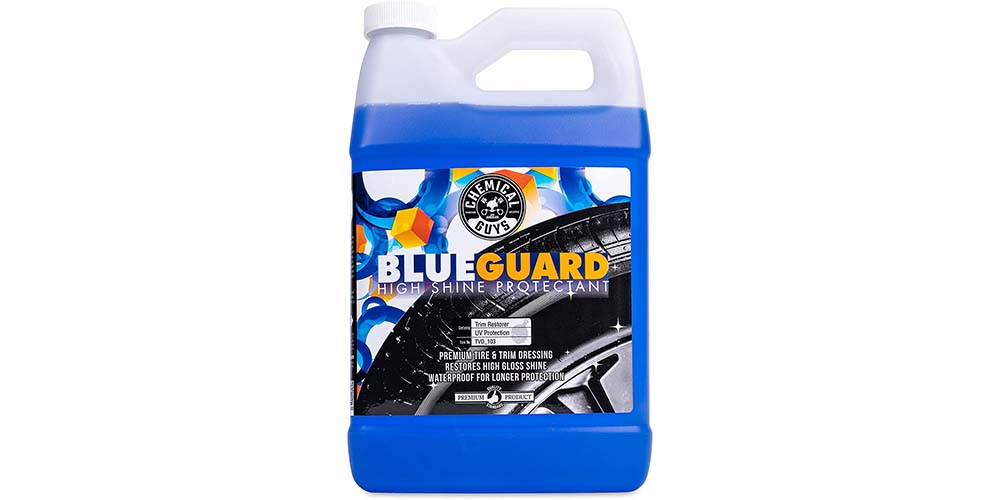 Brand: Chemical Guys
This dressing is packaged in a 1-gallon clear can, and we adore how blue the liquid is. It offers conditioning and a clean matte appearance. The formula, according to Chemical Guys, uses cross-linking silicon technology, which combines the best available solvents and silicones. As a result of this technology, the shine can withstand several car washes. Moldings, bumpers, louvers, seals, window trims, skirts, seals, door handles, and other exterior vinyl or plastic surfaces can also be restored using this product. As a multipurpose cleaner, it won't give your tires a high gloss appearance; rather, it will give them a dull matte look.

#9 Mothers 16915 Speed Tire Shine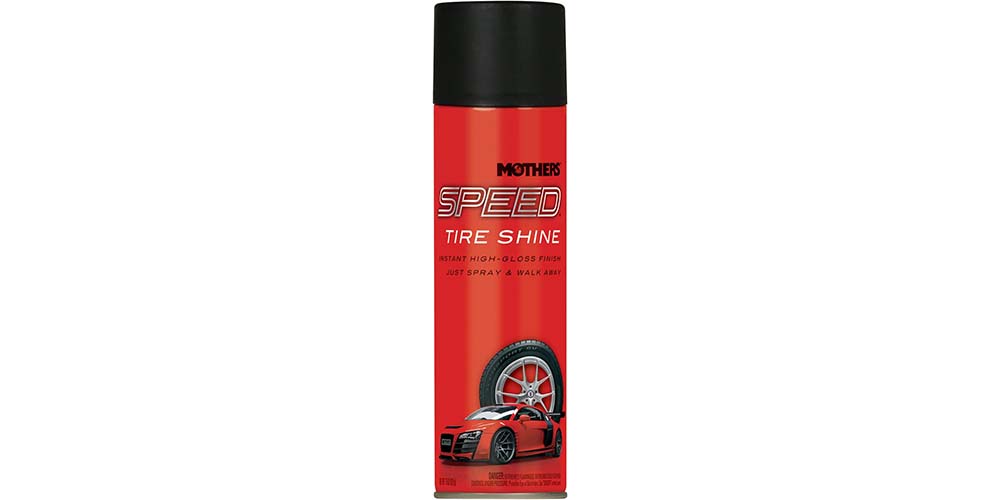 Brand: Mothers
Mothers is one of the country's oldest manufacturers of car care products, and its items have always been of the highest caliber. This is also true of their new Speed range of products.
This line of tire gel performs remarkably well. This product leaves your tires looking glossy and shields them from the elements. This tire gel works well against water and rain. However, if you are on a very tight budget, this might not work well for you because it'ss more expensive than other cleaners on this list.