Have you noticed how much popularity the XJ Cherokee has gained? Where I live in Arizona, it seems to be more popular than the Wrangler. The off-road clubs that I have joined also seem to be mostly XJ Cherokees. Why is the XJ Cherokee so ridiculously popular amongst wheelers?
5. The Right Size
The XJ Cherokee isn't nearly as big as full-sized rigs, but it's not as small as a Wrangler or Samurai. I personally wish that they were a tiny bit larger just to help out with interior space because the back seats are a little tight.
If you have a full-sized rig, you have all the room in the world for gear and people, but you'll have a really hard time on tighter trails, simply due to the size of the vehicle.
If you have a small rig like a Wrangler then you can fit on any trail you want, but have little to no room for gear and people. The XJ Cherokee is not too big, and not too small.
You can fit 4 full sized adults, gear and tools inside an XJ Cherokee. For camping trips, you might need a roof rack to hold all of your gear.
4. Light Weight
When compared to essentially any other SUV, the XJ Cherokee is an extreme lightweight. Weighing in at 3,000 – 3,400 lbs depending on the year and options, that is stupid light.
That's in the same weight range as the Fox Body Mustang, 240sx, and many other lightweight "sports" cars.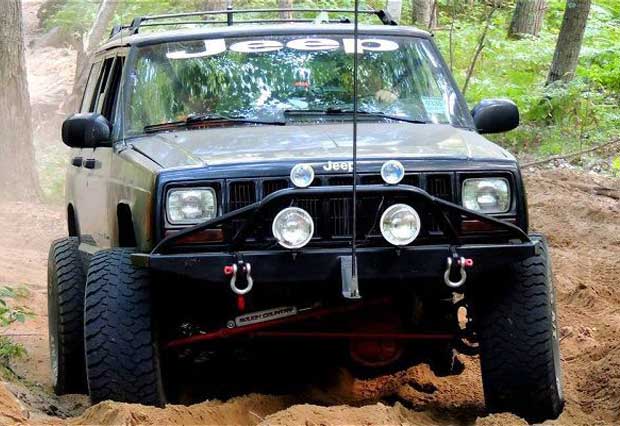 Why is the XJ so light? It's so light because of its unibody design, the frame rails and body are one unit, which saves a huge amount of weight, at the cost of structural rigidity.
The header panel and hatch are both made of fiberglass to save weight too. The fairly simple interior also helps keep weight down, but at the cost of interior comfort and noise levels.
3. They're 2,884,172 Strong
That's right, 2.8 million XJ Cherokees were produced from 1984 to 2001. What does this mean for you? It means that they're dirt cheap second hand, my first XJ Cherokee was $1,500, and my current XJ Cherokee was $1,000.
XJ Cherokees can be found from $500 to $5,000 depending on the condition and whether or not it has been modified. What other vehicles can you buy for $1,000, beat the crap out of off-road, and daily drive it?
RELATED: Picking the Perfect Bug-Out Vehicle
The high number of sales means that the aftermarket is also very strong. There are tons of options when it comes to how you want to modify your XJ Cherokee.
It also means that if you're having troubles repairing it, that someone on some forum has already done that repair and documented it.
2. Most Reliable Engine Ever
The 4.0 inline-6 that came in the XJ Cherokee is seriously the most bulletproof engine ever. I am apart various off-road clubs with a collective amount of over 20,000+ members. Most of them own an XJ Cherokee and I've only heard of one engine exploding amongst those 20,000+ members.
If you can manage to break a 4.0 then you probably shouldn't own an automobile at all. They're that reliable, seriously.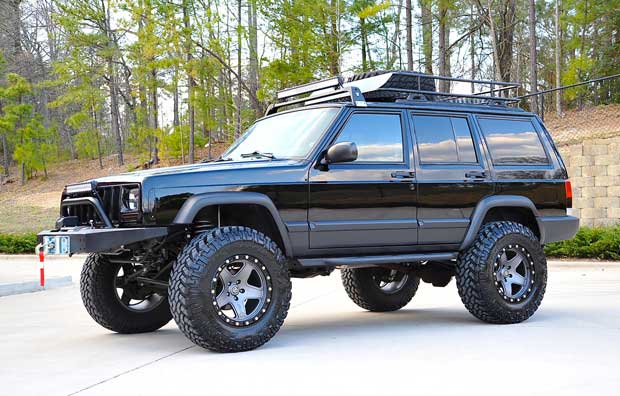 Not only is the 4.0L an extremely reliable engine, it also makes a good amount of power. The 4.0L puts down a decent 220 lb-ft of torque, and it's way down low in the rpm range. That makes the XJ Cherokee super fun to drive on the street.
1. The Jeep Community
Pretty much everyone who owns a Jeep loves it to death. Jeep owners want you to love your Jeep to death too. If you have a problem with your Jeep and want some help, just go buy a 30-pack of beer and ask off-road clubs for some help.
Before you know it your whole street with be lined with Jeeps just so they can help you out, drink some beer, and hang out with fellow Jeepers.
RELATED: 2 Things that SUCK about XJ Cherokee's
I've heard plenty of stories of when a Jeep broke down, and 10+ other Jeeps stopped to make sure everything was okay. I know anytime I see an XJ Cherokee on the side of the road I stop and try to help them.
Summary
Don't get me wrong, XJ Cherokees aren't perfect, but they're near perfect. They're perfectly sized to fit on almost any trail, and still bring your buddies and gear. They're lightweight, cheap, have one of the most reliable engines ever. The XJ Cherokee also has one of the coolest and kindest automotive communities behind it.