The BMW M series has been an icon for many centuries. Ever since the inception of the first M3 in 1986, German-engineered automobiles fans have fallen in love with its classic-yet-sporty look.
The BMW M3 may have been a thing of the past, but M3's predecessor, the M4, has revived the spirit of the cult following that the BMW M series has. Car enthusiasts welcomed the BMW M4 with open arms, and they've gladly introduced it to the aftermarket scene.
Since the BMW M4 is one of the most sought after cars in the United States, aftermarket automobile parts manufacturers have taken their posts to improve the car by using aftermarket parts like an air intake system.
This kind of modification is among the performance mods that can boost a car's horsepower and torque output by a respectable amount.
There are so many aftermarket intake systems available in shops and stores out there, so if you're just looking for the best intake systems to have for your BMW M4, you're in luck!
We've done the heavy lifting and searched the corners of the internet forums, groups, and any BMW community and compiled the best intakes for BMW M4. Check the list out to see what you think is the best for your budget.
#1 aFe Power Track Series Cold-Air Intake System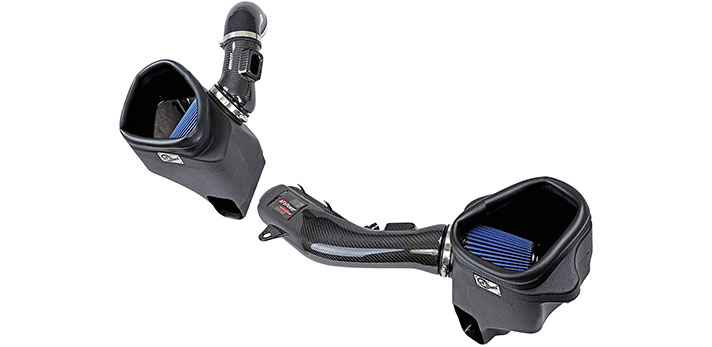 Manufacturer: aFe Power
Features: Open element XLPE polymer housing
Power Gain: +25hp
Compatibility:

BMW M4 (2015-2020)
BMW M4 CS (2018-2020)
BMW M4 GTS (2016-2020)
To start the list of the best intakes a BMW M4 can have, we've got a budget-friendly intake system made by one of the most popular intake manufacturers.
aFe Power has been working on improving BMW cars for many years now, and as a result of their efforts, they've developed the Track Series cold-air intake system.
This aftermarket mod provides decent horsepower under a pretty affordable price tag.
The Track Series is a cold-air intake system that features lightweight dyno-tuned tubes connected to Pro 5R filters. These two components combined paves the way for more air to be pushed into the engine.
The intake's components are housed in an open-air XLPE housing that allows you to visually inspect the intake parts without taking the whole intake apart from the engine bay.
The main feature that makes the Track Series desirable for the BMW M4 are its filters. The Pro 5R filters eliminate all the air impurities very well, thanks to the five cotton layers that get finer as the layers add up.
The oversized 360-degree radial flow air filters make the BMW M4 more capable when driven on the track. Overall, the Track Series is aFe Power's particular cold-air intake system explicitly made for the track.
#2 aFe Power Momentum Cold-Air Intake System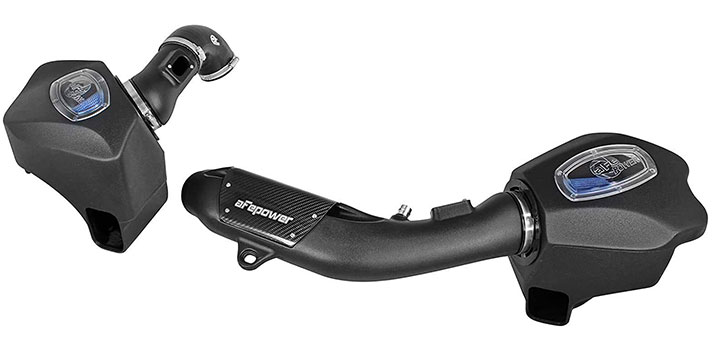 Manufacturer: aFe Power
Features: Open element XLPE polymer housing
Power Gain: +17hp
Compatibility:

BMW M4 (2015-2020)
BMW M4 CS (2018-2020)
BMW M4 GTS (2016-2020)
The aFe Power train doesn't stop with the track series; they've got other useful stuff for the BMW M4! Now that we know that the Track Series is made for racing purposes, we now have an aFe Power cold-air intake system designed for the streets.
Among the best air intake for BMW M4 is the aFe Power Momentum, a cold-air intake kit capable of producing +17hp and +19lb-ft of torque. Not bad, right?
BMW M4 owners like you can choose what filter the Momentum cold-air intake will come with. You can either choose the Pro 5R or the Pro DRY S filter media.
Both of them differ in price and features, so feel free to check them both out and see what would fit your standards.
With Pro 5R Filter Media
A Momentum cold-air intake with a Pro 5R filter media features a more capable air filtration system. As mentioned in the Track Series cold-air intake, the Pro 5R filter is a 360° conical filter media with five progressive cotton media layers.
This intake is an excellent choice if you want something heavy-duty when it comes to air filtration. With Pro 5R filters, you can get +17hp and +19lb-ft of torque.
With Pro DRY S Filter Media
The Pro DRY S filter is a much "convenient" substitute to the Pro 5R. Since the Pro 5R filters are designed for maximum airflow and performance, the Pro DRY filters are engineered to make their maintenance as convenient as possible.
The large 360° conical filter consists of three layers of progressively porous synthetic media. This is the better option if you want an intake system that's easier to clean up.
#3 Dinan Cold-Air Intake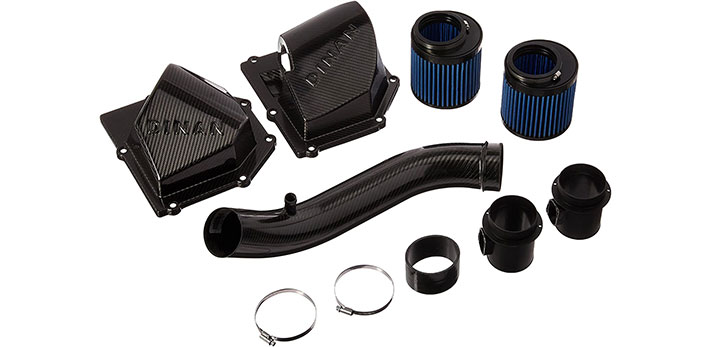 Manufacturer: Dinan
Features: 20% larger airbox
Power Gain: 14hp
Compatibility: BMW M4 (2015-2020)
The fact that you chose BMW M4 to be your car means that you have a particular taste for European vehicles. To make the car realize its full potential, you should seek the help of a specialist.
Dinan is among North America's premiere BMW tuner and auto parts manufacturers, and they have been involved in the modification of countless BMWs, Minis, and Mercedez. Entrusting your BMW M4 to them would be a great idea.
Maximizing the efficiency and the potential of the stock intake design has always been Dinan's objective when creating a cold-air intake for the S55 engine.
With carbon fiber intake tubing attached to a conical air filter that is 30% more conducive to airflow compared to stock, your BMW M4 will experience an improvement in throttle response, a sportier sound under the hood, and, of course, more power and torque.
With the Dinan cold-air intake system, your BMW M4 can receive an increase of 17hp and 21lb-ft of torque. It may not be as large as what the previous intakes can offer, but you will see the sophistication and detail in the intake's design.
Dinan chose to emphasize both the performance and aesthetics of their cold-air intake system, and the result is outstanding.
#4 Injen Technology SP Short Ram Cold-Air Intake System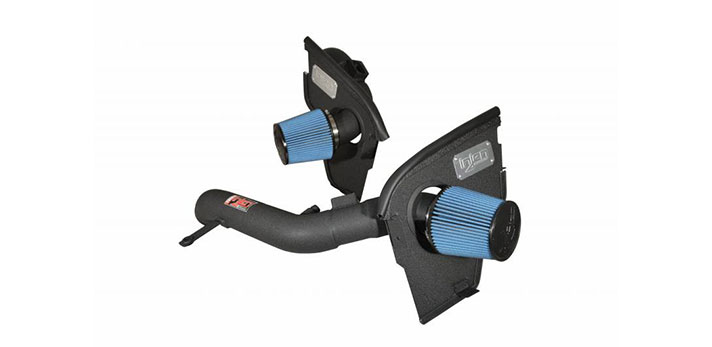 Manufacturer: Injen Technology
Features: SuperNano-Web dry air filter
Power Gain: 20hp
Compatibility: BMW M4 (2015-2018)
The best intakes for BMW M4 aren't just composed of cold-air intakes; we got a short ram too! Short ram intakes are notorious for serving the engine better at high-RPMs. Short rams like this one from Injen Technology are great for the occasional or frequent visit to the track, where it can realize its full potential on high revs.
And also, it's much cheaper too compared to cold-air intake systems we've previously mentioned.
Injen Technology's SP short ram features a low restriction 6061-T6 aluminum intake tubing tethered to a SuperNano-Web Dry air filter, a fully serviceable air filter responsible for improved airflow and superb filtration.
What's more, you can audibly hear the sound that the SP short ram makes under the hood. Just go ham on the pedal, and you'll hear that aggressive engine tone that only comes up when you're in full throttle.
The SP short ram is available on either black or polished finishes. This type of intake is an excellent alternative for the standard cold-air intake system and is ideal for car enthusiasts who love to put their BMW M4s on full throttle.
Short rams are meant to be that way; high performance on the max revs, and great for track-oriented drivers like you who own a sports car like the very capable BMW M4.
#5 AWE Tuning S-Flow Carbon Fiber Intake System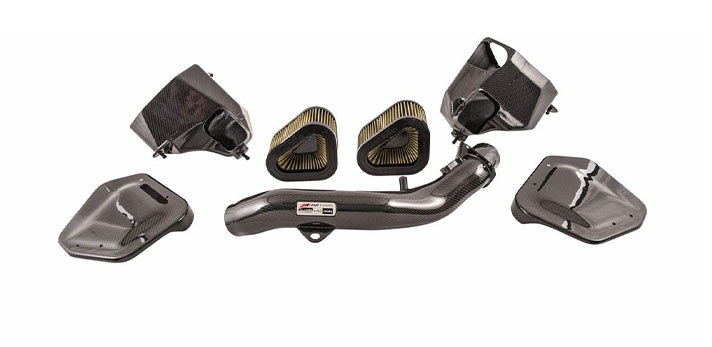 Manufacturer: AWE Tuning
Features: S-FLO filters
Power Gain: 12hp
Compatibility: BMW M4 (2015-2020)
And finally, for the last entry on our list for the best intakes for BMW M4, we have the S-Flow carbon fiber intake system from AWE Tuning. By far, this is the most expensive intake on this list.
This mod may be a bit pricey, but the benefits you'll get from purchasing this intake system is indeed worth it. The S-Flow intake system is a well-mixed combination of power, sophistication, and style.
A carbon fiber housing guards the S-Flow intake system's parts, protecting them from the heat that comes from the engine. The S-Flow intake fits perfectly with the stock inlet ducting, so expect a hassle-free installation.
It was designed to be easily accessed whenever maintenance needs to be done. Filter inspection, removal, and replacement can be easily accomplished without even removing the carbon cross member.
What puts this intake on the top are the benefits you'll reap once you've had it installed in your BMW M4. Aside from the carbon fiber box, the filter's surface area is far better than the stock.
The 12hp and 10lb-ft torque may sound a bit lackluster, but what the S-Flow intake system lacks in performance gains, it gets back on the quality of the materials it's made. AWE Tuning made the S-Flow intake system a premium purchase for the BMW M4, and owning one would mean more than prestige.
By itself, the BMW M4 is a powerful sporty car that can be used for both daily driving and the occasional race track visit. Modifying the vehicle and installing an aftermarket intake system will make the car more powerful, even just by a little bit.
Installing an intake system on your BMW M4 is not just about the power gains, though: it's about taking care of your engine's health. Performance gains are only the product of how well the engine is operating.