Once upon a time, BMW decided to make the BMW E46 M3, a performance car made solely to give absolute driving pleasure, a beguiling sound, and most of all, a platform for upgrades.
Many car enthusiasts have dreamt of having this car, and up to this day, the BMW E46 M3 is still as desirable as it was back in the day. What makes this vehicle so desirable is its openness for upgrades, specifically power modifications.
The BMW E46 M3 goes well with aftermarket upgrades. Since it was a popular M car, many aftermarket manufacturers decided to jump on the hype train and make some power mods like exhaust systems to give car enthusiasts a taste of what an aggressive E46 M3 sounds like.
Don't get us wrong; the BMW E46 M3 already sounds badass, but if you want it to sound meaner, then you should definitely add some mods to it, specifically aftermarket exhaust systems.
Ladies and gentlemen, if you're looking for some of the best exhaust systems for your BMW E46 M3, then this is your lucky day. We've gathered some of the best sounding aftermarket exhaust systems for your Bimmer.
With these exhaust systems, you'll instantly feel the power, aggression, and prestige of owning an E46 M3 that sounds like a true alpha. Check out these exhaust systems and see what best fits your tastes!
#1 Dinan Free Flow Axle-Back Exhaust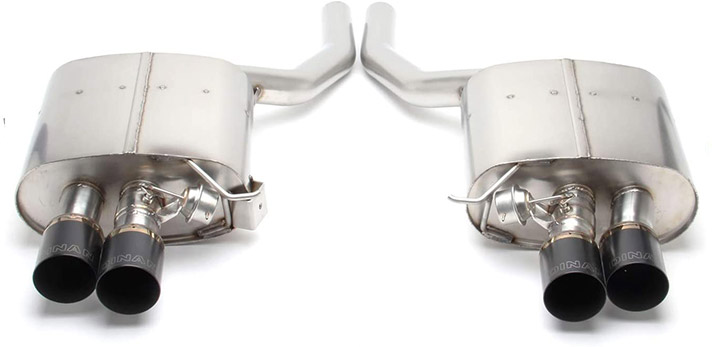 Manufacturer: Dinan
Weight: 58.6lbs
Part Number: D660-4604
Compatibility: BMW E46 M3 (2001-2006)
The best BMW E46 M3 exhaust in this list is Dinan's Free Flow Axle-Back exhaust. Dinan has been making performance auto parts for European cars like BMW, Mercedes Benz, and Minis, so entrusting them with improving your exhaust system is a good idea.
The Free Flow axle-back exhaust system has an unusual muffler design that efficiently reduces the car's backpressure, translating to improved airflow.
So what's with the Free Flow axle-back exhaust? It's a genuinely high-performance axle-back exhaust that your E46 M3 needs. The unique muffler design mentioned earlier equates to measurable power gains.
This axle-back exhaust system adds a significant +7hp to your vehicle at 8000RPM. Aside from that, the rear end of the exhaust features 3" quad exhaust tips coated with black ceramic, with Dinan's logo laser-engraved on it.
If your car has an annoying monotone drone that has been bugging you for quite some time, then this exhaust system is for you. The Dinan Free Flow axle-back exhaust system utilizes drone abatement technologies to reduce the cabin resonance and keep your driving experience as relaxed and peaceful as possible.
And don't forget about the louder and sportier sound you'll enjoy once you have the Free Flow exhaust installed!

#2 Megan Racing Supremo Axle-Back Exhaust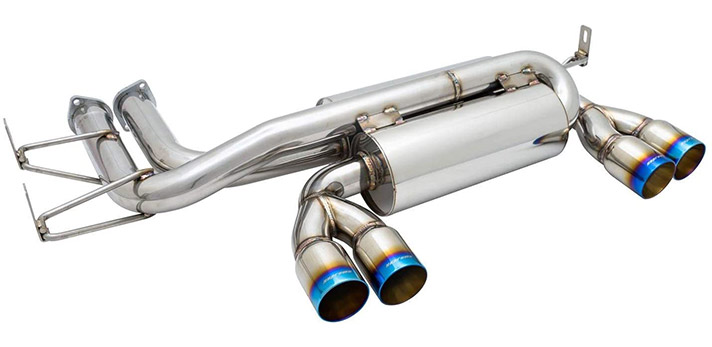 Manufacturer: Megan Racing
Weight: 36lbs
Part Number: MR-ABE-BE46M30E-VO
Compatibility: BMW E46 M3 (2001-2006)
Are you looking to add performance and style to your beloved BMW E46 M3? If so, the Supremo might be the exhaust system for you. Megan Racing made the Supremo axle-back exhaust to satisfy the demanding tastes of car enthusiasts.
This direct bolt-on exhaust system features four burnt exhaust tips that look really good from behind. Check out what the Megan Racing Supremo axle-back exhaust has in store for your BMW E46 M3!
Constructed out of T-304 stainless steel, the Supremo allows you to experience a free-flowing performance, far better than what your previous restrictive stock exhaust can offer. The Supremo's stainless steel build makes it a viable option for car enthusiasts who emphasize weight reduction.
Your Bimmer can have even better handling and performance with an increased power-to-weight ratio than what it used to have.
What really makes Megan Racing's exhaust the Supremo are its 3" burnt rolled tips. This design type adds a flair of excitement and supremacy to your Bimmer, making sure that it's standing out from the rest of the cars around it.
Although please keep in mind that when you purchase the Supremo axle-back exhaust system, there won't be any gaskets or bolts included. Instead, the Supremo uses a sliding flange on a flared pipe, which welcomes the original piping.

#3 aFe Power MACH Force-Xp Cat-Back Exhaust System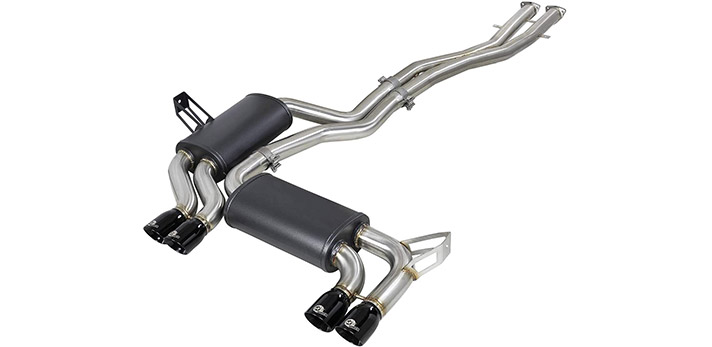 Manufacturer: aFe Power
Weight: 60lbs
Part Number: 49-36344-B
Compatibility: BMW E46 M3 (2001-2006)
aFe Power is among the most reliable providers of performance auto parts for various vehicles, and they arguably have one of the best E46 M3 aftermarket exhaust available today.
The MACH Force-Xp is a cat-back exhaust system that offers your car drone abatement, significant power gains, an aggressive exhaust tone, and a hassle-free installation. This cat-back exhaust system is a break from your usual axle-back exhaust system, so take a look at what it has to offer.
The aFe Power MACH Force-Xp's main objective is to unleash your Bimmer's power and unshackle the roaring beast resting within it, all the while making your vehicle look more stylish.
Made from mandrel-bent tubings with large diameters, the MACH Force-Xp ensures that it's durable enough to withstand the usual unintended road bumps. This cat-back exhaust system also gives your car dyno-proven +15 horsepower and +13lb-ft of torque.
What really makes the MACH Force-Xp interesting is its tubing design. As you can see, the MACH Force-Xp utilizes an X-Pipe balance tube. This design intends to distribute all of the pulses experienced by the exhaust, minimizing the exhaust drone while improving the flow and performance.
Aside from that, this cat-back exhaust system has a 3" quad angle-cut stainless steel black exhaust tip that gives your BMW E46 M3 a custom look.

#4 CORSA Sport Catback Exhaust System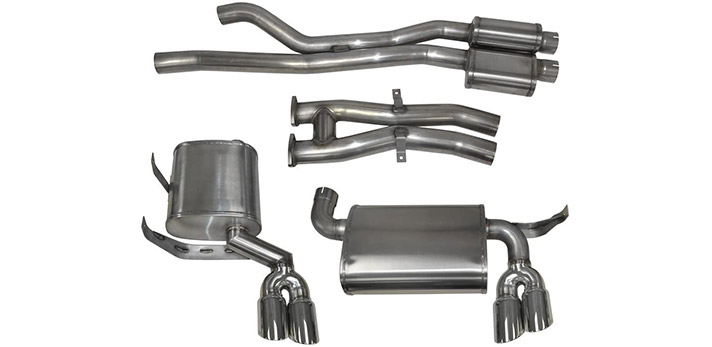 Manufacturer: CORSA
Weight: N/A
Part Number: 14567
Compatibility: BMW E46 M3
And finally, we have the last of the best E46 M3 aftermarket exhaust, the CORSA Sport cat-back exhaust system. This is the most expensive exhaust system on the list, yet it packs the biggest punch compared to the other exhausts listed here.
Purchasing this may cost you a fortune, but the benefits you'll get, specifically its noise cancellation technology, is genuinely a bang-for-the-buck deal.
Let's go over what benefits you'll get with the CORSA Sport cat-back exhaust system:
A custom-tuned aggressive sport exhaust tone that will make you the envy of many car enthusiasts.
The 2.5" pipe that increases the exhaust flow by 12% compared to the stock exhaust.
The weight reduction; this exhaust is substantially lighter than the stock.
The Corsa Sport exhaust is lighter, less restrictive, and most of all, more stylish.
What makes the CORSA Sport cat-back exhaust system arguably the best exhaust on this list is its ability to remove the drone in your car. Not reduce the hum, but totally remove it.
CORSA's very own Reflective Sound Cancellation™ technology eliminates the frequency resonance in the exhaust while minimizing the backpressure as much as possible.
If you've got the cash and you seek the best exhaust system you can get for your BMW E46 M3, then this is where you should place your bet.

What Are The Other Mods Suited for Your BMW M3 E46?
There are other noteworthy modifications that you can get to spice up your BMW E46 M3. Upgrades like aftermarket intake systems further increase your horsepower output as well as your engine's efficiency.
Simultaneously, some lowering options like lowering springs and coilovers help you handle your car much better.
Intake Systems
Still, looking to amplify your car's power output? Aside from exhaust systems, you can get some aftermarket intake systems too. This upgrade allows you to supply more air into the engine, allowing the air-fuel mixture to be burned faster.
This translates into an increase in both horsepower and torque, and of course, an increase in acceleration. Aside from the power gains, you'll also get a taste of better fuel economy.
There's a whole another science for that, but aftermarket intake systems save you many mpg in a nutshell.
Lowering Options
There's nothing more attractive than a lowered car. A car with a lowered stance signifies prestige, and it often tells people that whoever owns a lowered car means that they're a real car enthusiast.
Reducing a vehicle has several benefits like a lowered center of gravity, opportunities to fit in smaller wheels, and better handling. You have two main options to consider if you want to lower your car's ride height—a set of high-quality lowering springs or a coilover kit.
Lowering springs are much cheaper, and they give you a preset ride height reduction. Aside from that, it makes your car more aerodynamic. On the other hand, coilovers can do everything a set of lowering springs can do, plus the flexible configurations like height and damping adjustment.
Keep in mind that by lowering your car's ride height, you make your ride quality much stiffer, so keep that in mind when checking out potential lowering options.
The BMW E46 M3 is the dream car of many car enthusiasts, both young and old. One of the critical factors that make this car so desirable is its driving quality and the amount of power it can give.
Suppose you're car enthusiasts who own a BMW E46 M3, and you want to make it sound more aggressive and dominant and at the same time increase its horsepower output.
In that case, you definitely need to get your hands on some aftermarket exhaust systems like the ones mentioned above.