The BMW M4 is one of the most sought-after cars by car enthusiasts in the United States. The recent 2020 model features a twin-turbo inline-six engine capable of producing a whopping
454hp @ 6250RPM and 442lb-ft @ 4000RPM. Car enthusiasts find this car incredibly appealing in terms of street and track driving, but most of all, it's presence in the car tuning scene. It's a great car for avid car enthusiasts to tinker with.
Since the BMW M4 is a satisfying car to modify, many aftermarket auto parts manufacturers have taken the initiative to develop and manufacture performance modifications to improve the capabilities of the Bimmer further.
Among these performance mods are aftermarket exhaust systems. This mod enhances the car's power output and improves its fuel economy. Plus, it produces an iconic deep and growling sound that many car enthusiasts are very fond of.
Luckily for you, there are many BMW M4 exhausts available out there in the market today. We've created a list of the best of them, so you won't have to scour the corners of forums, needs, and groups just to see what's the best exhaust to get for your Bimmer.
We've got you covered. Here is the list of the best performance exhausts that you can get to make your BMW M4 more powerful.
#1 Dinan Free Flow Axle-Back Exhaust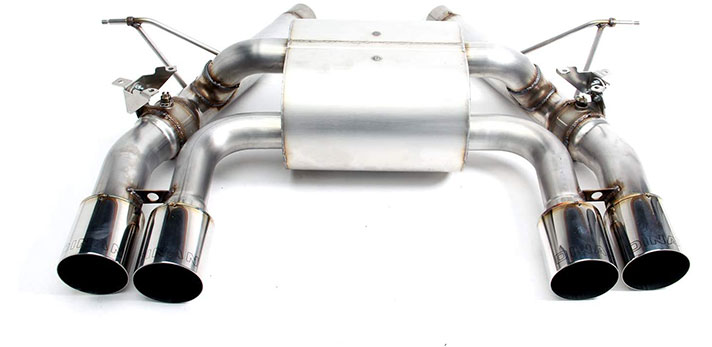 Manufacturer: Dinan
Weight: 56lbs
Part Number: D660-0050
Compatibility: BMW M4 (2015-2020)
If you're looking for the best exhaust system for BMW M4, then you better start looking at aftermarket parts manufacturers who specialize in European cars.
Dinan works on cars like BMW, Mercedes Benz, and Mini. For the BMW M4, they have the Free Flow Axle-Back exhaust, capable of making your vehicle an aural delight, just like a showroom car with a little bit of kick in the auditory department.
Features:
3.5" quad-tip (black ceramic coating or polished stainless)
Computer-controlled valves
Reduced cabin resonance
Louder and sportier sound
+5hp hp
We all know that the BMW M4 itself is expensive, and we can expect the same with its aftermarket modifications. Dinan's Free Flow Axle-Back Exhaust may have a pretty hefty price tag, but the benefits it offers certainly outweigh its drawbacks.
#2 Remus L/R Sport Exhaust System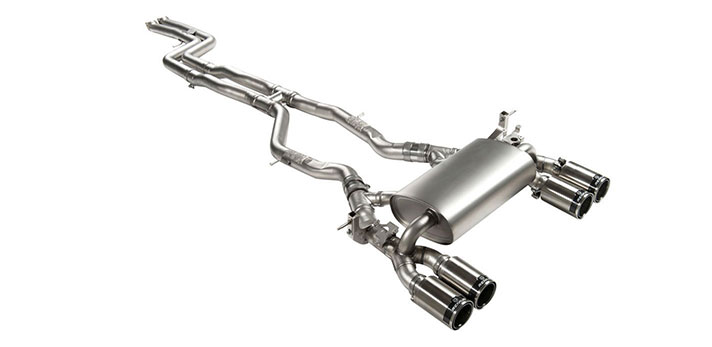 Manufacturer: Remus Innovation GmbH
Weight: 40lbs
Part Number: 089014 0500
Compatibility: BMW M4 (2014-2016)
Remus' presence in the motorsport scene has been evident for quite some time now. Their performance mods were used in the Deutsche Tourenwagen Masters, and the FIM Endurance World Championship.
Entrusting them with your BMW M4 would be a great idea, especially if you want to have a taste of what a real motorsports car looks and sounds like. For the BMW M4, Remus has the L/R Sport exhaust system.
Features:
Lightweight stainless steel construction
Shot-blasted surface
The evident increase in performance capabilities
Lower back pressure
It fits the OEM slots perfectly.
Made in Austria
Remus can not only make your BMW M4 feel sportier, but it can also make it street worthy. The cool thing about Remus is you're given a chance to pick whatever tailpipe you want, whether it's carbon, Street Race, or Street Race Black.
#3 aFe Power MACH Force-XP Axle-Back Exhaust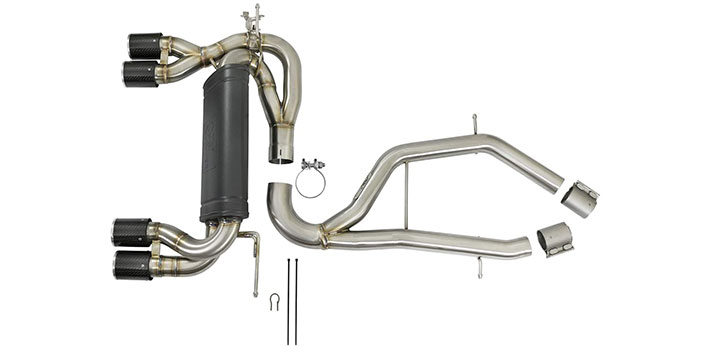 Manufacturer: aFe Power
Weight: 55lbs
Part Number: 49-36338-C
Compatibility: BMW M4 (2015-2020)
aFe Power has also taken the initiative to develop something for the BMW M4. Check out the Mach Force-XP axle-back exhaust system, one of the best exhaust for BMW M4.
This axle-back exhaust system is ideal for car enthusiasts who want a higher horsepower increase and a more aggressive sound compared to what the stock sounds like. The materials used to make this exhaust is noteworthy and will make your BMW M4 a chad in the streets.
Features:
+17hp and +25lb-ft maximum performance gains
Aggressive sound
Tubing made of stainless steel.
Designed to have the same looking valve as the stock
Metallic black Transverse muffler; unparalleled high-flow
Polished stainless steel quad-tips
aFe Power made the Mach Force Xp give your BMW M4 a racing edge. This exhaust system is ideal for car lovers who want real and apparent results. If you want an exhaust system with an exhaust valve that resembles that of a factory, then the Mach Force XP is for you.
#4 Borla ATAK Cat-Back Exhaust System
Manufacturer: Borla Exhaust
Weight: 56lbs
Part Number: 140731
Compatibility: BMW M4 (2015-2020)
Here's another one of BMW M4's best exhausts, the Borla ATAK cat-back exhaust. This exhaust's sound is so aggressive you'll feel as if your BMW M4 will attack anyone who dare race against it.
Borla made their ATAK cat-back exhaust systems to provide an offensive against the quiet sound exhausts that barely sounds like a proper performance exhaust. With a loud and aggressive exhaust note, the Borla ATAK will make your BMW M4 like a proper street racer.
Features:
Loud and aggressive exhaust tone
Great acoustic feedback to assist the driver in making tough driving decisions
Classic polished aesthetics
Ultra-smooth mandrel-bent piping
Borla's Multicore Technology
Borla has put so much effort in making sure that the ATAK cat-back system is loud enough to echo throughout the speedway while retaining all of the needed benefits like additional horsepower and improved fuel economy.
By far, this is among BMW M4's best sounding exhaust systems.
#5 Agency Power Exhaust System
Manufacturer: Agency Power
Weight: 70lbs
Part Number: AP-F80M-170T
Compatibility: BMW M4 (2015-2020)
A great cat-back exhaust system can be characterized by its ability to make a car perform better while keeping its OEM functionalities; or making them even better.
As for Agency Power's cat-back exhaust system, the valves functions like the OEM, and the aggressive exhaust tips were engineered to work along the stock bumper outlet or even an aftermarket diffuser.
Features:
X pipe design
Can be bolt-on installed with stock or aftermarket downpipes
Exhaust valves that works well with various BMW M4 drive modes
Media-blasted satin finish
Aggressive titanium exhaust tips
What makes Agency Power's cat-back exhaust system great is its ability to perform well with BMW M4's various driving modes. You can cruise gently in ECO mode with a chill exhaust tone, or you can drive in Sport or Sport Plus to unleash the Agency Power's true aggressive exhaust note.
#6 Akrapovic Slip-On Line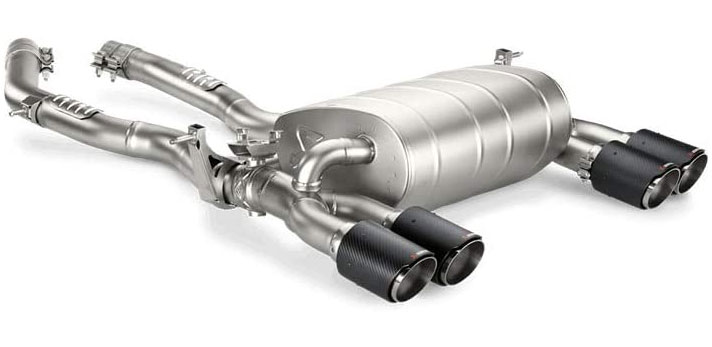 Manufacturer: Akrapovic
Weight: 44lbs
Part Number: M-BM/T/8H
Compatibility: BMW M4 (2014-2017)
Akrapovic are popular for manufacturing premium quality exhaust systems for both cars and motorcycles. Their products boast efficiency, performance, and aesthetic/auditory appeal.
The Akrapovic Slip-On Line is far better than what the stock exhaust has to offer: bigger exhaust pipes, increase in both horsepower and torque, and weight reduction. These are some parameters that most car enthusiasts look for in an aftermarket exhaust system.
Features:
Lower back pressure (esp. in lower RPMs)
Significant increase in horsepower
Big increase in torque
Guaranteed auditory satisfaction
Various optional parts available (titanium/carbon tailpipes, carbon rear diffuser)
Optional Akrapovic Sound Kit available
Weight reduction
Akrapovic never fails to improve a car's performance parameters through its weight, acoustics, and power gains. Their experience in both car and motorcycle racing made them competent enough to create such an amazing contraption like their Slip-On Line exhaust system.
#7 Capristo Exhausts Valved Cat-Back Exhaust System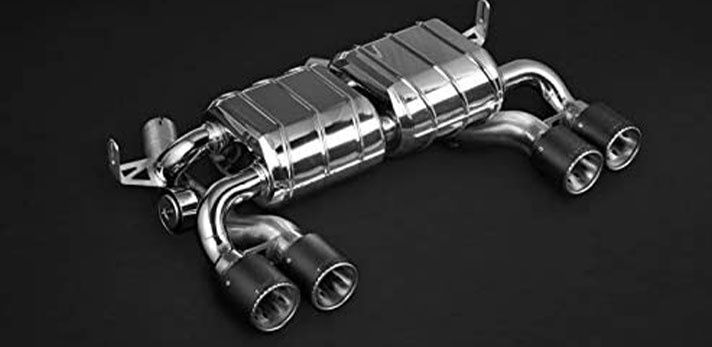 Manufacturer: Capristo Exhaust
Weight: 70lbs
Part Number: 02BM07403010
Compatibility: BMW M4 (2015-2020)
Okay, you got us. We clearly saved the best for last. And when we say the best, we mean the best performing exhaust we can find. However, perfection comes with a price. If you're willing to spend a heck load of money just to experience the "best of both worlds", then here's a cat-back exhaust system from Capristo Exhaust.
It may be expensive, but it has every feature a determined car enthusiast needs to make the best BMW M4 ever.
Features:
Vacuum-actuated valve flaps
Deep exhaust tone at lower engine speed
Can be programmed to have specific backpressure allowances to help the driver determine which valves are open
CES-3 Control Module included
What we meant by "enjoying the best of both worlds" is this: with Capristo Exhaust's valved cat-back exhaust system, you get to enjoy various exhaust tones depending on what drive mode you're using.
If you're in cruise mode, the exhaust valve opens up at higher revs. If you're in Sport mode, the valves free up at lower revs and hard acceleration. Capristo Exhaust's valved cat-back exhaust system is arguably the best exhaust system for BMW M4 on this list.
The BMW M4 seems to be a complete car in whatever angle you try to look at it. It performs well, it has a sporty yet comfortable ride quality, and it's terribly open for modification.
Since the car itself isn't that cheap, its aftermarket products aren't cheap too: but they're really good at providing the best performance you can find on a BM4 M4. Aftermarket exhaust systems are one of the greatest investments you can have to make your BMW M4 look good and sound even better.